Hello DIYers,
If you or someone you know is expecting a baby soon, congratulations! It's an exciting time! Preparing the nursery is a great way to nest and prepare. the icing on the cake, however, is the mobile that you will hang above your baby's head to entertain them as they lay in their crib! Will you go with dreamy stars or sea creatures? Flowers or feathers? It's all up to you!
Happy crafting!
Lucky Star Ombre Mobile
How dreamy is this gorgeous, starry mobile?! The perfect addition to a nursery!
Found 1 Dog Woof
Crochet Rainbow Baby Mobile
This colorful display is perfect for any new baby to enjoy!
Found The Whoot
Egg Ghosts Mobile
There is something about this very unique baby mobile that is too quirky and cute for words!
Found Ice Pandora
Riffled Ice Cream Mobile
Get the love of ice cream started early!
Found icingdesignsonline
Geometric Mobile
Curious shapes and designs! Your little one will love looking at this unique and homemade mobile!
Found To the Fullest
DIY Crystal Crib Mobile
You can never go wrong with crystals!
Found godblessournest
Gray And Gold Feather Crib Mobile
Feathers are a whimsical way to decorate your nursery. These are grey and gold but you can choose any colors you'd like!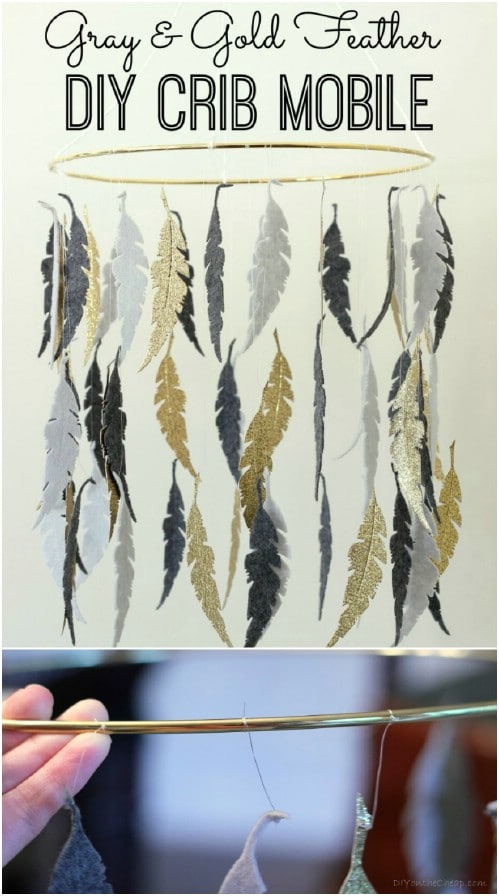 Found diyonthecheap
Nature Mobile
If you're a nature loving family, why not start your little one off with this fabulous woodland nature mobile!
Found A Handmade Cottage
Easy Ribbon Mobile
This is a super simple way to make a lovely mobile that your baby will love!
Found bebehblog
DIY Galaxy Star Mobile
Create a small galaxy above your little one's head! Adorable!
Found landofnod
Flower Wheel Mobile
This is an adorable mobile that can attach straight to the top of the crib!
Found Hip and Simple
Colorful Felt Hot Air Balloons Mobile
Hot air balloons are a great decoration for any baby nursery!
Found Chickypea
Colorful DIY Chandelier Style Mobile
This is a gorgeous and colorful addition to your baby's room!
Found merelymothers
Beautiful Cloud with Raindrop Lights
This is a gorgeous touch for any infant's room! They'll have fun staring at it for hours!
Found YouTube
Modern Woodland Mobile
If you've got a woodland nursery, why not make this mobile!
Found ceci-bean
Fall Leaves and Flower Mobiles
If your little one is born in the Fall months, he or she might appreciate the stunning Fall colors!
Found A Joyful Riot
Paper Boat Mobile
These origami boat can help to carry your little one away to dream land!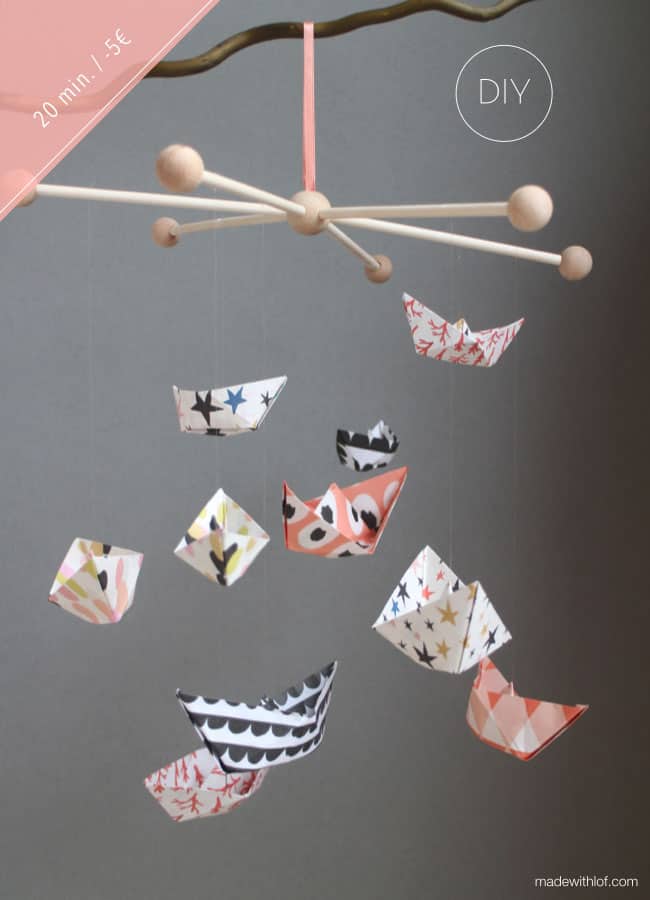 Found Hello Wonderful
Felt Flower Mobile
Your little one will appreciate the soft greenery surrounding their crib!
Found Lia Griffith
Dinosaur Mobile
Are you anticipating a dino lover? Why not make this mobile to get a jump start!
Found melissacreates
Neon Pom Pom Chandelier
What's the difference between a mobile and a chandelier? Not much! And this one is perfect for a baby's room!
Found Smalltobig
Rustic Twig And Paper Mobile
This is a fun and different way to decorate a nursery with a mobile!
Found Wayback Machine
Dream Catcher Mobile
Invite only sweet dreams for your sweet baby!
Found Crate and Barrel
Colorful Yarn Ball Mobile
This mobile adds a pop of color and texture to the room!
Found PNMag
Paper Air Plane Mobile
Paper planes floating above your little one's crib will provide hours of curious entertainment! Give it a try!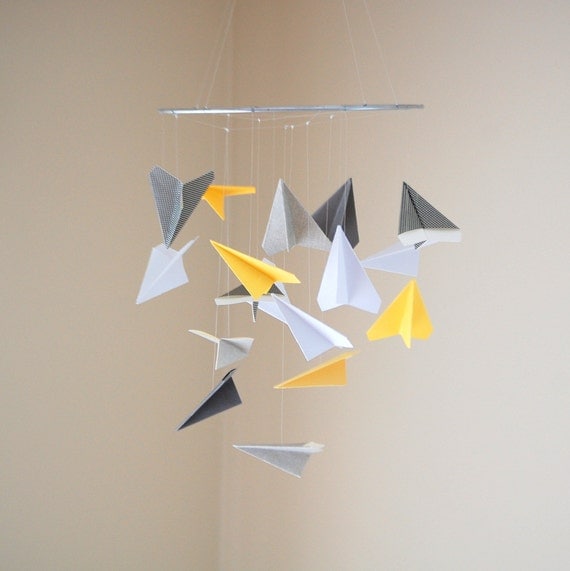 Found Knee Deep In the Baby Pool
Felt Mobile
This is a cute and simple mobile! Give it a try!
Found Felt Ball Rug
Funky Lighted Mobile
Keep things fun and colorful!
Found landofnod
Metallic Foam Crib Mobile
The shimmering metallic of this mobile are so fun!
Found Ruffledblog
Amigurumi Sea Friends Baby Mobile
If you are good with knitting, you can make this collection of adorable sea friends!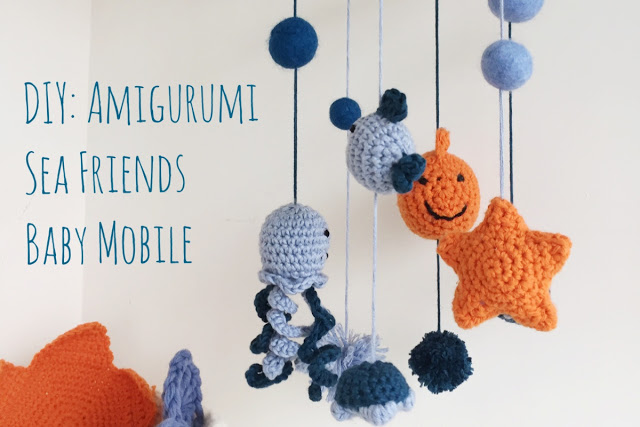 Found Petit Bout De Chou
Colorful Baby Mobile
This is an interesting way to introduce your little one to a colorful display right above his or her head!
Found Decoratorist
Owl Mobile
Wise owls looking over your baby is just the ticket!
Found YouTube
Outer Space Mobile
If you're a family that loves space, why not try this mobile for your baby's first room?!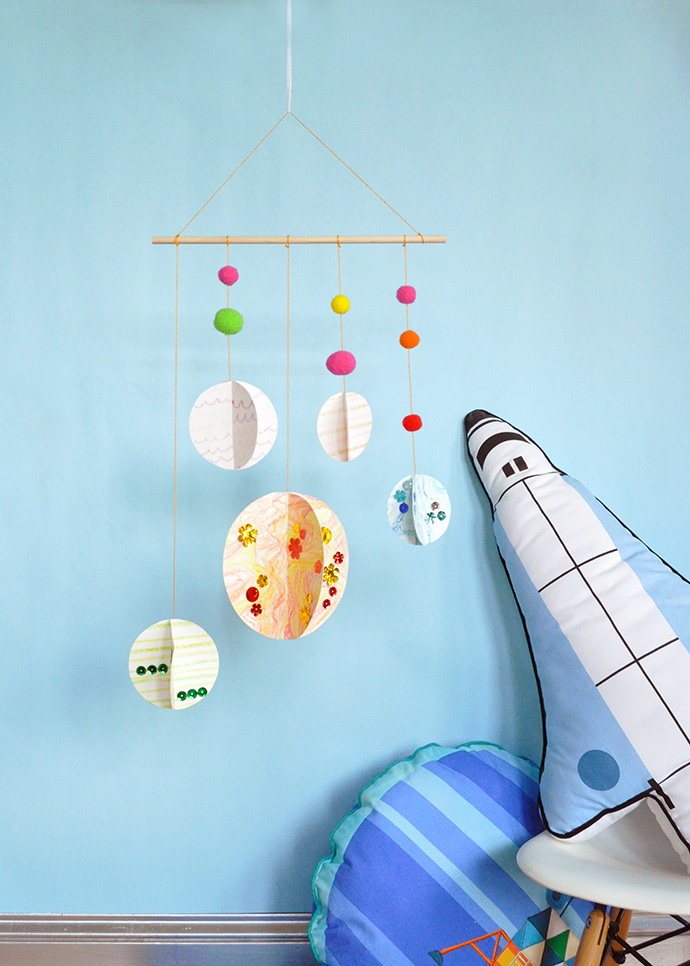 Found Handmade Charlotte
Simple Cloud Mobile
This is a simple and sweet mobile that doesn't take long to make at all!
Found hgtv
Paint Chip Baby Mobile
This is a thrifty mobile and an easy DIY project!
Found Beeing Mommy
Sea Creature Mobile DIY
Suspect that your little one will love the sea? Why not decorate a sea-themed nursery complete with this mobile?!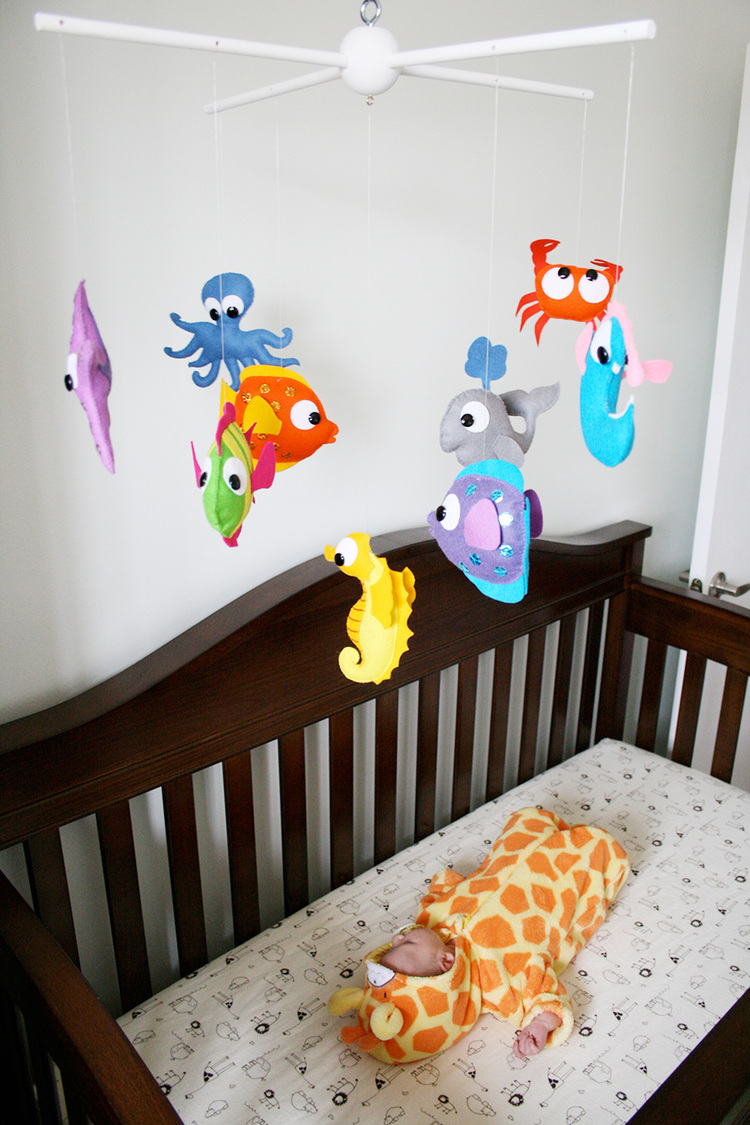 Found Amanda Farquharson
Moon Craft Crib Mobile
Your little one can look at a full moon all month long!
Found fantasticfunandlearning
You May Also Be Interested In…
39 Nutritious Recipes Your Baby Will Love
31 Adorable Baby Clothes You Can Make Yourself
33 Sweet and Sensible DIY Baby Gifts
DIY Pom Poms for Your Baby's Nursery