Hello, DIYers!
Having signs with phrases around the home has been a long-standing trend for more than a decade and it's still going strong! But maybe you're less of the "Live, Laugh, Love" type of person. Perhaps you're not interested in having bible or literary quotes posted all around your living room. If that's the case, and you happen to find yourself fluent in wit and sarcasm, these signs are for you! Take inspiration in the look or the quote itself to re-create something perfect for your the style of your home!
Happy crafting!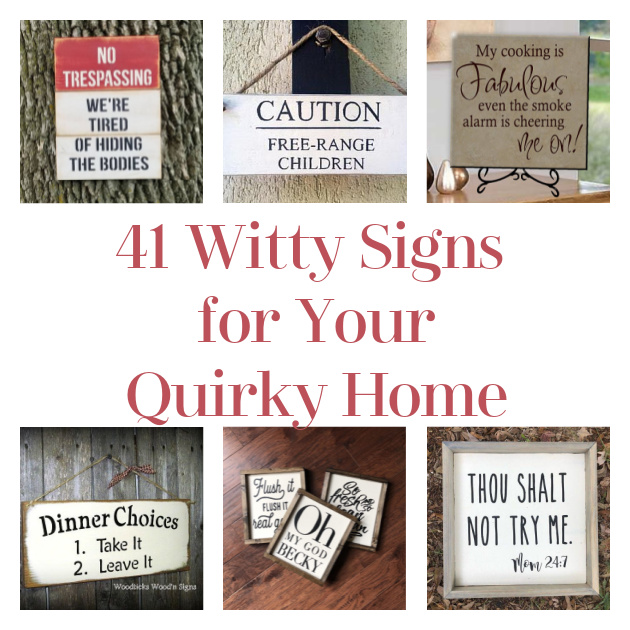 "Made With Love"
Filling them all in on the uncomfortable truth…
Found Pinterest
Procrastinate
I am very much guilty of being a procrastinator… how about you?!
Found Kathy Rodden
Dinner Choices
Do you have picky eaters in your house? This is one way to let you know that you're fed up! If you like the style, it's easy to replicate with some paint and stencils!
Found Pinterest
Smoke Alarm
This is so cute! And it looks like the sign is made with a stencil on a ceramic tile!
Found Parks
You're Drunk
Sometimes it's nice to have a reminder of life's important lessons…
Found Pinterest
Thou Shalt Not
It's important to keep the most relevant quotes around the house!
Found Pinterest
Organized People
Offer your guests an alternative perspective…
Found Parks
Disturbed
Asserting boundaries… It's a good thing! Take inspiration from this poster!
Found Pointless Posters
Get Naked!
Who doesn't love a funny sign in the bathroom?! This YouTube tutorial will show you how to make it!
Found YouTube
Bathroom Ratings
The bathroom is one of the best places to have a chuckle-worthy sign!
Found Home Depot
Won't Work for Me
There was a consideration…
Found Pinterest
An Important Reminder
An important reminder for the family and anyone who dares to come in and learn the truth!
Found Parks
Cupcake into Muffins
Health advice!
Found Sunnyside Gift Company
I Love You
If your love knows no bounds, this is the perfect gift for your significant other!
Found Dump A Day
Horrible Idea
We all need THAT friend!
Found Drop A Line Designs
Free-Range Children
Free-range… grass fed? Or at least hopefully eating their vegetables!
Found Pinterest
Too Early for Wine?
First things first… it is never "too early" if the spirit moves you.
Found Drop A Line Designs
Heaven and Hell
Ha! This is perfect for a music lover!
Found Country Music Tour
Mirror Mirror on the Wall…
I have so many questions and all of them are "What the…?!"
Found Home Depot
Millennial Bathroom Signs
Enjoy these throwbacks all the time by re-creating these signs for your own bathroom!
Found Bogoten
Loose Interpretation
Clean is all that matters!
Found Pinterest
Home Protection
This is hilarious!
Found Pinterest
Potential
It's always great to have a fall back option!
Found Pinterest
Be the Change
Mom is fed up… be the change!
Found Bogoten
For the Obedient Husband
Maybe she's crazy… maybe she's a genius. Who's to say?!
Found Drop A Line Designs
Welcome-ish
This is the honesty I am prepared to give. Recreate this sign in your own colors and style!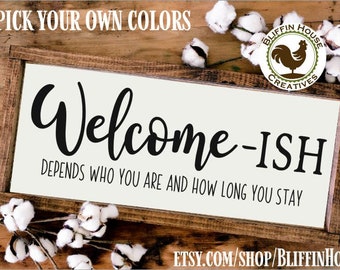 Found Etsy
Todays Soup
This menu sign would work great in a kitchen or bar!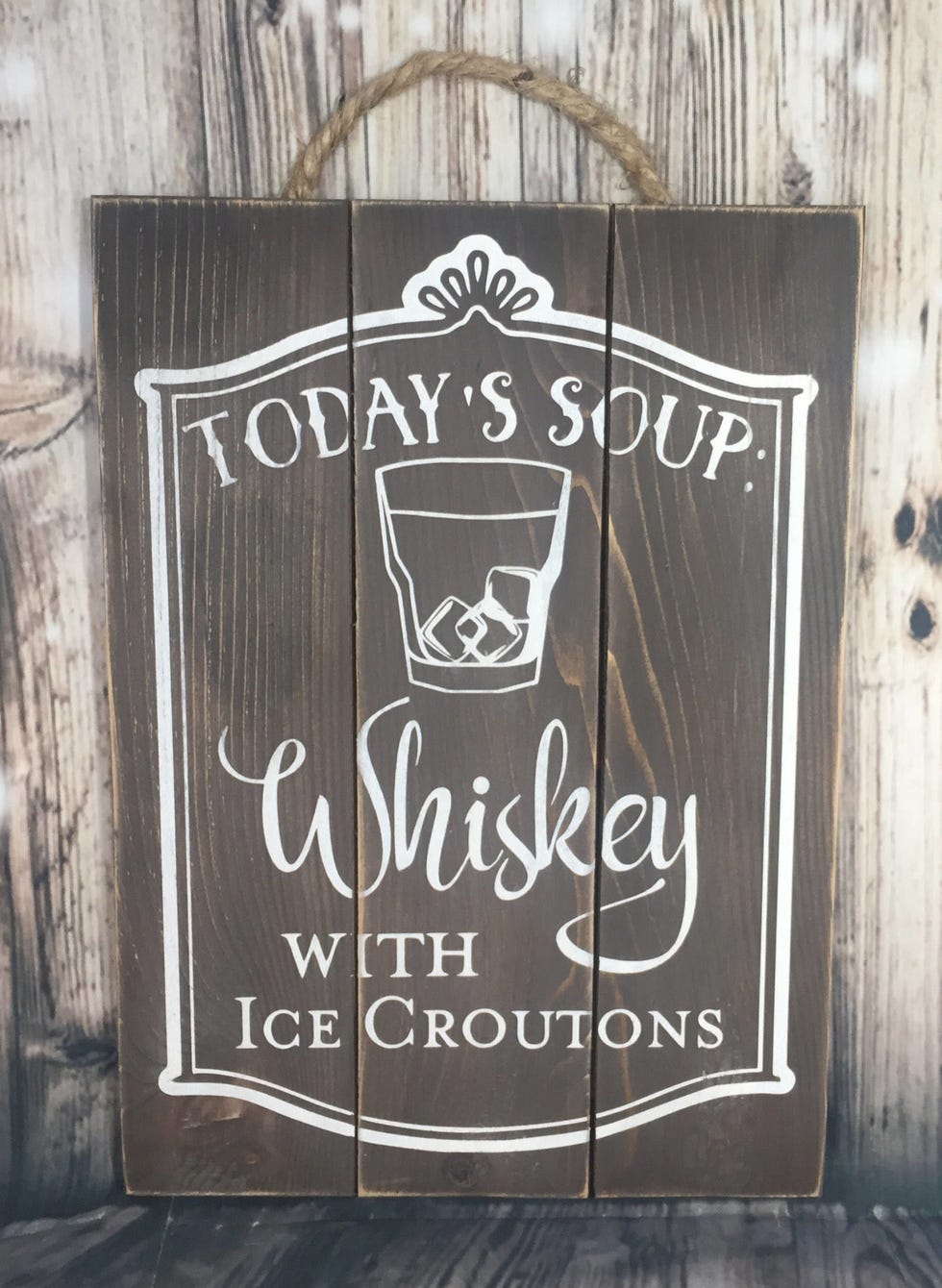 Found Country Living
Dust
Don't disturb the dust!
Found Parks
Marriage
The perfect anniversary gift?!
Found Crafty In Crosby
Sarcasm or Advice
It's really important to know your strengths!
Found Pinterest
Welcome to the Circus!
Let your guests know what they are in for!
Found Pinterest
The Dogs Have Been Fed…
If you have dogs that will take any opportunity to whine and beg, this sign is for you!
Found Walmart
Cray
Simple instructions in a comical way!
Found The Design Hippo
Attention Drama Queens
Are you living with teenagers? Need I say more?!
Found Drop A Line Designs
Booty Call
If you're a parent… you know!
Found Bogoten
No Trespassing
A witty way to keep people off of your property!
Found Pinterest
Be Right Back!
Stepping out for just a moment. Hopefully meditating…
Found Tumblr
Brain Farts
If it's not someone you know who experiences this… is it you?!
Found Pinterest
You're Not the Boss of Me
Who else answers to a furry friend?!
Found Pinterest
Golden Acorns "Gather" Sign
This is a sweet sign that you can display during the Fall!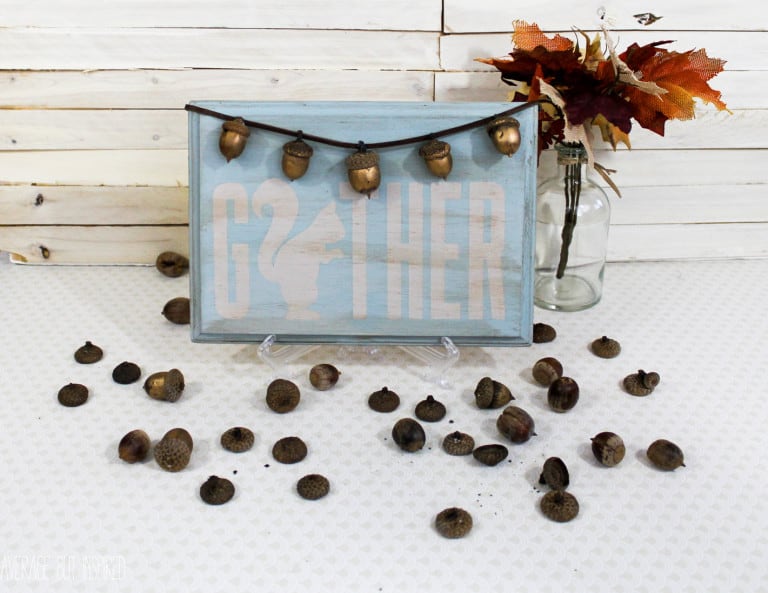 Found Average Inspired
You May Also Enjoy…
30 Lovely Hand Carved Candles to Make and Inspire You
37 Beautiful Boho Home Décor You Can Make Yourself
30 Wood Burning Projects You Can Do Yourself
31 Fantastic Wine Racks You Can Make Yourself
30 Magical Displays You Can Make with Fairy Lights