Hello, DIYers!
Autumn offers such a lovey color pallet to work with, doesn't it? So why not use natural materials to bring that color and beauty into your own home? Decorate for the Fall season and holidays or have a ton of fun with your little one! go on a walk collecting leaves and materials and then take pride in crafting something cute together for some quality time on the weekend.
Happy crafting!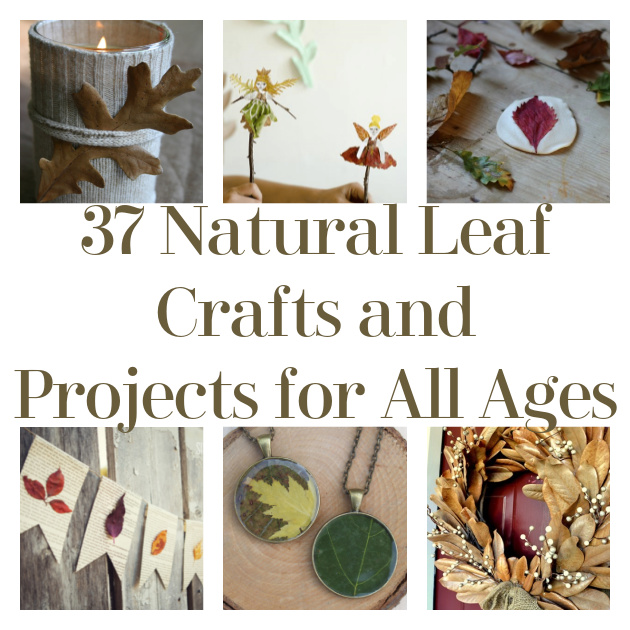 Fairy Leaf Puppets
Use real leaves and twigs to make these gorgeous, earthy fairy puppets!
Found Willow Day
Cozy Sweater Votive
How cute is this? Use a dried leaf to accent it!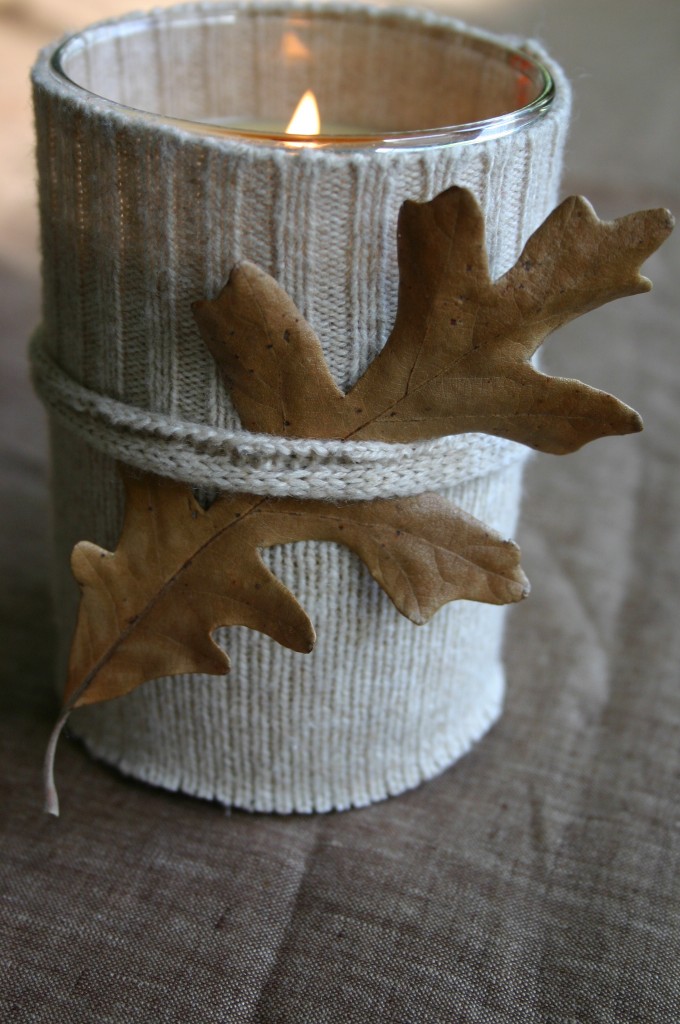 Found: Family Chic
Watercolor Leaves
Use these leaves to create beautiful watercolor images!
Found The Best Ideas for Kids
Leaf Pendants
You can wear these lovely leaves year round!
Found Resin Craft Blog
Dried Fall Wreath
How beautiful is this?!
Found The Frugal Homemaker
Painted Leaf Mobile
How cute is this?! Collect leaves and paint them with your little ones to make this fun and colorful wall décor!
Found Art Bar Blog
Autumn Leaf Bunting
This is a simple project that makes for lovely fall décor. This would be perfect for Thanksgiving!
Found Artful Parent
Salt Dough Leaf Impressions
Let your leaf collection make a lasting impression!
Found The Imagination Tree
Golden Leaves Painting
How lovely is this?! It would make a beautiful gift or something to add to your home during the Fall months!
Found YouTube
Leaf Rubbing Collage
How cute is this?! Use your fall leaves to add diversity in shape!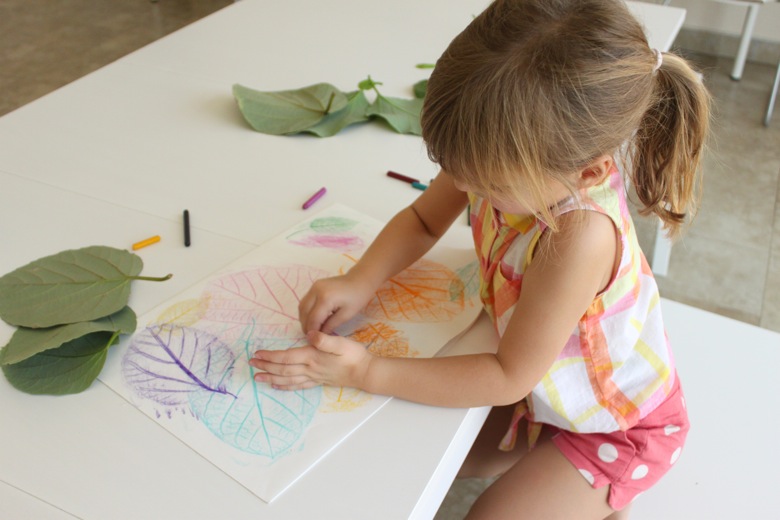 Found Mama Pappa Bubba
Fall Paperweight
Preserve a snapshot of Fall in this lovely paperweight!
Found Resin Crafts Blog
Sticky Leaf Tree
This is a fun way for your toddlers to play with their leaf collection!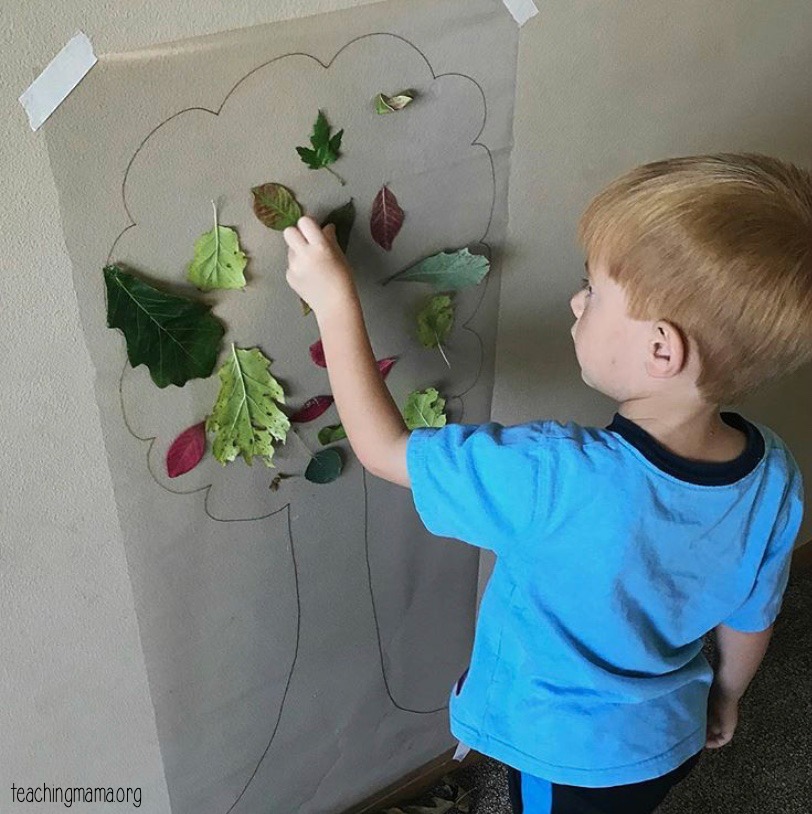 Found Teaching Mama
Autumn Leaf Butterflies and Dragonflies
Make beautiful butterflies and dragonflies using autumn leaves! Lovely!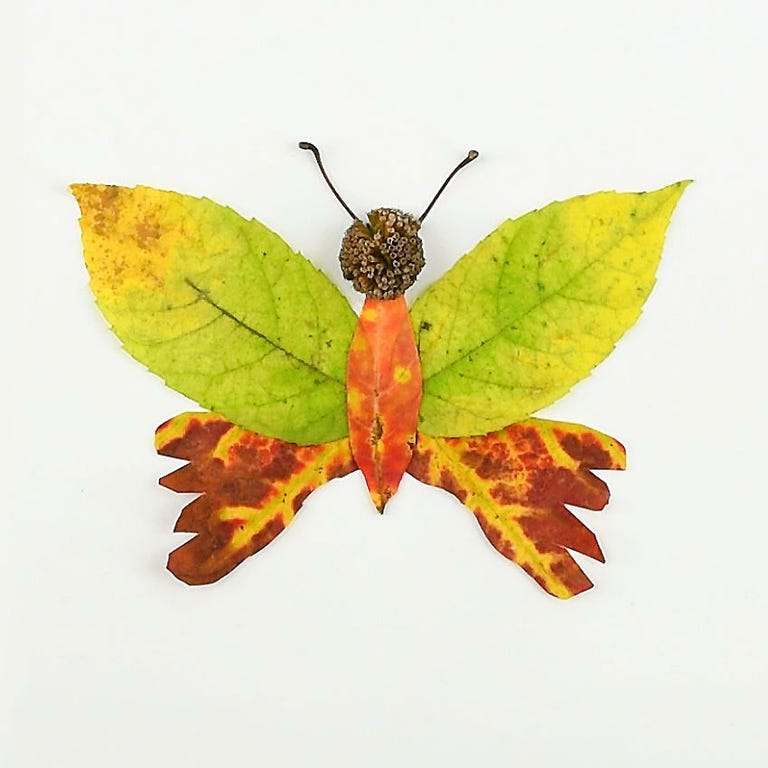 Found One Little Project
Leaf Votive
Spruce up a plain glass jar with modge podge and your favorite leaves to add something festive to your ambience!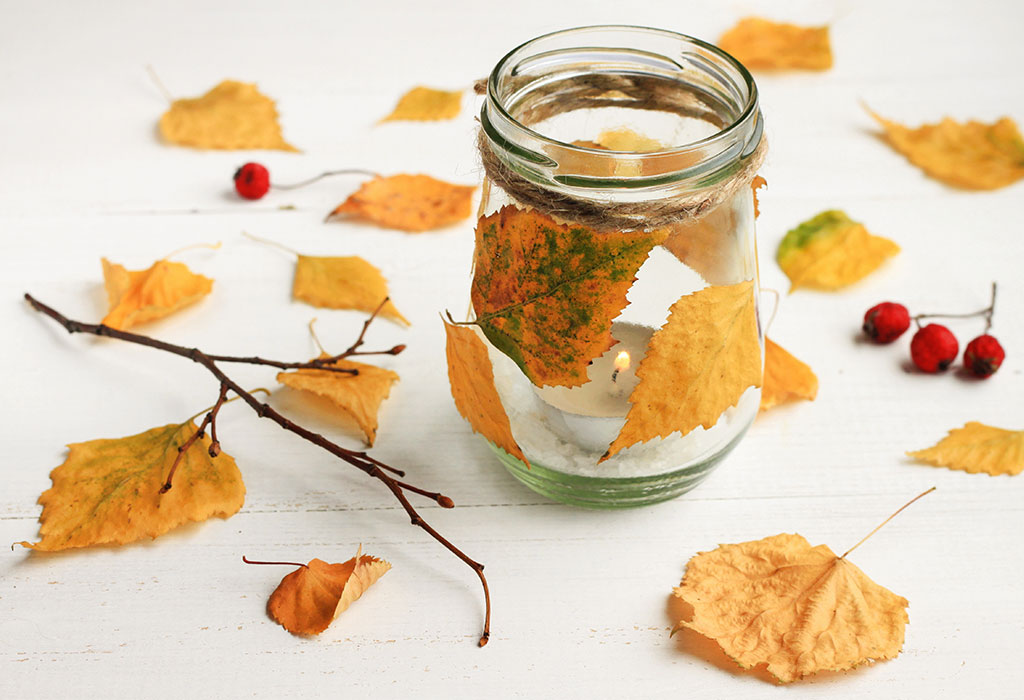 Found First Cry Parenting
Leaf Painting Silhouettes
Quite the opposite of using them as watercolor stamps, you can use them as silhouettes!
Found The Best Ideas for Kids
Thankful Tree
Take a walk together as a family and pick up the loveliest leaves to hang on your thankful tree. It's a great way to celebrate anytime, but especially around Thanksgiving!
Found Rhythms of Play
Leaf Family Craft
Use artificial leaves or real ones to create these cute stick puppets!
Found Homeschool Pre-School
Leaf Coasters
Add something festive to your coffee table!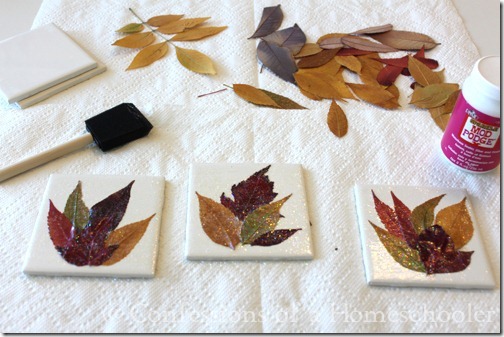 Found Confessions of a Homeschooler
Fall Leaf Triceratops Craft
If you have a kiddo that loves dinosaurs, why not try this fun craft!
Found Our Kid Things
Leaf Bookmarks
What is cozier than curling up with a book on a Fall night? Doing it with this autumnal bookmark!
Found Mommy Evolution
Leaf Crown
How adorable is this?! It would be great for a Fall photoshoot!
Found Rhythms of Play
Leaf Charms
Use resin to turn leaves into lovely charms you can hang around your home!
Found Lizza Makes Things
Puff Paint Leaf Painting
Use your leaves as a painting pallet with a wide range of colors to choose from!
Found The Best Ideas for Kids
Leaf Rose Bouquet
Turn your colorful fall leaves into a beautiful, flowery bouquet!
Found Design Sponge
DIY Leaf Stamped Napkin
Create these custom napkins stamped with real, handpicked leaves.
Found All Things G&D
Handprint Tree Craft
This is a fun way to show off your Fall leaf collection!
Found Non-Toy Gifts
Leaf Book
Keep your leaf books together in a lovely, pressed collection!
Found The West Coast Mommy
Leaf Sewing
This is a cute and easy project for little ones to practice their motor skills. But with a leather string through them, it would also make for a lovely natural garland!
Found Rhythms of Play
Animal Leaf Crowns
How adorable are these?! Give it a try!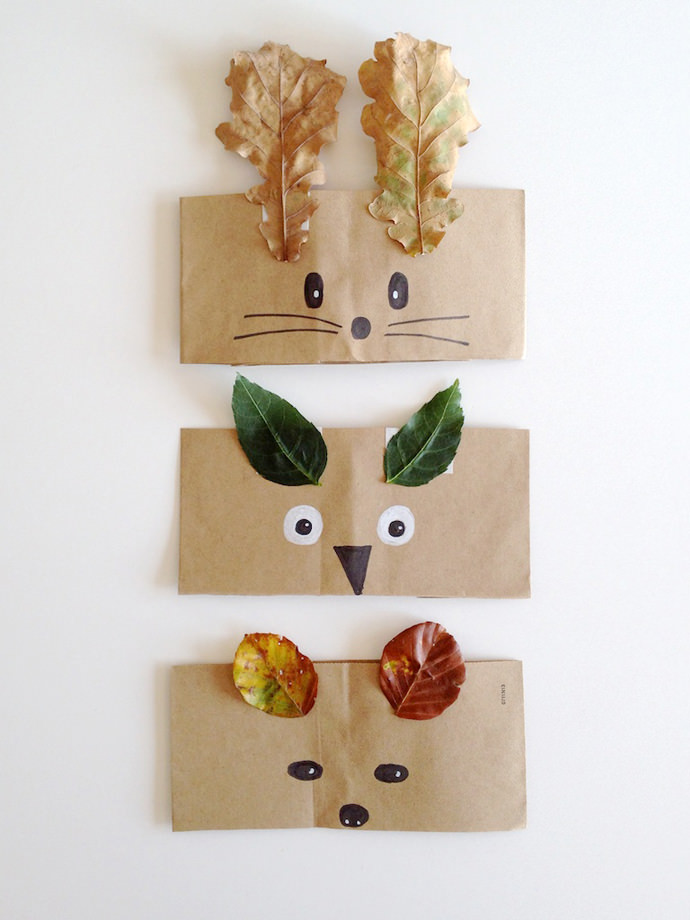 Found Handmade Charlotte
Leaf Imprinted Clay Necklace
Keep a special leaf you collected with you all the time with this clay necklace!
Found Happy Hour Projects
Animal Leaves
Get as creative as you want in making this lovely leaf art!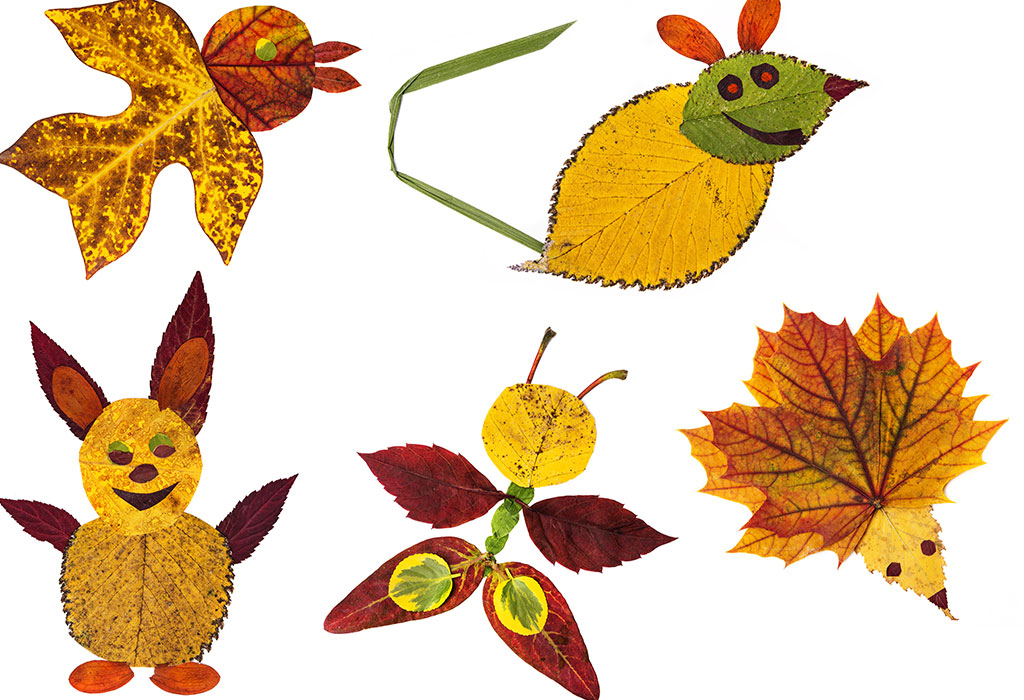 Found First Cry Parenting
Natural Leaf Wreath
Use a collection of leaves to make this festive and lovely wreath!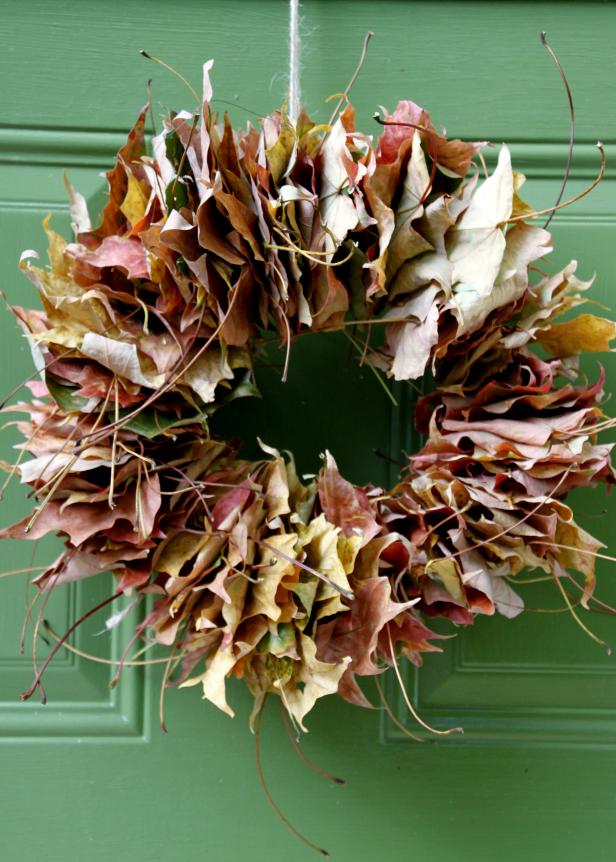 Found HGTV
Leaf Confetti
This is a fun and natural way to celebrate!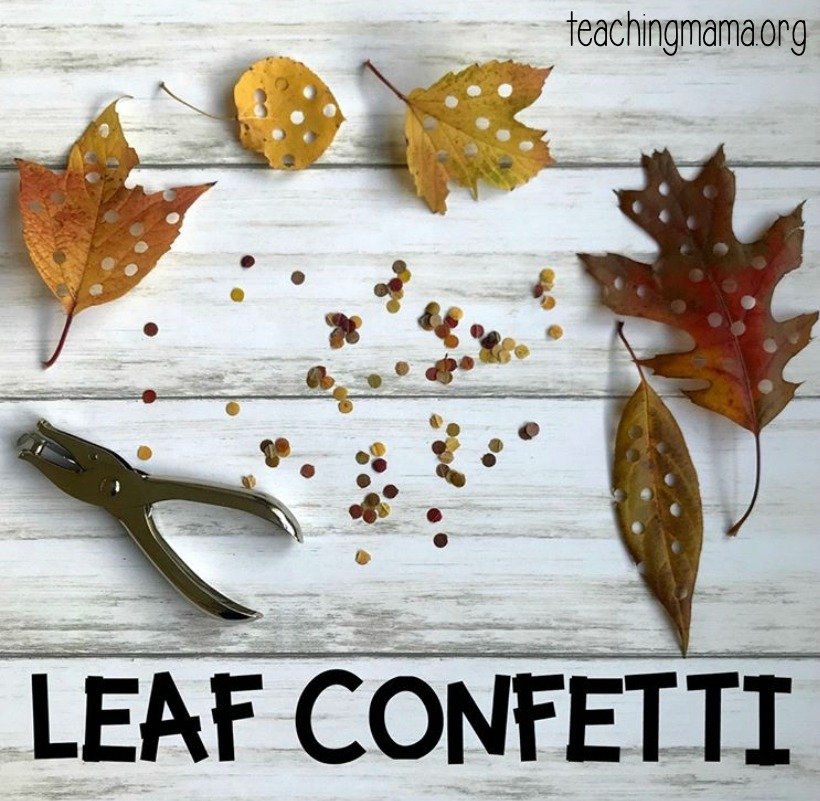 Found Teaching Mama
Book and Leaf Banner
This is a lovely addition to any Autumn event!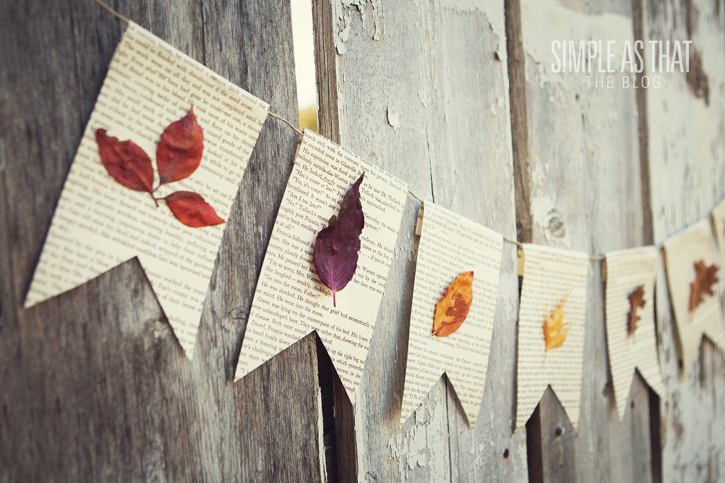 Found Simple As That Blog
Leaf Lanterns
How cute is this leaf lantern project?!
Found Red Ted Art
Glitter Leaves
Capture the light off of the glitter by placing these in a sunny place!
Found Effortless Girl
Ghost Leaves
Looking for a cute way to decorate for Halloween? Paint leaves to look like little ghosts!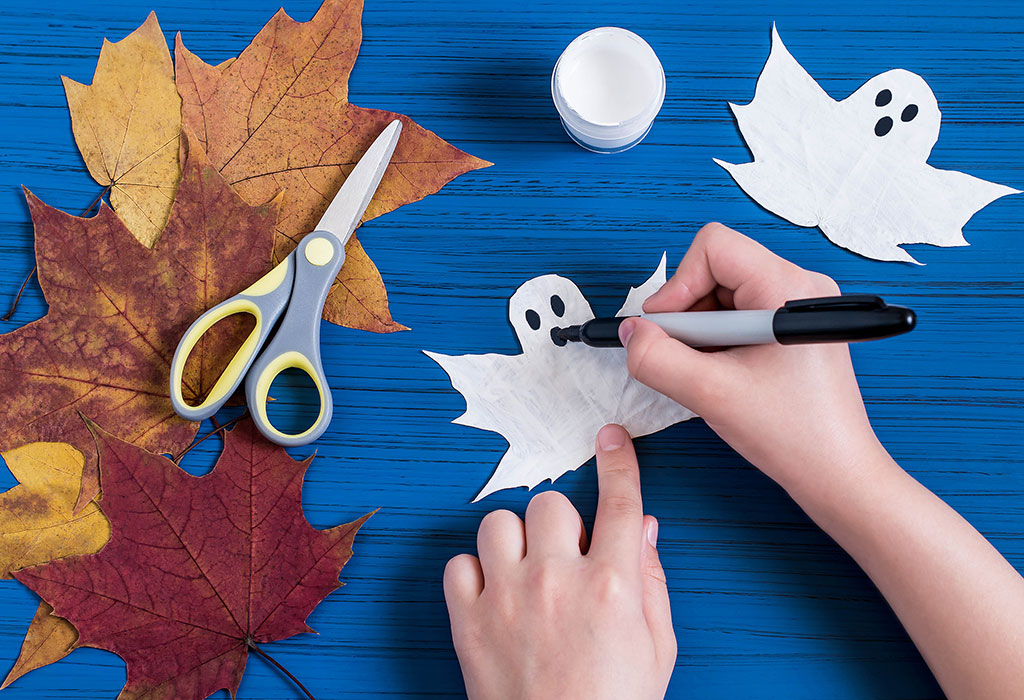 Found First Cry Parenting
You May Also Enjoy…
39 Delectable Cookie Recipes for the Fall
41 Fresh and Delicious Apple Recipes for the Fall
31 Show Stopping Centerpieces for Your Fall
30 Nature Crafts for Kids for All Seasons
39 Fantastic and Fun Thanksgiving Crafts for Kids
40 Craft Ideas for a Festive Fall