Hello, DIYers!
We all know that you love your dog more than life, right?! Just one look into those sweet pupper's eyes is enough to melt your heart! As such, we want to make sure that they have everything they could possibly need in the world! Whether that means dressing them up for fun (as long as they don't mind) or making sure they are protected from the weather outside, we're here to help! We've put together a list of different styles of fantastic dog outfits and accessories that will match your style and serve the function that you need!
Happy crafting!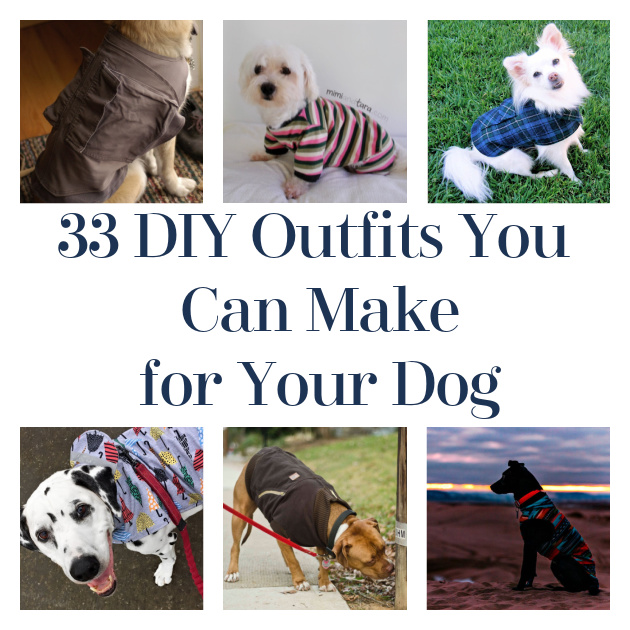 ...
Fleece Lined Rain Jacket
Going for a walk in the rain? Your furry best friend can keep dry with this awesome DIY raincoat!
Found Dalmatian DIY
Easy Dog Coat
This coat is so simple to make and will help keep your dog warm in the cold winter months!
Found Ricochet and Away
Durable Dog Booties
If your pup has sensitive paws, you may consider making them booties for the cold weather! There are cute fleece ones, we'll put a pattern below, that help to keep them cozy. But these are great for keeping their paws dry outside in the snow or rain!
Found Martha Stewart
Country Gent Tweed Coat
Well, this is just about the cutest thing I have ever seen.
Found Makezine
Sleeveless Dog Sweater
The weather is getting colder! It you're pup is sensitive, why not make him something out of one of your old sweaters!? We assume you have similarly good taste…
Found Babbles By Brook
Doggy Leg Warmers
Keep your puppers legs nice and cozy with this throwback style! It's easy! Just use an old pair of fuzzy socks!
Found Sew Doggy Style
Water Resistant Dog Coat
Keep Fido dry on your walk in the cold rain or snow!
Found Martha Stewart
Doggy Tutu
How sweet is this tutu for your special dog-friend?!
Found DIY Projects
Dinosaur Hoodies
My heart stopped due to an overload of cuteness. 10/10 good boys!
Found Pitties in City
Flannel Coat
Use an old or thrifted flannel coat to give your dog-friend a stylish flannel jacket! Perfect for a brisk Fall stroll!
Found Bevykona
DIY Dog T-Shirt
Never buy another dog shirt again! Not after you learn this awesome hack!
Found YouTube
Classy Waterproof Dog Coat
Stylish and practical! That's how we would describe this dog friend!
Found Online Fabric Store
Doggy Cooling Vest
This is seriously cool! Use a worn out pair of khakis to create a vest that will help keep your pup nice and cool on a long hike or a walk on an especially warm day!
Found Instructables
Resweater Project
Getting rid of an old sweater? Maybe due to a rip, tear, or stubborn stain? Why not give it new life as a trendy sweater for your adorable pup muffin?!
Found Resweater
Muscle Mutt Hoodie
How cute is this?!
Found Urban Threads
Dress Shirt Collar
Want to turn your pup into a business boi?! Or maybe just get them extra fancy for a dog-friendly event? Use an old dress shirt to take the collar and turn it into something for your pup. Consider using some of the remaining shirt as a bandana!?

Found Cheerful Times Blog
Wool Cardigan Dog Coat with Beaded Accents
If your pup is the epitome of class, this works perfectly for an evening stroll!
Found Martha Stewart
Frill Dress
Show off with frills!
Found A One Stop Shop
Easy No-Sew Dog Jacket
You don't need a sewing machine to make this awesome and rugged jacket!
Found DIY Projects
Dog PJs
If the love of cozy has no limit for your four legged fluff monster, why not make your pup his or her own pjs?!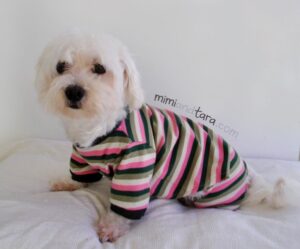 Found Mimi & Tara
Canine Carhartt Coat
If you're a Carhartt family, don't forget Fido!
Found Instructables
Summer Paw Protectors
Winter isn't the only time that worry about our dog's paws! Hot pavement in the Summer months can be painful! These cotton boots are lightweight enough to not cause discomfort but also add a barrier of protection between the scorching sidewalk or streets and your pup's paws!
Found Crafty Chica
No-Sew Dog Sweater
You don't have to know how to sew to create something lovely for your four legged bestie!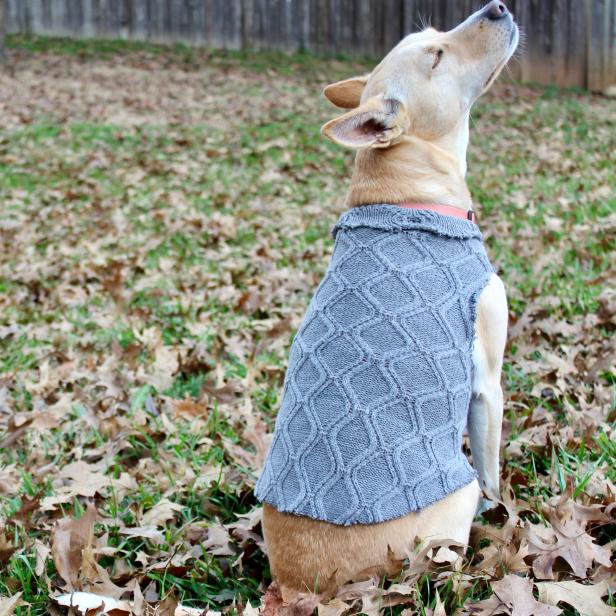 Found DIY Network
Dog Bandana
Dog bandanas are arguably the easiest thing to convince your pup to wear!
Found Skip to My Lou
Easy Crochet Dog Sweater
This free pattern comes in NINE different sizes!
Found Make and Do Crew
Dog Dress
This is an adorable dog dress pattern!
Found Make and Build Dog Stuff
DIY Dog Bow Tie
Sometimes you just want to dress up a little! If you want your doggo to look as handsome as Calvin, you'll have to make sure they have bow tie options!
Found Calvin the Canine
Puffy Rain Coat
This looks professional quality! You can upcycle one of your old vests or generally find one at your local thrift shop!
Found YouTube
10 Minute Dog Boots
Furry feet are still sensitive!
Found Instructables
Onesie Upcycle Shirt
Have a onesie you're struggling to part with due to extreme cuteness? If your dog is small enough… could they wear it?!
Found She Knows
Woven Dog Coat
This is a fantastic and insulating coat made for your pup!
Found Pet Project Blog
Preppy Flower Dress
Make your pup feel pretty in pink and flowers!
Found Twinkle's Furkind
Blanket Coat
This is perfect to keep your fur baby warm!
Found YouTube
You May Also Enjoy…
31 Pawesome DIY Dog Collars and Leashes You Can Make
39 Homemade Dog Food and Treat Recipes
40 Terrific DIY Dog Houses for Fido
37 Homemade Dog Toys Made by DIY Pet Owners