Hello, DIYers!
Every home needs the essentials… a kitchen, a bathroom, bedrooms… and a reading nook?! Okay. Maybe it isn't entirely essential, but whose home wouldn't be GREATLY improved with a special, calming, or even magical corner of it carved out solely for reading?! This can be a quiet space to read alone, or a fun space to have story time as a family! Here is a fantastic collection of creative and lovely reading nooks, seating ideas, and tutorials to help you put together a cozy space all your own!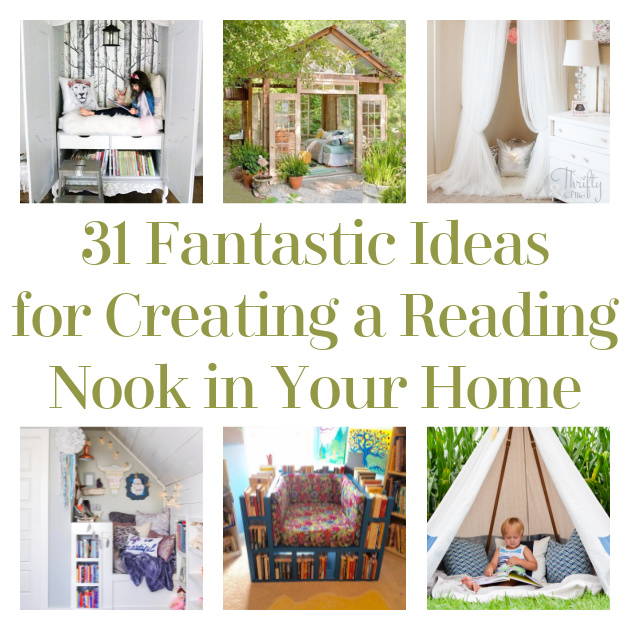 Attic Nook
Attics are notorious for having angled ceilings! Carving out a cozy space to read is the perfect way to make use of your home's angles!
Found Unskinny Boppy
Second Floor Landing
Sometimes second floor landings can be a little bit too small to seem like usable space… but you might consider turning it into a cozy book nook!
Found Decor Pad
Reading Bench
This awesome reading bench has storage space and no-sew pillows for added comfort!
Found YouTube
Boat Reading Nook
Get cozy in an upcycled canoe!
Found Pinterest
The Biblio Chair
How amazing is this cozy chair?! All of your favorite books are within reach!
Found The Owner Builders Network
Suspended Reading Nook
How amazing would this be?!

Found Captivstist
Pillow Bed DIY
This pillow bed is easy to do and perfect for putting on a reading bench or sprawling out in your reading corner!
Found Pinterest
Angled Space Book Nook
Angled ceilings and book nooks go together perfectly! This paint job helps to accentuate the shape to make it a really special feature in the room!
Found Arty Home Studio
Single Closet Reading Nook
Have a closet that you don't need in a room? Why not turn it into a reading nook?!
Found Musley
House Hammock
Whether in the house or on a porch, this hammock is a cozy place to read!
Found Remodelista
Canopy Tent Reading Nook
How lovely is this?!
Found Thrifty Chic
Cozy Built-In
It doesn't get any cozier than this built in display! Consider using it as an inspiration for your home!
Found Decor Pad
Kids Hammock Swing
After finding an area you want to use for your reading corner, you might consider a kid's hammock for some cozy and fun seating! You can make this one yourself!
Found A Beautiful Mess
Outdoor Garden Reading Shed
If this isn't reading nook goals, I don't know what is!
Found Better Home and Gardens
Narnia Wardrobe Reading Nook
This is so dreamy!
Found Blesser House
Ambient Lighting
Make your reading look dreamy with lots of fantastic lighting!
Found Kitchen Fun with My 3 Sons
Under the Stairs Book Nook
The space under the stairs can be the perfect place for reading!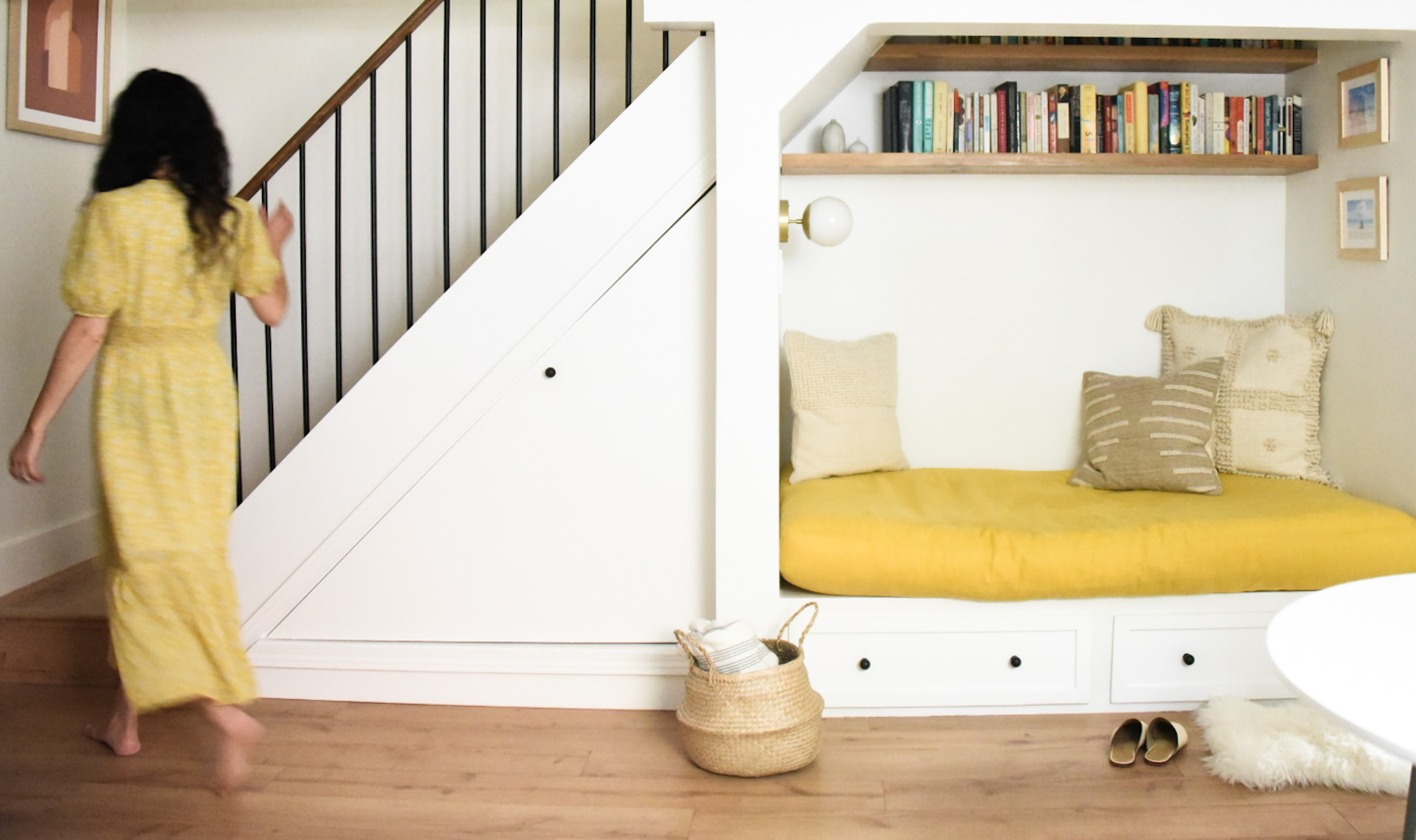 Found Turn Table Kitchen
Built-in Bookshelf and Window Seat
Have you always wanted your own built-in bookcases with a fabulous seat looking out into the yard? Here are free plans to make just that in your home!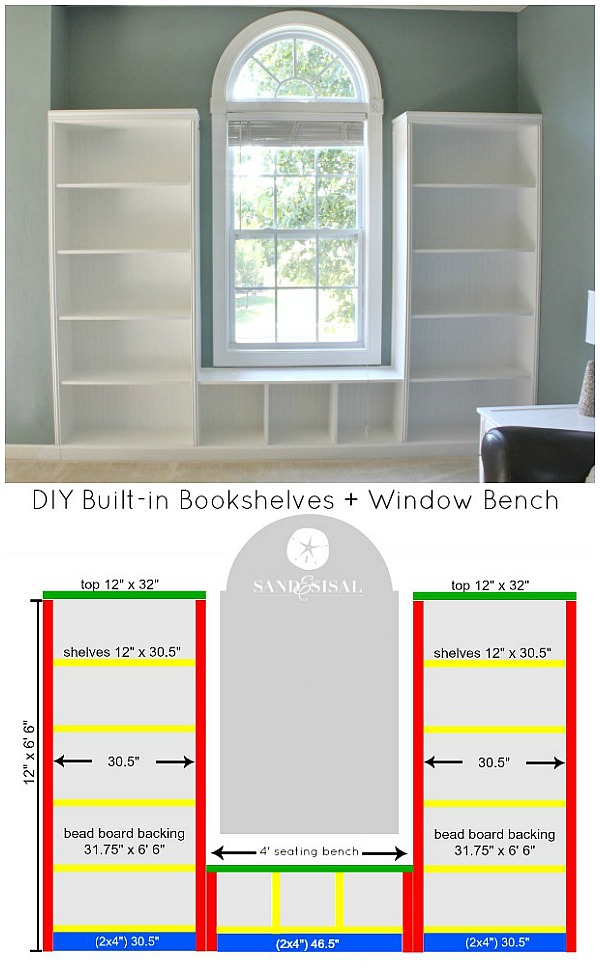 Found Sand & Sisal
Teepee Book Corner
This is an awesome no-sew project that doubles as a perfectly adorable book nook for your home!
Found Project Nursery
Bookcase Bench
This bench could easily be used nearly anywhere in the home that has extra space!
Found YouTube
Home Office Closet
If you are using your spare room as an office, you might consider taking advantage of the closet space for a special space to read!
Found Musely
Hanging Macramé Chair
This Chair is perfect for hanging in your book nook!
Found Classy Clutter
Colorful Reading Bench
Here is another version of a DIY kid's reading bench!
Found Instructables
Shelve Framed Book Nook
The shelves facing inward adds a unique touch to this book nook design!
Found Decor Pad
Story Corner
Modern home design can leave us with some head scratchers… like what to do with some of these small spaces in rooms. Fortunately, you can easily turn them into book displays for story time!
Found Lauren Folkman
Complete Closet Revamp
This is quite the project, but the payoff is huge!
Found Musel
Book Corner
This use the corner of a room as a dedicated book corner! Perfect for displaying books and relaxing with a bean bag chair!
Found Sunshine on the Inside
Under the Window Bookshelf Bench
Cozy up by a window with your next great read stored underneath!
Found Homed It
Easy Window Seat and Book Props
This space still feels large and welcoming thanks to the use of wall props for books instead of committing to a full shelf! This is especially helpful if you've moved into a home with a window seat already, but want to make it a deliberate space for reading!
Found House of Jade Interiors
Day Bedding Under a Book Nook
Spread out comfortably by placing cute and colorful bed mats beneath your chosen book shelves!
Found Pinterest
You May Also Enjoy…
30 Must Try Woodworking Projects For Beginners!
30 DIY Fire Pits for Your Outdoor Oasis
37 Delightful and Decorative DIY Projects for Your Garden