Hello, DIYers!
It's time to get really creative with colors! Today we will be talking about all of the amazing projects that you can do with wax crayons. Nearly all of these are kid friendly and allow opportunities for upcycling the broken crayons at the bottom of your storage bin. Give them a try!
Happy crafting!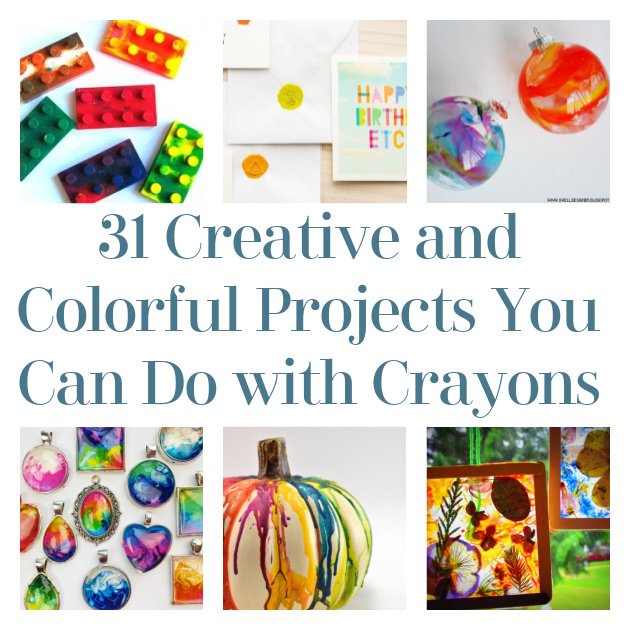 Color Layered Candles
make something colorful and fun for your home or as a gift!
Found Kara Creates
Framed Crayon Art
This is an adorable DIY gift that would be perfect for a teacher or baby sitter!
Found Cleverly Simple
Colorful Crayon Slime
Brighten up your sensory play with this squishy, rainbow slime!
Found YouTube
Melted Crayon Glass Ornaments
How beautiful do these DIY ornaments look?! You don't even have to wait until Christmas to hang them up!
Found Instructables
Broken Crayons Become New Crayons
If you have little one's playing, you probably have a lot of broken crayons. You can melt them down in a mold and create new crayons that they can use in any shape that you like. Some of them can even be more sturdy!
Found She Knows
Jewelry Pendants
Create these unique and gorgeous patterns using crayons to make your own jewelry!
Found Color Made Happy
Sun Catcher
Use dried flowers and crayon shavings for a pop of color to this lovely sun catcher!
Found YouTube
Crayon Playdough
Is there anything more fun than crayons and playdough? How about when you put them together?!
Found Little Bins For Little Hands
Painting Rocks with Melted Crayons
If you love painting rocks, you'll love the fun styles you can get when using melted crayons to paint with!
Found Doodlecraft
Custom Wax Seals
This is brilliant! Use crayons in your glue gun to make your own custom wax seals!
Found Brit+Co
Earth Day Craft
Melt together broken blue and green crayons to make the planet Earth! This is a fun way to upcycle and celebrate Earth Day!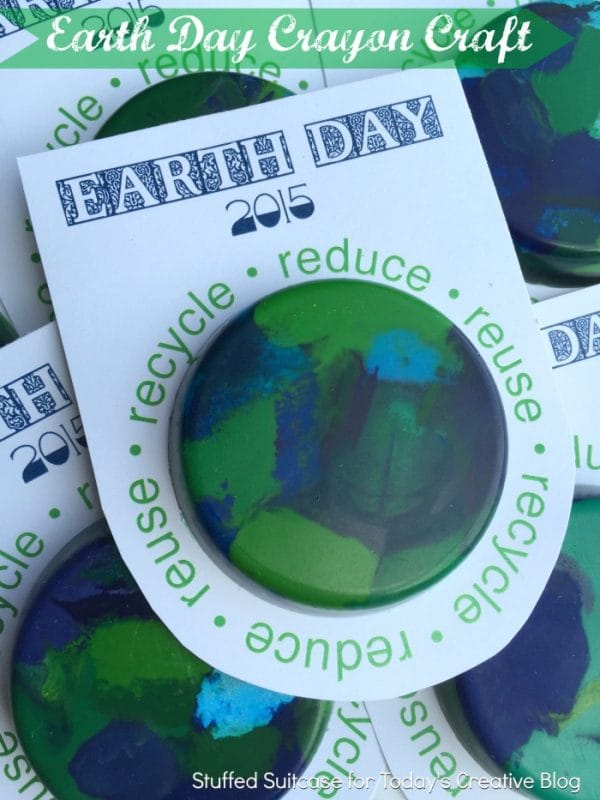 Found Todays Creative Life
Mosaic Art
Take a bunch of broken crayons and make a beautiful mosaic scene to hang on your wall!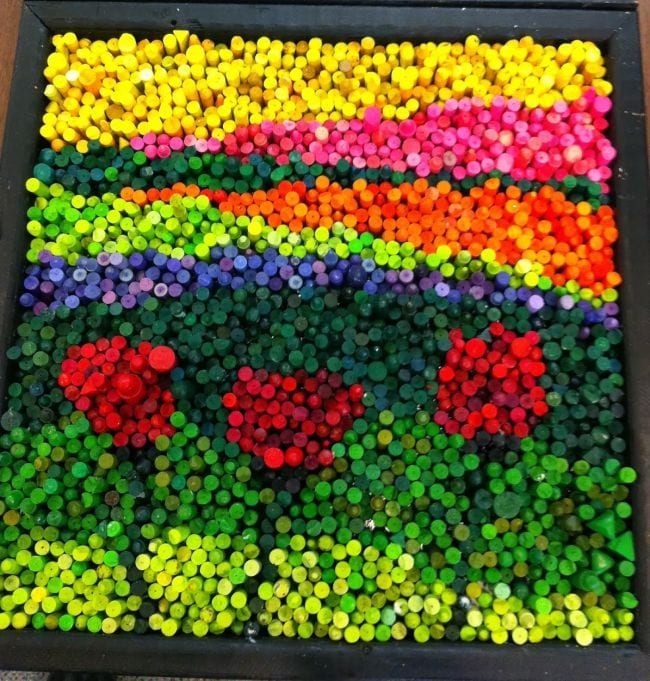 Found Rethink Crafts
Crayon Nail Polish
The nail polish actually draws?!
Found YouTube
Wax Paper Lantern
This is a cute, DIY way to light up your little one's room! Just be sure to get a battery operated candle instead of an open flame!
Found Artsy-Fartsy Mama
Melted Wax Wall Art
Add a beautiful and interesting piece of art to your home! Make it rainbow or stick to colors that suit your décor!
Found Man Made DIY
Crayon Sculpture
Get creative by building sculptures with your crayons!
Found Meri Cherry
Leaf Rubbing
Grab some natural leaves and get to crafting!
Found Art Bar Blog
Wax Flowers
Can you believe these beautiful roses are made out of crayons?!
Found Suzy Cucumber
Decorate Eggs
Why do we limit egg decorations to only Easter eggs!? Hard boiled eggs are healthy snacks PLUS you can have so much fun with them!
Found A Thrifty Mom
Crayon Drip Candle
Here is a different and fun twist on a colorful candle you can have dressing up your home!
Found Youtube
Stained Glass Window Art
This would look great as the front of a cute DIY cart or wall art! Plus it doubles as a fantastic Easter craft!
Found Easter Egg Crafts
Crayon Picture Frame
This is an adorable picture frame for your family memories!
Found Felt So Cute
Carve Something Lovely
carve your crayons into something unique and fabulous!
Found YouTube
Melt Them Into Fun Shapes
Melt Broken Crayons together to make LEGO block crayons!
Found YouTube
Melted Crayon Mobile
This craft is an upcycle project that uses melted crayons as a sun catcher and mobile combo!
Found The Left Coast Mama
Crayon Resistant Water Colors
Have fun creating water colors with a waxy message!
Found Crafts By Courtney
Was Melt Pumpkin
Use crayons to decorate your Fall pumpkins!
Found Mom Spark
Speckled Crayon Slime
Use shaved, flecks of crayon to make this colorful and fun slime!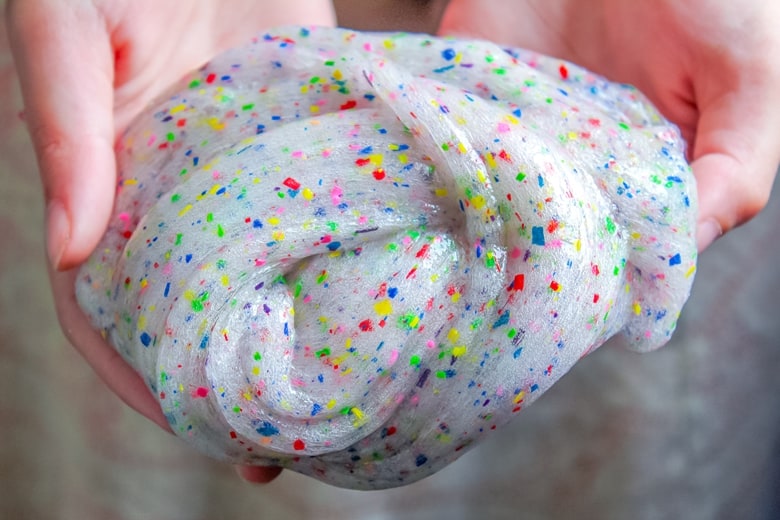 Found Crayons and Cravings
Crayon Wreath
This would be a lovely addition to a craft room or young child's bedroom!
Found MK Inspired
Egg Mold Crayon Candles
This is an easy and fun craft you can do with your little ones!
Found Red Ted Art