Hello, DIYers!
Are you looking for the perfect pair of earrings or maybe even to make a bit of profit? Why not do it by making your own jewelry! In particular, why not sell your very own earrings?! We've put together a collection of earring DIYs and inspiration to get you started on your entrepreneurial journey as a jewelry creator! Not sure how to get started in regards to selling? We can help with that too! Be sure to check out our 4 part series on opening your own Etsy Shop. We go over everything you need from finding a product to marketing it!
Happy crafting!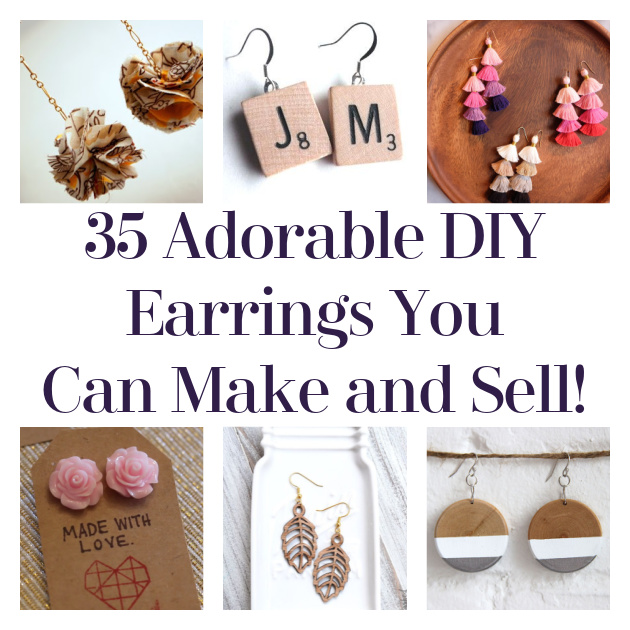 Fabric Flower Earrings
These are beautiful enough to wear with professional clothing but fun enough to add something extra to an everyday outfit!
Found Mop Top Maven
Boho Turquoise Earrings
These are so lovely, no one will believe you made them yourself!
Found Cut Out And Keep
Leather Tear Drop Earrings
These patterned leather tear drop earrings are gorgeous and easy to make! A winning combination!
Found Making Lemonade
Chandelier Earrings
Chandelier earrings never go out of style! And now you can make your own to keep or sell!
Found Instructables
Rose Stud Earrings
These are dainty and adorable!
Found YouTube
Hot Glue Earrings
This charm is made from dried glue from a glue gun! Add paint, glitter, or anything else you want!
Found Mama Smiles
Wooden Bar Earrings
This is a modern look that can be totally versatile!
Found A Beautiful Mess
Dried Flower Petal Earrings
Looking for something to do with dried flower petals? Try making these earrings or any of these other fantastic dried flower projects!
Found YouTube
Gold Plated Gemstone Earrings
How gorgeous! Give them a try!
Found Amy Latta Creations
Tassel Hoop Earrings
How adorable are these?! They are sure to sell out fast!
Found Made In A Day
Raw Stone Earrings
These lovely studs are sure to sell out!
Found Alice and Lois
Mixed Media Earrings
These are so incredibly interesting and fun! Customize them however you want!
Found The House That Lars Built
Flower Earrings
These gold flower earrings are lovely accessory to a Spring or Summer outfit!
Found Keeping Things Simple
Boho Crochet Earrings
Use your crochet skills to create these lovely boho hoop earrings!
Found Savlabot
Faux Leather Earrings
These are gorgeous faux leather and they look fantastic! Perfect for an Etsy Shop!
Found YouTube
Button Studs
Do you have a bunch of extra buttons laying around? Why not turn them into earrings?!
Found Instructables
60s Mod Style Circle Earrings
If you're thinking of selling something with a vintage flair, these might be just the ticket!
Found A Beautiful Mess
Crystal Flower Earrings
These are a gorgeous way to add a pop of color to an outfit!
Found Carol's Craft House
Mini Macramé Planter Earrings
Plant Lovers will rejoice over these adorable earrings!
Found YouTube
Confetti Earrings
Get ready to party with these adorable earrings!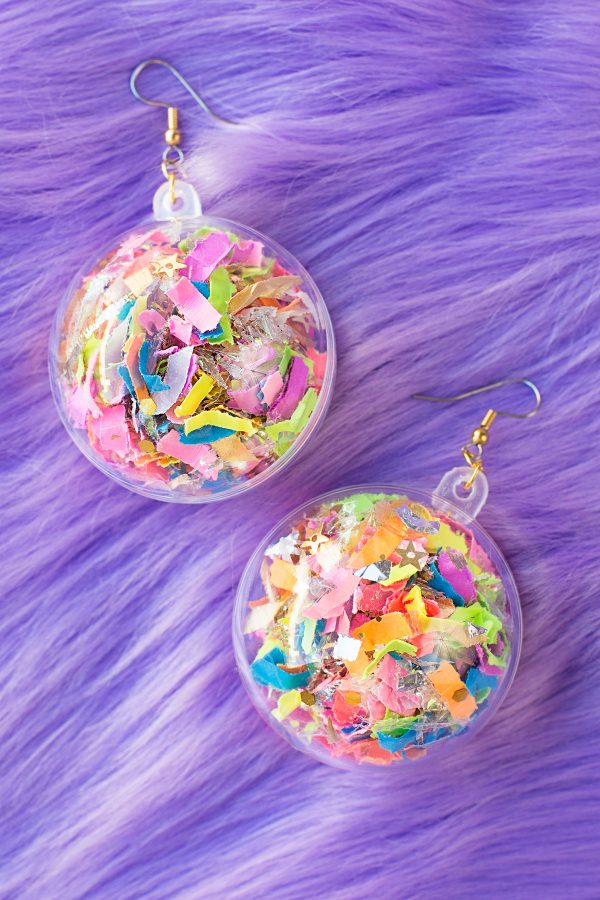 Found Studio DIY
Scrabble Piece Earrings
Turn scrabble tiles into these adorable earrings! Perfect for game night!
Found Craft Bits
Steampunk Gear Earrings
Add some steampunk style with these amazing gear earrings!
Found YouTube
Paint Dipped Wooden Earrings
How cute are these?! Give this great wooden DIY project a try!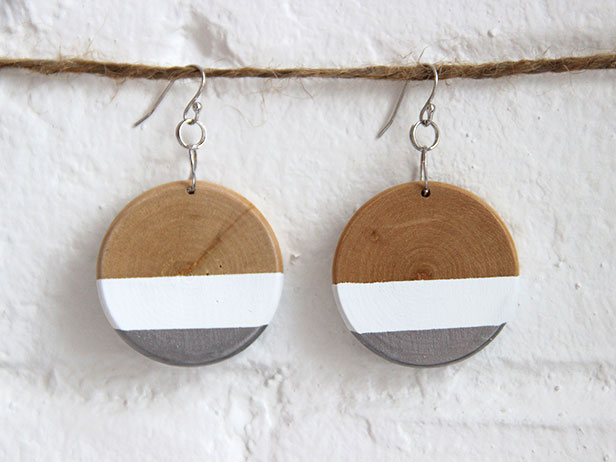 Found DIY Network
Paper Earrings
Craft with paper and make something beautiful to wear out of it!
Found YouTube
Guitar Pick Earrings
Here are basic instructions for turning a guitar pic into earrings! You can keep it as is or paint and further dress up the guitar pic! It's totally up to you!
Found Cut Out And Keep
Festival Earrings
These are interesting and creative! Give them a try!
Found Craftaholique
Rainbow Macramé Earrings
How beautiful! Give it a try!
Found Happiness is Homemade
Wooden Veneer Leaf Earrings
These are beautiful and sure to sell like hot cakes!
Found Consumer Crafts
Beaded Wire Earrings
These are so cute and customizable!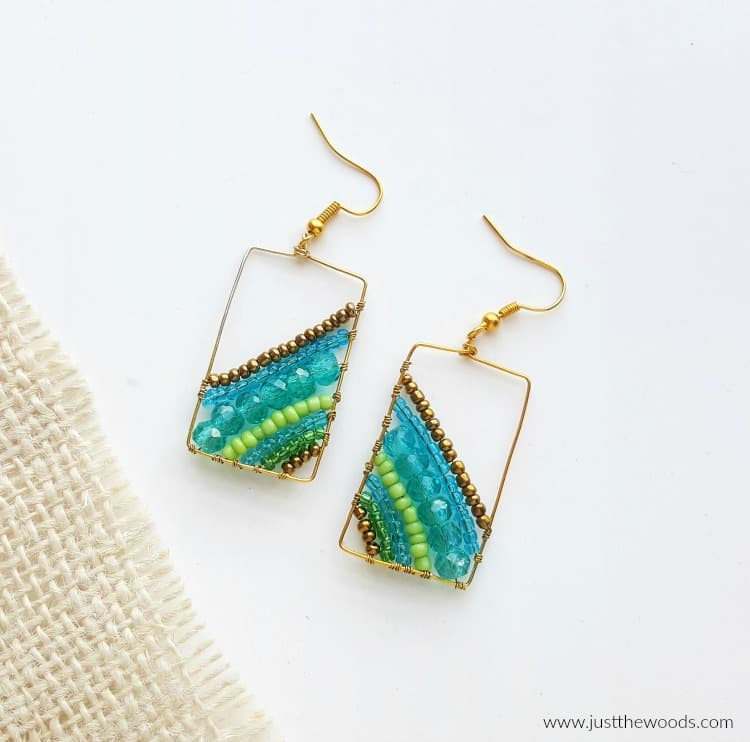 Found Just The Woods
Macramé Earrings
Earlier this week we posted all about macramé! Here is just another way to celebrate this awesome artform!
Found Consumes Crafts
Hammered Chandelier Earrings
Here is another lovely twist on the chandelier earring!
Found Consumer Crafts
Twisted Leather Earrings
How lovely are these?!
Found Factory Direct Craft
Ombre Tassel Earrings
Tassel upon tassel! There are great for summer!
Found The Stripe
Glitter Studs
Perfect for day or night!
Found I Love To Create
Tassel Fan Earrings
These are creative and lovely! You definitely can't pick them up at any old store! Why not try them?
Found Pinterest