Hello, DIYers!
Let's talk clothing storage! Even your own wardrobe might be difficult to keep organized in an adequate way, let alone if you have a family that you are responsible for! For that reason, we've put together a list of 31 seriously amazing clothing organization and storage hacks that you can implement in order to always find your favorite tank top, make decluttering easy, or just make your storage look more lovely in your room!
Happy organizing, everyone! May you never lose a sock again!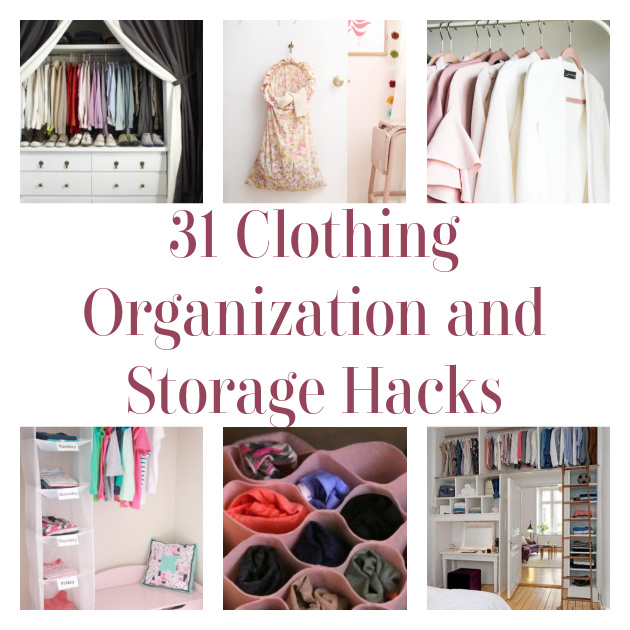 ...
Use Velvet Hangers
There are several appealing things about using velvet hangers! They are non slip, so your clothes stay in place much easier. Plus they are thinner than plastic hangers, so they take up less space and make for a cleaner finish!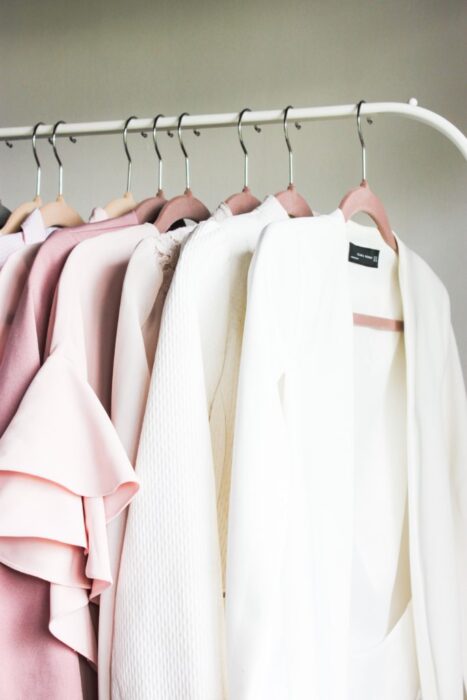 Found Life's Ahmazing
Bra Drawer
Having your bras in a drawer, provided you have the space, is a logical solution! Just make sure to line them up to ensure that they are stored safely!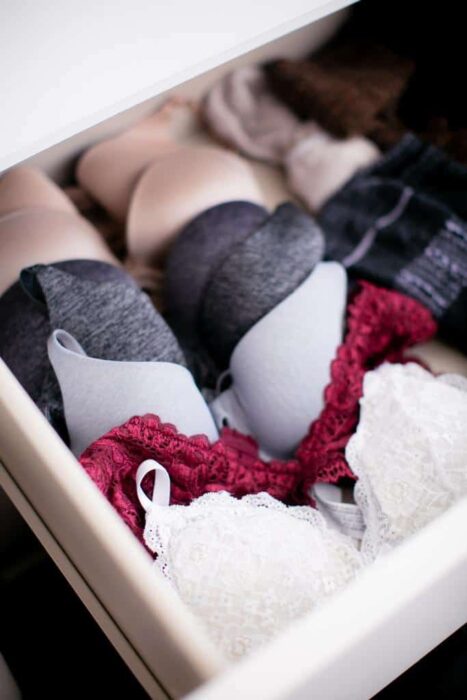 Found The Better Fit
Behind the Bed
If closet space is limited or non-existent, why not try organizing your wardrobe behind your bed?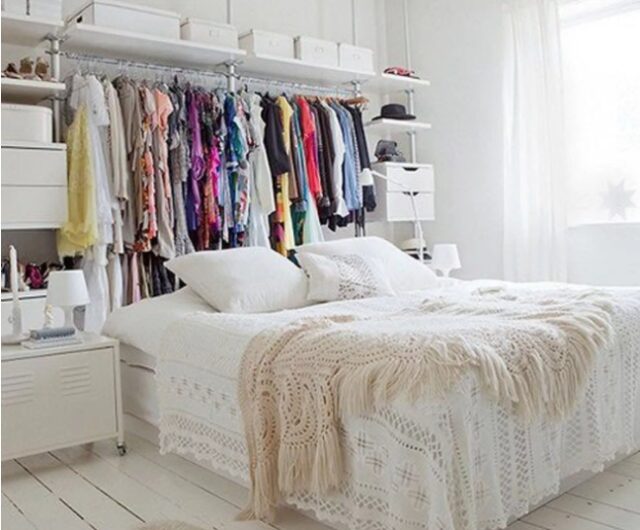 Found The Spruce
DIY Accordion Drawer Organizer
These are perfect for keeping underwear or socks organized in your drawers!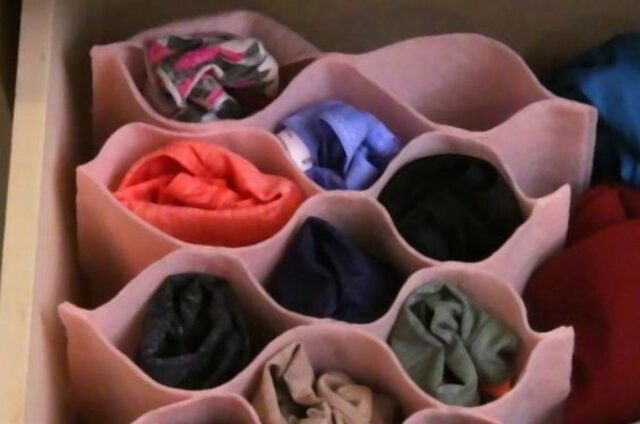 Found Craft Ideas 2 Live 4
Days of the Week Outfits
This works for kids or adults! If you want to get really organized, you can plan out all outfits for the week and store them in these great, hanging, shoe cubbies! It is a great use of vertical space in the closet that makes the entire week run smoothly!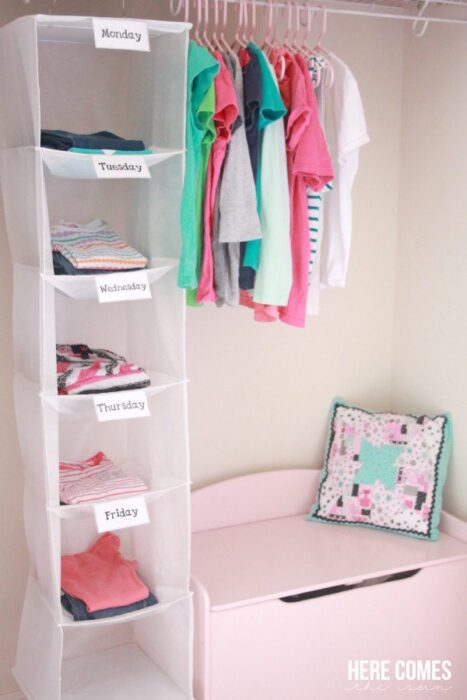 Found Kelly Leigh Creates
Closet Tags
These are organized by size for new born clothes and it's a great idea! Bu there me out, adults can use this too! You can go by size, type of clothing, season, whichever!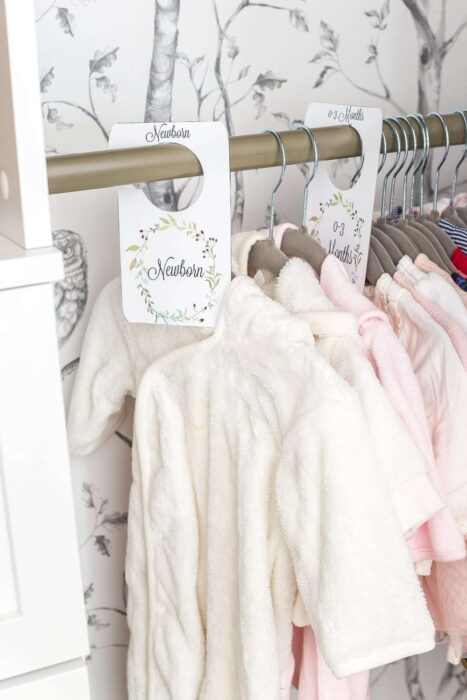 Found Blesser House
Open Built In Closet
While this isn't a simple, afternoon project, it is an amazing way to make the most of your space!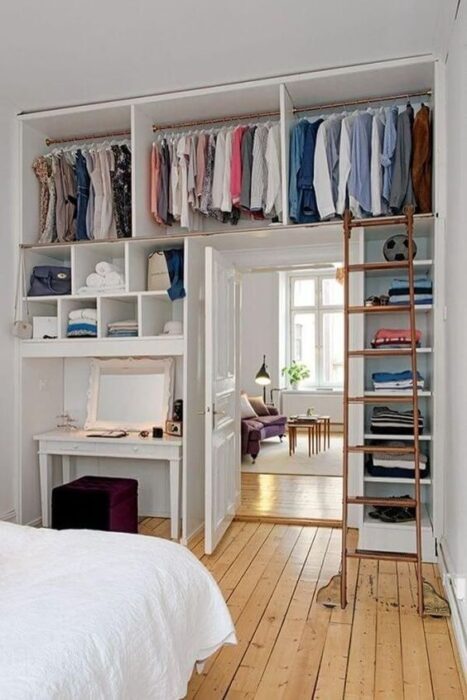 Found Digs Digs
Cascading Shirt Hangers
These special hangers save a ton of space! Spread them out or collapse them for easy storage solutions!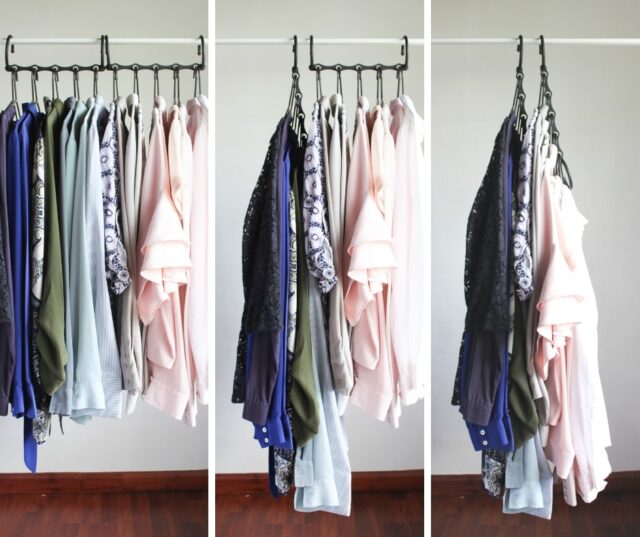 Found Life's Ahmazing
Repurpose a Tie Hanger for a Tank Top Hanger
The perfect under shirt for women also happens to be difficult to store and keep track of. They often end up a cluttered mess in a drawer. So this is a great alternative!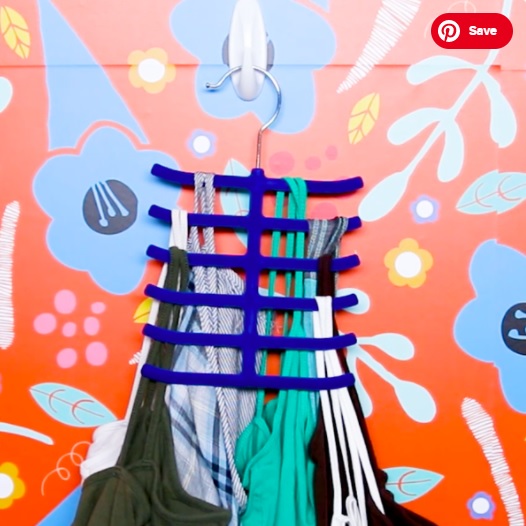 Found Buzzfeed
Hidden Hamper
It's almost a shame to have your clothes look nice when you have a hamper out in the open, displaying the clothes crumpled up. So why not create a hidden hamper?!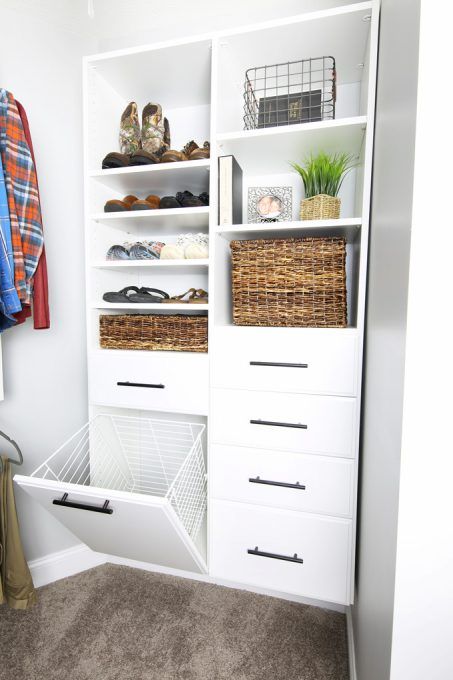 Found Just A Girl and Her Blog
Re-Usable Labels
Re-usable labels are great for cubbies that are up high, to stick on totes that you may slide under your bed, or to put on storage that you are using for your seasonal wardrobe. Pack away sweaters or sundresses and change the label!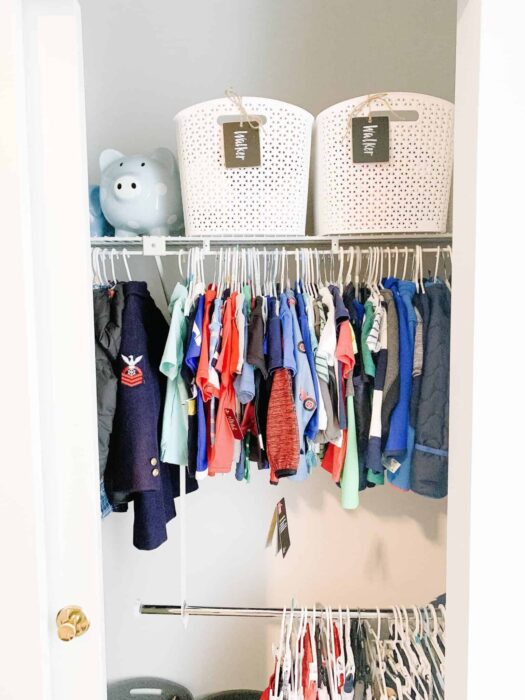 Found Arin Solange at Home
Hanging Jeans
You can use shower hooks to easily hang your jeans in the closet!
Found Buzzfeed on Pinterest
Install Closet Drawers
You can install drawers in your closet and label them any way that you need! Want to set out outfits for each day of the week ahead of time? Perfect! Or simply use it for a place to store camisoles, under shirts, yoga pants, etc.!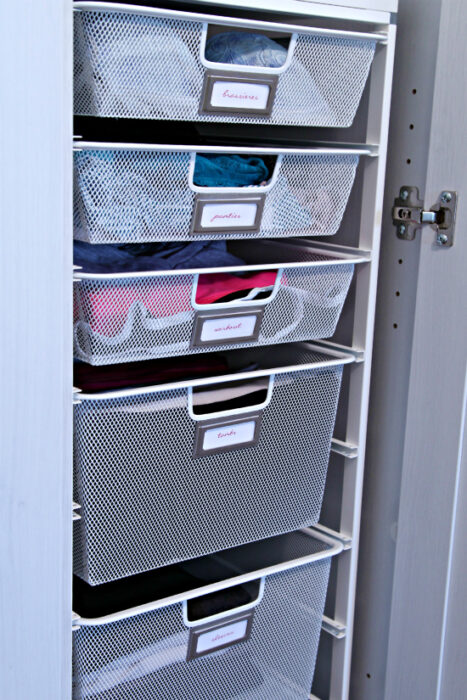 Found IheartOrganizing
Under the Bed
You can use the space under your bed to store extra clothing that aren't worn quite as frequently! If it's organized, it won't be difficult to find what you need!
Found Digs Digs
Utilize Mesh Laundry Bags
Okay, so this is more of a laundry hack. But hear me out! By putting socks, bibs, underwear, etc. into separate mesh bags (possibly hanging on the inside of the hamper) you can avoid having to sort them out later! This is especially great for keeping socks together for ever. Just as they should be!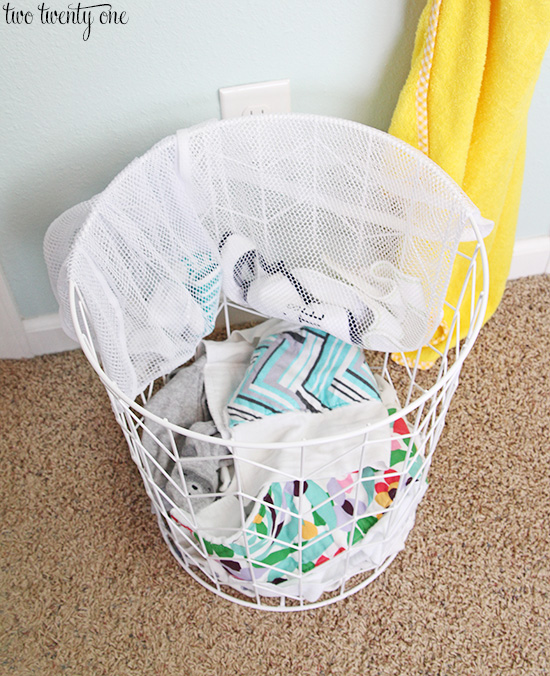 Found Two Twenty One
Convenient Bin Storage
The thing about baby clothes is that they need to be changed often and they outgrow them quickly! I love using the idea of one of these storage bins that proudly displays all of the current fits and outfits. It will help avoid woefully forgetting a cute onesie before it doesn't fit. And if you keep only current fitting sizes in there, decluttering when it is time to size up will only take seconds!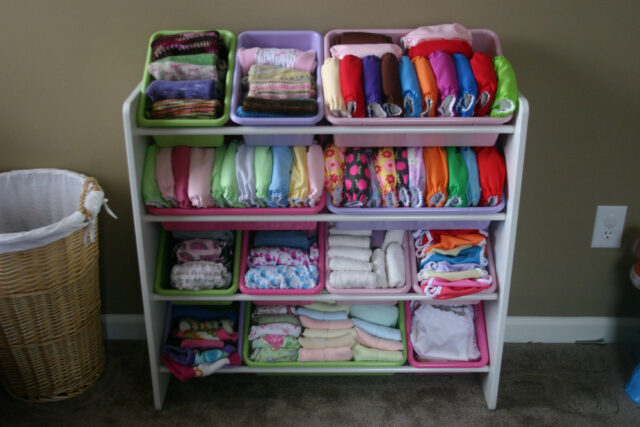 Found Where the Sidewalk Ends
Soda Tab Trick
Use a soda tab to double hang your clothes! Maybe you layer a blouse or you want to keep a shirt and skirt together. If you're REALLY ambitious you can even pre-plan outfits!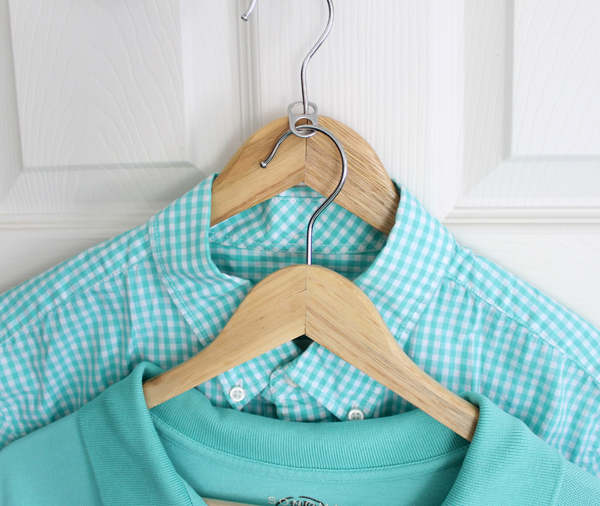 Found The Shabby Creek Cottage
Optimize Sock Folding
You can step up your sock folding game with this great tutorial!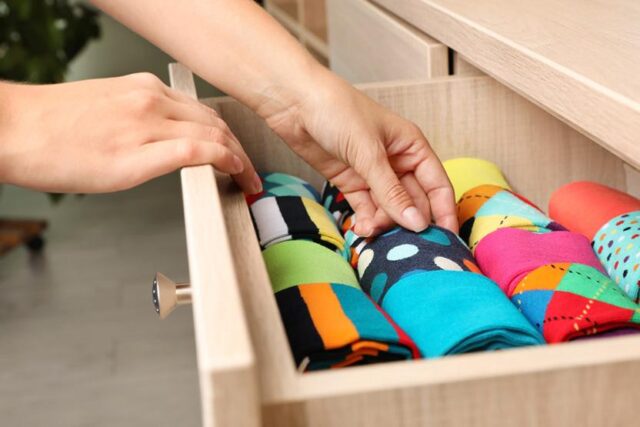 Found Sock Drawer
Matching Hangers
Matching hangers can make your closet look SO much nicer! If you're already rocking some plastic hangers of various hues and don't want to make the investment to buy more, you can spray paint them!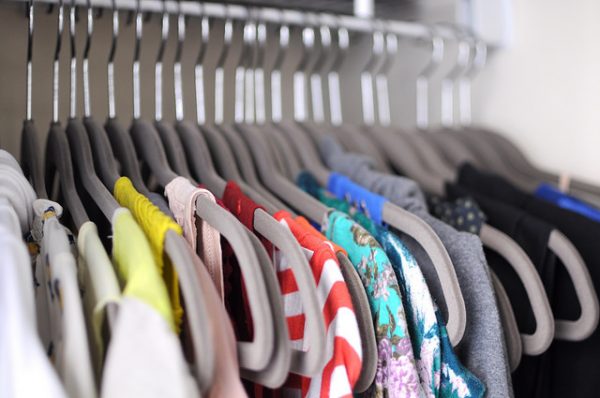 Found Make Space
Make Use of Awkward Spaces
Modern home design tends to leave rooms with little nooks and crannies that seem useless. So put them to work!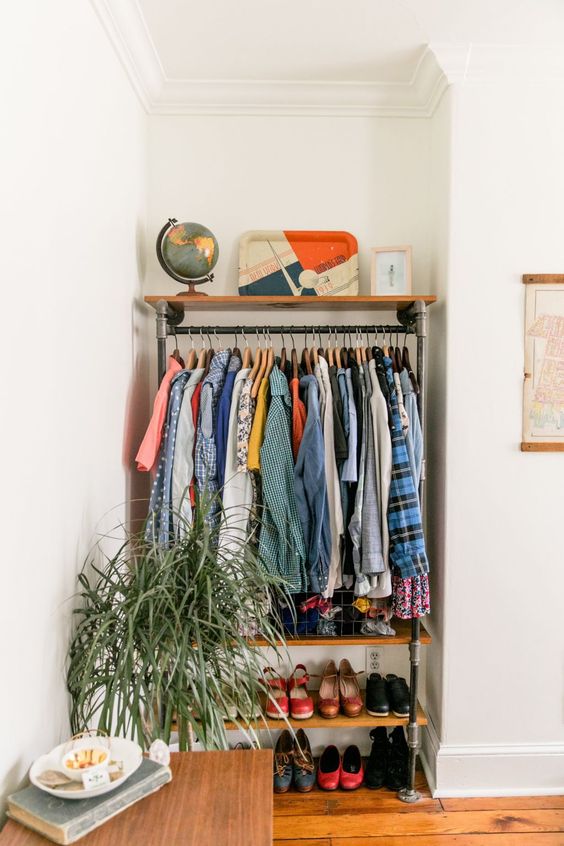 Found DigsDigs
Hanging Hamper Bag
You can store your laundry discretely by attaching a beautiful DIY hoop hamper bag to the back of the bedroom or closet door!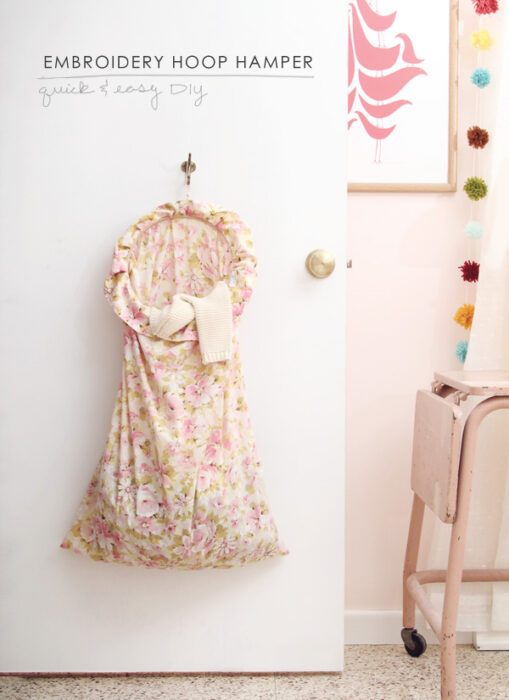 Found Making Nice in the Midwest
Combine Storage Techniques
If you don't have a closet, it can be difficult to store your clothes in a lovely way. Use a concept like this where you use the full potential of the wall space by using shelves, rods, and dressers.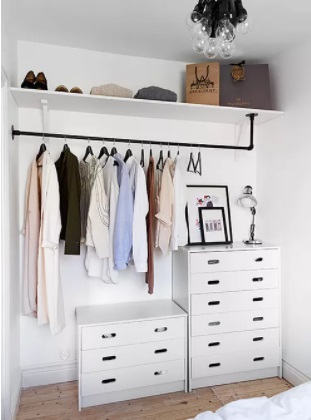 Found The Spruce
Vertical Jean Storage
When you're searching for a pair of jeans, do you often (accidentally) leave the drawer an organized mess as they come unraveled? This might work for you! With all of the jeans being on display, you can just grab and go!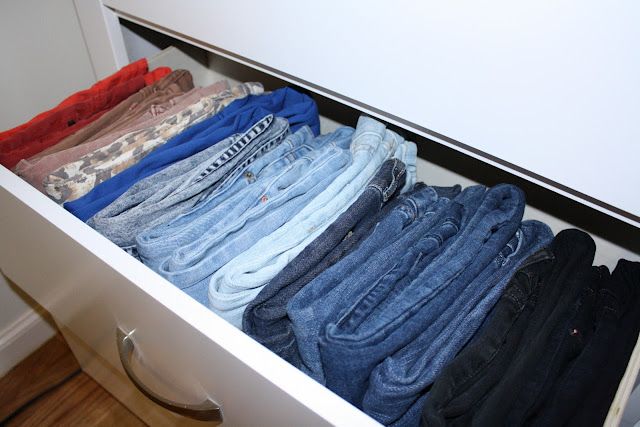 Found Pinterest
Multiple Hanging Rods
Using multiple hanging rods in a closet is a great way to make the most of the vertical space that you have available! This is particularly true for baby clothes, but that's not all! You might consider using this to hang up bras, swimsuits, or other shorter items.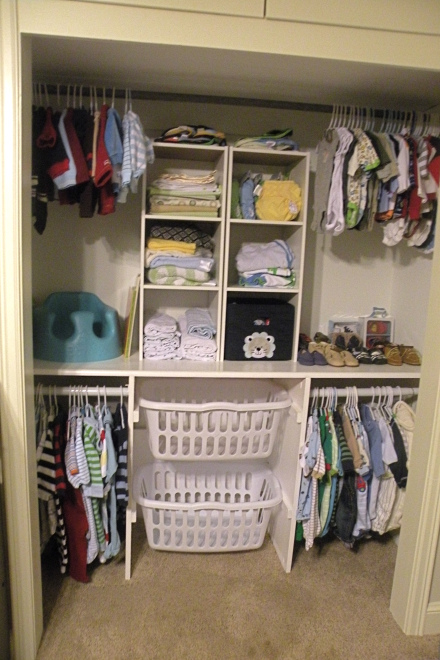 Found Around the Farmhouse Table
DIY Non-Slip Hangers
You can DIY your very own non-slip hangers with this quick and painless project!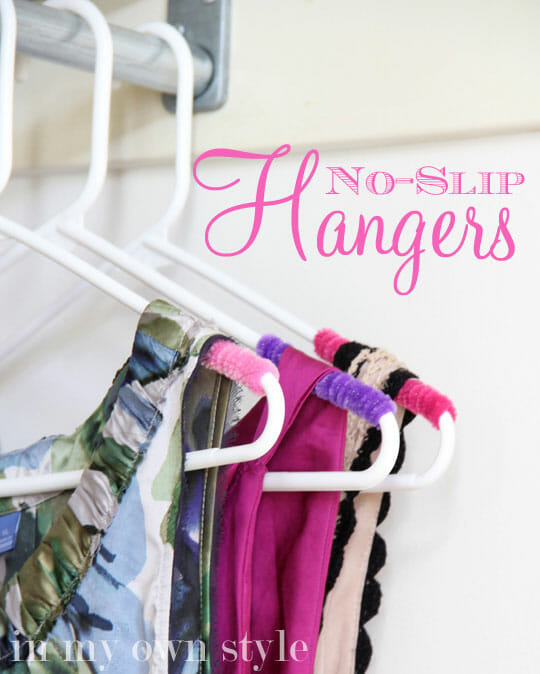 Found In My Own Style
Pool Noodle Boot Storage
Stick a pool noodle in your tall boots to help them keep shape when you aren't using them!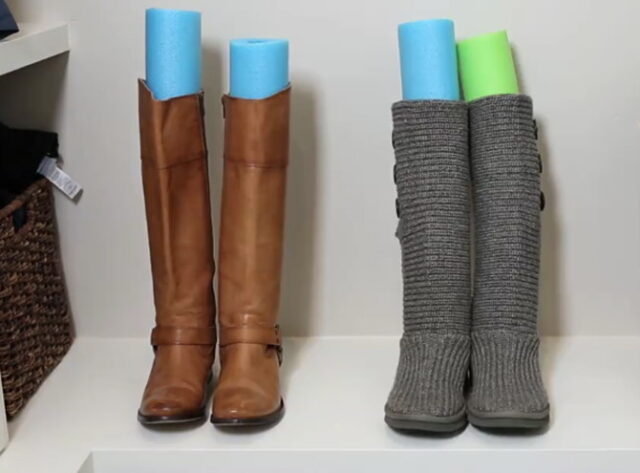 Found The Krazy Coupon Lady
Camisoles on a Ring
You can use a belt ring to hang up your camisole for ease of finding them!
Found Dream Design DIY
Wire Storage Cubes
Wire storage cubes are a great way to declutter the top shelf of your closet and create a new system of organization!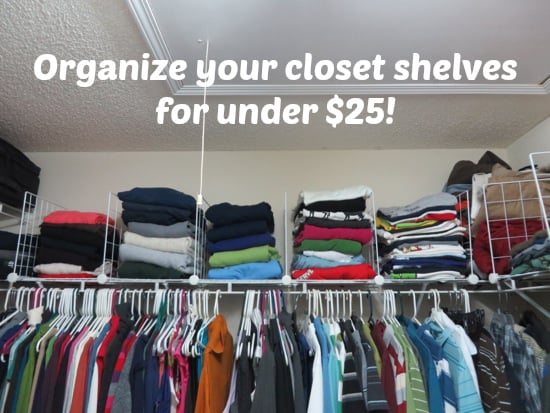 Found Engaged Marriage
Legging Storage
Do you have a whole collection of leggings? They, like tank tops, tend to get bunched off and go missing. You can use a door shoe storage container to easily organize and find your collection!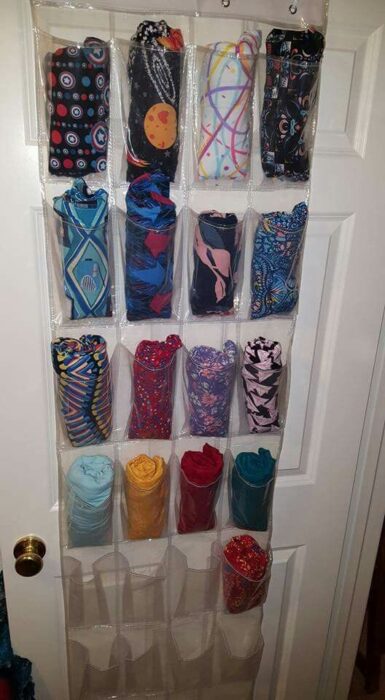 Found The Keeper of the Cheerios
Store Behind a Curtain
Whether you are using an open nook in the room or if your closet is over stuffed, you can use a curtain to hide your clothes behind. Not only does it add some coziness to the room, it can also be more forgiving than a door.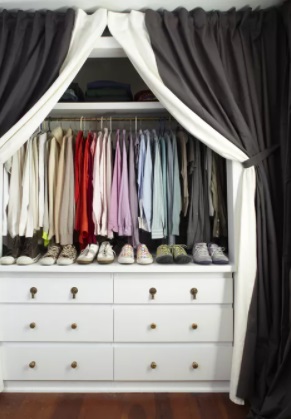 Found The Spruce
Store T-shirts Vertically
Much like storing your jeans, storing t-shirts vertically Makes it easier to find the one you're looking for and make sure none of them go forgotten!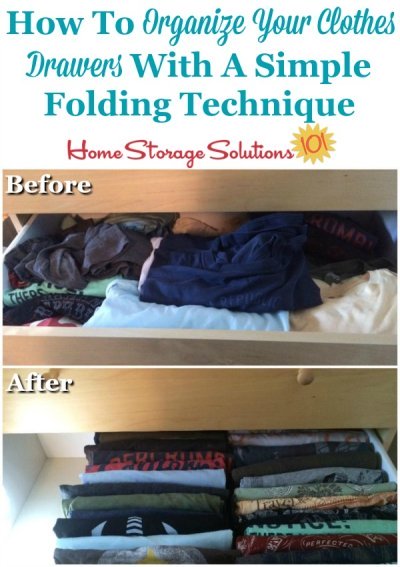 Found Home Storage Solutions 101
You May Also Enjoy…
40 Ideas to Make a Small Bedroom Feel Huge
40 Clever Storage Ideas for a Small Kitchen
40 Craft Room Design Ideas for Better Organization & Creativity