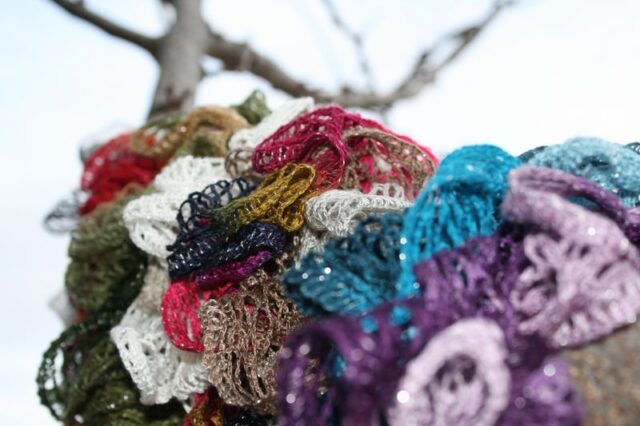 This was originally posted on Candy Design Studio by Annemarie Kanenwisher. That site is no longer active and we were providing a link to this tutorial on that site. Since the site isn't live now we have moved the tutorial here for you to follow. Here is the full post as is.
When Tracy sweeps into the office in the morning, if she doesn't have something homemade and yummy tucked in her arms, she has something beautiful and creative…a new quilt for her granddaughter, another handmade scarf…
As I wait for my sleepy eyes to open, my brain to wake up, and my Diet Coke to finally kick in,Tracy has already organized her desk (and a few others), prepared for the day's work, and is already cleaning out another closet! She has two speeds…FAST and…well, I have to admit that I've only seen "FAST," but I'm assuming she must eventually sit down at some point in the day!
Friday, Tracy brought in a few of the beautiful ruffle scarves she has been crocheting and willingly shared her pattern & techniques.
The original pattern that inspired Tracy's scarves came from the yarn manufacturer's website: redheart.com where you'll find a video demonstrating their "Frilly Crochet Scarf."
Tracy's pattern and techniques are a little different, and the result is a scarf with prettier, fuller ruffles. We thought we'd share her pattern with you!
After seeing Tracy's scarves, I knew I had to make one of my own…..okay, TWO of my own! (hey, they're really addictive!)
I ran straight from the office to my local yarn shop and bought two balls of beautiful novelty ribbon yarn to try the technique. There's such an amazing world of beautiful yarns out there…go see the selection at your local yarn shop! I chose a beautiful yarn from Italyand another made in Turkey for my scarves.