Hello, DIYers!
It's almost November! That means that we will be taking some time to reflect on all of the good things that come into our lives throughout the year. But why don't we also use the time to make sure that we are deliberately putting good things into the world each day as well?! We've put together 40 ideas of small no or low-cost ways that you and your family can make a point to put some positivity in the world each day of November plus a couple of extras so that you can pick and choose what works best for you!
Go do good recklessly!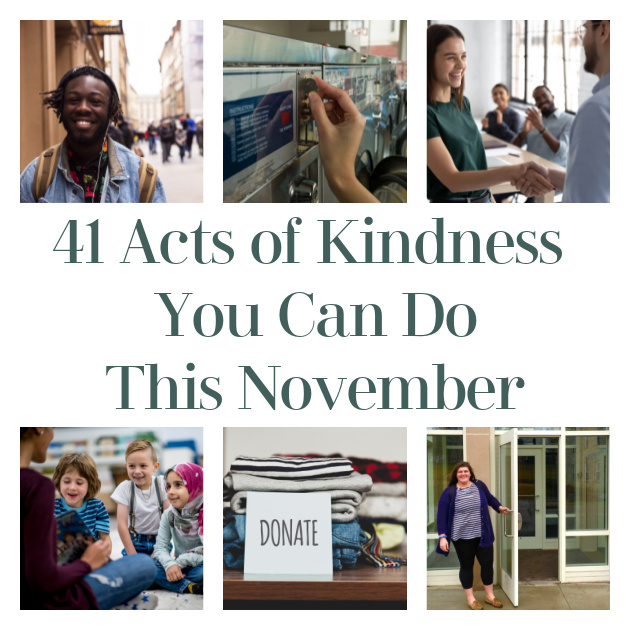 ...
Clean Up a Playground or Park
Next time you head out to the playground or local park to play, why not also make sure that you have some bags and gloves to collect trash in one and recycling in the other!
Give a roll of quarters to someone at a laundromat
Going to a laundromat is a whole ordeal, especially if you are doing all of the laundry for a family. Stop by a laundromat with a roll of quarters and look for someone with a family who is probably shouldering a great expense to use the machines. It only costs you $10 but could make that person's day!
Image Found: Laundry Solutions Company
Clean up carts in a parking lot
With shopping season in full effect, parking lots are busy! Plus, most stores are understaffed. By stopping by to clean up loose carts in the parking lot you will be making an employees day much easier and saving people's vehicles from plenty of dings and scratches!
Send cards to let recipients know they are awesome
You can make your own cards or pick up a pre-made set that are blank on the inside. Write a personalized message to the recipient letting them know that you think they are great and why. This can be particularly fun to do with a friend you don't talk to often, and so you don't know the full scope of their life. For instance, you might let them know they are a great parent, congratulate them on getting a new job or degree, or just say that you think they are really smart or funny! We all like getting compliments! And this is much more thoughtful than a like or comment!
Deliver something useful to a homeless shelter
People at the homeless shelter may have somewhere to rest their heads, but they may not be there for very long and they are still likely to be walking everywhere they have to go. Donating fuzzy socks, gloves, Chapstick, etc. can help to make their lives just a little bit better!
Declutter and donate
You can declutter items in your home and donate them to places that are most appropriate. This may include an organization, such as a women and children's shelter, a local family who just lost everything, or someone struggling who could use the items.
Found Mashable
Ask a pet shelter if you can play with the animals
There are so many benefits to sheltered animals to having a day to play with humans! With so many shelters being full, it becomes difficult to pay individual attention to each dog or cat. It can be helpful to the staff for you to come by and socialize with kittens that aren't used to being handled by humans or taking a dog out to play. The rules of the shelter vary, so it's best to call and see if there is a program that allows you to either stop by for some fun or if they allow you to adopt a dog or cat for the day!
Use couponing skills to give back
If you are an expert couponer, why not use those skills to help donate to food pantries! If you can get quality products for pennies on the dollar, all it takes is a minimal investment of time and money to help those less fortunate! Just figure out a local church or place that you can donate food items!
Donate Blood
Donating blood really can help save lives! Schedule a time slot with your local Red Cross to pick your moment to donate this month!
Found Integris Health
Let someone go ahead of you in line
Letting someone ahead of you in line, especially if you've got many items and they only have a few, can make their day! If someone looks like they are in a rush or have a child who is beginning to act up, this can be a huge blessing.
Sign up for baby formula samples and donate them
Whether it is to a women's shelter or a local resource for low-income or new mothers, donating formula is always a blessing. It is incredibly expensive and sometimes it can be difficult to find the right one for a little one. All you have to do is go onto their websites and sign up. Most places will send you samples in packets or jars that you will receive by mail. The odds are, they will also send you plenty of coupons that you can deliver as well!
Hold doors open for people
During the holiday season, people are running in and out of shops with their arms full! Make a point to pay extra attention and grab doors for people who need it!
Found Kiwi Report
Spread the love on social media
If you're going to sit down and get lost in scrolling, why not do it with the deliberate intention of leaving loving messages on people's posts. Let them know that they look great, something they did was impressive, or that you find them inspiring!
Make plans to visit an aging loved one
If you have an aging loved on who lives alone, they might like some company! Why not call them up and make a plan to visit? You can bring or cook dinner there, play board games, watch a movie together, or paint! Do something that you can enjoy together! While you're there, don't forget to ask if you can help with anything they might need.
Donate Directly to a Charity
Even though there is always a Salvation Army bell ringer on every corner, consider donating directly to a charity that means something to you instead! Just be sure to check and ensure that your money is going to the cause!
Found Money Crashers
Offer to babysit for free
If you know a couple or a single parent who has been struggling to get out of the house without the kids lately, why not offer up your services as a babysitter? They can enjoy a date night or alone time and you'll get some quality time with little ones!
Bring something tasty for your co-workers for breakfast
You can pick up a box of donuts or bake a tray of muffins and bring them into the office! It's a wonderful way to boost morale in the morning and start everyone's work day off in a good mood!
Found Waiter
Write small, personalized love notes for the people in your home to see in the morning
Stick them on the door when they are rushing out in the morning or on their bathroom mirrors! It's a busy time of year and sometimes we forget to spread the love in our own homes. Fortunately, this is a quick way to remind your partner, parents, kids, or other family members that you think they are special and that they are loved!
Leave a big tip
The pandemic has been hard on everyone, but especially on servers and other people who work for tips. If you're planning on going out, leaving a sizable tip can be a big boost for someone in the service industry. If your morning barista is especially kind or your hairdresser went above and beyond, don't shy away from showing them that you appreciate them!
Offer to take a photo of a single parent with their kids
If you see a single parent out and about, sharing a special moment with their kid or kids, offer to snap a picture of them all together. They may not have many pictures of them all together!
Found Indian Express
Donate coloring books and crayons to pediatric hospital
Children who are in the hospital are likely to get bored. Why not donate coloring books and supplies? You can pick some up at the dollar store or find a deal at the average discount store to keep the cost low!
Leave encouraging notes in library books
I love the idea of leaving encouraging notes, especially in self-help books. You never know what people are struggling with. An anonymous message in a book that took bravery to check out and take the first steps could make all of the difference in their healing!
Found Buzzfeed
Offer your services for free
If you have a special skill, why not see if there is someone who could use some help? For instance, if you're a marketing wiz, why not see if a local shelter needs help marketing a fundraiser? If you are a mechanic, offer a neighbor help with a car that has been giving them issues. Whatever you do, surely there is someone you can help!
Rake the leaves or shovel snow for your neighbors
If your neighbors are at work, you can take care of their path in! This will ensure that they have a safe way inside and don't have to spring into work mode the second they get home!
Found 1000 Awesome Things
Walk a neighbor's dog
If a neighbor works long hours but has a pet, why not ask if they'd like you to take them out for a stroll at a specific time. It will make their life easier, give their dog a better quality of life, and you get some exercise! Plus, you get to play with a dog! There's no down side!
Commit to responding to customer satisfaction surveys and naming the employee who helped you
Customer satisfaction surveys can mean a lot, especially to particular employees! Some companies base the potential for raising the employee's wages, status, and opportunities based on the information provided from customers. A couple minutes of your time could be the reason that the nice individual who helped you out turns their job into a career!
Found Bright Minds Marketing
Make a handmade gift for a friend
Get creative and make something for a friend or family member just because! Gifts are always more special when you take time and energy to make it yourself with a specific person in mind.
Commit to posting only nice things on social media all month
Doom scrolling is real! Help fight it by committing to only share wholesome, happy, and inspiring things all month long.
Give a coworker a shout out
Don't hesitate to let a co-worker know that they did an awesome job on a project or thank them for helping you out with something. You can do it in private, with a small card or gift, or even make a point to say it in front of peers or supervisors to help them get some attention if it's appropriate!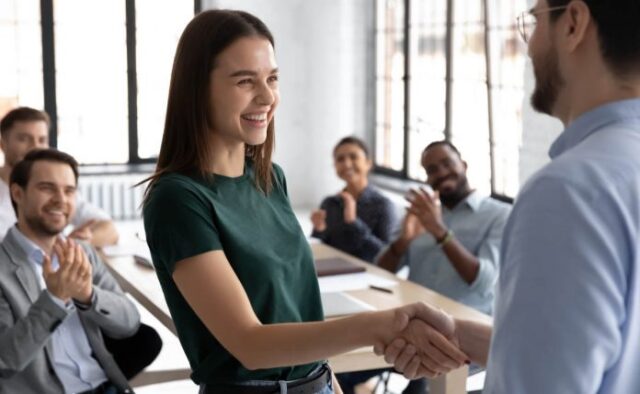 Found Kool Kanya
Send flowers to a friend
Other than a Golden Girls marathon, nothing says, "thank you for being a friend" quite like a surprise delivery of flowers to your bestie!
Compliment a parent on their child's behavior
People are often so quick to criticize parents, but few people stop to tell them they are doing a good job. If you see a kid behaving or being helpful, letting the parent know that they're doing great can make their entire day!
Make someone a homemade blanket or scarf
Whether you are a seasoned knitter or not, there are simple patterns that make this an easy task! You can feel good knowing you made a homemade gift and maybe even learn something new in the process!
Found Sewing
Put change in an expired parking meter
Adding a couple of extra minutes to a parking meter can save the car owner hundreds of dollars in fines and it only costs you a couple of cents!
Make a neighbor dinner
If you have a neighbor who often gets home from work late, why not consider having a homemade dinner ready for them? If they have kids they have to cook for, you can have a casserole ready to go to make an evening much more relaxing for them!
Found Wondermom Wannabe
Support a creator's Patreon account
There's a lot of online content creators and artists who have Patreon accounts up to help to fund their creative endeavors! This can make a big difference in the quality and quantity that your favorites are able to produce each month. If you have a podcast that you listen to religiously, page that you follow on Facebook, or even a friend who is regularly creating content that you get to enjoy for free… consider looking into whether or not they have a Patreon account that you can support. Most start monthly donations at as little as one dollar a month!
Bring a neighbor's trash bin up their driveway
If your neighbor tends to leave their trash bin out longer than the average person, there's probably a reason. Maybe their hands are always full when they get home! But if you have an extra moment while you do yours, you can bring theirs up too! This can be a lifesaver, especially on a cold and windy day!
Volunteer to read to kids
Whether at the library or bookstore, you can volunteer to read books to little ones!
Found PBS
Offer help to a senior neighbor
If you have a neighbor who is elderly or disabled, ask them if they need help! You might see if they need groceries picked up while you're on your way out or if they need something done around the house.
Donate your hair
If you have long, natural locks and you're thinking about getting it cut, why not donate it to a worthy cause?
Found Headcovers
Make your partner breakfast in bed just because
Having a loving partner can make all of the difference in your life! But that means showing love back. Why not wake up a little early one weekend and make sure that your loved one gets a special breakfast in bed just because!
Smile at strangers
The power of simply being a positive presence in the world can make all of the difference in someone's day. Smile and say hello to strangers as they walk by and let them feel seen and touched by your warmth, even for a second!
Found Medium
You May Also Enjoy…
39 Fall Nail Art DIY Designs and Inspiration
37 Show Stopping DIY Thanksgiving Centerpieces
39 Fantastic and Fun Thanksgiving Crafts for Kids
37 Hearty Fall Recipes to Inspire You