Hello, DIYers!
If you have a little princess at home, this is for you! Decorating your child's bedroom is a fantastic way to get them using their imagination, helping them feel loved, and gives them a space all of their own! If your little girl (or boy!) loves pinks, purples, princesses, and glitter, these projects will be perfect for giving them the room of their dreams on a budget! Get creative and inspired to upcycle and customize furniture, make your own princess art, and fill your child's room with homemade projects! What more could royalty want?!
Happy crafting!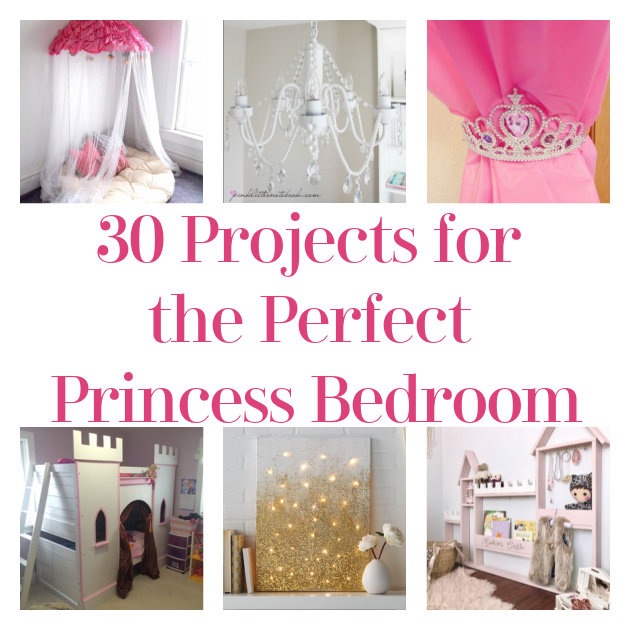 ...
Rose Lamp
How lovely is this lamp? It fits perfectly into a princess themed room and it is so easy to make!
Found Simply Ciani
Princess Castle Bunk Bed
Give your little one their very own castle with this fantastic DIY!
Found Instructables
Colorful Rag Rug
Add some fun color to the floor with this rag rug! It can be customized to your color scheme!
Found Everyday Art
No-Sew Tulle Bed Skirt
Dress up the bed or a table with this adorable, tulle skirt! Perfect for a princess or ballerina room!
Found Wonderful DIY
Diamond Pillow
Every princess needs her diamonds!
Found Craft Teen
Flower Dress Art
Every princess needs a dress for the ball! Why not dress your little one's room up with this DIY artwork?!
Found YouTube
Princess Wall Mirror
This is a beautiful way to make a royal wall mirror that only costs a few dollars! Give it a try!
Found YoutTube
Tiara Curtain Ties
Tie curtains together with a cheap tiara to add a special touch!
Found Pinterest
Pearl Crown Art
Why not try to recreate this lovely crown art?! Find a fancy frame and spray paint it the desired color! You can find a silhouette outline of a crown to glue fake pearls in it's shape!
Found Amazon
Glamorous Princess Chandelier
Glam up your little one's room with this beautiful chandelier upgrade!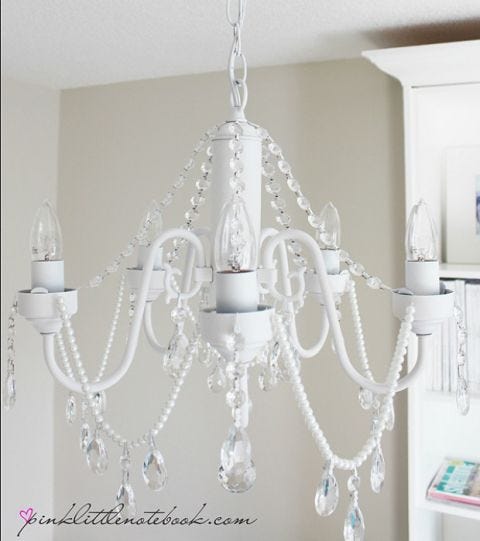 Found Good House Keeping
Princess Dress Up Closet
If your little princess loves to play dress up, why nod add this to her room?!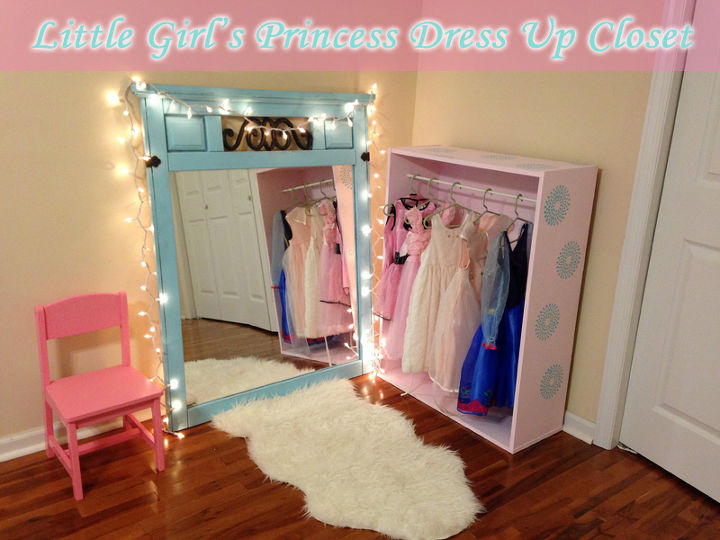 Found Home Talk
Princess Shelves
Princesses always have things to store, so why not do it in style?!
Found YouTube
Hand Painted Princess Furniture
You don't have to spend a fortune buying princess themed furniture! You can upgrade an existing set with creative paint and new hardware!
Found Vintage Charmed Restored
Glitter Fairy Light Wall Art
How charming is this?! Plus it is easy to make yourself!
Found JoAnn
Princess Lamp
How lovely is this? Upgrade an old lamp into something fit for a princess!
Found YouTube
Princess Canopy Reading Nook
This is an adorable way to create a cozy space for your princess to read, play, or just hang out!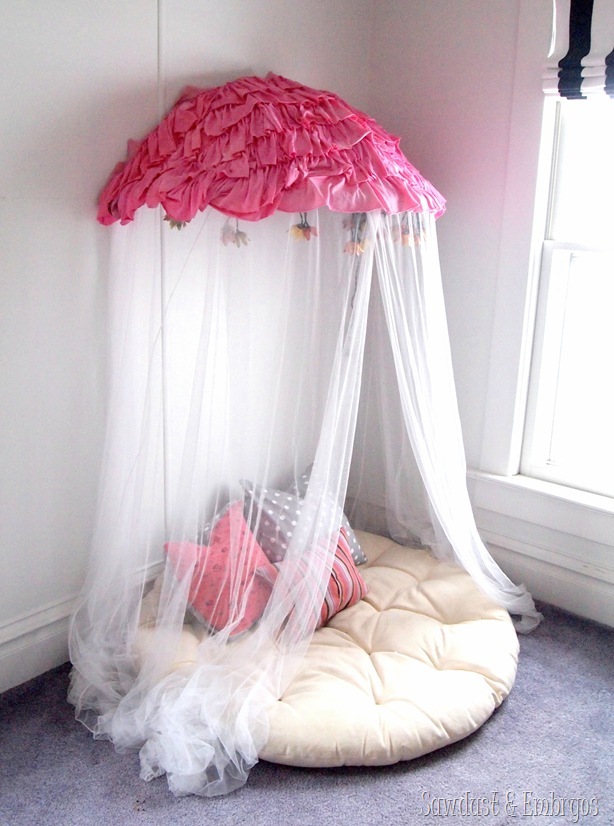 Found Reality Day Dream
Castle Bookshelf
How adorable is this? It's almost a disservice to call it a bookshelf when it does so much!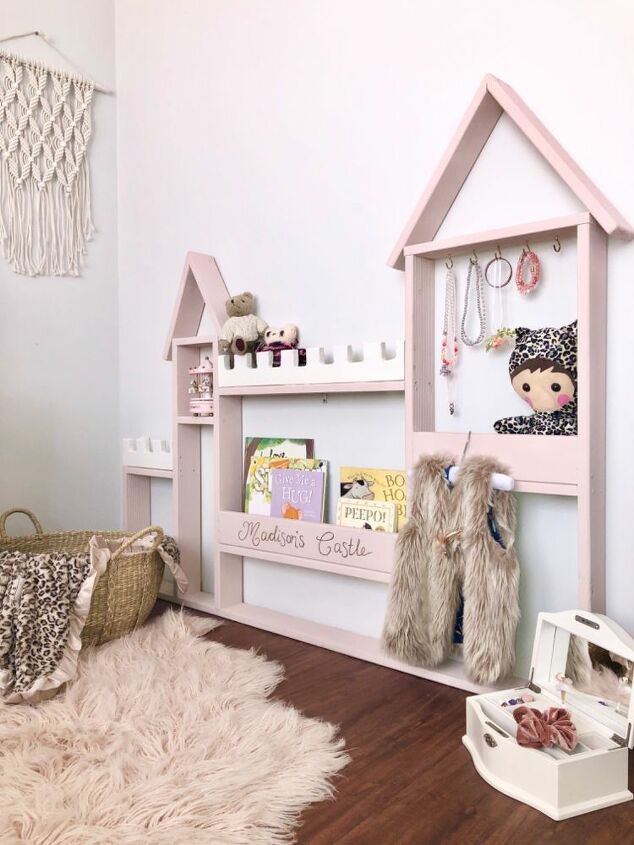 Found Home Talk
Princess Wreath
Decorate with a wreath made for a princess! You can put it on her door or wall!
Found Factory Direct Craft
Crown Pillow
Get cozy in a crown!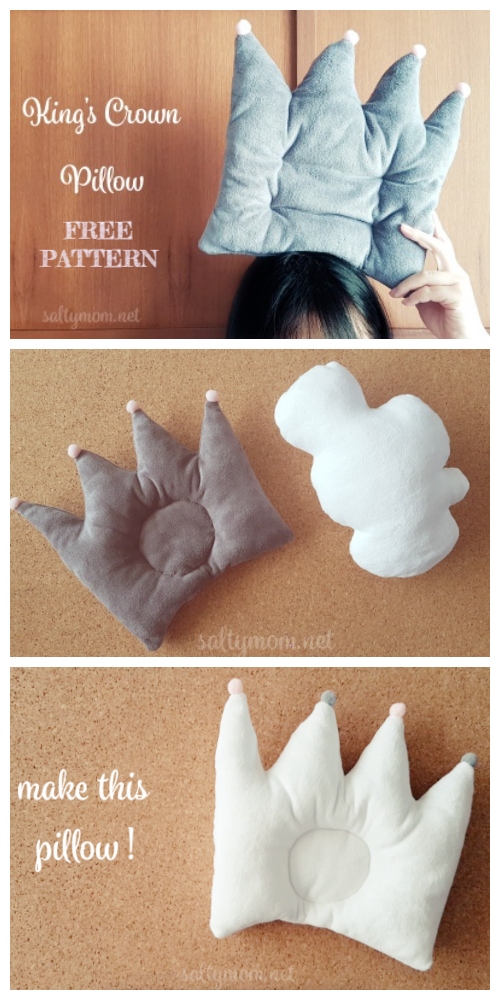 Found Fabric Art DIY
Hanging Flower Art
Princesses love love! give this décor a try!
Found A Beautiful Mess
Square Princess Mirror
This is a cute and easy way to dress up a mirror to fit the princess theme!
Found Kraft Klatch
Glitter Light Switch Covers
A customized light switch cover is a cheap way to add a little something extra to any room!
Found Faithfully Free
DIY Princess Carriage
This play carriage is a lovely way to decorate and enjoy a perfectly princess room!
Found YouTube
Gold and Glamorous Wall Décor
This is a fun piece of art that can grow with your little one!
Found Loving the Simple Things
Decorative Storage Ottoman
Create additional storage in the room with this pink and cushy ottoman!
Found YouTube
Pom Pom Rug
Use pom poms to customize your DIY rug to your princess color scheme!
Found Sewing
Bed Crown
Customize this to fit into the theme of your princess bedroom!
Found Pink When
DIY Crown Canopy
Hang a lovely canopy over the princess' bed!
Found YouTube
Little Tiara Crochet Blanket
Princesses need to keep cozy and this is the perfect blanket to do the job!
Found Crochet Kim
Tulle Princess Lamps
Nothing says princess quite like tulle!
Found Instructables
You May Also Enjoy…
30 Dreamy DIY Night Lights for Kid's Bedrooms
37 Ideas for Teen Girl Room Décor
30 Tik Tok Inspired Bedroom Lighting for Teens
40 DIY Bedroom Decorating Ideas