Coffered ceilings are surprisingly versatile and flexible, despite often being associated with deep coffers and dusty, historical buildings. These ceilings can be beautiful in any home, whether you enjoy a contemporary, modern living area or prefer a traditional, perhaps rustic, look. Check out this infographic below by Tilton Coffered Ceilings to know more about this type of ceiling treatment.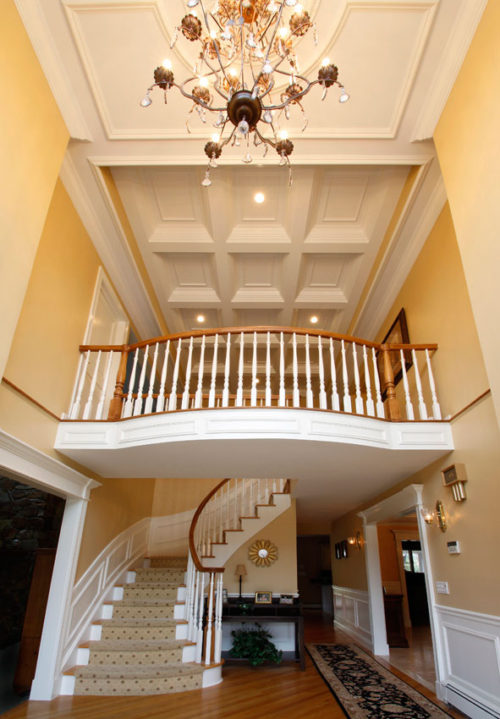 Now, here are just 5 ways you can incorporate coffered ceilings into your home, with stunning results.
Create a Grandiose Entry Way to Impress Guests
The entryway of your home is where guests will develop their very first impression of your interior. Make an excellent impression by taking advantage of a deep-set, dramatic coffered ceiling. Since entry ways or rooms are often small, this is a great opportunity to introduce coffered ceilings into your home or try your hand at DIY kits.
...
Give Your Kitchen an Architectural Feel
Coffered ceilings look stunning in kitchens, especially when you go the route of shallow box beam coffers. This instantly gives your kitchen space an architectural feel, reminiscent of old buildings. Keep the paint scheme light so you still maintain an open, airy feel. Going with an all white or ivory scheme with matching paint on walls and the coffered ceiling really looks clean.
Make Your Bathroom Look like a Spa
Similarly to the small space of an entry way, a bathroom is another excellent room to introduce coffered ceilings. You can easily create a luxurious, spa-like feel to your bathroom by installing a box beam coffered ceiling. Contemporary-style coffers will work quite well in smaller bathrooms, without being overwhelming. Similarly to the kitchen idea, painting these ceilings a light color will help add height and openness.
Add Subtle but Effective Detail to Minimalist Homes
Home designed with minimalistic qualities in mind certainly don't need to be boring, but adding detail can be challenging. Opting for a subtle, wide-grid shallow beam coffered ceiling is an excellent way to go. A coffered ceiling in a minimalist home adds interest, but isn't "too much" when shallow beams are used. As long as the grid is set wide apart you won't lose the modern-minimal style of your home.
Develop a Unique, Custom Look to Your Living Room
Coffered ceilings instantly make your home feel custom thanks to the uniqueness associated with them. If your living room is looking drab you can used coffered ceilings to bring in some drama and make the interior feel more expensive. Box beams coffers on a living room ceiling are also perfect for recessed ambient lighting.

Coffered ceilings are an excellent way of making your home look more valuable, especially if you eventually plan on selling. This type of ceiling treatment is surprisingly affordable and can even be done by those that enjoy DIY projects, thanks to quality coffered ceiling kits.