Hello DIYers!
You know that we here at BigDIYideas love an upcycle project! Taking the broken or unused items in your home and turning them into something wonderful and new is a fantastic way to practice green living while being creative and saving money. This time, we're talking about CDs and DVDs! Do you even have something that plays a disc on it anymore?! Hooked up at least! If not, why not consider using the discs for something useful and fun!
Happy crafting!
Mirror Frame
Break your old CDs or DVDs apart to make this adorable mirror frame!
Found Swag Bucks
CD Turned Coaster
Put your old discs to work by having them hold your drink!
Found YouTube
Mosaic Table Top
Do you have a table that is perhaps covered in scratches? Or maybe you're just looking for something a little extra in your life? Try this!
Found Thoughts of a Nautical Girl
Necklace
You can turn an old CD into a quirky and cute necklace!
Found Upcycled World
Mosaic Bird Bath
Use old CDs or DVDs to make this adorable mosaic bird bath for your yard or garden!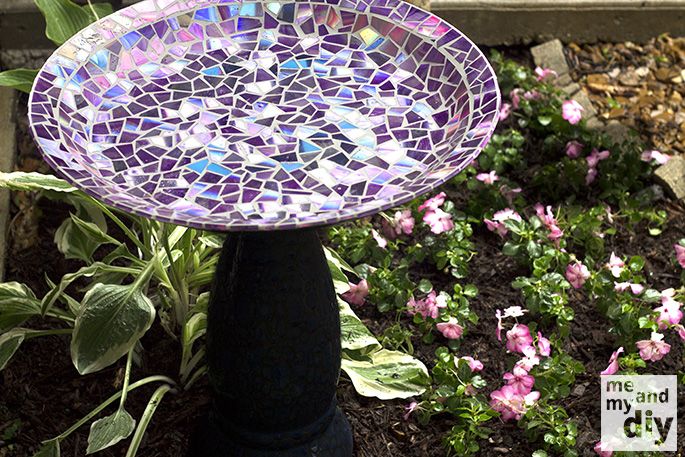 Found I Creative Ideas
Unique Wall Art
You can get creative by using CDs to make unique wall art!
Found Home Dzine
CD or DVD Clock
Celebrate one of your favorite CDs or DVDs by turning it into a clock that you keep beside your bed or on a desk!
Found Crafting A Green World
Pimped Out Collar
Decorate the collar of your shirt with your favorite jams from the yesteryears!
Found Follow Fashion
Flying Saucer Craft
This is an adorable craft you can do with kids!
Found Little Crafter
CD Earring Tree
Keep your earrings organized by punching holes around the rim of a disc!
Found Pinterest
Mosaic Ornaments
Imagine these babies catching off the lights on your Christmas tree!
Found Cremedelacrafts
Photo Stand
How adorable is this?! Note the cute use of paper clips!
Found Craft Your Happiness
Mosaic Planter Pot
Spruce up a plain old planter pot with this metallic and mosaic look!
Found The DIY Show
CD/DVD Roofing Concept
If you need to make a roof for an outside feature, why not use CDs?
Found Instructables
Mosaic Garden Art
Make tiny creatures on garden rocks!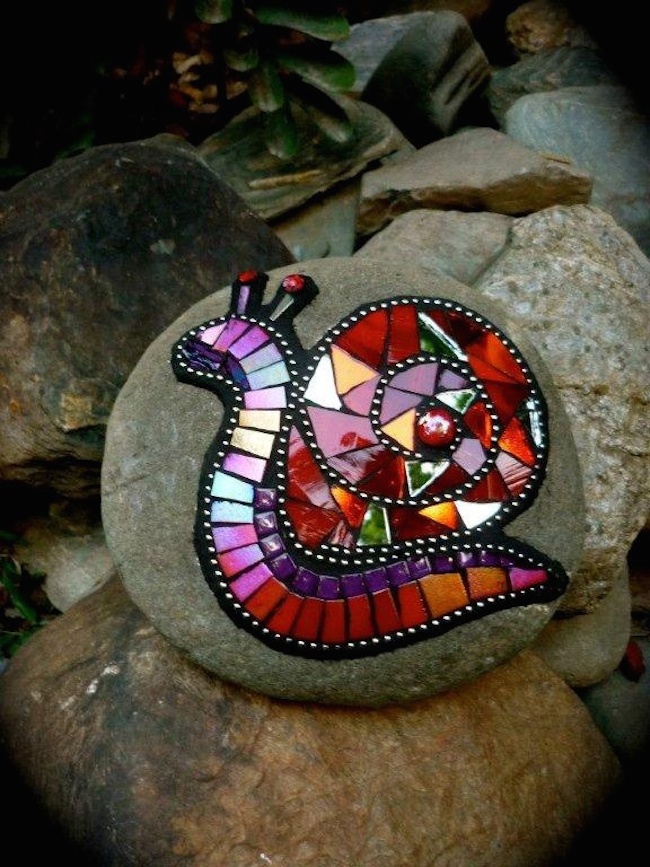 Found The Decoist
CD Wall Clock
This was originally an Etsy item but would be super simple to replicate!
Found Etsy
Tiny Planters
Melt and mold your old disks into these adorable planters with a built in drainage hole!
Found Pinterest
Disco Ball out of Old CDs
Having a party? Why not decorate by making your own disco ball?!
Found Crafting a Green World
Mandela Art Upcycle
This is a beautiful way to upcycle your CDs or DVDs!
Found YouTube
Mosaic Bottles
Do you tend to save any bottles that come into your house? Well, this is a great way to spruce them up!
Found Pinterest
CD Lamp
How cool is this?!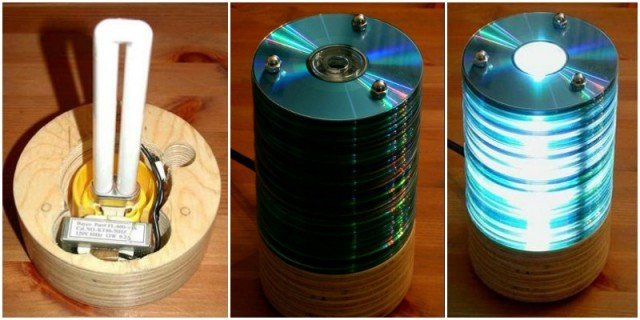 Found Fab Art DIY
Dress Up a Guitar
Spruce up an old guitar with some of your old jams!
Found Pinterest
Crochet Cover and Beaded Tail
How cute is this?! It's like a dream catcher and a sun dial all in one!
Found Flickr
Pen Stand
This cute DIY features an owl, but you can really do whatever you want with it!
Found The Creative Twins
Spacey Cap
Make a bold statement with this awesomely decked out cap!
Found Pinterest
Curtain Holders
This is so cool! Carve out the inside of the CD to form a circle and then decorate it however you want! Hold the curtains back by securing the back with a chopstick!
Found Pinterest
Tissue Box Bling
Make your tissue box a sight to be seen!
Found Pinterest
Snail Craft
How cute is this?! Plus it will give you a chance to explain what a CD is to your little ones!
Found Crafty Morning
CD Art
Get crafty with this lovely CD art project!
Found Instructables
Mosaic Picture Frame
Use it on a small mirror or a picture frame!
Found Useful DIY
DIY Curtain Decoration With CDs
Party like it's 99 with this fun hanging decoration!
Found For Creative Juice
You May Also Enjoy…
31 Quirky and Cute Silverware Upcycle Projects
31 Clever Ways to Upcycle Glass Jars
30 Brilliant Hacks and Upcycle Projects for Pool Noodles
30 Creative Upcycle Ideas for Old Keys
30 Phenomenal Wine Bottle Upcycle Projects
31 Fabulous and Interesting Wine Cork Crafts
40 DIY Hand Painted Wine Glasses
20 Bright Ideas DIY Wine & Beer Bottle Chandeliers