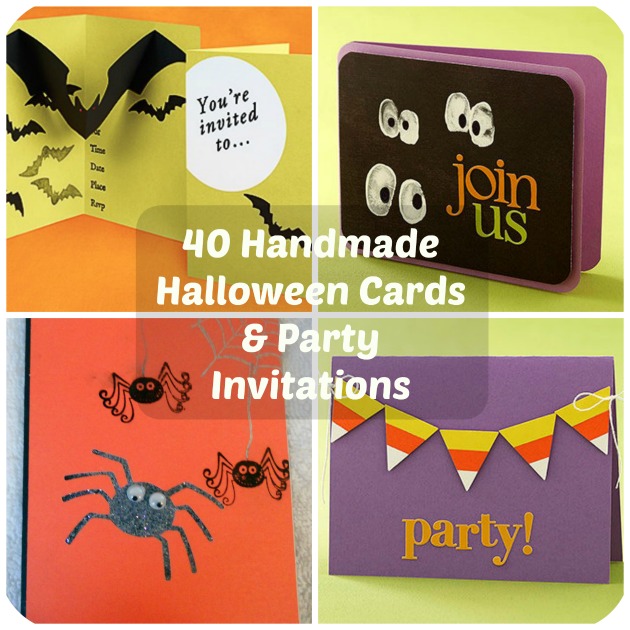 Boo! Halloween will soon be here, a time for silly and spooky fun. Trick or Treating, Halloween parties and making Jack o'Lanterns. So why not send a card to family and friends to wish them a Happy Halloween? Or a party invitations to let them know about that fun family Halloween party you'll be hosting? Its even better when you make handmade cards, as it shows you put special time and care into each card's creation.
We've found you 40 terrific Halloween card and party invitations here to try. Whether you are an advanced or beginning crafter, there is something here for you. You'll also smile too, as we have cards and invitations that are great to give & send to kids and teens, but then others that are good for adults. There are different styles from modern and contemporary to sweet and a little spooky and then also vintage and then classic ones too!
When making cards or party invites for Halloween, the best ones to choose are those that will make your recipient smile. If you think they would admire a card with 3D elements or something that looks a little bit spooky, then choose that. Or if you think they'd like a card with washi tape, then that's the one to pick. Remember, cards are one of the few crafts that you always wind up giving away.
...
What's totally amazing about handmade cards is that a lot of people will save them for a long time. Don't be surprised if friends and family keep your Halloween cards and invites long after the holiday is gone. Happy Halloween!
Handmade Bats Halloween Card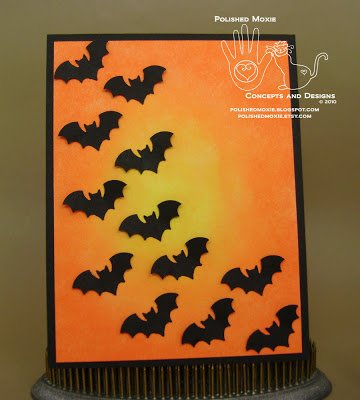 With sponge technique, you can make a great Halloween card. Try this with bats or other spooky shapes like cats or witch hats!
Witchy Halloween Invitations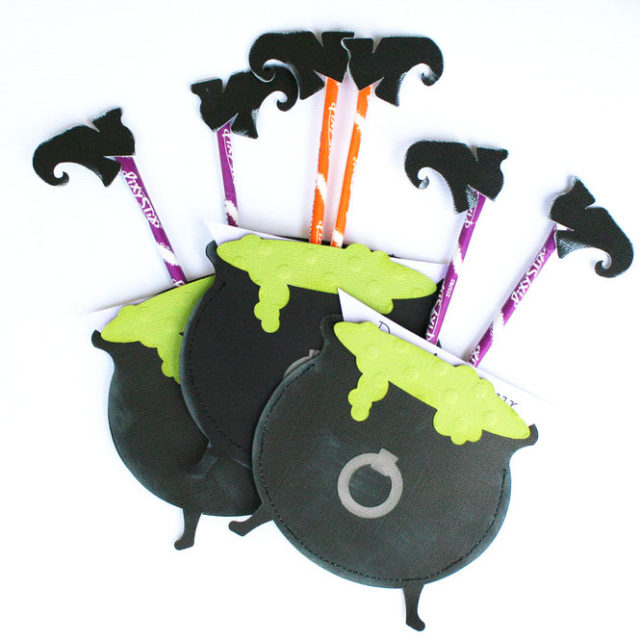 These are fun especially for kids parties. With 3D elements they are sure to get noticed quick.
Little Bats Halloween greeting card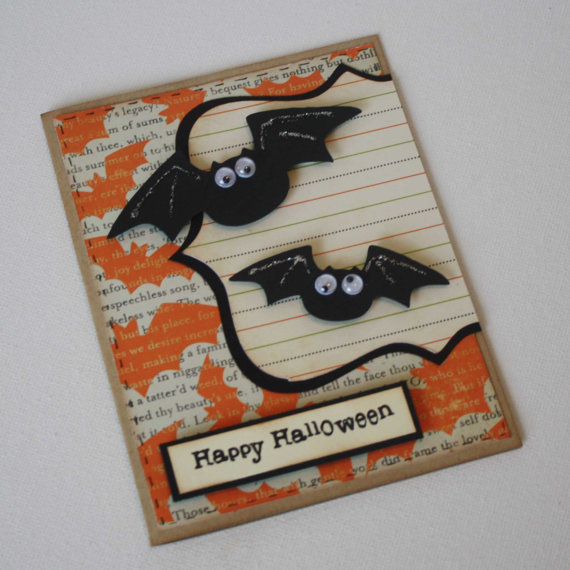 This card is really cute. The bats have googly eyes!
From CraftJuice by JillyBearDesigns
Halloween Coffin Invitations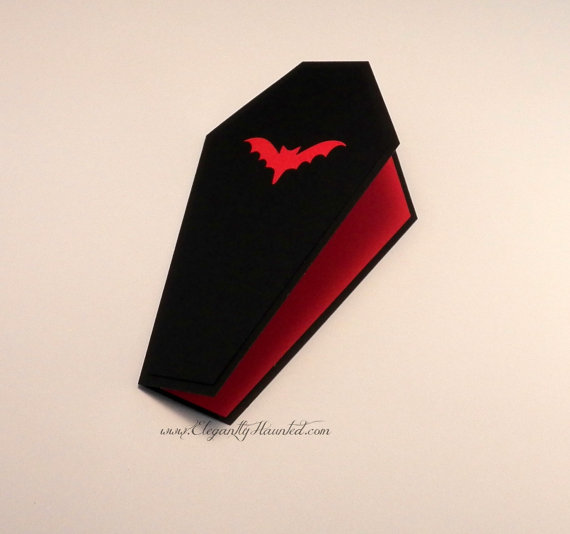 These are simple invitations with a sense of humor. Great for your next Halloween party!
At Etsy.com by ElegantlyHaunted
Mummy Invite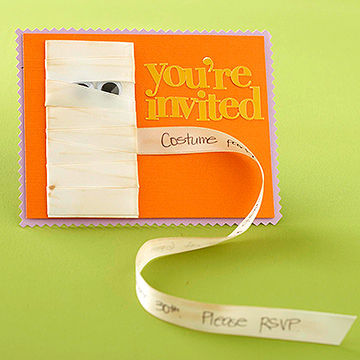 Looking for a Halloween invitation for a kids' party? Here's a fun one to make!
From Parents.com
Creepy Crawly Halloween Card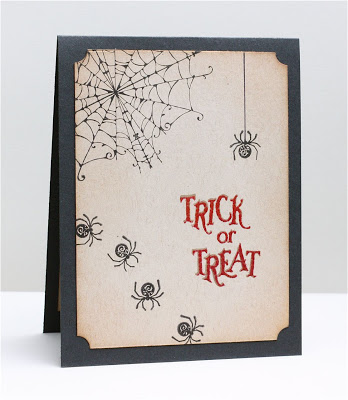 Here is a vintage style card. Perfect for telling someone to enjoy the Trick or Treat day.
At Apple-Crate
Wicked Card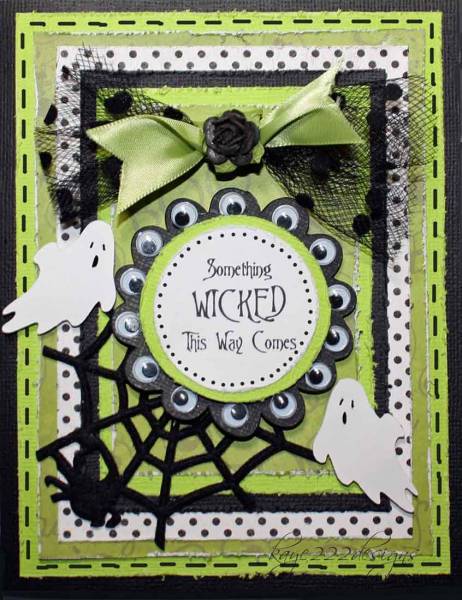 Here is a card for more advanced crafters. It has lots of 3D elements.
By SplitCoastStampers.com by kaye222
Boos or Booze Halloween Invitation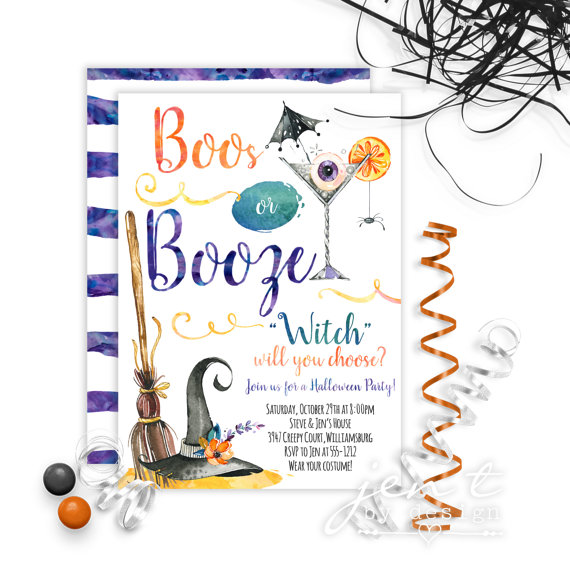 Having an adult Halloween invitation? Here is one to take a look at!
Kids Halloween Invitations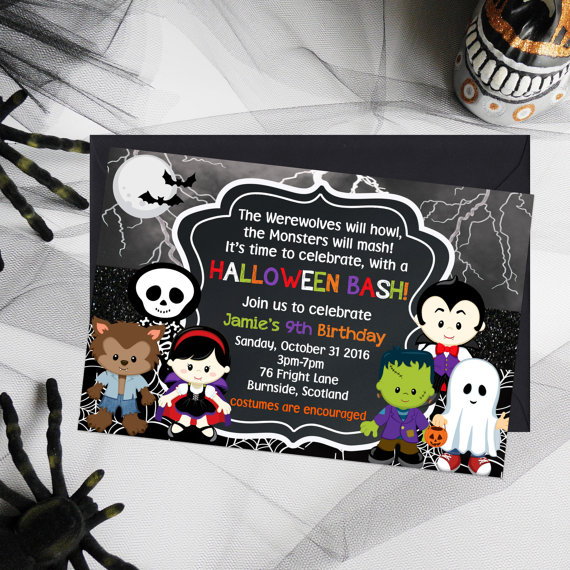 Bright and colorful these invitations are fun. Look at all the classic Halloween characters too!
By Etsy.com by PrintYourInvite
Dracula Invite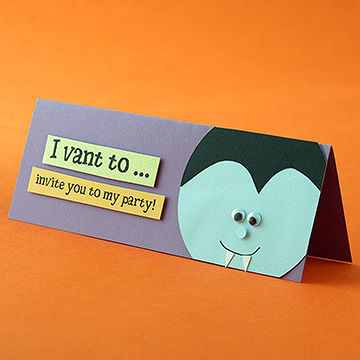 Here is a cute Dracula themed Halloween invitation. Try this for your next kids Halloween party.
At Parents.com
Happy Halloween Owl Card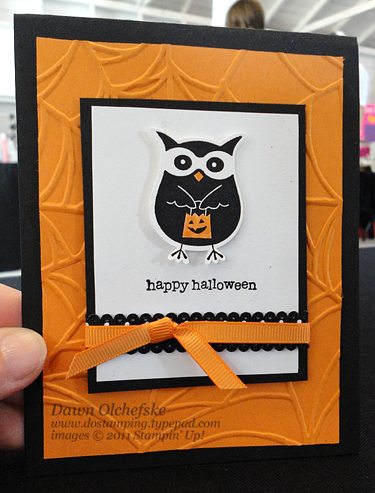 Trick or Treat! Here's a sweet Halloween card.
From DoStamping
Halloween Holiday Card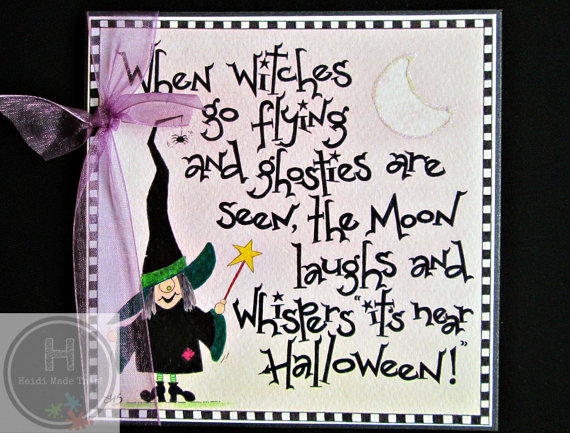 Here is a cute card. Perfect to wish someone a Happy Halloween.
By Etsy.com from HeidiMadeThis
Perfectly Preserved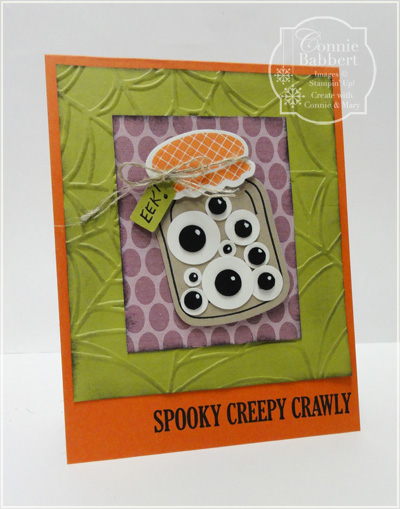 Here is a cute – not too spooky – card. Its perfect to give to kids too!
Costumes and cocktails invite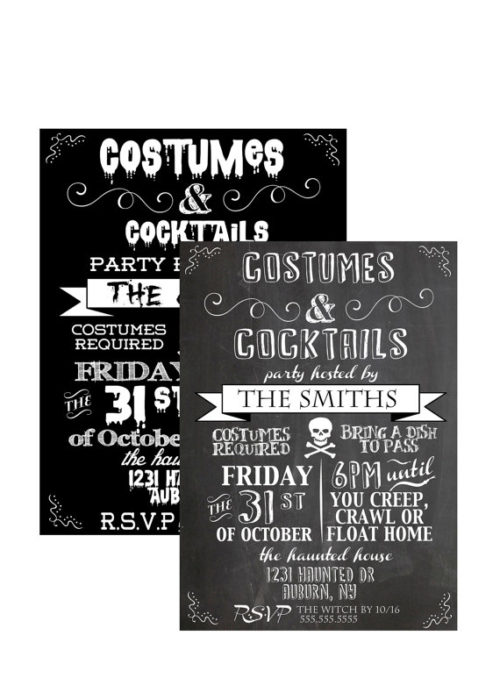 Holding an adult Halloween party? Invite them for costumes and cocktails.
At Etsy.com by CustomPrintablesNY
Vintage 1920s Halloween Invitation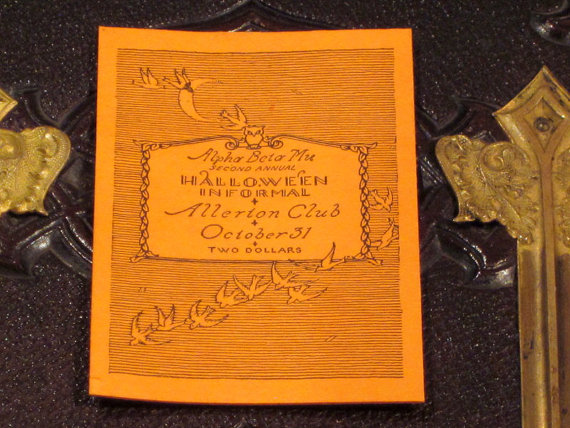 Having a Halloween party? Here is an old fashioned style invitation.
Located at Etsy.com by DecojumeauAntiques
Candy Corn Party Invite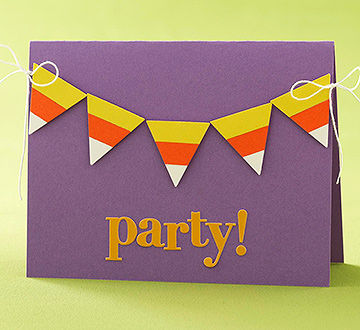 Love candy corn? Here is a modern Halloween invitation.
By Parents.com
Handmade Halloween Card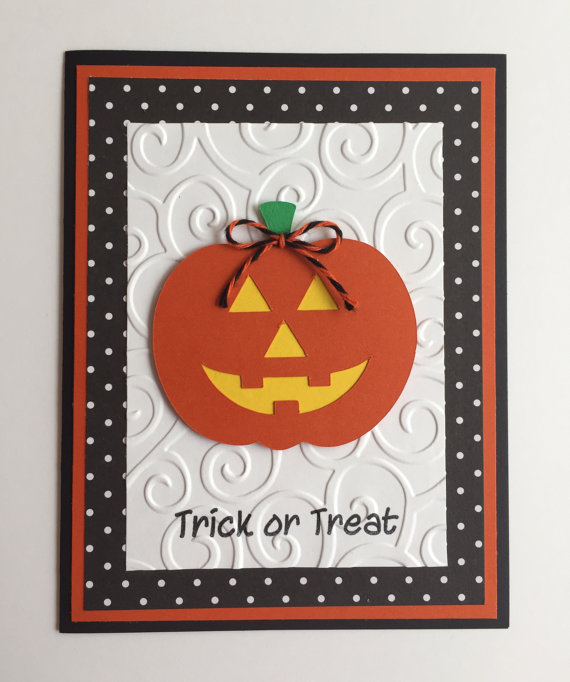 Trick or Treat! Here's a great handmade Halloween card.
By Etsy.com by JuliesPaperCrafts
Pop Up Halloween Party Invitation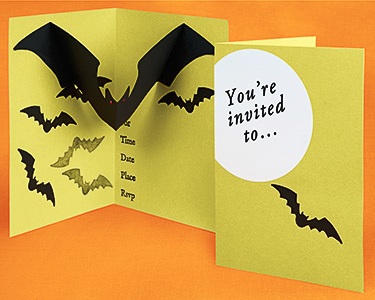 Here is a fun Halloween party invitation. This is one beginning crafters can make too.
Halloween Party Invitation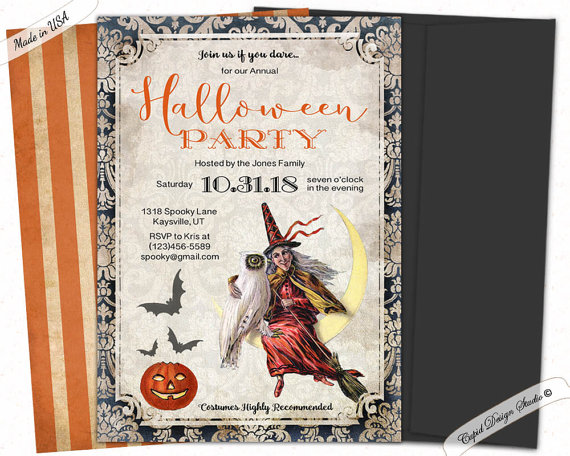 These party invitations feature a classic Halloween scene. Perfect for your fun kids or family party.
Punched Halloween Card

This style reminds us of a quilt. Its a great way to use a lot of different papers!
Located at KeenAnkKreations.com
Fingerprint Eyes Invite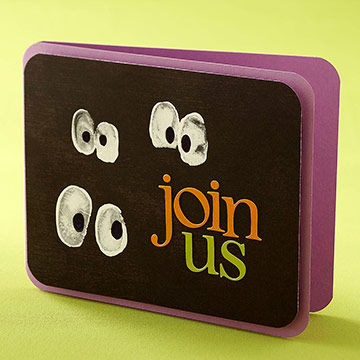 Here is a Halloween invitation that kids can make too. Its done with simple fingerprints!
From Parents.com
Three Halloween Cards blank greeting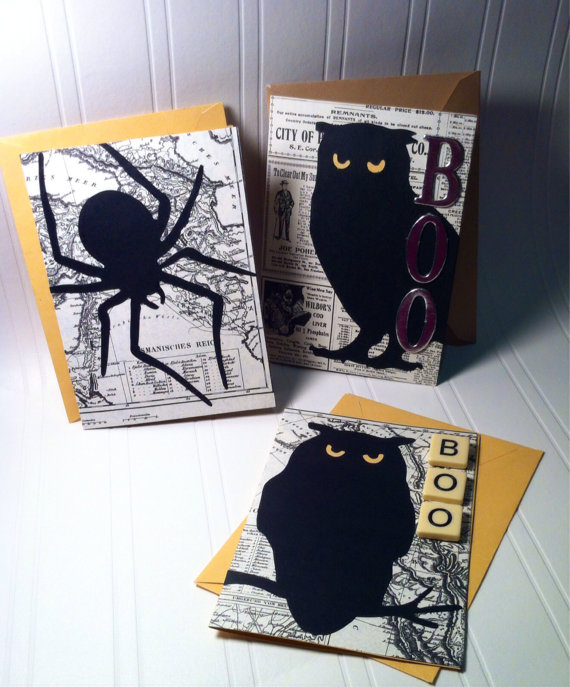 See how spooky a simple sihouette can look! Its the perfect choice for a Halloween card.
From Etsy.com by VintageAnteUps
Eek Card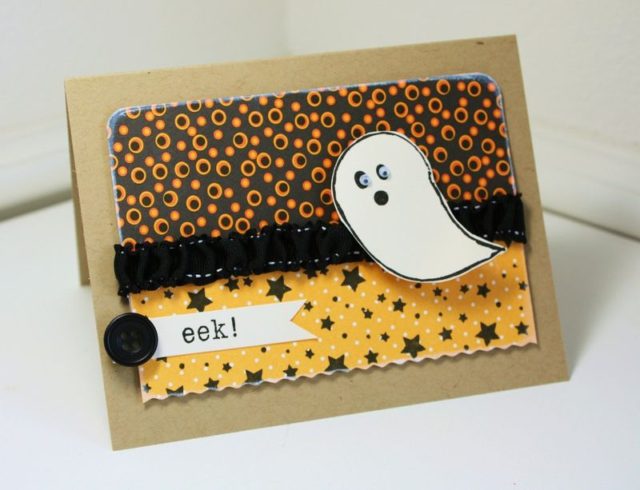 This Halloween card looks a bit vintage. It also has nice 3D elements too.
From PoppyPaperie.com
Handmade Halloween card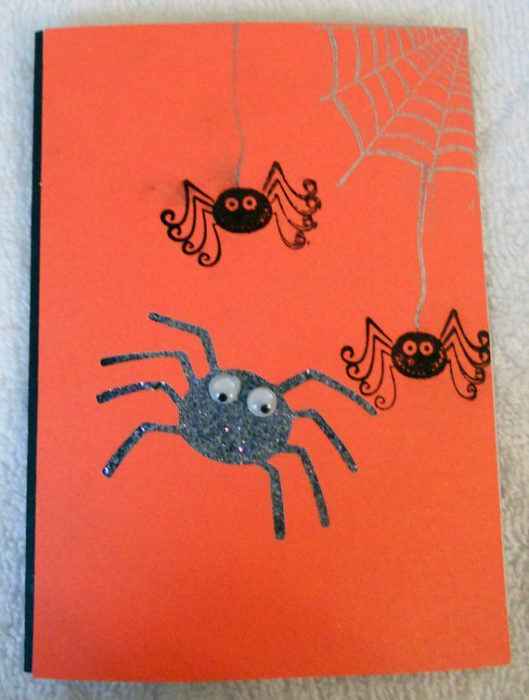 Here is a great card for Halloween. Especially to give a child or teenager!
Located Etsy.com by CrochetingMinion
Foot Ghost Card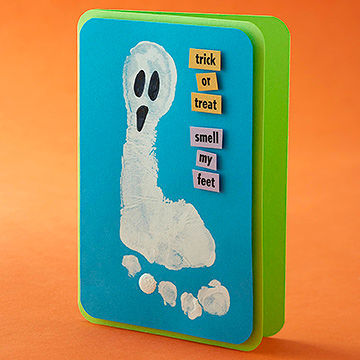 Here is a unique Halloween party invitation. Perfect for a child's party!
From Parents.com
Boo Card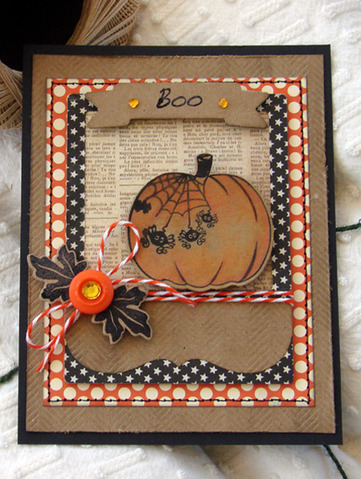 Here is a sweet & vintage style card. It also has 3D elements for fun!
Located at PricklyPearRubberStamps
Stampin' Up! Empossed Halloween Google Eye Greeting Cards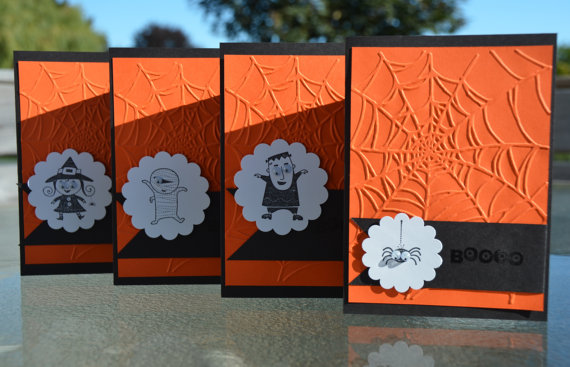 Look at the great spiderweb on these cards! They are perfect to wish someone a Happy Halloween.
Goblins On The Fence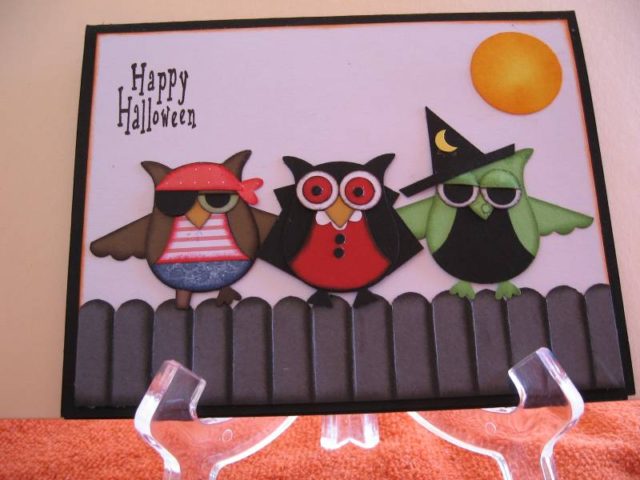 Goblins…or super cute owls? You be the judge!
From SplitCoastStampers.com by graffiti
Howl-o-ween Treat Owl Card

Here is a card that is more sweet than spooky. It is also 3D with a lot of elements.
From MyStampLady.com
Handmade Halloween Card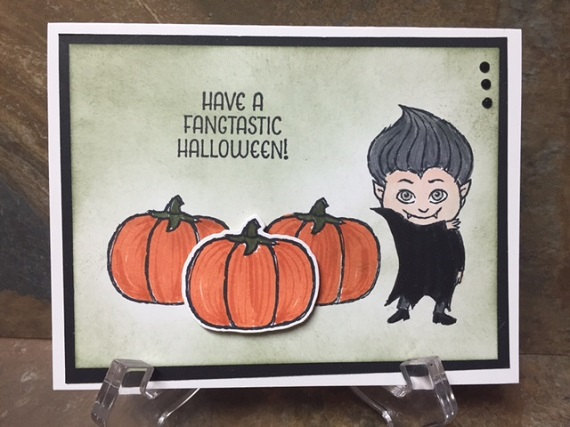 Isn't this card adorable? It wishes you a "fangtastic" Halloween.
Howl o ween Treat Card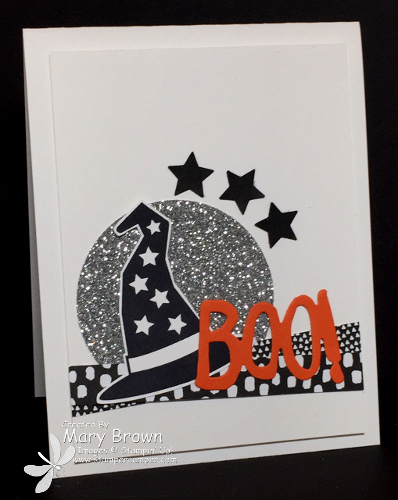 What a sparkly card! Wish anyone a great Happy Halloween with this one.
At SplitCoastStampers.com by StamperCamper.com
Halloween Hello Card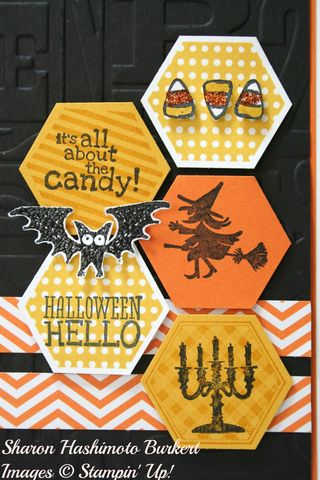 Here is a vintage style card. Perfect to say Hello to someone on Halloween.
from SharonBurket.com
Spooky Fun Card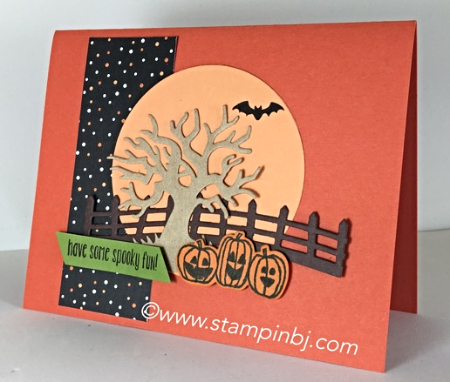 Here is a card that is fun to make. Wish someone some "spooky fun" for Halloween.
From StampInBJ.com
Cute Halloween Card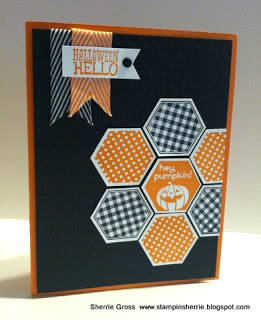 This Halloween card uses the Six Sided Sampler. Its an adorable way to send a little Halloween Hello!
Spellbound Card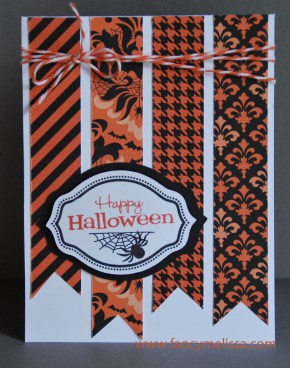 This card uses the Spellbound Kit from Close to My Heart. Don't you just love the patterns?
Halloween Card with Wasabi Tape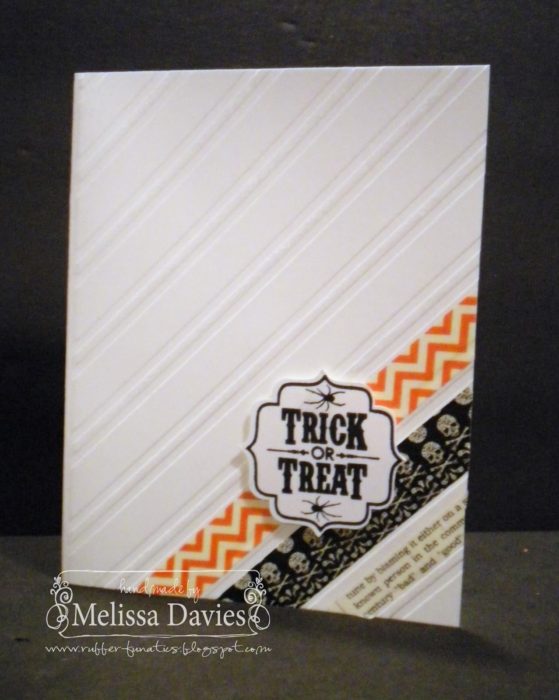 Say Trick or Treat with this fun card. It uses Wasabi tape.
Cookie Cutter Halloween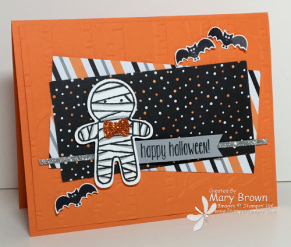 This cute mummy card is anything but cookie cutter! Make this one to put a smile on someone's face.
Located at StamperCamper.com
CCMC425 Spooky Fun Card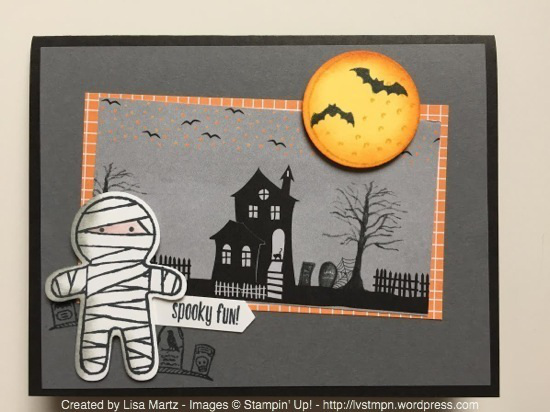 Here is a charming Halloween card. Make this one to give someone a smile today.
By LVStmpn
A Haunted House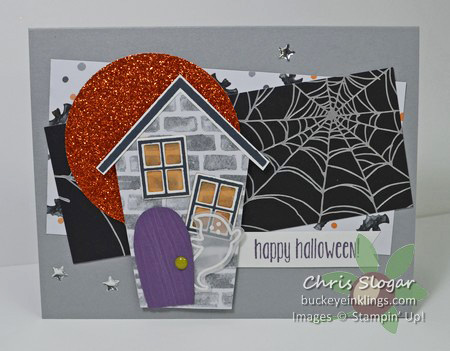 This is a classic thing you see for Halloween. Here is a card for advanced crafters.
From BuckEyeInklings.com