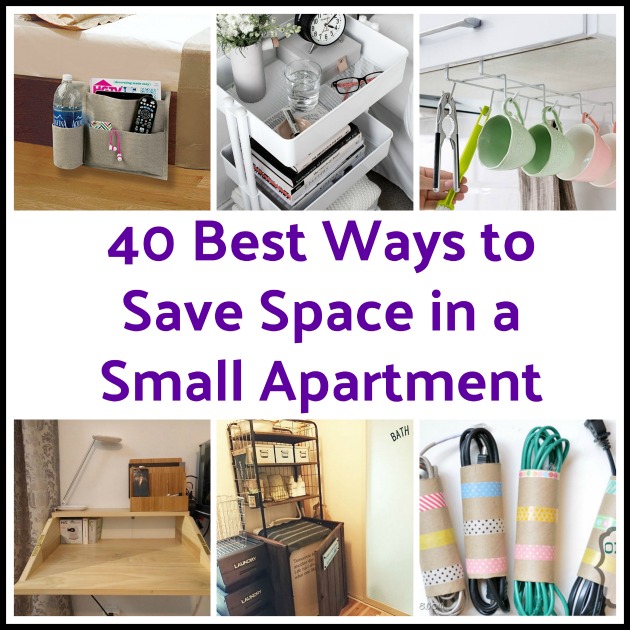 Hey! Do you live in a small apartment? Whether you're on a tight budget, a student or live in a large city – sometimes a smaller apartment than you would really want is just part of life. Fortunately, we've found you 40 ways to save space in your small apartment.
One of the top things you'll want to keep in mind, is where things get cluttered or what types of objects you have the most of. Perhaps you have kids and know that you need help storing their toys & games. Or you love to cook & entertain, and want to keep all of your kitchen tools and items handy, but not cluttered. Get 110% focused on your goals for what you want to use your space for in the small apartment. Then these tips will become even more helpful!
Don't be shy about adapting these tips to work specifically with your needs in mind. We have a couple of fantastic storage bed DIY projects, which can be great either for kids, teens or even adults. But perhaps you would like longer drawers instead of short, square ones? Or you want to make the bed just a little taller, to add an extra drawer row of storage. Well, this is YOUR DIY project! So go ahead and make it perfect for what works in your small apartment. Because only you are going to be the expert at that.
If you are DIY-ing tips for other family members, such as a spouse, kids or even a roommate, be sure to ask for their input. Why? Well, because they need to think these space savers are good, so they will use them regularly. Otherwise you're going to need to DIY something else. So start right, by listening to what they would like to do with their part of the space.
So let's get started! Happy DIY-ing!
Flexible Sink Storage Shelf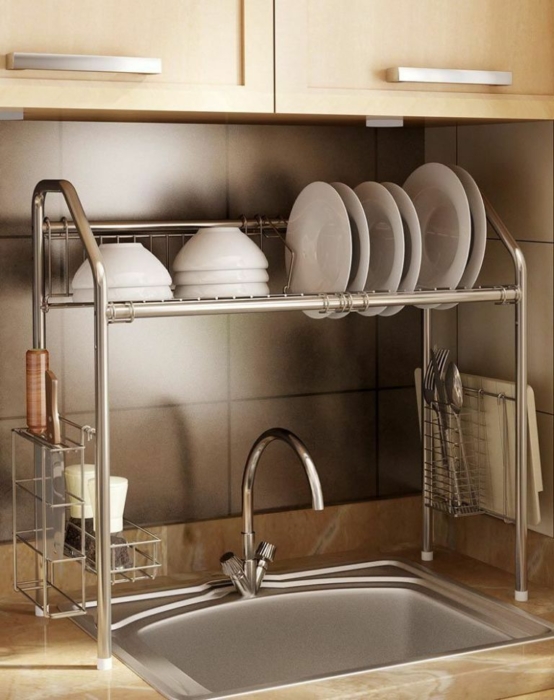 No room to dry dishes? Take a look at this vertical drying rack!
From Amazon.com
Merax Twin Size Platform Storage Bed with 6 Drawers
Isn't this smart? Turn your sleeping space into storage too!
From Amazon.com
Shelving Project to Save Space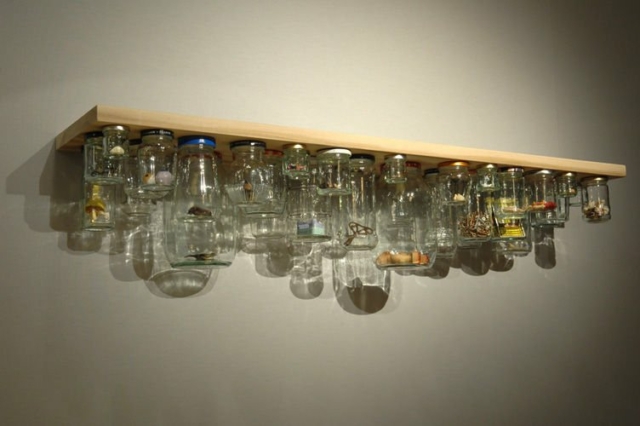 Like to do DIY projects in your small apartment. Make this, to keep your supplies all organized!
From Instructables
How to Build a Crown Molding DIY Shoe Rack in 10 Easy Steps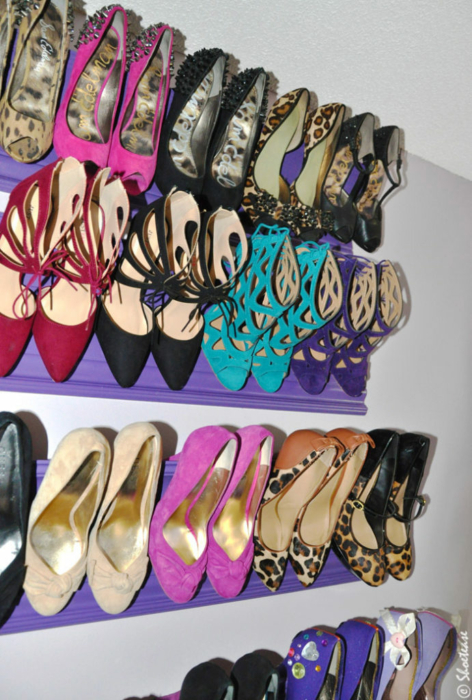 Small apartment, but you're a shoe fanatic? You can have both, just do this DIY!
From Shoe-Tease
Closet to Cloffice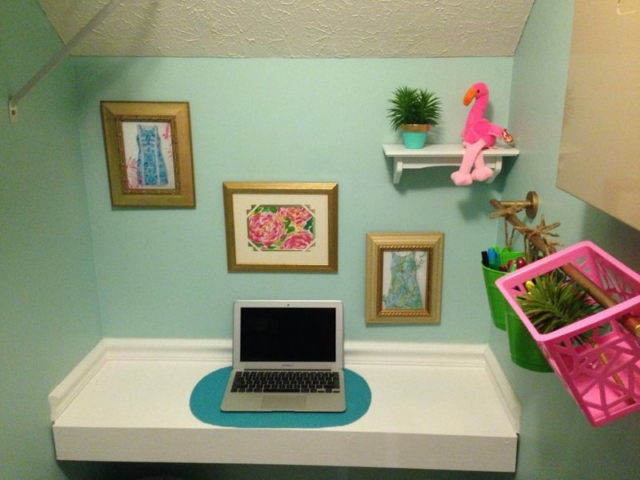 This is one of our favorite space-saving hacks. Did you know you can turn a closet into a home office?
From Instructables
Roll Towels to Save a Ton of Space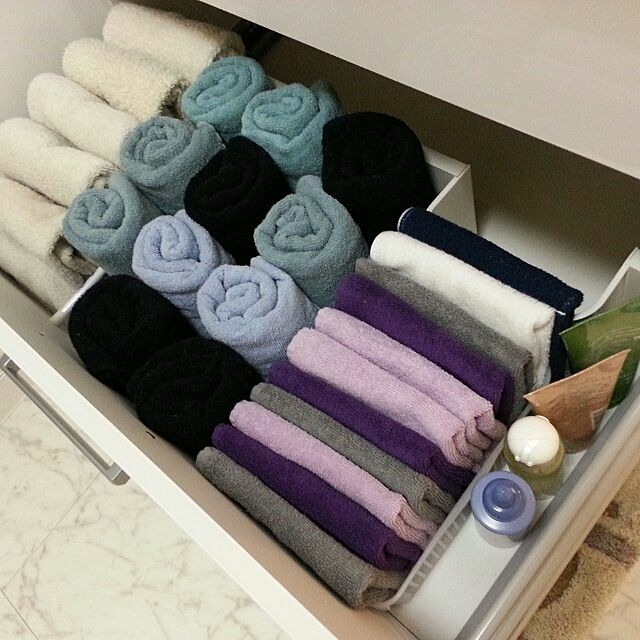 Too many towels? They'll take up less room if you roll them.
From RoomClip
Closet Transformation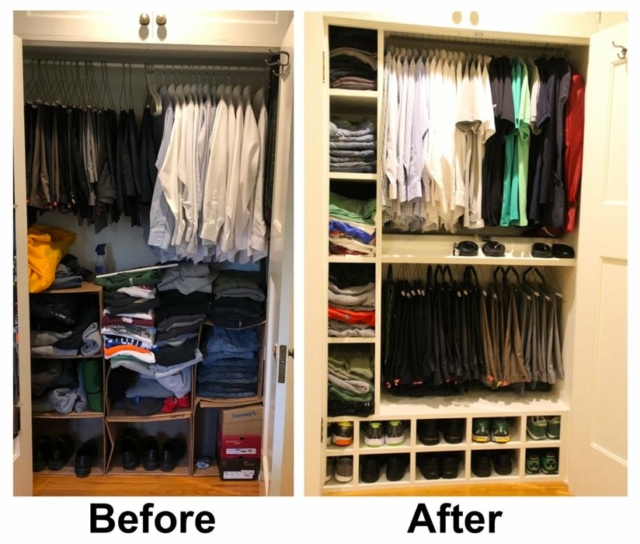 One of the secrets of living in a small space, is utilizing every inch as best you can. Take a look at this fantastic closet organizing system!
From Instructables
3 Ways to Use a Cart in the Home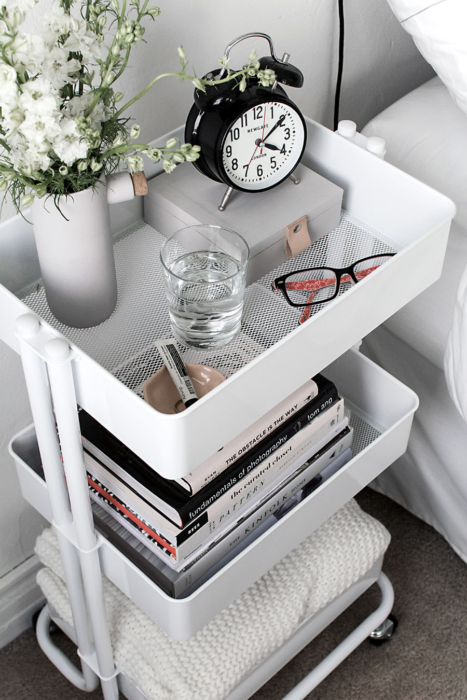 Too much stuff for a nightstand but not enough room for it all? Try a cart like this!
From HomeyOhMy
Shoe Rack for Small Spaces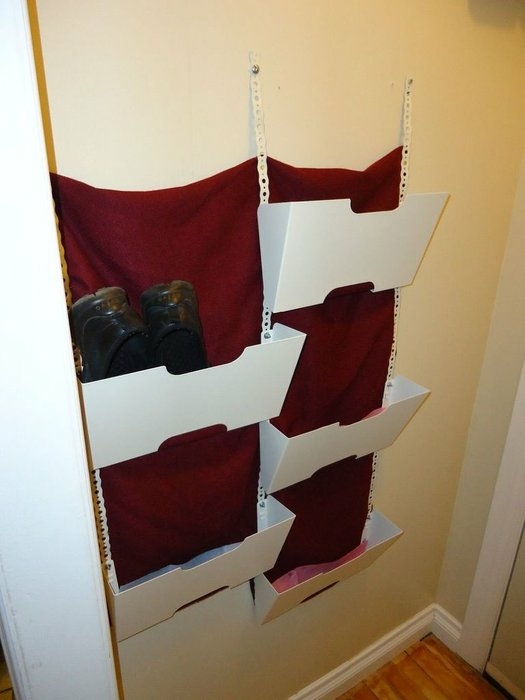 When you've got a small apartment, a shoe rack like this is ideal. DIY this one for your shoes!
From Instructables
Hang More with S-Shaped Hangers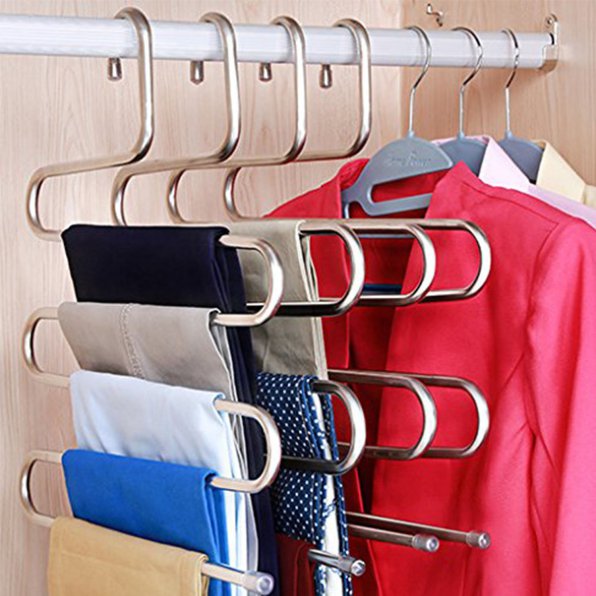 These hangers are proven to hang more. Give them a try to really save a lot of space.
From Amazon.com
Fold Down Desk with Storage for Tiny Spaces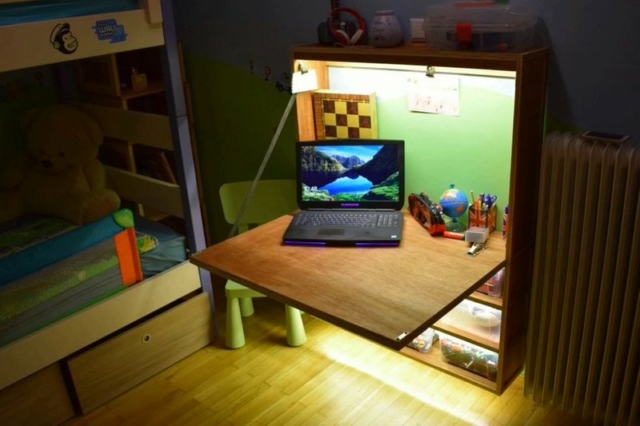 Do your kids need a desk to do homework? DIY this one, it even has storage space & folds up too!
From Instructables
Storage Ottoman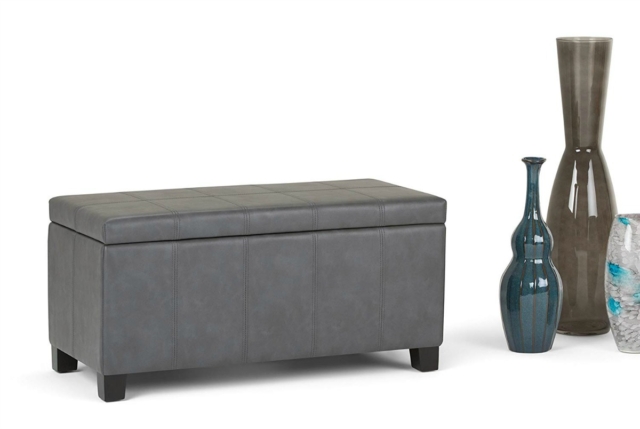 Need to clean up in a hurry? Just put it in the ottoman!
From Amazon.com
Design a Bookshelf Inside Your Bedframe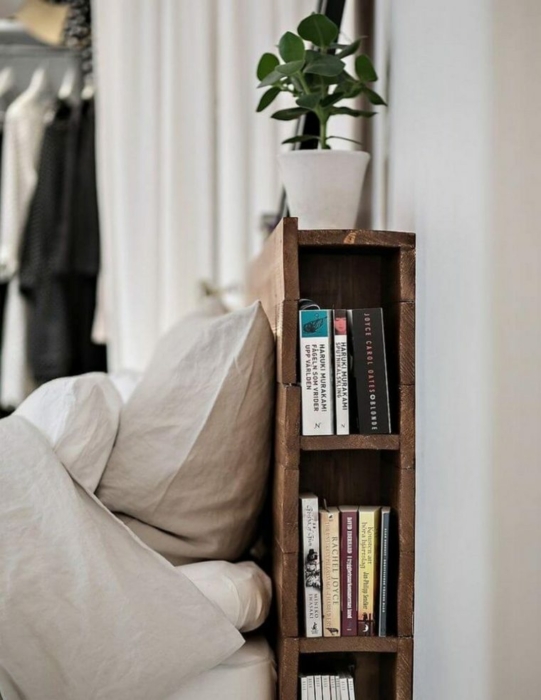 Love books? Try this great DIY project.
From GoodNewsArchitecture
Bedside Caddy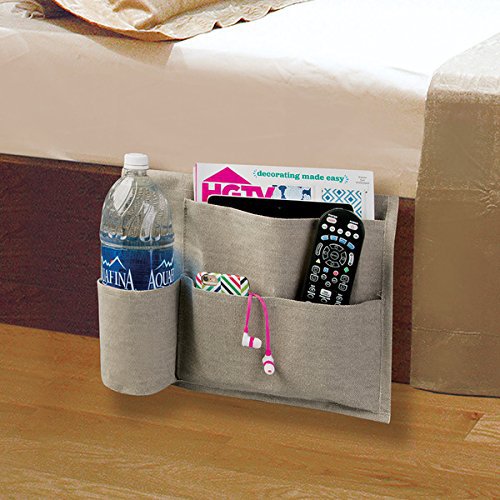 Want to keep your snacks, books & the remote all close by in bed? Get this great bedside caddy!
From Amazon.com
Nursery Corner Shelves Room Nursery Corner Wall Shelves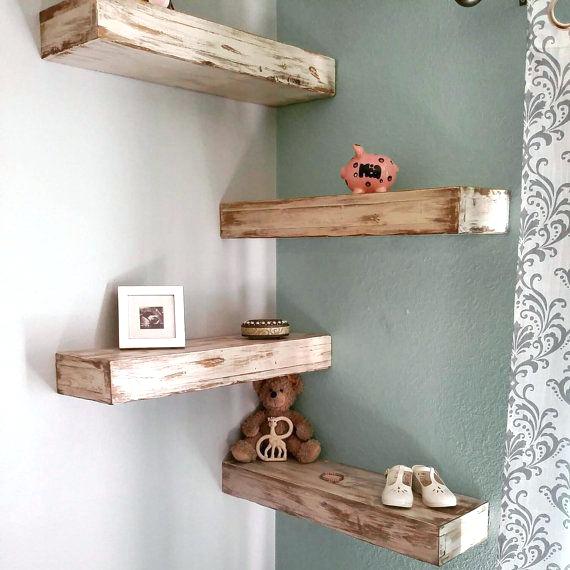 Want to create a lot of space in your child's room? Add floating shelves!
From Imged
Folding Shelf Desk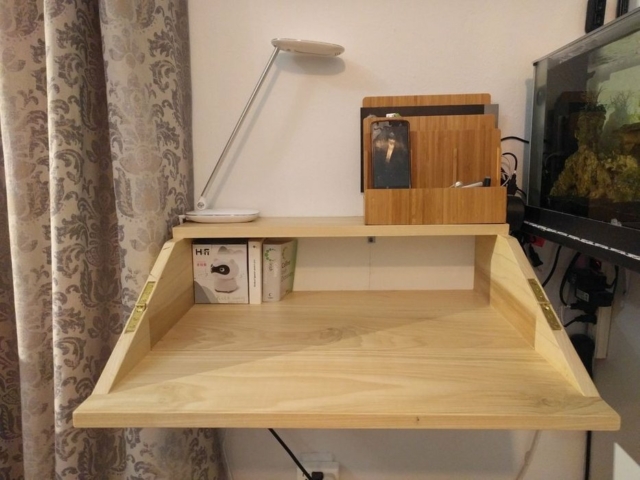 Not enough room for a desk. No worries! Try this DIY desk!
From Instructables
Organizing for Kids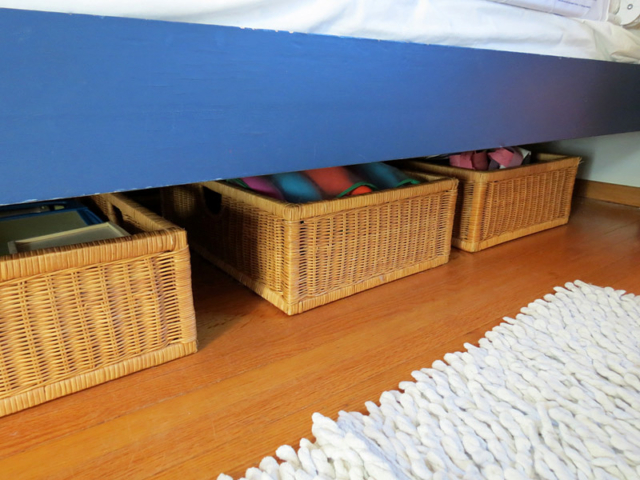 A few wicker baskets under the bed can easily hold clothes or toys. Or both!
Instant Shower Storage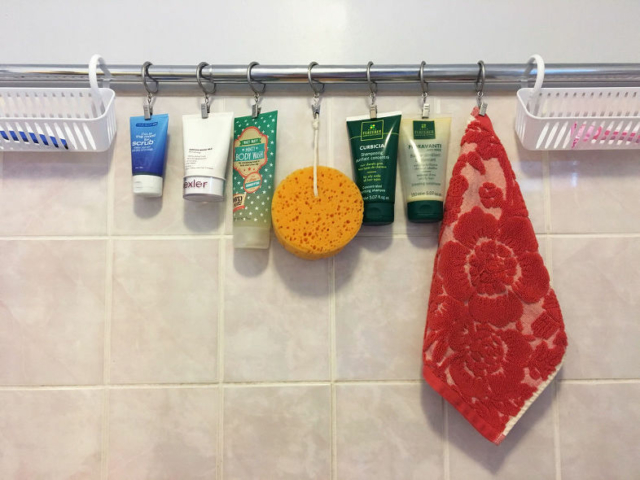 No space in your shower for your grooming items? Try this great DIY.
From HomeTalk
Mail Station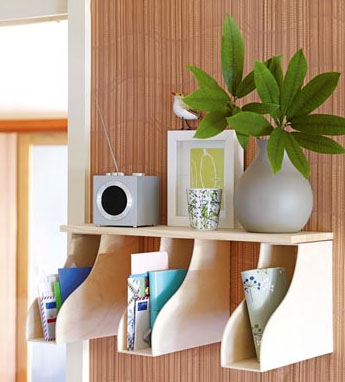 No room for a mail table? DIY your own with magazine holders!
How to Create the Perfect Workspace at Home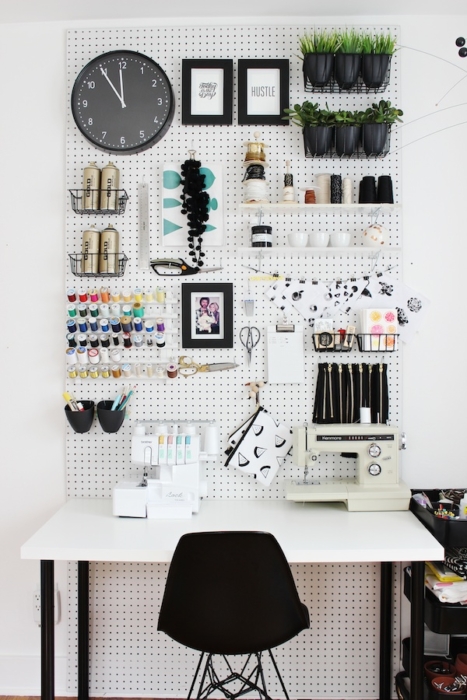 Do you work from home? Don't get a corkboard – invest in a pegboard, so you can hang lots of items you'll use.
From CaitlinBacher
DIY Storage Bed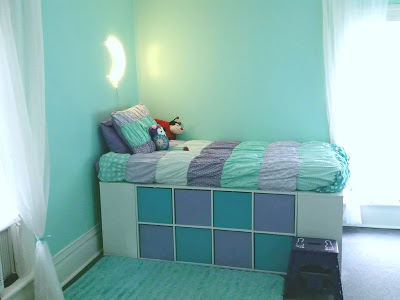 Your kids won't need a bureau or a dresser if your DIY this bed for them. Look at all of this great storage space for clothes!
From EBCangel
Quick Bathroom Organization Ideas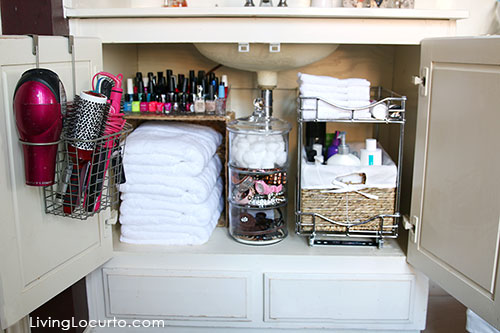 When every item has it's own "home" then it just feels like you have more space. See how great this beauty and grooming cabinet looks?
From LivingLoCurto
Hang Your Shoes to Save Space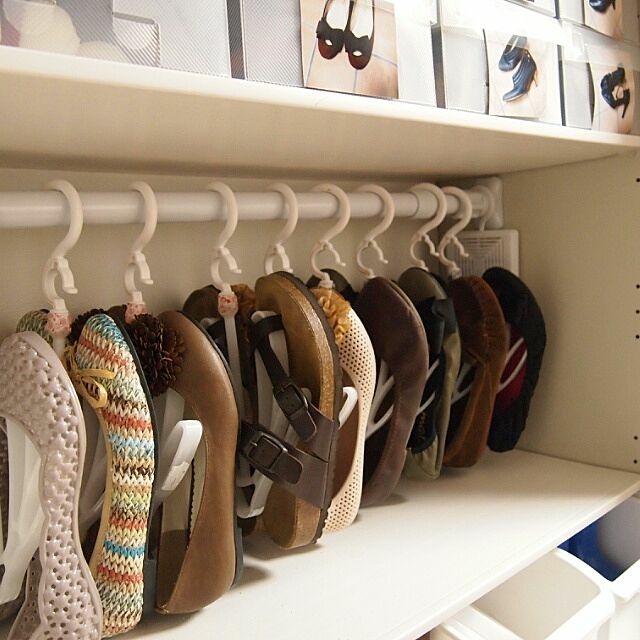 Get an extra bar for your closet and hang your shoes. This will save lots of space.
From RoomClip
Organize Your Cords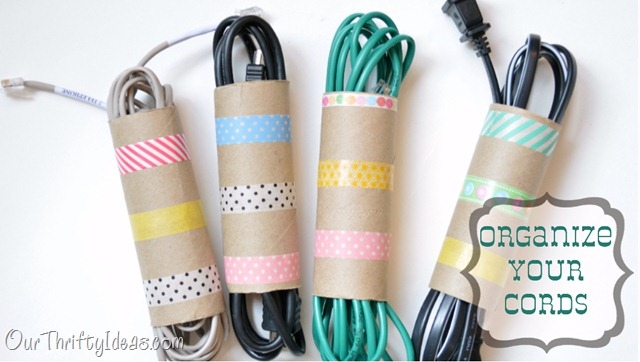 Don't let hanging cords become a hazard. DIY cord organizers!
From OurThriftyIdeas
Kids Bedroom Makeover Part 3 – Toy Storage and Curtains
Keep your kid's toys neat all the time in their room. DIY these simple cubbies!
From KrusesWorkshop
Kitchen Backsplash Shelf and Organizer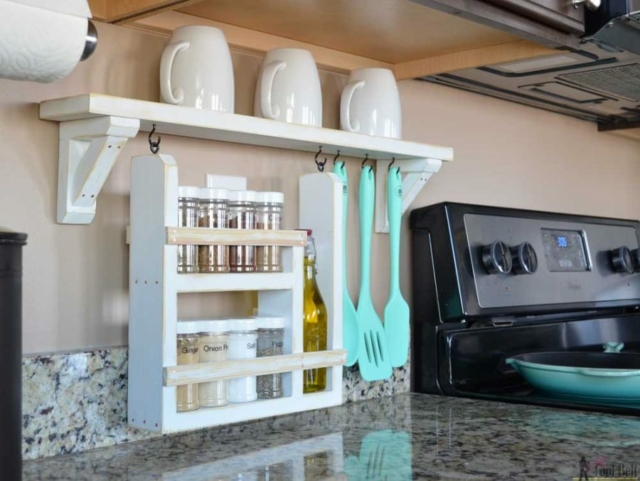 Got too much stuff in your kitchen. Get it under control with this DIY.
From HerToolBelt
COAT CLOSET AND WRAPPING PAPER ORGANIZATION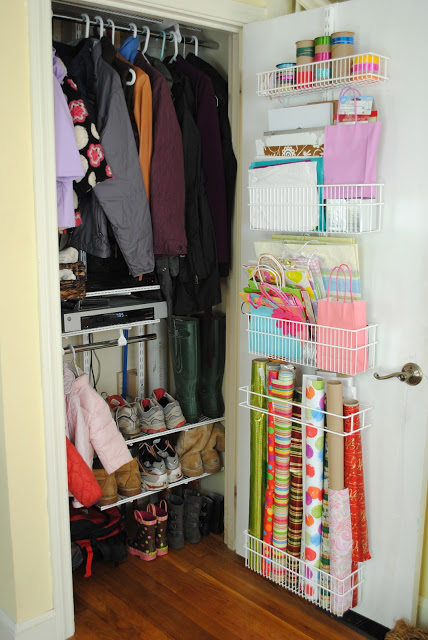 One of the best ways to keep a small apartment tidy is to use all of your closet space. Try this helpful tip to organize your closet with items you need.
From TheChroniclesofHome
Organize Your Laundry Space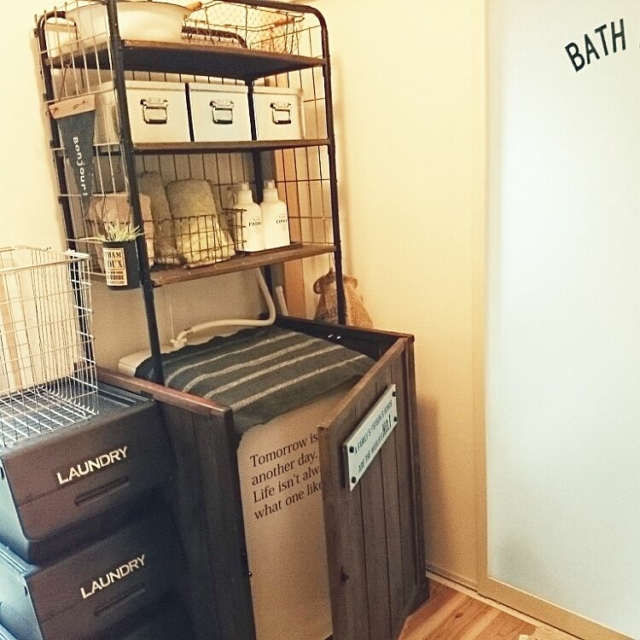 Laundry can take up a lot of room. Getting it organized really matters.
From RoomClip
Kitchen Panty Reveal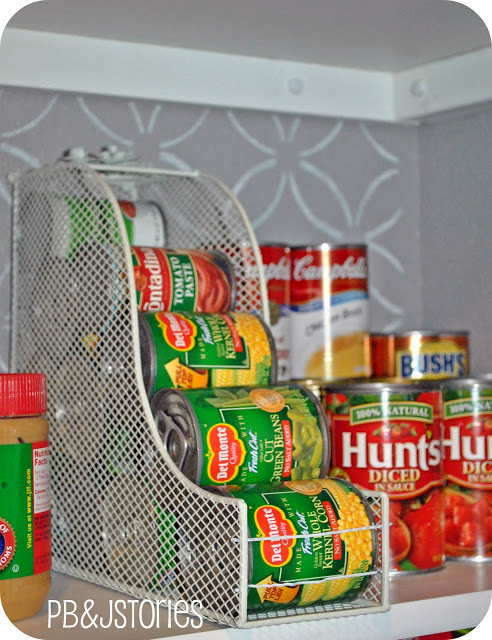 Don't look past using ordinary objects in other ways. See how these metal magazine racks are perfect to hold cans?
From PBJStories
Master Bedroom Progress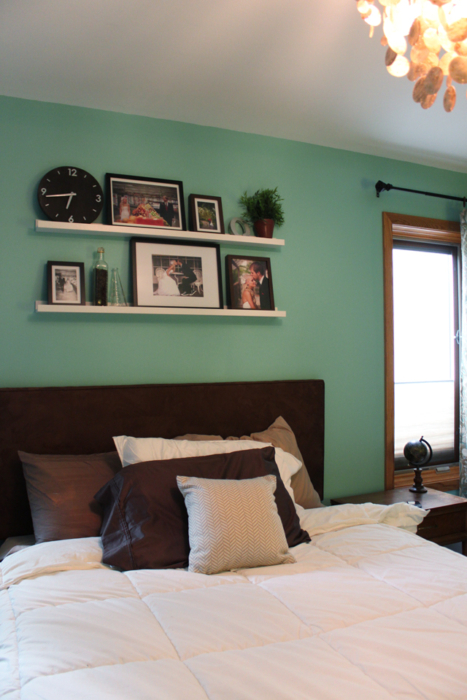 Floating shelves use every inch of space in your place. A great way to put up knick-knacks.
From DrewAndVanessa
Spice Rack Above the Oven
So easy to get your cooking done. Keep the spices and utencils right over the oven.
From RoomClip
Multifunction Sink Organizer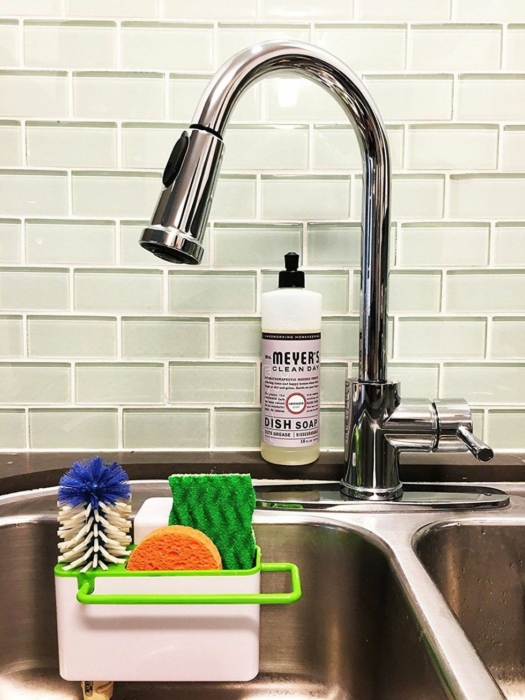 Tired of an untidy sink? Get it all under control with this!
From Amazon.com
Under the Sink Door Basket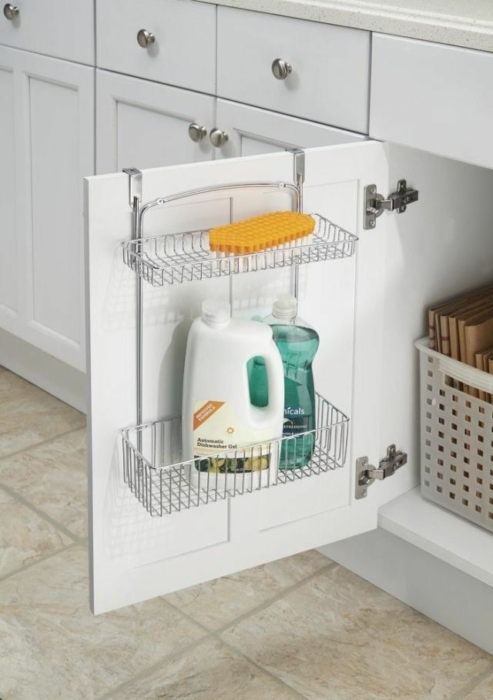 Too many cleaning supplies? Keep them all organized, under the sink!
From Amazon.com
Hanging Under Shelf Organizer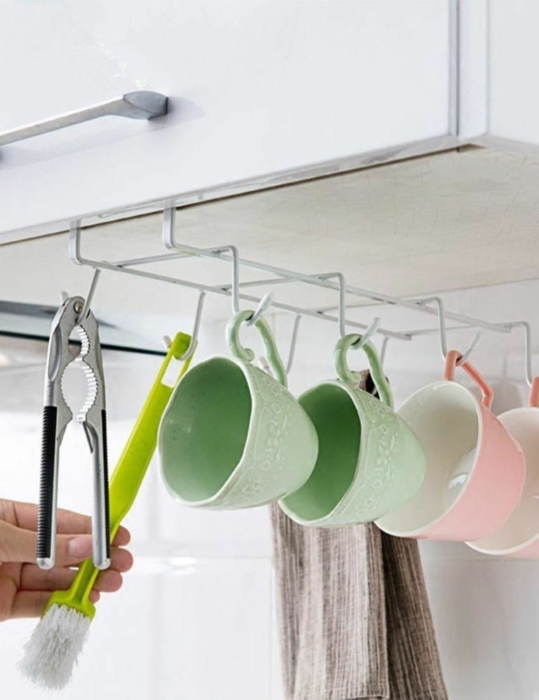 Running out of space in your kitchen cupboards? Here you can hang your coffee cups!
From Amazon.com
Paper Towel Roll Holder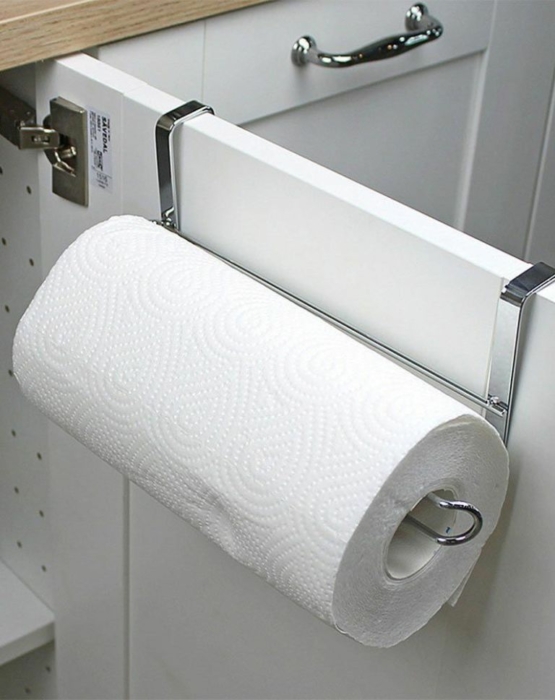 No room to hang paper towels? Use this convenient hanger!
From Amazon.com
Expandable Cabinet Storage Rack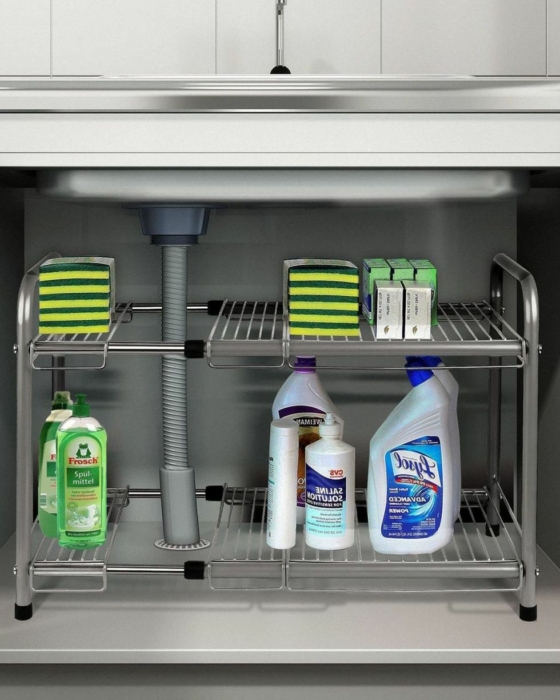 Need more or less cabinet space? Choose this rack, it's expandable!
From Amazon.com