Hello, DIYers!
Today we are talking about walkways for your garden and other areas in your landscaping! If you really want to add some character to your property, why not use a mosaic? You can combine patterns, colors, and materials to make something truly unique to your style. Here are some ideas to help inspire you!
Happy crafting!
Mosaic Pop of Color
Use colorful mosaic tile pieces between flagstone to add a fun pop of color for your walkway!
Found SquareSpace
River Rock Flower Mosaic Walkway
Lovely floral patterns are perfect for a walkway!
Found Engineering Discoveries
Flowing Mosaic Walkway
Take it stepping stone by stepping stone to create one flowing piece of art! The step-by-step process used is fascinating to watch! Check out the link below!
Found Karen Jean Smith
Colorful Patterned Mosaic Walkway
This walkway is colorful and exciting!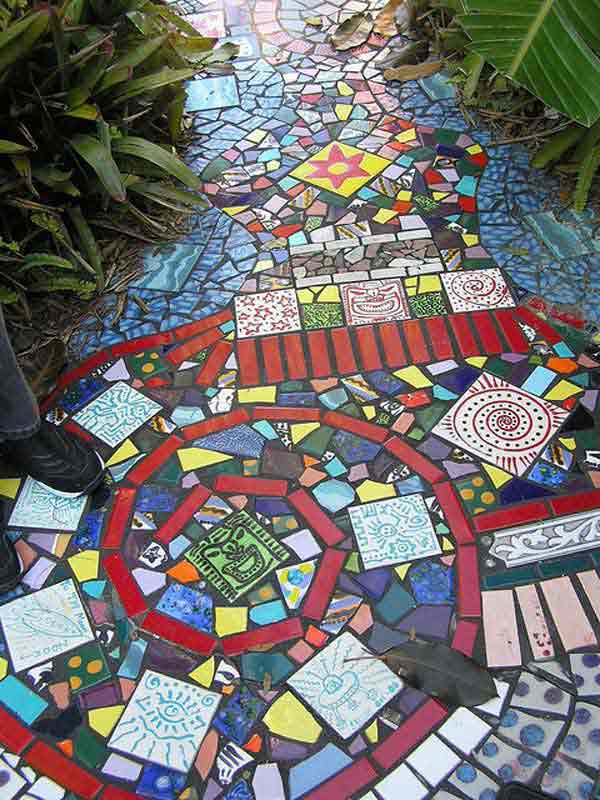 Found Flickr
Pebble Mosaic
Use small pebbles in between flat stones to create something magical!
Found Pinterest
Star Mosaic
Add star shapes to your mosaic walkway!
Found This Old House
Creating Stepping Stone Shapes with Different Sizes and Colors
I love how these small stoned stepping stones are outlined with colorful stones! So lovely!
Found Flikr
Combination Mosaic Walkway
Use a combination of brick, stepping stones, and varying sizes of stones and pebbles to create an interesting walkway!
Found The Libra Lounge
Mosaic Sun Pattern
Get creative by putting together a sun pattern with special mosaic pieces!
Found Pinterest
Stone Walkway
This traditional-looking stone walkway is gorgeous!
Found The DIY Decor
Mosaic Pebble Walkway
Create a seriously beautiful picture using colored pebbles!
Found Gardening Know How
Broken China Mosaic Garden Stones
You can make your own garden stone mosaics from broken China or use the technique to place broken china directly into your mosaic pathway!
Found Over the Big Moon
Colorful Handmade Tiles
These colorful tiles are handmade and look amazing! This set in particular can be found in Balboa Park!
Found Flikr
Mosaic Between Bricks
Structured mosaics between a brick lay pattern add a nice touch!
Found Caruth Studios
Large Flower Walkway Mosaic
How lovely is this?!
Found Flikr
Ombre Swirls
Pick a color and use it in these gorgeous swirls!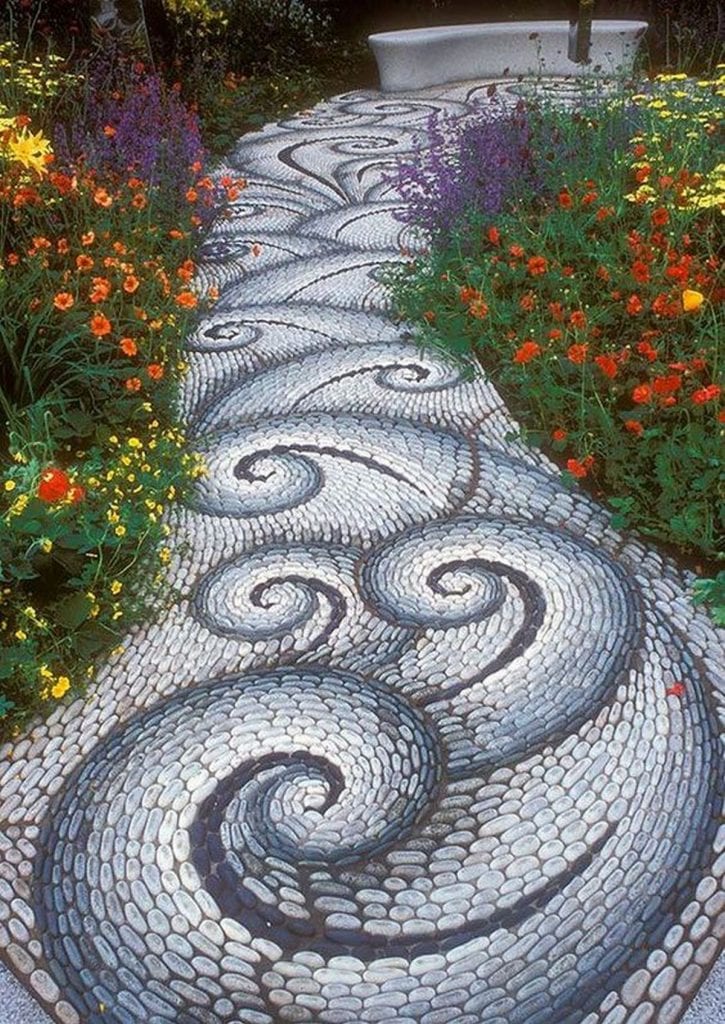 Found The Owner Builder Network
Natural Pebble Mosaic Walkway
Natural pebbles are perfect for creating a walkway in your garden or anywhere in your landscaping!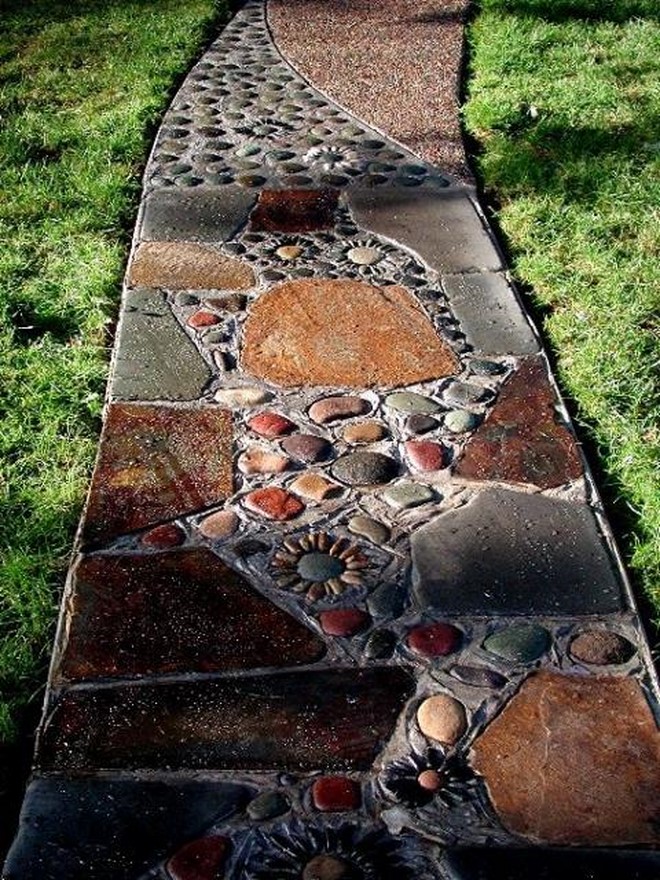 Found DIY Enthusiasts
Easy Mosaic Pathway
This is simple, but it looks great!
Found Linda Langarica
Mosaic and Paint Pathway
Love color? Then this DIY might be for you!
Found Ross Blooming Gardens
DIY Mosaic Garden Stepping Stone Walkway
Give this a try!
Found Fabartdiy
Simple Patterned Mosaic
This scalloped pattern makes a fun design for your walkway, just use a contrasting color!
Found Fine Art America
Waving Line Pathway
Have your pathway move along with waving lines created from contrasting colors of pebbles!
Found Fine Gardenings
Sea Glass Stepping Stone Path
Take it step-by-step by making mosaic stepping stones with sea glass!
Found Lovely Greens
Galaxy Swirls
Use colorful pieces to create swirls in your walkway! This is a gorgeous look for a garden!
Found This Old House
Bottle Cap Walkway
Collect bottle caps to turn into a mosaic-style walkway with bursts of color!
Found Lushome
Round Pebble Steps
Need a pathway across a stream? Try this! It's gorgeous!
Found Fab DIY Art
Centered Spiral
Use a spiral in the center of your walkway or path! Lovely!
Found This Old House
Walkway Using Recycled Counter Top Granite Scrap
If you have access to scraps from granite counter installations, using a collection of broken pieces can be a creative way to make a sturdy walkway for your garden or other area for landscaping!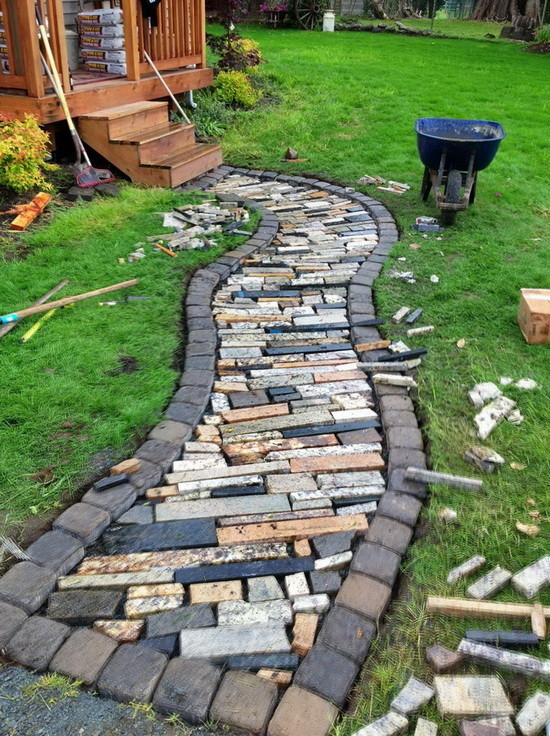 Found Remove and Replace
Layered Swirls
Use this swirling technique to create a pathway of hypnotic swirls!
Found My Modern Met
Black Diamond Pathway
This is a lovely way to design a walkway! Give it a try!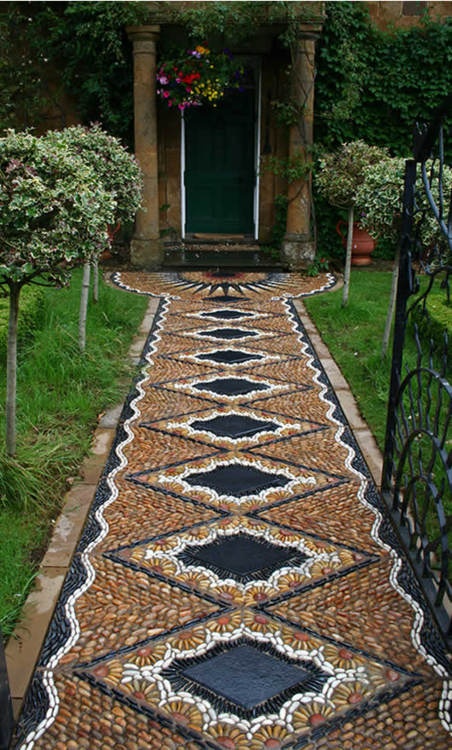 Found Fab DIY Art
You May Also Enjoy…
30 Lovely Landscaping Projects You Can Do Yourself!
35 Creative and Lovely Birdhouses
31 Magical Fairy Gardens to Recreate
29 Beautiful and Efficient Propagation Stations
31 Beautiful and Natural Dried Flower Crafts
37 Delightful and Decorative DIY Projects for Your Garden