Hello, DIYers!
The chilly weather is setting in and it's time to start bundling up! Cozy sweaters are all well and good, but a lot can change in a year! If you find that you are pulling out your sweaters from storage and finding them to be ill fitting or a little drab, there are ways that you can alter them to ensure that your already purchased wardrobe has another year of viability! You can tighten up your sweaters, loosen them up, make them shorter, add length, or just give them a stylish spruce! What will you decide to do?!
Happy crafting!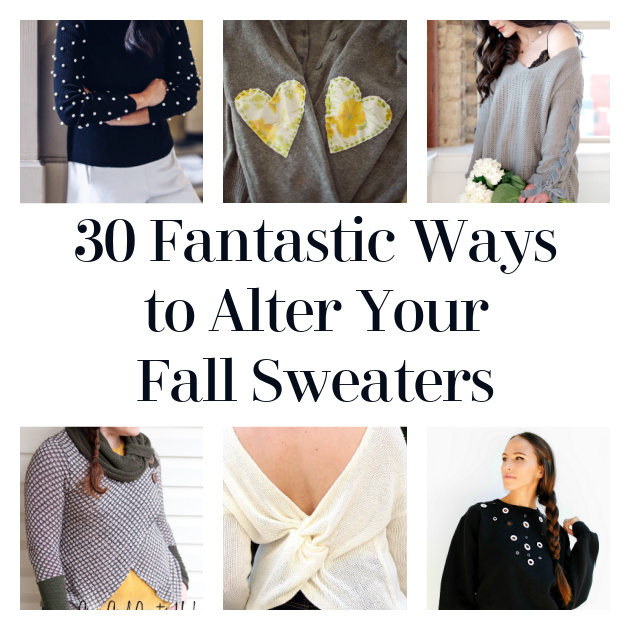 ...
Lace Up Sweater Sleeves
This is a gorgeous alteration!
Found Me & Mr. Jones
Distressed Torso Sweater
Like a distressed look? You can do it yourself!
Found Live About
Button Collar Sweatshirt Hack
Try this!
Found Melly Sews
Pearl Studded Sweatshirt Sleeves
This adds something extra!
Found Honestly WTF
Tailor a Sweater to Fit Perfectly
Don't love a loose, baggy fit? Try this!
Found YouTube
Lace Trim Sweater and Ribbon Back
Adorable!
Found Instructables
Crop Top Sweat Shirt
Try this!
Found Upstyle Daily
DIY Off the Shoulder Cowell Neck Sweater Alteration
Want to make a sweater interesting and new? Try this!
Found Sewing
Shorten a Sweater
Want to shorten a sweater that goes a little long on you? Give this tutorial a shot!
Found Refashionista
Turn a Sweater into a Cardigan
Have a sweater you would prefer to be a cardigan? Give this a shot!
Found YouTube
DIY Hole Sweater
Love a distressed look? Try this!
Found YouTube
Peek-a-Boo Gromet Details
This is a fabulous way to add something interesting to even the most basic sweater!
Found Trash to Contour
Cowell Neck Sweater DIY
Try this!
Found Winter Wear Designs
Corset Sweater
This is an interesting idea!
Found Cosmopolitan Philippines
Taking In a Knit Sweater
Lost some weight? You can keep your favorite sweater, just consider taking it in!
Found Poor and Gluten Free
Sewing a Collar
If you'd like a more interesting collar on your sweatshirt, try this!
Found Cinderella Sew
Cold Shoulder Sweater
Want to take a basic sweater to the next level? Try this!
Found Cut Out and Keep
Beaded Sweater DIY
You can add a little or a lot of beading! You choose!
Found Trinkets in Bloom
Lengthening a Short Sweater
If you'd like to make your sweater longer, you can try this!
Found Scattered Thoughts of a Crafty Mom
DIY Lace Up Sweater Details
Lovely!
Found Trash to Contour
Adding Elbow Patterns to Sweaters
Elbow patches are back!
Found A Beautiful Mess
Tattered Sweater
This tattered sweater is a fabulous way to upgrade an existing sweater with just a couple of alterations!
Found Nadi
Easy Twist Back Sweater
Gorgeous! This twist back sweater is an easy alteration that doesn't even require sewing!
Found YouTube
Shrinking The J.Crew Honeycomb Sweater
Has your honey comb sweater gotten stretched out? We can help!
Found Alterations Needed
Add Chevron Ribbon Detail to Sweater Sleeves
This is adorable! Try it!
Found She Knows
How to Crop a Sweater without Using a Serger
Don't have a serger? No problem!
Found Sew Anastasia
Adding Bling to Sweater
Whether big or small, you can add bling to our sweaters!
Found Sewing Report
Turn to Short Sleeve Sweater
Fabulous!
Found A Spotted Pony
Add Leather with Elbow Pads
Leather is a fabulous fabric to mix with knit material!
Found Love Vividly
Add Ruffles
Add something extra with ruffles!
Found The Homesteady
You May Also Enjoy…
30 Fabulous DIY Active Wear Projects
37 Ways to Customize Your High Heels
30 DIYs to Complete Your Pearlcore Style
37 Ways to Dress-Up Your Sandals this Summer
30 Ways to Refashion Hoodies for Teens
30 Ways to Make Your Own Leggings and Upgrade Your Old Ones
31 Cute DIY Night Gowns and Sleepwear You Can Make Yourself
31 DIY Vests to Make and Wear this Fall