Hello, DIYers!
Cute sleepwear is all the rage right now, especially if you can customize it and make it yourself! Here are some ideas for making your own, custom night dresses or night gowns either from hand-picked fabric or upcycling another article of clothing or fabric from around the house. Give them a try!
Upcycled Night Dress
Try this fabulous night dress made from pillow cases!
...
Found Tousledday
Deep V-Neck Night Dress
Looking for something a bit sexier? Try this!
Found Asksarah
Easy No-Pattern Nighty
Try this!
Found Thislittlemiggy
Lace Trimmed Camisole Dress
When all else fails, lace it is!
Found Doitbetteryourself
Men's Silk Shirt Upcycle
Turn a silk, men's shirt into this super cute (and a little sexy) night dress!
Found DIY Pick
Frill Top Night Dress
This is the sweetest!
Found Designsbybellabug
DIY Sexy Night Wear
Looking for something a bit more risque for bedtime? We've got you covered!
Found YouTube
Lengthen T-Shirt Into a Night Dress
You can add some length to the average T-shirt in order to make your own night dress! Brilliant!
Found Live Your Art
Satin Night Dress
Try this!
Found Fancy Rani
Easy Italian Chemise
This is simply beautiful!
Found Festiveattyre
Babydoll Nightie Dress
This cute project uses 2 men's shirts!
Found Instructables
Sew a Camisole Out of Your Nana's Old Nightgown
Have you inherited some old night gowns? You can turn them into something more modern in a few simple steps!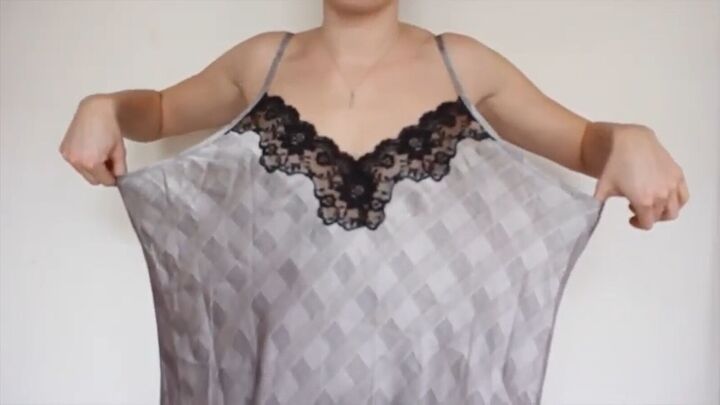 Found Upstyled Daily
Breezy Kimono Robe
This is fabulous and so cozy!
Found Marthastewart
Lovely Silk Night Dress with Band
This is so lovely! It's hard to believe you can make it yourself!
Found Panda Silk
DIY Vintage Night Gown
So cute!
Found Jenny Fragan
Cute, Custom Night Gown
This sweet night gown is easy to customize to your liking!
Found Craftsy
Vintage Inspire Silk Night Gown
This looks like it came straight from the vintage shop!
Found A2Z Sewing Tutorials
Nursing Night Gown
This is absolutely perfect for a nursing Mommy and baby!
Found Bonnieandblithe
Ruffled Sleeve Sleep Dress
Check this one out!
Found The Crafting Chicks
Pillow Case Nighty
This is a simple, but oh so cute project!
Found sheholdsdearly
Lace Trimmed Nightie
This can be made for kids or adults!
Found Do It Yourself Divas
Easy Sew 4 Square Night Gown
Adorable and easy!
Found YouTube
60s Inspired Night Gown
This vintage look is adorable and perfect for bedtime!
Found Alliemjackson
Upcycled Men's T-Shirt
From a men's shirt to a girl's nighty with a simple tutorial!
Found Overtheappletree
Upcycled Skirt into Night Dress
Fabulous!
Found Prodigal Pieces
Simple and Sweet Nighty
Try this!
Found Sewmamasew
Upcycled Bedsheet Night Gown
Would you like a long night gown with draping sleeves? Look no further!
Found Instructables
Easy To Make Hybrid Night Gown
This cute, little night gown is made by combining a pillow case with an old t-shirt! Easy peasy!

Found Love, Lishie
DIY Nighty Pattern
Try this!
Found Sew Guide
Long Sleep Shirt
Try this!
Found Melly Sews
You May Also Enjoy…
30 Fabulous DIY Active Wear Projects
37 Ways to Customize Your High Heels
30 DIYs to Complete Your Pearlcore Style
37 Ways to Dress-Up Your Sandals this Summer
30 Ways to Refashion Hoodies for Teens
30 Ways to Make Your Own Leggings and Upgrade Your Old Ones