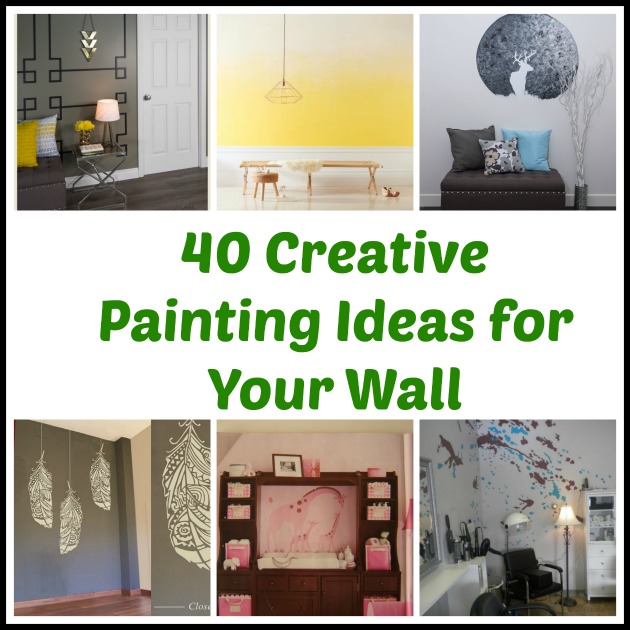 Want to give a room in your home a new look? Decorators and realtors agree that a fresh coat of paint is the least expensive and best way to do it. Fortunately today, you'll find there are tons of creative DIY painting ideas that you can try. Even ones where a beginner whose only held a paintbrush a couple of times will feel confident about getting great results.
One thing we'll encourage you to consider is to think about having a "feature wall" in any room. This is a wall where you add extra embellishments, where people notice it instantly. Doing special painting effects to every wall in a room might make it look a bit, well, overwhelming depending on the style and size of the room you choose. So sometimes less is actually a whole lot more! Choose one wall and let that creative painting style you love really "pop" out and everyone will admire it.
Painting DIY projects often are ones that you simply don't want to tackle alone. This is a time where it is entirely socially acceptable to ask family and friends to join you, to help with a painting project. Remember that it is your duty to supply lunch, dinner, snacks and soda/beverages to keep your volunteer painting crew happy and fortified. Also remember when you get the call to help them with a painting or DIY project, that it is your turn to say "yes!"
A fresh color of paint can totally change the look of a room. Remember that lighter colors typically make a room look bigger. Brighter colors are often energizing, but can be a little too intense for something like a child's bedroom or a room that you want to have soothing activities like sleep. But today's "rules" about painting are much different than they were even 10 or even 5 years ago, and just about any color that you "love" is certainly okay to use if you want to give it a try!
Happy DIY-ing!
How to Paint an Ombre Wall
This is one of the most popular trends in painting today. Best of all, even a beginner can do it!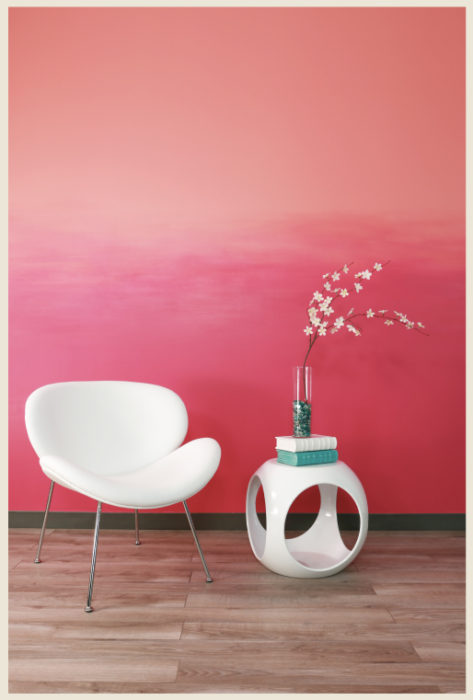 By Behr
Forest Feathers Wall Stencil
One of the best things about stencils is that you get a delicate and elegant look. But beginners will find them easy to DIY.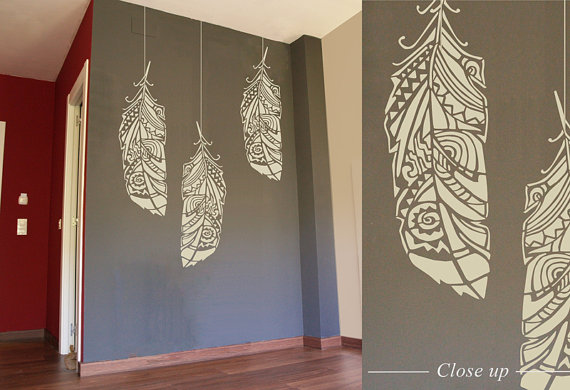 From Esty by StenCilit
Painting a Chevron Pattern on Sloped Ceiling Walls
This is a vintage yet modern look. It brings style and a fun attitude to any room.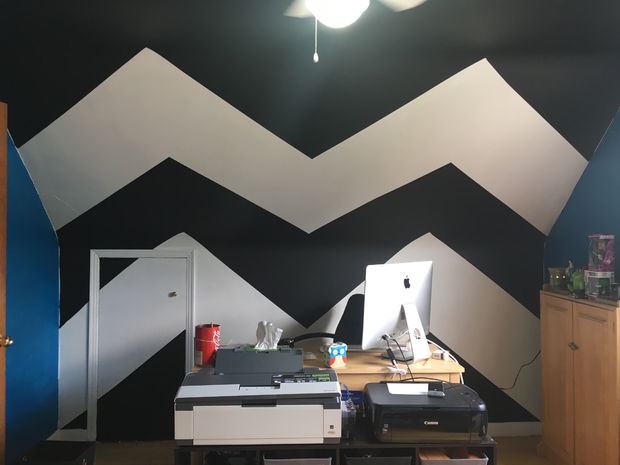 From Instructables
Paint Vertical Stripes
Want to make a room look larger? Try painting vertical stripes in the same color, one shade lighter and the other a little darker.
By HomeDepot
Wall Stencil Pattern Ribbon Lattice
Here is a stencil to get a look all over the entire wall. Its perfect for a showstopping style.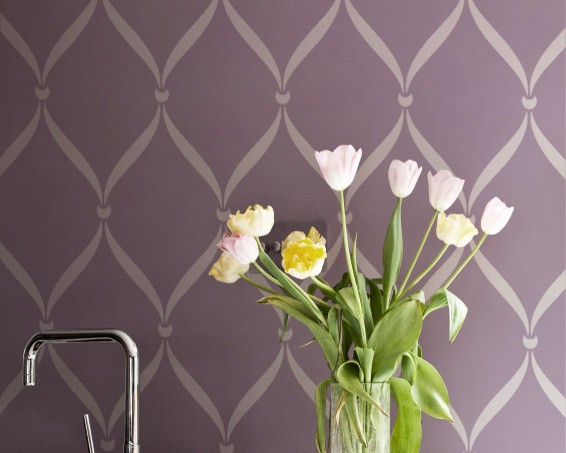 From Etsy by royaldesignstencils
DIY Fabric Wall Panels
Want to try a new look in a room, but not sure about it? Try fabric wall panels!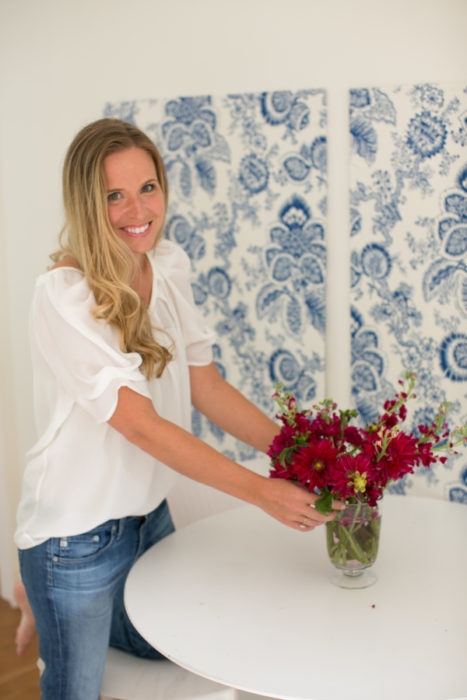 From StyleMePretty.com
Painting Striped Walls
Want to give walls great style? Why not make them striped ones?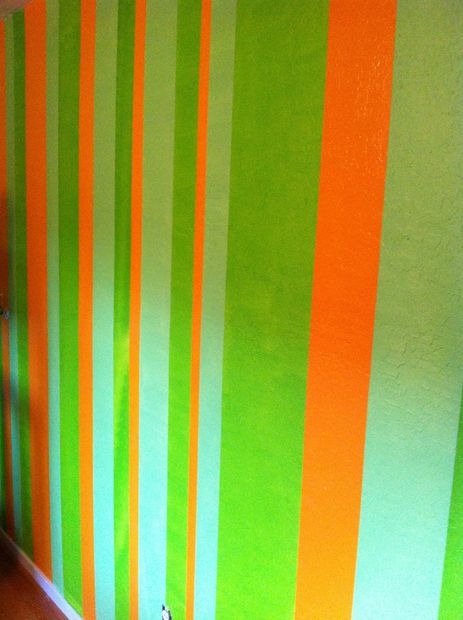 From Instructables
Panther Skin Pattern
Here is a chic and modern stencil for your walls. Everyone will admire the new look!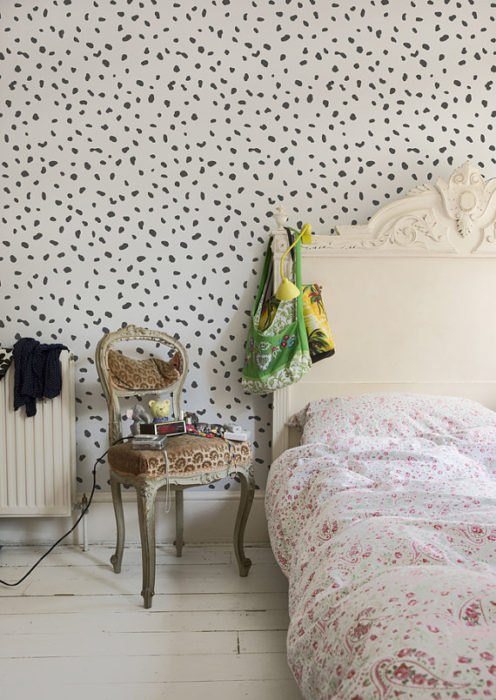 From Etsy by StenCilit
How to Paint a Castle Wall
Here's a fun painting style to try! Perfect for a kids playroom too!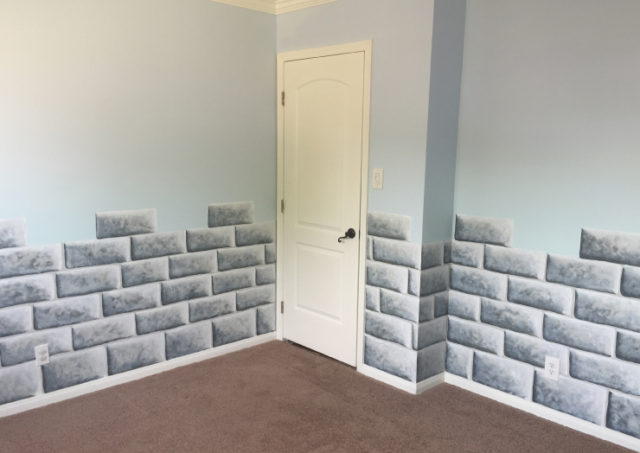 From Behr
Paint Splatter wall decor design
Here's a modern look. Why not choose paint splatter!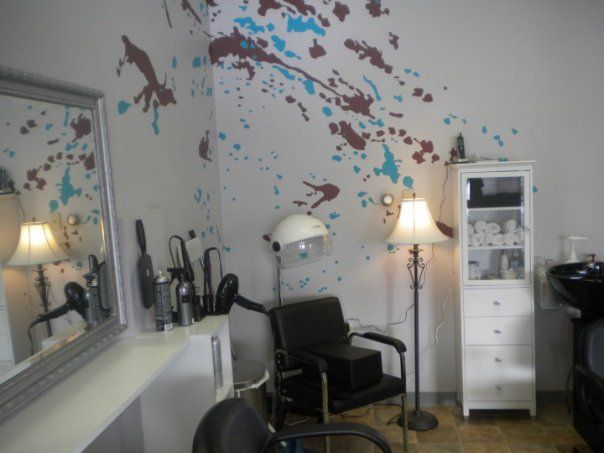 From Instructables
How to Paint an Ombre Wall
Here's a lovely DIY Ombre wall to try. You can use 1 or 3 paint colors for great effects.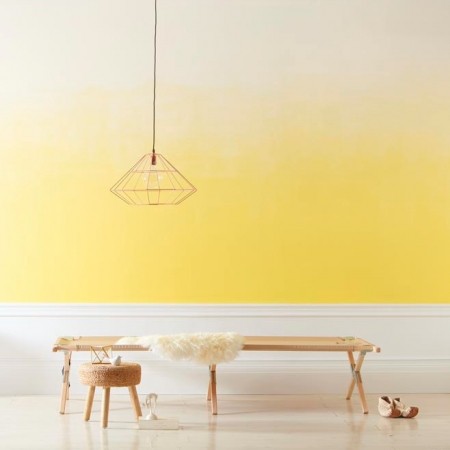 By RedOnline
Paint a Mural in a Childs Nursery
Hiring someone to paint a mural in your child's room can be quite pricey. This is a great project to DIY.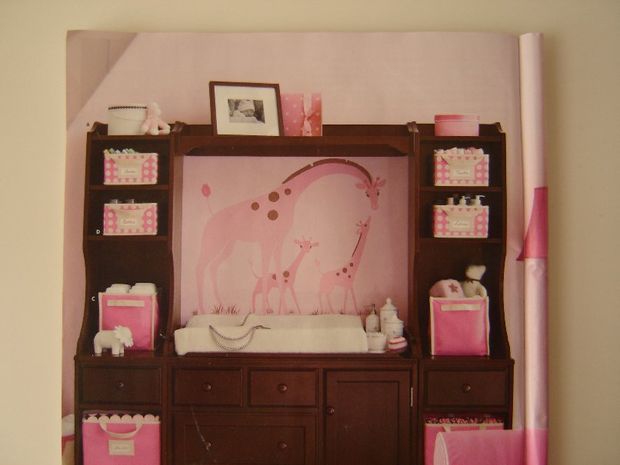 From Instructables
Chalkboard Wall with a Twist
Have creative kids who like to draw? Consider painting a chalkboard wall for them to enjoy.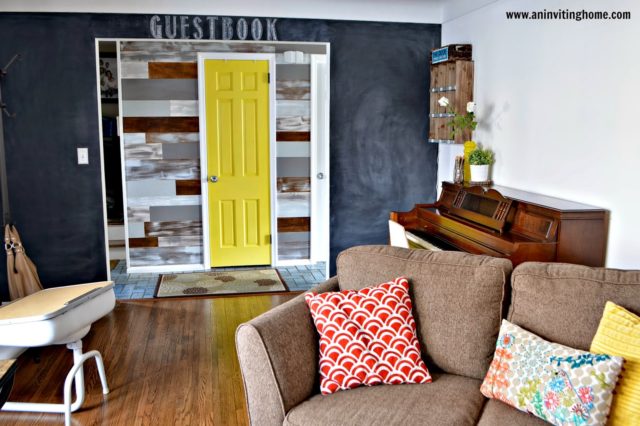 From LovelyEtc
DIY How to Paint a Mural Winnie the Pooh
This is an adorable DIY painting project, for your child's room. If you like to sketch and paint, give this one a try!

From Instructables
Painted Brick Walls
Here is a unique look for DIY painted walls. They look just like a brick wall.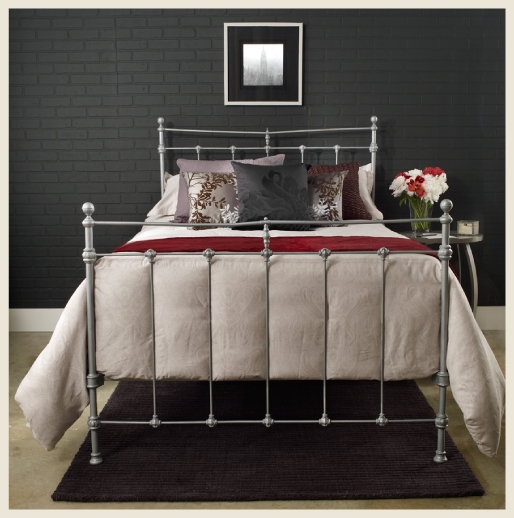 By Behr
1860s Wall Stencil Pattern
One of the great things you can do with stencils is simply do a border. Try this one for a historical look.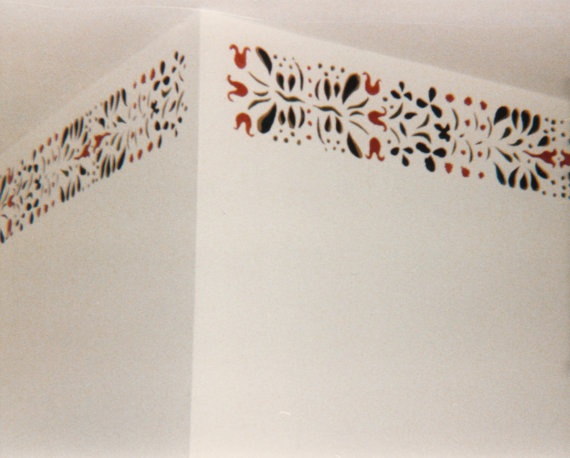 From Etsy by PeacockProud
Paint Chip Wall Art
Here is a unique wall DIY project. Doing this might even help you choose a great color of paint too!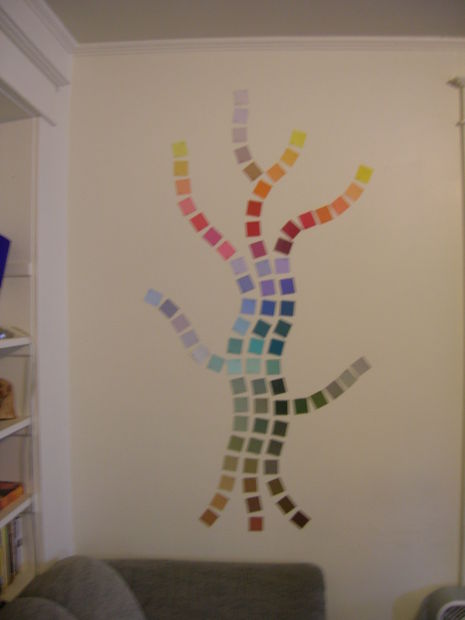 From Instructables
Tree Mural for Kids Room
Isn't this sweet? Two owls in a tree, especially for 2 girls' bedroom.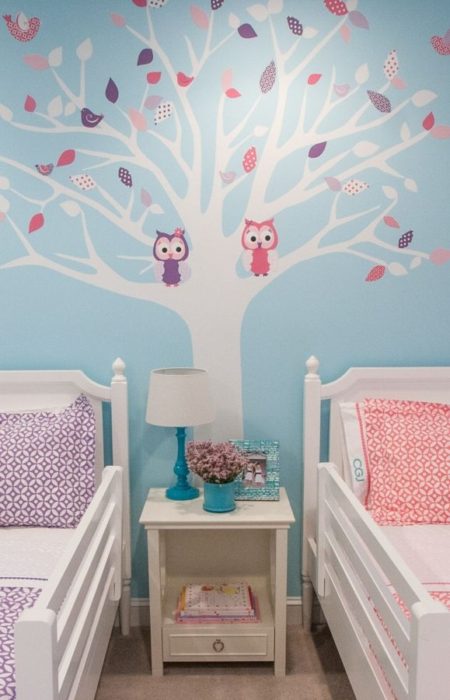 From Futurist Architecture, credit to original source unknown
Tetris Paint Wall
Like video games? Remember Tetris all day long, with this unique geometric painting DIY.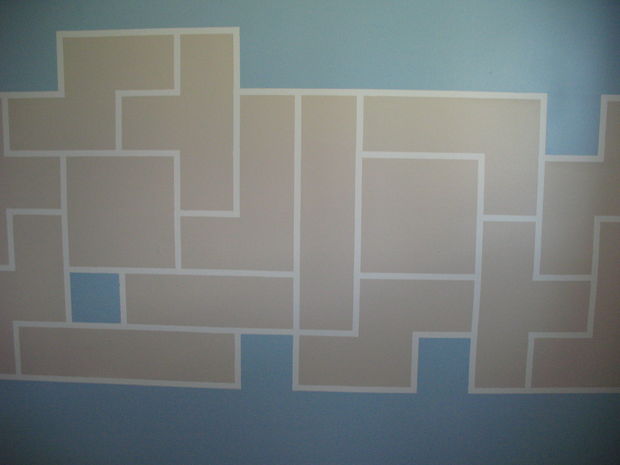 From Instructables
DIY Geometric Wall Pattern
Here is a stylish look to paint on your walls. Look at this fun geo pattern!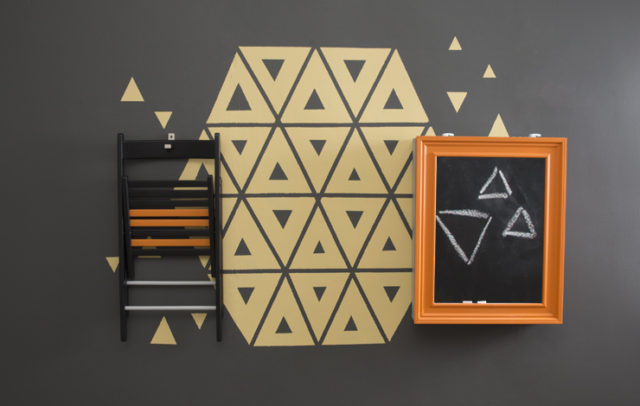 From Behr
How to Paint Wall Stripes
This is a paint DIY project that is great for beginners. The results will make you smile!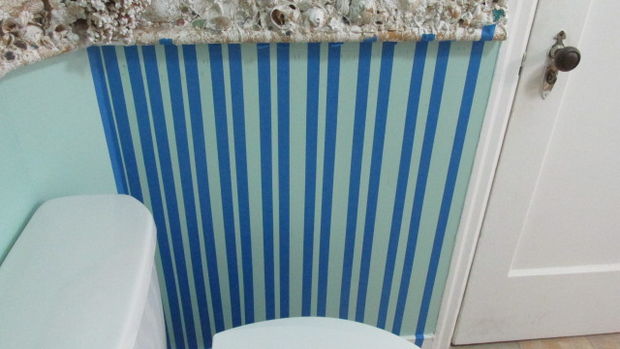 From Instructables
How to Paint Leaves
Make a mural or pretty border, using charming leaf patterns. Here's how to get started!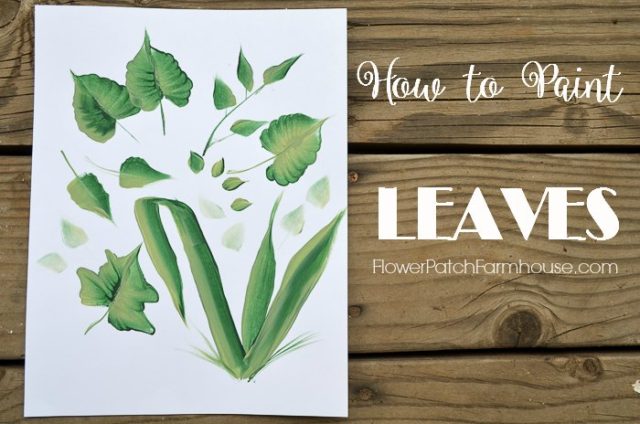 From FlowerPatchFarmHouse
Galaxy Spray paint Art
The Galaxy look is very popular with fashion and decor. Why not paint a wall with the Galaxy style?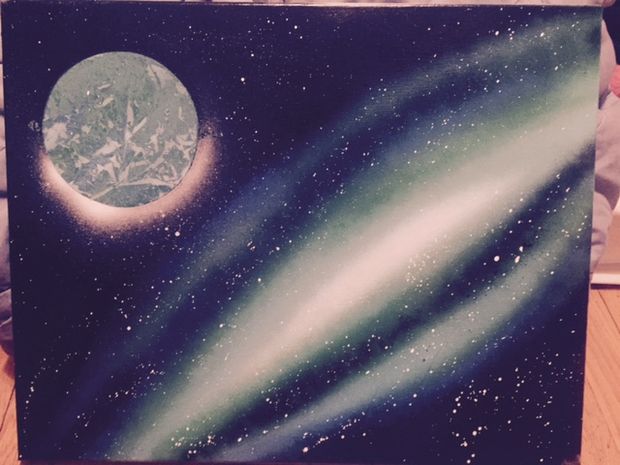 From Instructables
DIY Ombre Wall
Here is a simple to follow tutorial on how to get a fantastic looking ombre wall. Just follow the directions for a very stylish look.
From PS-IMadeThis
Nursery Design Ideas Striped Wall
Here is a stylish project that even a beginner can do. Try a striped wall!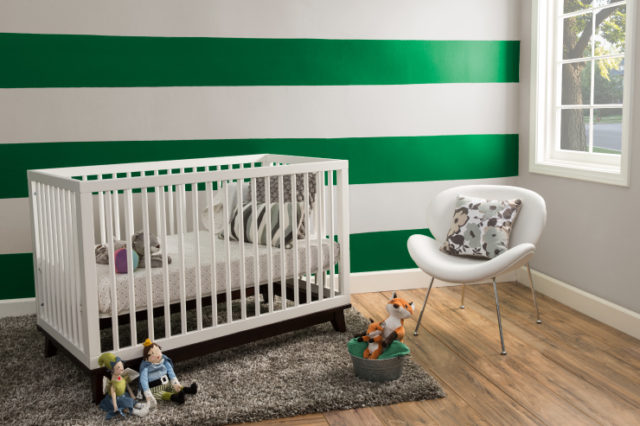 From Behr
Map of the World
Here is a great idea to paint on your child's bedroom walls. Help them learn a bit about world geography.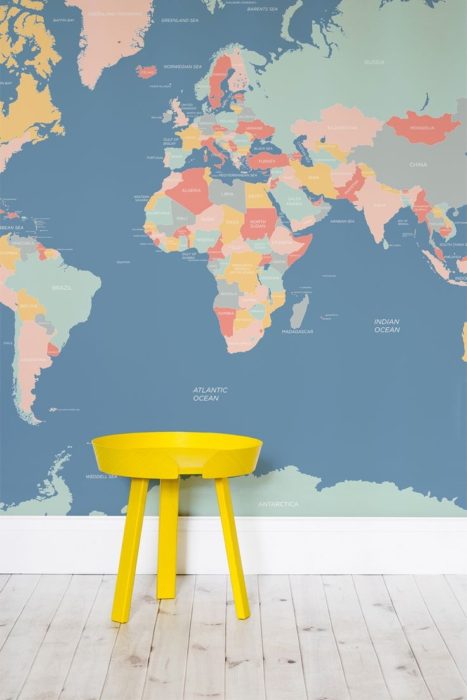 From FuturistArchitecture, source unknown
Paint a Tree Mural
This is a charming DIY mural you can make. Its perfect for a child's room or playroom.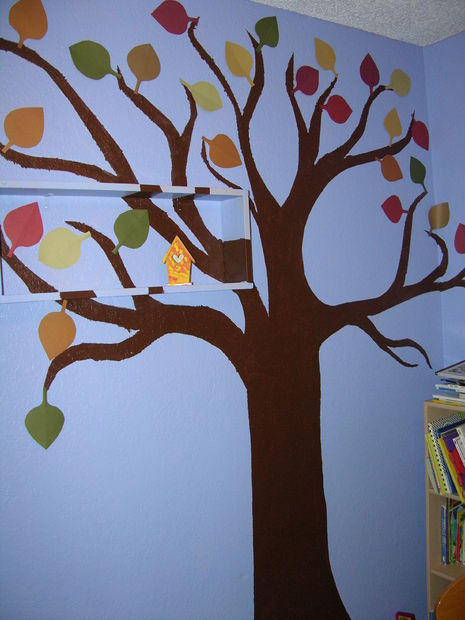 From Instructables
Lace Fabric Wall
Want a sweet, old fashioned look to your walls? Try lace!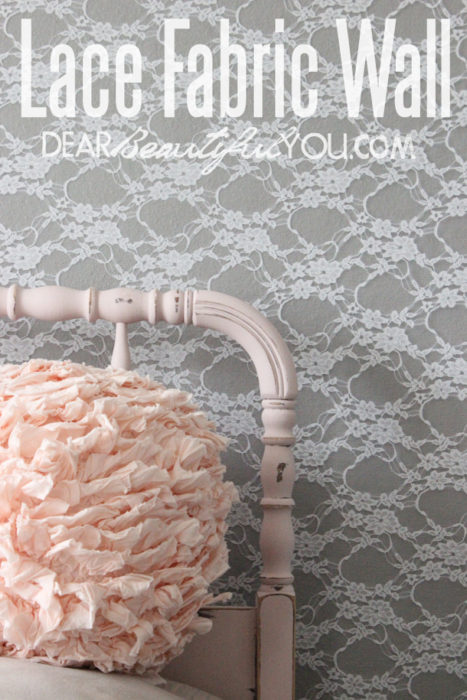 Create a Geometric Pattern on Your Wall
Here is DIY painting project that can make any room look larger. Make a geo pattern!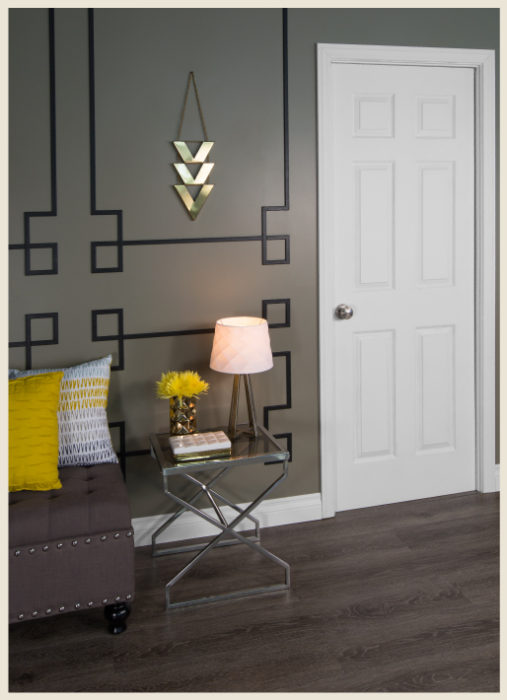 From Behr
Honeycomb Wall Pattern
Here is a great DIY wall painting project perfect even for beginners. Use your favorite paint colors!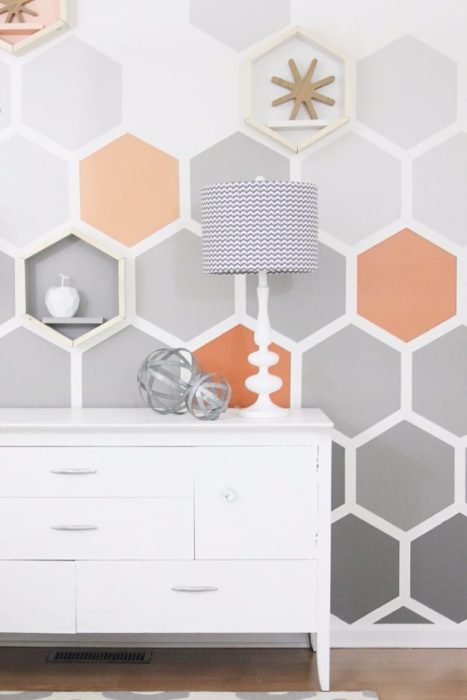 From FuturistArchitecture, source uncredited
DIY Moon Mural
One thing we really like about this mural is that it is a silhouette. Which makes it simple, ideal for a beginner to do.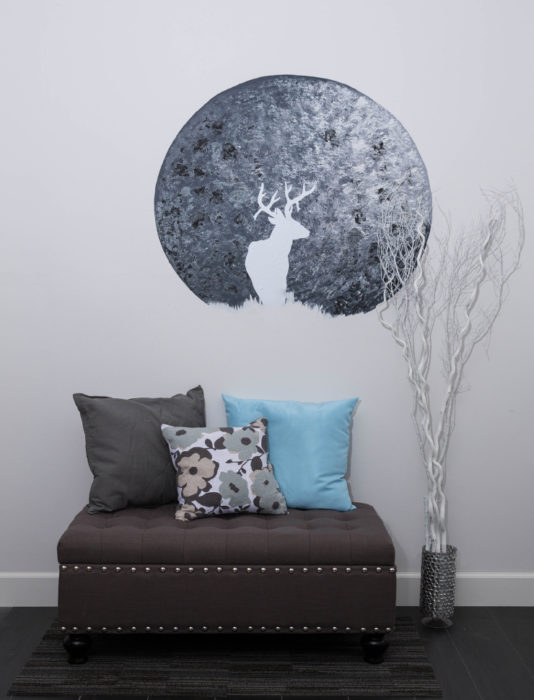 From Behr
DIY Painted Plank Wall
Psst! Can you do a simple painting job? Here's a way to make it look super stylish – great beginner's project!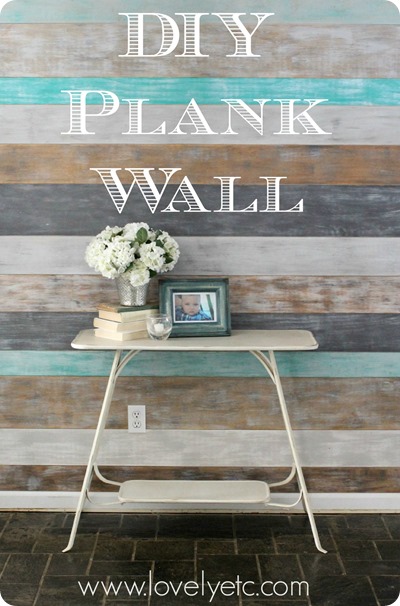 From LovelyEtc
City Life Mural
Here is a charming mural to add to any room. You can paint it in with your favorite colors.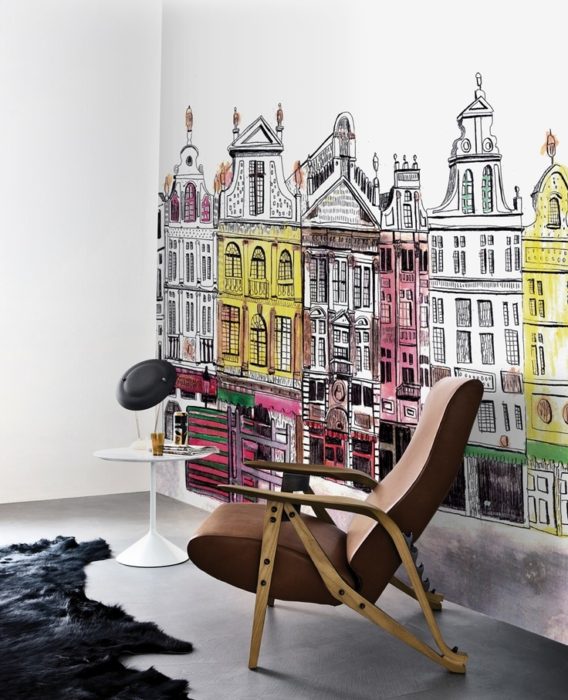 DIY Geometric Wood Feature Wall with Floating Bench
Create a wall with texture, with wood in a geometric pattern. Everyone will admire this in your entrance or kitchen especially.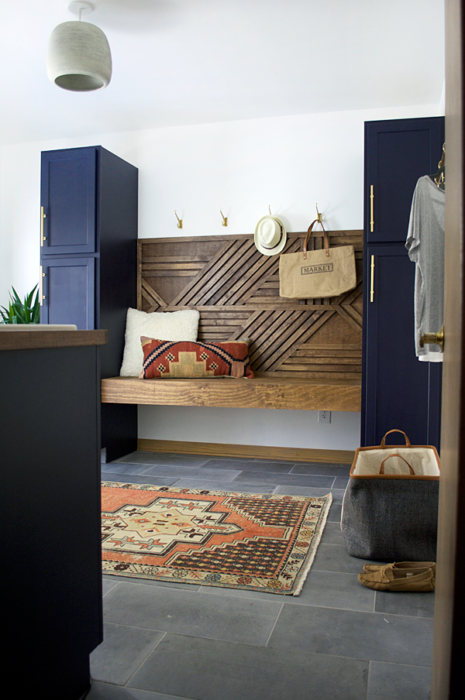 At BePurposed
Tree with Hammock Mural
Isn't this a wonderful way to encourage your child to read? A tree mural where you add a bookcase and a hammock!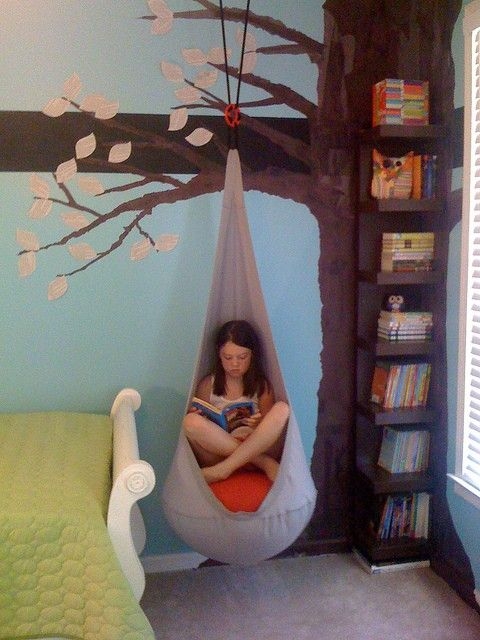 From FuturistArchitecture, source uncredited
How to Create a Geometric Wall with Everlong Paint
Here's a great DIY project for beginners with that decorator showcase look. Take your 3 favorite colors of paint and you're ready to get started.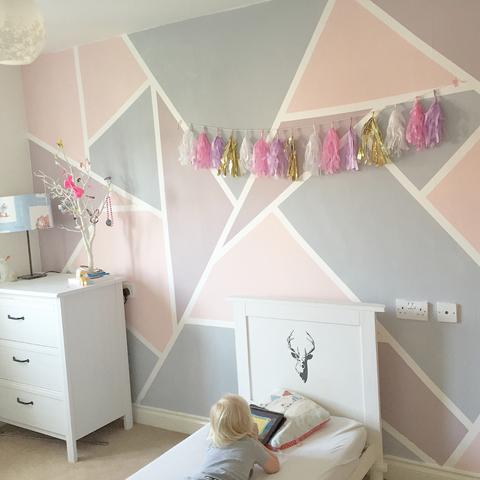 By Eliza-Rose
Vintage Modern Navy and Grey Nursery
I have to admit that navy and grey are not colors I would think of for a baby's room. But this painting DIY shows us that being imaginative with color can give you a great style.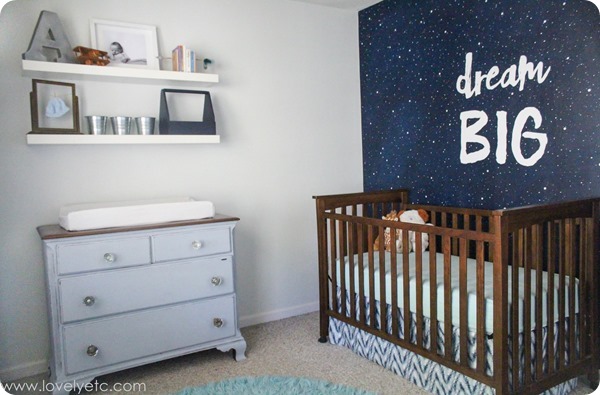 At LovelyEtc
How to Install a Fabric Feature Wall
This is a popular home decor trick that makes any room look great. It also is often very simple to do or even refresh with a new look.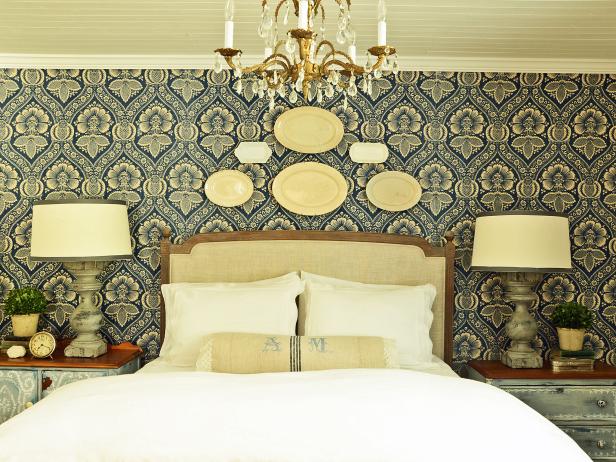 From HGTV.com
Iron On Wall Art
Did you know you can iron on walls? Here are fun tips on how to do it!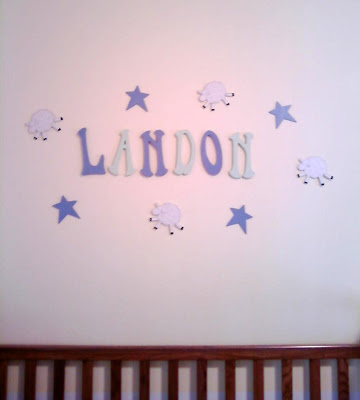 How to Stencil a Lace Doiley
Give your walls a vintage look with paper lace doileys. Here is how to stencil with them.