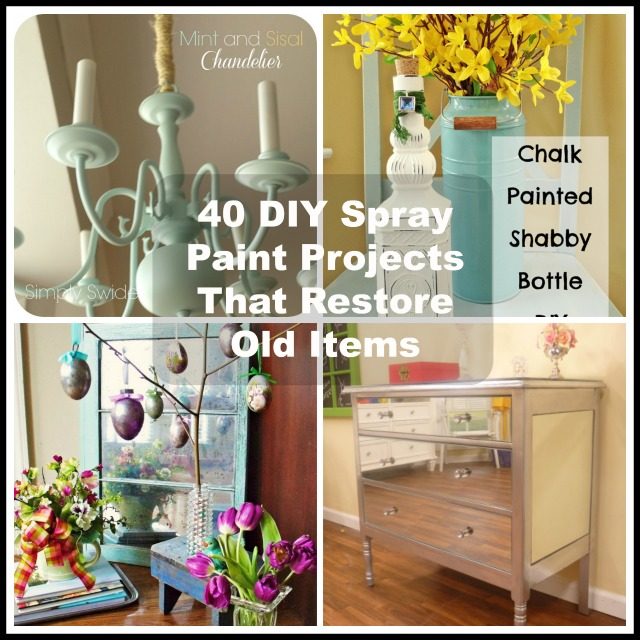 We're going to let you in on a DIY secret: if you've got a can of spray paint, there's a lot you can do! Spray paint today offers you more than just the ability to quickly refresh the paint or even change the color of something.
If you have an old piece of furniture, knick knack, mirror, picture frame or vase – when you add your creativity there is the ability to create something stunning. Now there is fun spray paint that offers chalk board style, the beach glass look and even the super luxe mirrored style.
We bet that once you start DIY projects with spray paint, on old items you have in the house that you won't be able to stop. That's because you'll realize you can turn a dresser that no one looks twice at – into a lookalike for the one that Pottery Barn sells for big bucks!
Here are 40 terrific spray paint projects. If you are new to spray painting DIY, we recommend you start with one that only uses a single color to "get your feet wet" so to speak. But before you know it, you'll be having fun making Chevron stripes or an Ombre shading look to home décor that everyone will admire.
Developing your spray painting skills is a "must" especially if you love tag sales, garage sales and estate sales. That's because you, more than anyone, know that its possible to buy furniture and items for your home and sweet prices. But what will simply astonish you is adding that extra touch of spray paint makes the difference between cute and totally amazing!
DIY Chevron Pots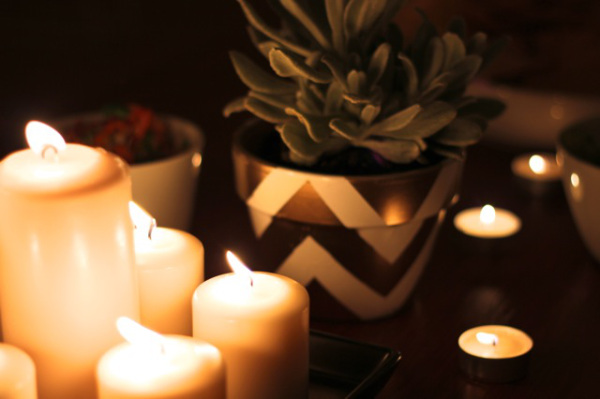 Its easy to make a stand out home decor accessory with a bit of time and spray paint. Chevron stripes can even be done by a beginner!
How to Make a Wreath From Pinecones (Spray Paint)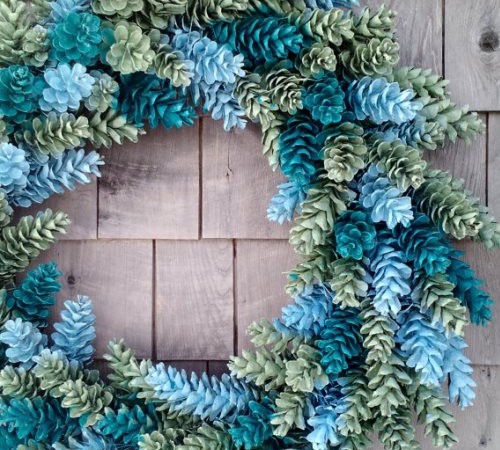 Most of us have pinecones, from holiday decorations or simply in the backyard. Turn them into a welcoming, colorful wreath for the front door with a bit of spray paint.
Located at HowToMakeABurlapWreath.com
DIY Faux Mercury Glass Mirror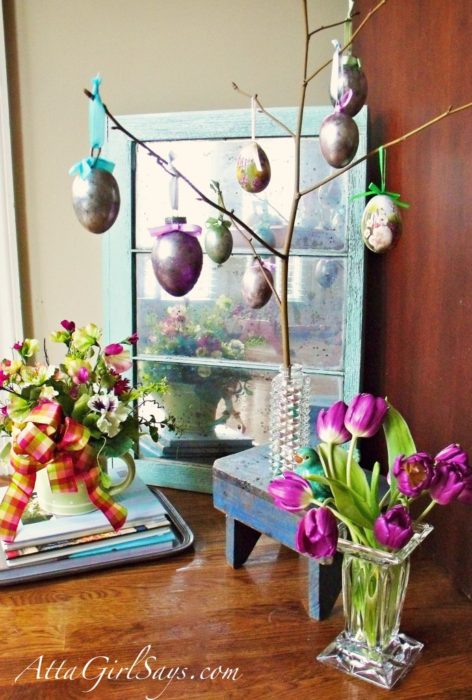 Love Pottery Barn finds? This faux Mercury glass mirror will get you lots of compliments and can be made easily with a bit of spray paint!
From AttaGirlSays.com
How to Spray Paint a Rocking Chair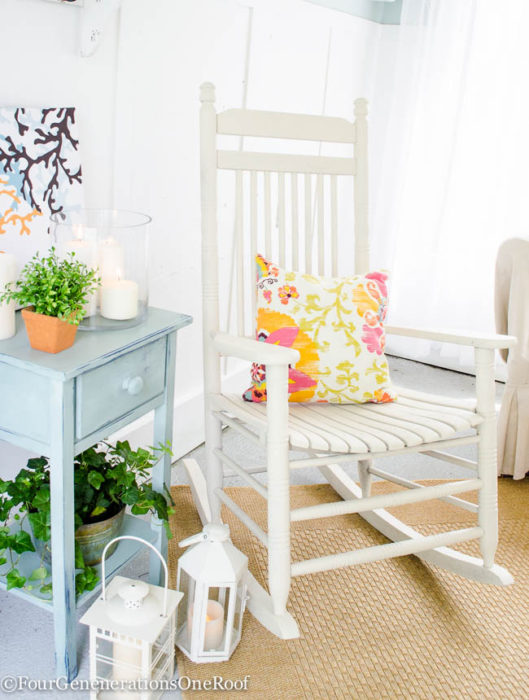 Many families get a rocking chair with their first born. Update its look as your family grows, with any color of spray paint that you like the best.
Located at FourGenerationsOneRoof.com
DIY Shabby Chic Office Chair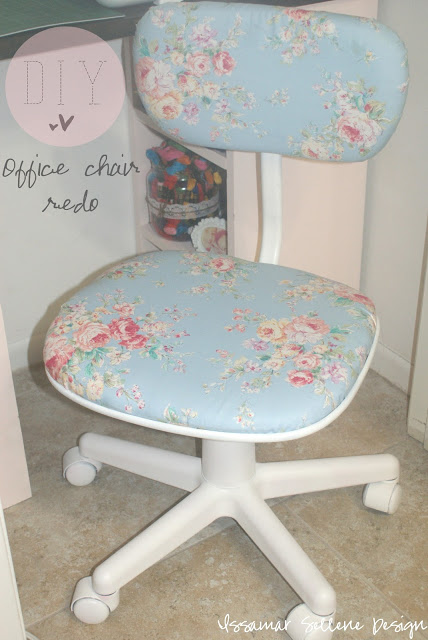 Refresh your home office with some spray paint. Its easy to get a great look.
Mint and Sisal Chandelier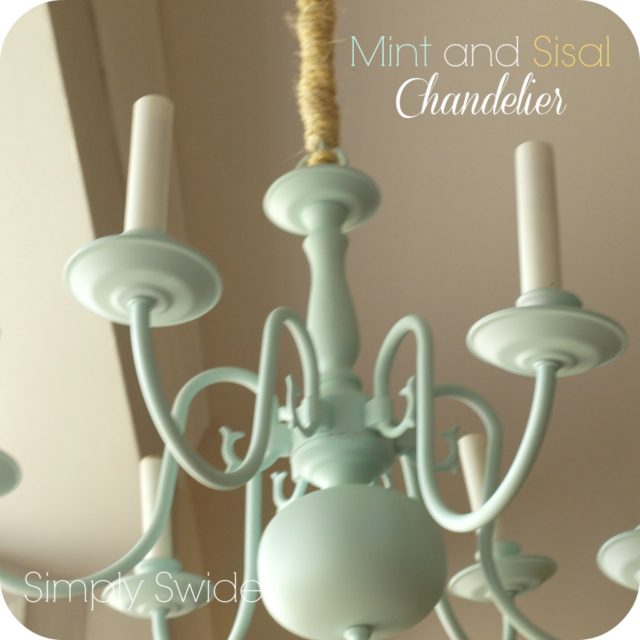 Located at SimplySwider.com
Modern Touch to Wood Bowls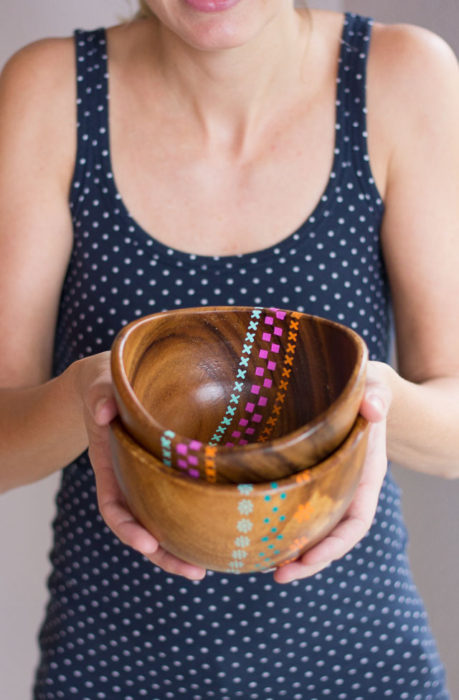 Give simple wooden bowls and upgrade with bright, colorful patterns spray painted on them. This fun pop of color is very appealing and a welcome sight.
DIY Gold Hangers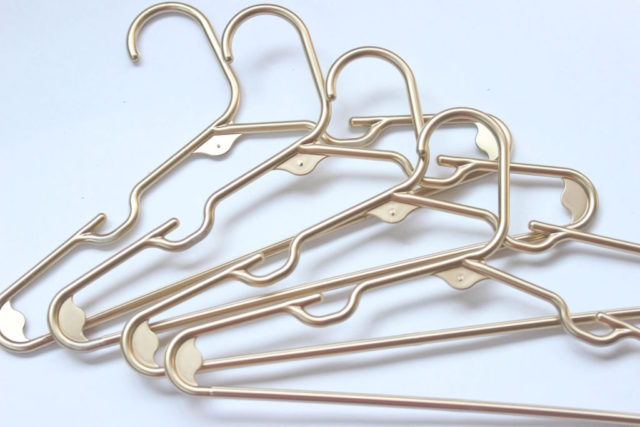 Make your simple plastic hangers sparkle with gold or metallic paint. Its easy to add a touch of elegance to the everyday.
Spray Paint Brass Light Fixture
Tired of looking at brass fixtures? Give them a new style with spray paint, its easy!
Located at OneHundredDollarsAMonth.com
How to Spray Paint Curtain Rods
Accents and the little touches in any room can be improved, when you add spray paint. This is a simple project that can be done in a few minutes (then put out to dry).
Antiqued Chair with Spray Paint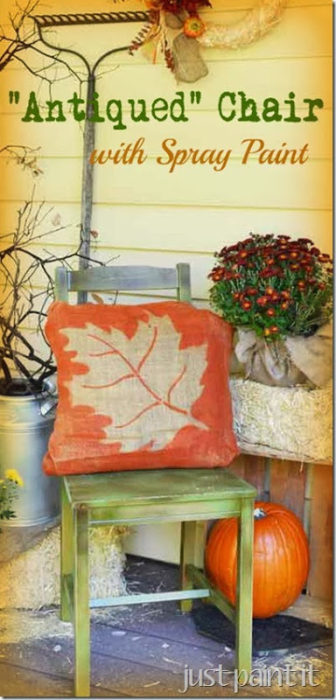 Spray paint can not only change the color of furniture, but it can give it a new, texturized look. Try creating this antiqued style with your next project.
From JustPaintItBlog.com
Spray Paint Dining Room Chairs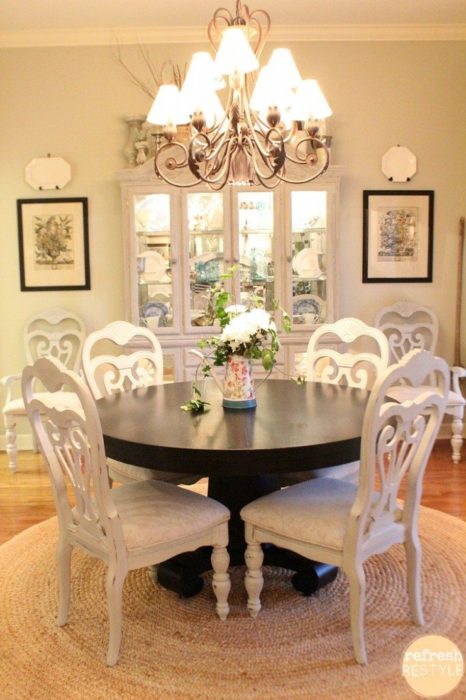 Don't have the extra funds to get new dining room furniture? Try spray painting to refresh and get a new look that will please everyone.
How to Spray Paint Wicker Baskets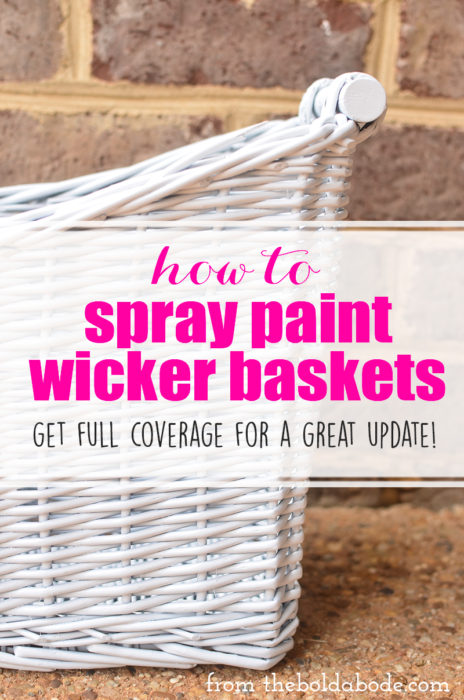 The good news is that wicker baskets can last a long time if well cared for. But when their paint wears, they start to look shabby – so give them a fresh coat the right way, with spray paint.
Sea Glass Vases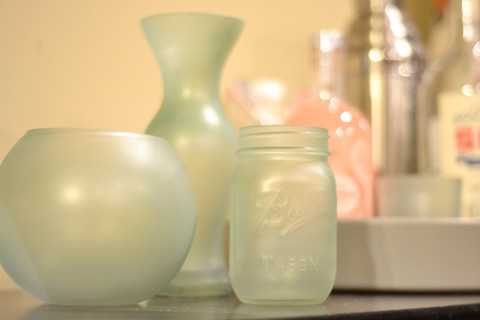 Spray paint is not just about color today. You can actually get the look of spray paint, something you used to have to comb the beach all summer, searching for finds for.
From CraftBoxGirls.com
Spray Painted Refinished Green Buffet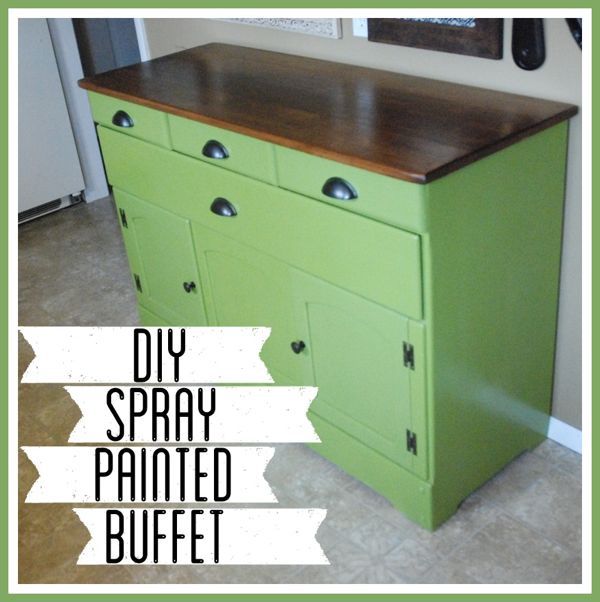 Welcome guests into your home and kitchen with this wonderful buffet table, perfect for putting out a sumptious meal. Its easy to re-style an older piece of kitchen furniture, making it look so much better.
Spray Paint a Vintage Nursery Dresser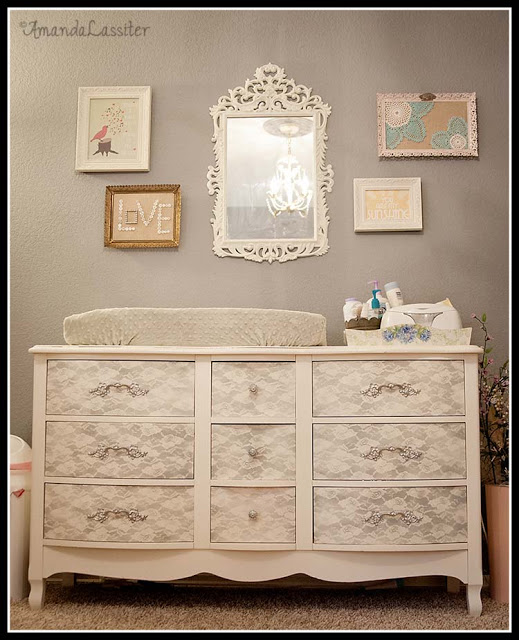 When you spray paint over lace, you get a delicate effect that everyone will admire. A touch of metallic spray paint is elegant and gives an antique look to a vintage piece of furniture.
Spray Paint Coffee Beans
Have old, stale coffee beans? Make stunning vase filler by adding a little bright spray paint in your favorite color.
Located at StrokeGlory.Blogspot.com
Make Zinnia Flowers From Pinecones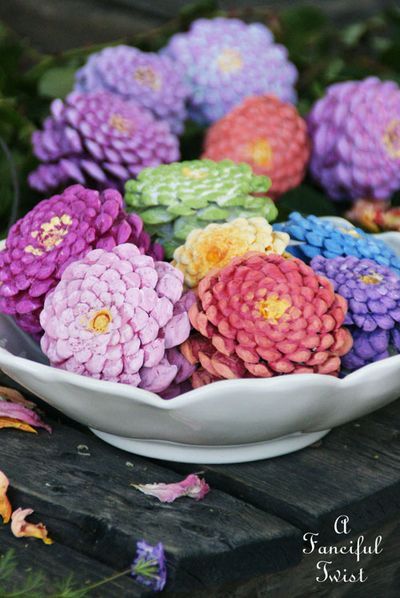 Create flowers that will always bloom, from extra pinecones you've always had. They make pretty home decor you'll receive lots of compliments on.
Located at BlogLovin.com
IKEA Side Table Makeover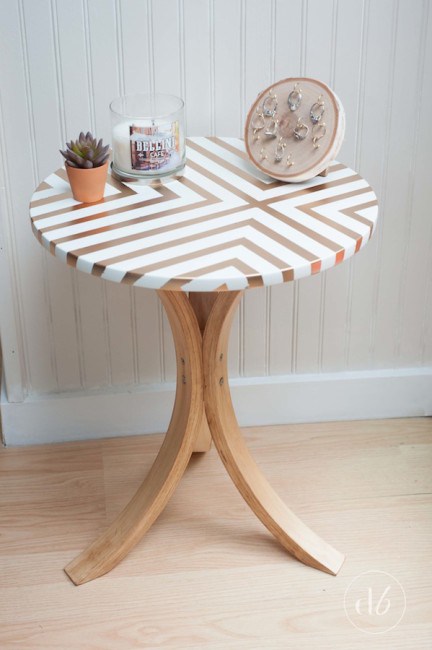 IKEA furniture is stylish but with spray paint, its now easy to give it a bit of an upgrade. You can now match it to your personal style too, with favorite colors and home decor color scheme.
From DwellBeautiful.com
Chalk Painted Shabby Bottle DIY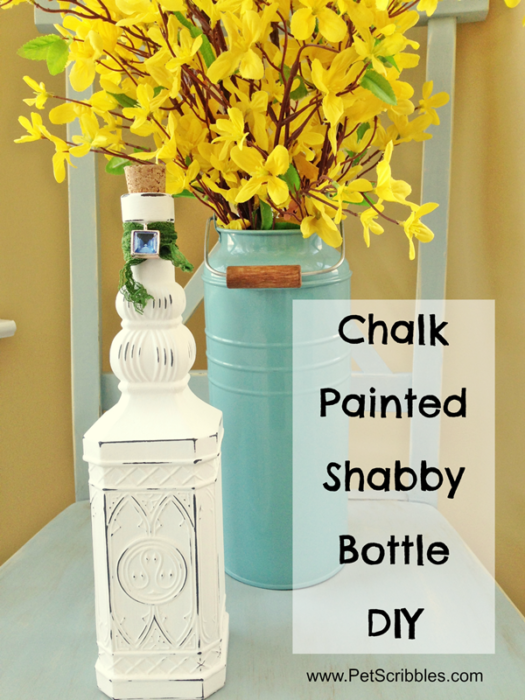 Chalk painting style is one of the new, popular home decor looks today. You can easily get this with spray paint, try it for bottles to make fun home accessories for pennies on the dollar.
From DeJaVuDesigns.com
DIY Mini Galvanized Tubs for Your Cokes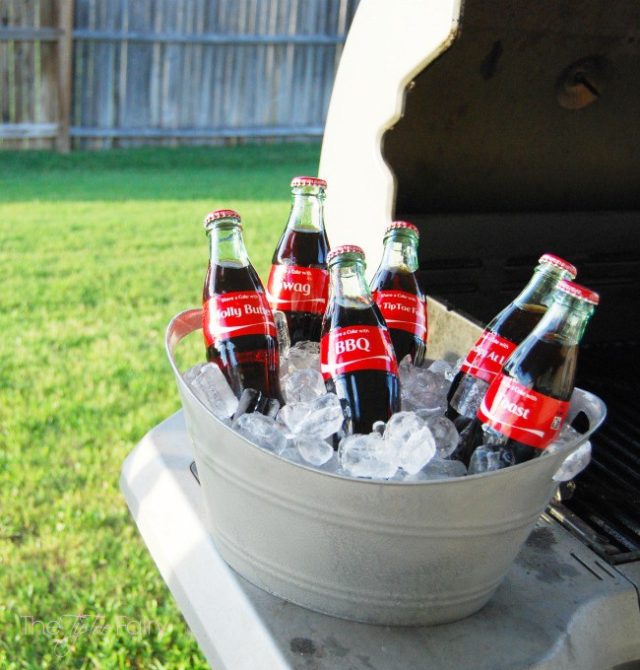 With BBQ season and warmer weather, you'll want to do DIY projects that help you enjoy these times. Turn a plastic tub into a galvanized style one perfect for parties.
Thrift Store Lamp Makeover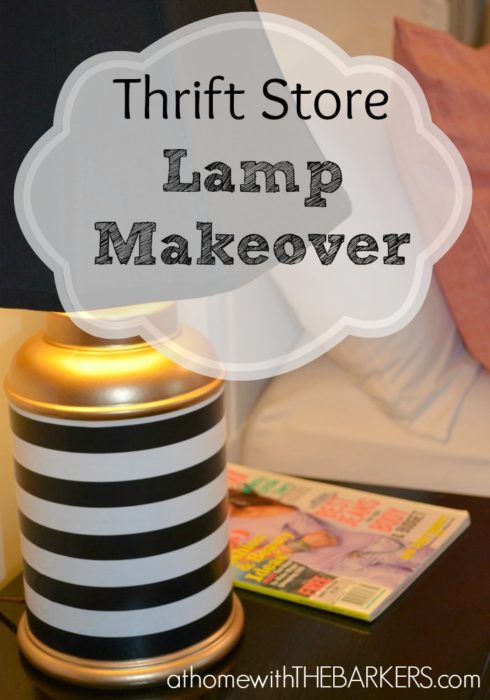 DIY a thrift store lamp with some bright spray paint and your favorite gift wrap to give it a new style. Remember to always double-check the wiring on any older lamp you're going to re-use, to be safe rather than sorry.
DIY Painted Bottles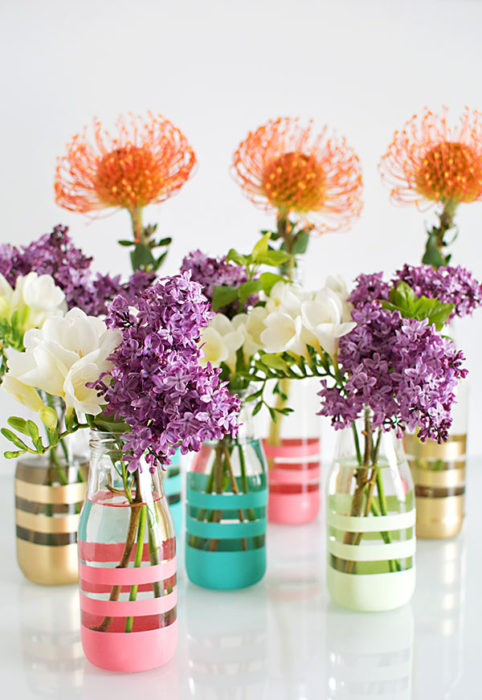 Do you drink those Starbucks Frappuchinos in the little glass bottles? Put them to good use and make pretty home decor with some spray paint and your imagination.
From HomeyOhMy.com
DIY Marbelized Terra Cotta Pots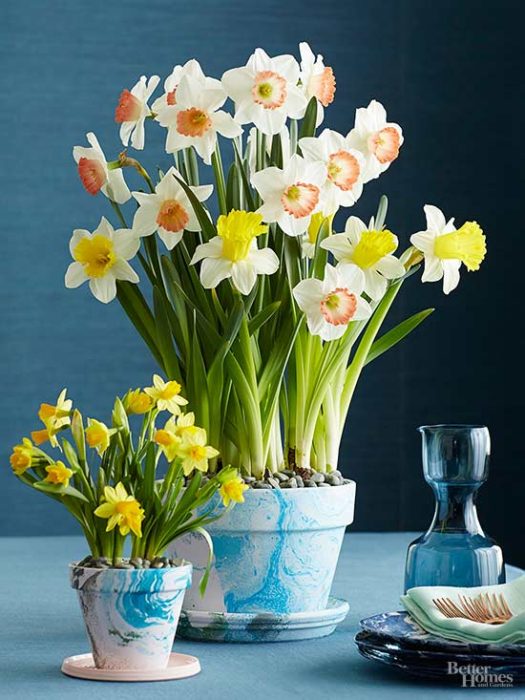 This is a fun project to do with kids. Use spray paint and make terra cotta pots have a marbelized coating.
From BHG.com
Spray Paint an Old Picture Frame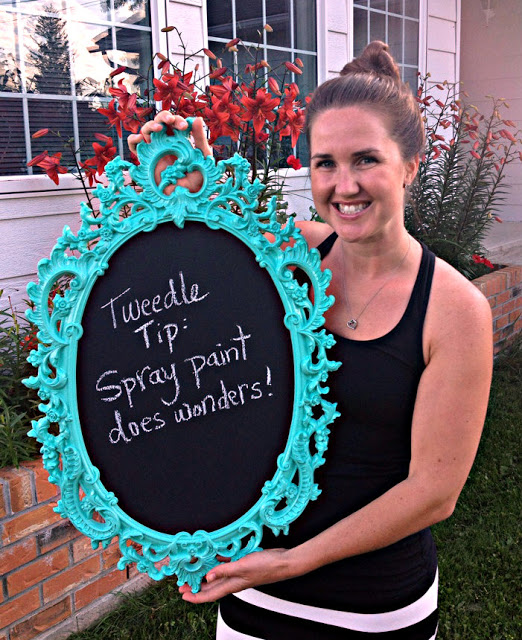 Give an old picture frame new life with a fresh coat of spray paint. So take it out of the garage or the attic and see how lovely it will now look in your home!
Located at MissTweedle.com
DIY Mirrored Dresser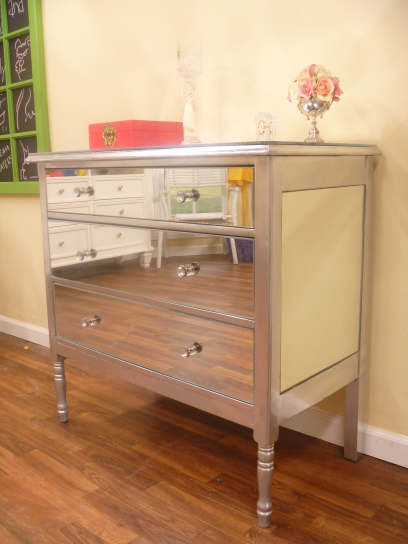 Love the Pottery Barn furniture styles? Instead of spending hard earned dollars, put in some time and add spray paint with other materials. You'll soon have that dresser that gets you lots of compliments!
How to Spray Paint Metal Outdoor Furniture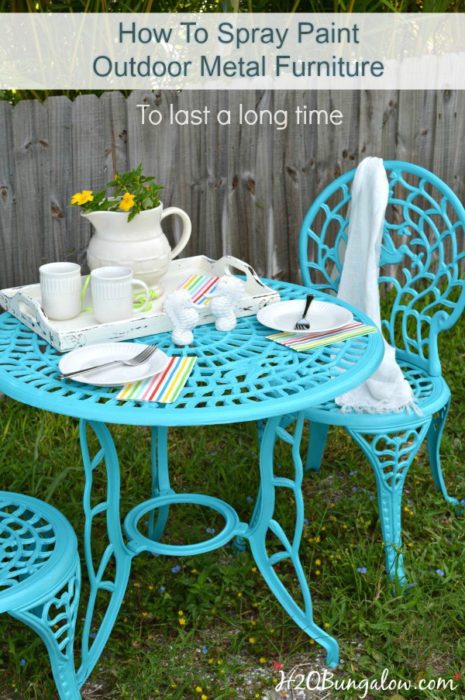 One of the challenges with metal outdoor furniture is the paint can come off, long before the furniture is ready to be done with. Here are some helpful tips to spray paint the furniture and have the job last a very long time too.
Spray Paint a Trash Can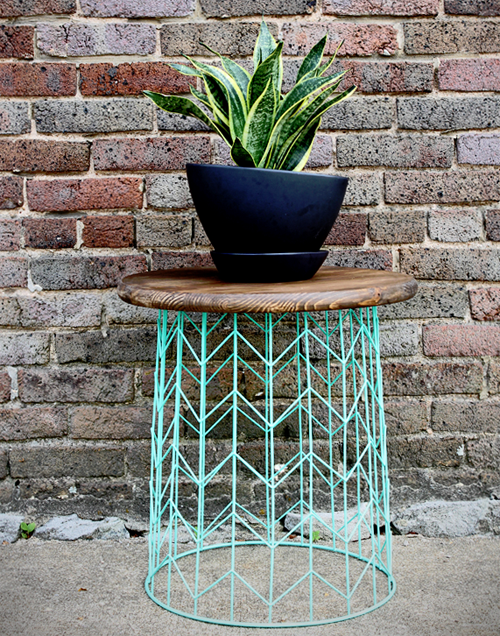 Did you know that an old wire trash can has new possibilities? With spray paint and your imagination, it sure does. Its now an end table!
At NX2.com
Make Your Own Milk Glass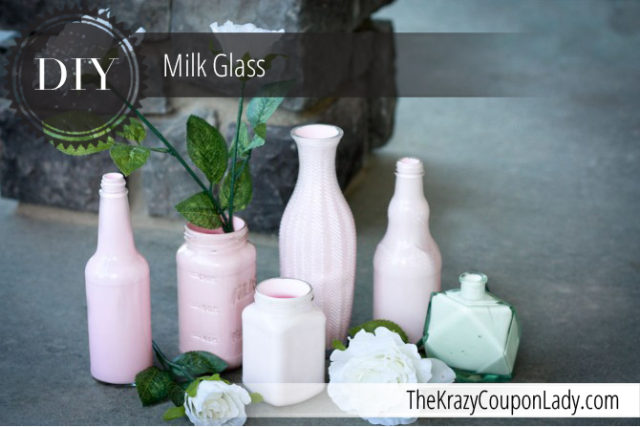 Love the old fashioned charm of milk glass? You don't have to scour antique stores, simply make your own with old glass items and a bit of paint!
Located at TheKrazyCouponLady.com
Spray Paint and Stencil and Plastic Adirondack Chair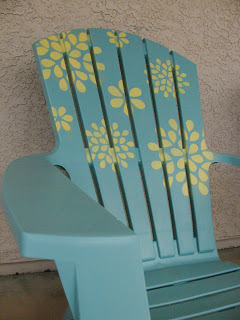 Plastic Adirondack chairs are perfect for enjoying sunny weather. Why not give them a new look with a little spray paint and some fun stencils?
From CactusAndOlive.com
Spray Paint Thrift Store Items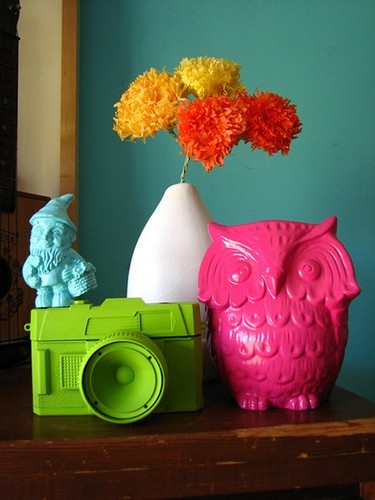 Hey, you never know what you'll find at the thrift store. Give unique objects a fresh coat of spray paint and they will easily fit in with your home decor.
From Indulgy.com (photo found at Flickr.com)
Three Tiered Stand and Spray Paint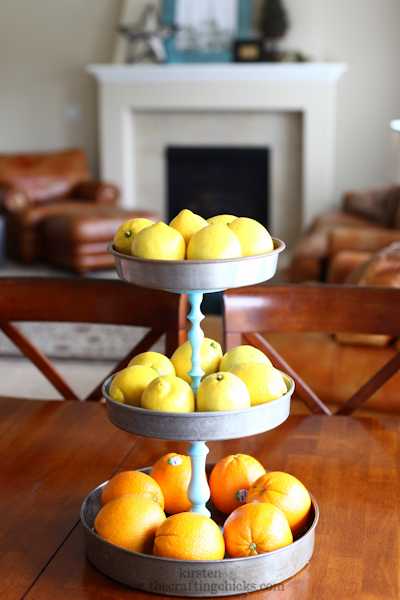 Three tier stands are terrific to organize in your home. If you have an old one, freshen it up with some spray paint!
Gilded Gold Glass Vases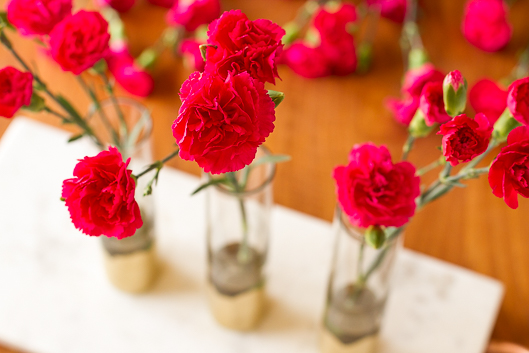 Upgrade the vases in your home with some spray paint. Make them look more elegant and easily match your home's decor.
From Unsophisticook.com
Spray Paint a Wrought Iron Bench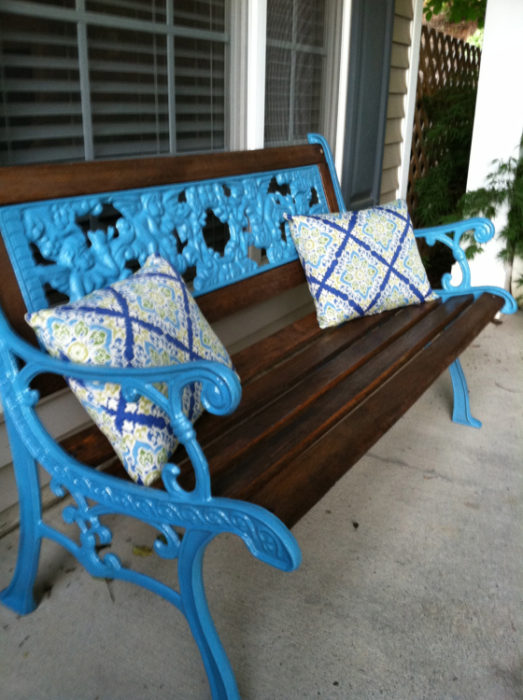 Each year different colors come into trend for home decor. Spray painting your outdoor furniture a new shade or color is an inexpensive way to change styles.
At CPandB.com
Faux Mercury Glass Pumpkin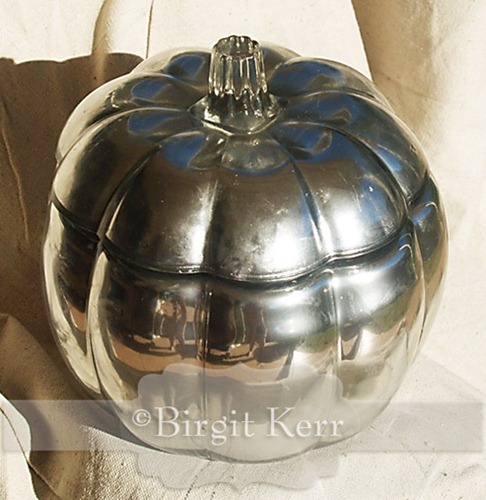 If you shop at the dollar store or have little knick knacks you'd like to give new life to so they can be shown off, this is the DIY for you. Faux Mercury is a spray paint technique that looks antique and shiny like a mirror.
At BridgitKerr.com
Scallop Shell Terra Cotta Pot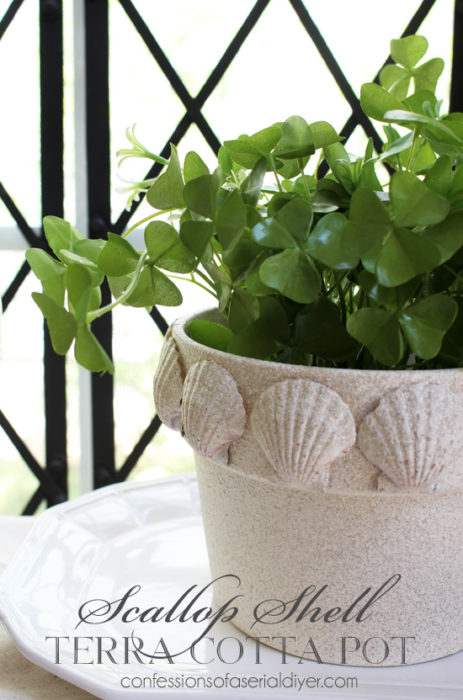 Give an old terra cotta pot an real upgrade, with sea shells from the beach and a fresh coat of paint. You can enjoy summer all year long!
By ConfessionsOfASerialDIYer.com
Spray Paint Ombre Baskets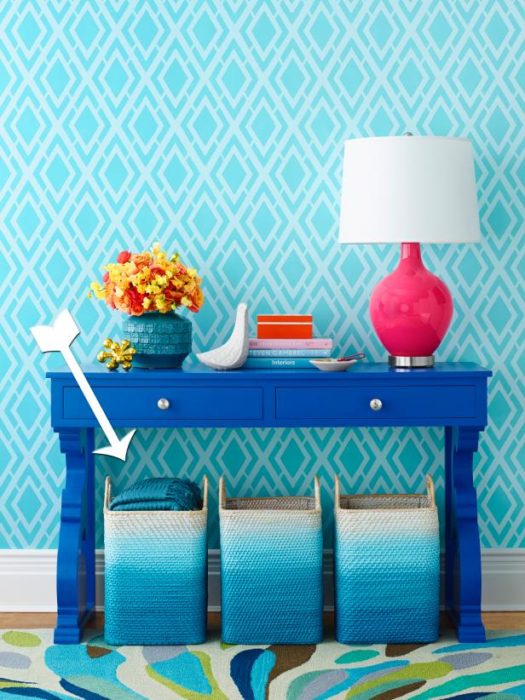 This is the perfect DIY for laundry or toy baskets, to update your home decor. A great re-do with spray paint in your favorite colors.
From HGTV.com
DIY Mercury Glass Vase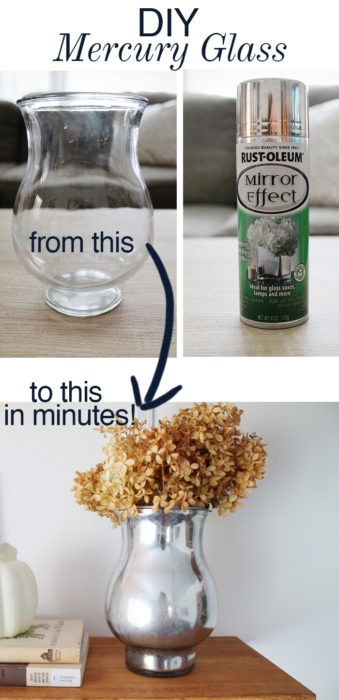 Give an inexpensive, old vase a truly elegant look, so it reminds you of the fancy vases you see today in the antique stores. The faux Mercury spray paint is an easy technique even beginners can do.
From HammerAndHeels.com
DIY Nursery Mirror Makeover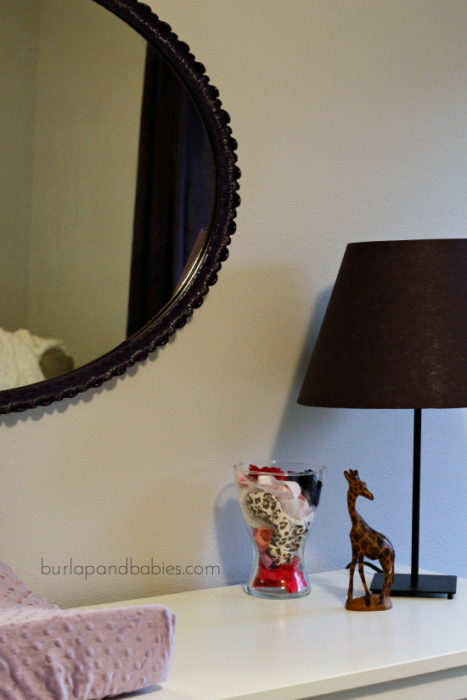 Want to update the look in your baby or child's room? You can easily refresh the trim of the mirror, try these helpful tips.