Hello, DIYers!
With the new school year coming up fast, teachers will be heading into their classrooms to decorate for their new batch of students! Here are some fabulous ideas for creating a door that will welcome your students into your classroom and set the tone for the new year! Which will you choose?!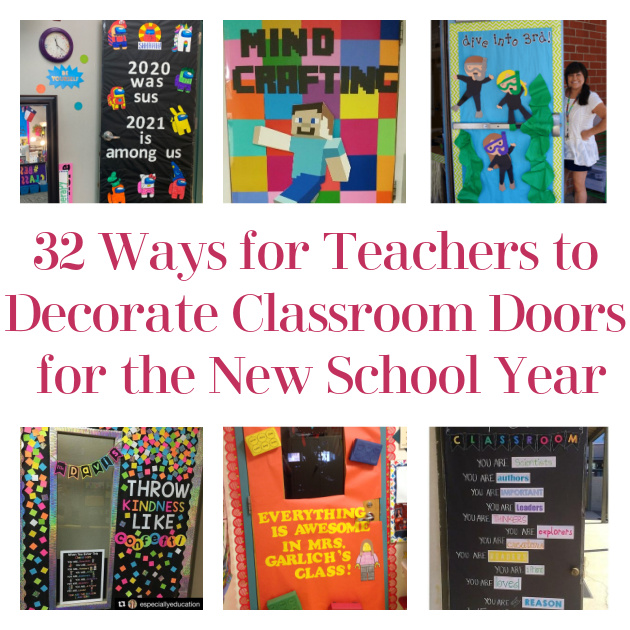 Mind Crafting
This is a fabulous idea!
Found Pinterest
Meme of the Week
This is a fabulous way to keep your classroom engaging!
Found Teachingalatteinfirst
Instagram Inspired Classroom Door
This is a class where memories are made!
Found Sew Woodsy
Crayon Themed
For all of your bright students!
Found Rainbowswithinreach
Pokemon Door
You teach me and I'll teach you!
Found Pinterest
Stick Together Cactus Door
Cute with a bit of humor!
Found Adventures_in2nd
Super Heros in Training
If you're teaching a new batch of super heros, this is the door for you!
Found One Creative Mommy
A Classroom Full of Leaders
Encourage the students in your classroom to become leaders!
Found Missing Tooth Grins
Chicka Chicka Boom Boom Door
A Told B and B told C… that this is a great idea for a Pre-k or Kindergarten classroom door!
Found Rainbowswithinreach
Easy Dr. Suess Door
This Cat in the Hat is easy to make!

Found Allwomenstalk
S'more Learning
Because school is so sweet!
Found Clutterfreeclassroom
Among Us
This is so funny! You would have to update the years, but this is a fantastic way to connect with kids!
Found Pinterest
Take Inspiration from UP!
Your little one's can follow their dreams in your class room!
Found Clicky pix
Everything Is Awesome LEGO Movie Door
Everything is cool when you're part of a team!
Found Pinterest
Throwing Kindness
This is a fabulous message! I love the added touch of the mirror!
Found Especially Education
Scuba Diver Door
Dive into the new school year!
Found Sailing Into Second
Reading Encouragement!
Because children should always be encouraged to read more!
Found Glitter and Glue 4K – 2
Popcorn Door
What's poppin?
Found Classroom Decor Ideas
When You Enter This Classroom…
Remind students that even though they seem like regular old classroom assignments, it is training them for their entire life!
Found Lessons With Laughter
Evolve Your Abilities
Here is another great Pokemon inspired door!
Found Pinterest
Students Can Change the World
We all know it's true! Let's stoke their confidence!
Found MPM School Supplies
Pac Man Door
Gobble up the knowledge!
Found Heidi Songs
Dalmatian Door
The spot to be!
Found Pinterest
When We Learn We Grow
Fabulous!
Found Kindershenanigans
LEGO Brick Door
Who doesn't love LEGOs?!
Found Kleispiration
Bee Hive
What a place to "bee"!
Found Imagenes Educativa
Words of Motivation
Imprint important words that inspire your classroom to lead, collaborate, be creative, and triumph!
Found Pinterest
What A Sharp Bunch
Here's a bit of pencil humor!
Found Indulgy
Creeping Into Third Grade
Kids LOVE Minecraft these days! This is a great idea!
Found Pinterest
Reach for the Stars
Teach your little one's to set their goals high!
Found Second Grade Thrills
Be a Rainbow
This is a fantastic way to set the tone of kindness in your classroom!
Found Teaching in the Tropics
Explorers of the Deep
This is so cute!
Found Pinterest
You May Also Enjoy…
33 Fantastic Spring Doors to Recreate for Your Classroom
34 DIY Puzzle Games To Make for Kids
53 Classroom Door Decoration Projects for Teachers
30 Brilliant Hacks and Upcycle Projects for Pool Noodles
31 Wonderful Wooden Toys You Can Make Yourself