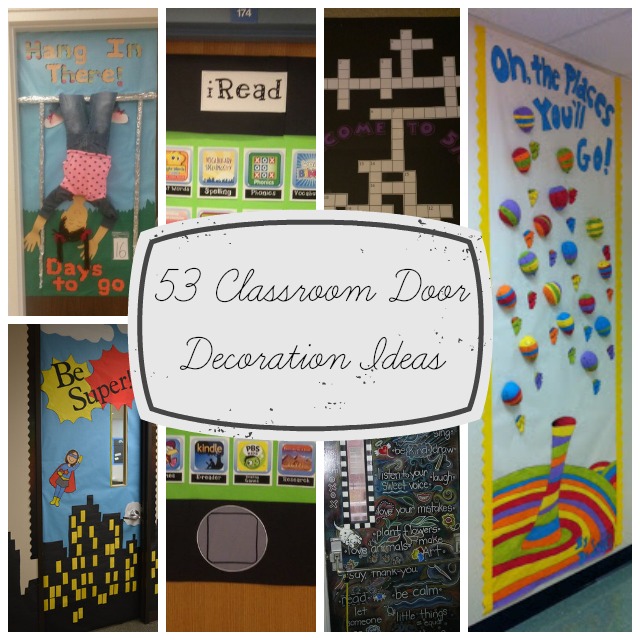 Updated for January 2017. If you've noticed the giant bins of school supplies populating every Wal-Mart in your area, then you know it's about to become every parent's favorite time of the year: back to school. But parents aren't the only ones counting down the days, teachers are too. Our gift to you, our teachers, is a bunch of classroom door decorations for almost every season through the next 180 days. We've got back to school classroom door decorations, holiday themed classroom doors, and even a good one for the end of the year.
Fun Classroom Doors
Out of this world learning!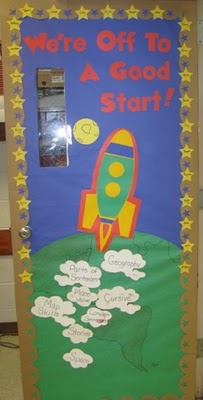 From the Clutterfree Classroom
Ellie would be proud. Up Door Design from Disney.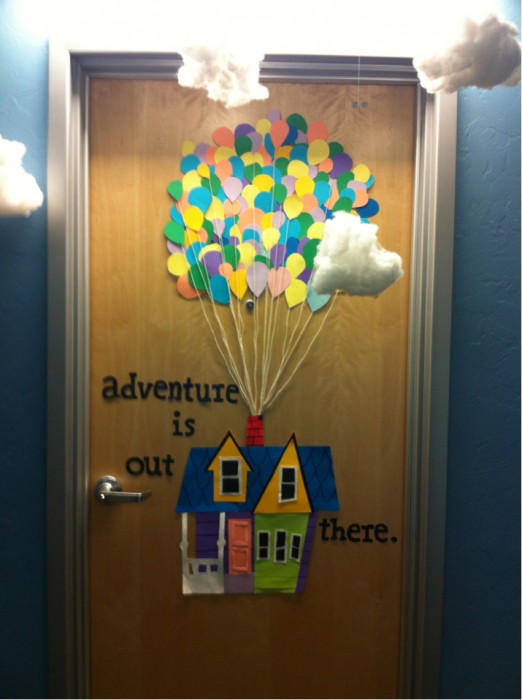 Found on tumblr
Extra butter? Popcorn Decorated Door Display.
Found on Pinterest
The class that fits together, sticks together.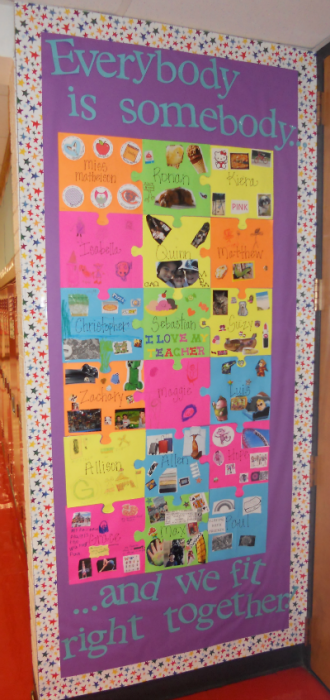 From Inspire, Love, Learn
Technology and learning look pretty good together. iPhone Classroom Door Decoration.
Found on Pinterest
You haven't even walked into the room yet, and you have an assignment. Crossword puzzle door decoration.
Found on Pinterest
They forgot indigo. Paint and brush decoration for class door.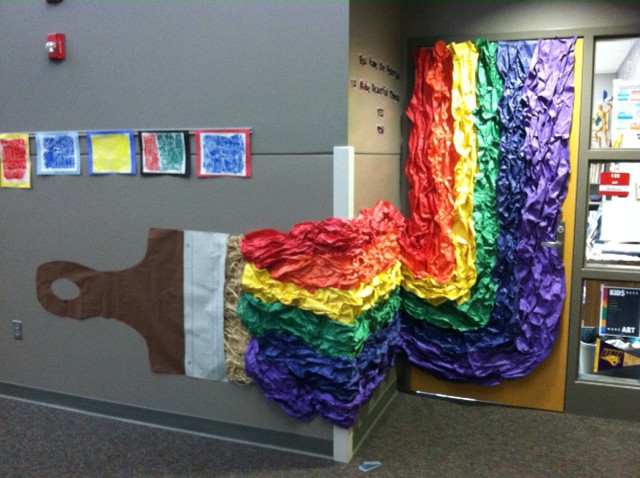 From a creative art teacher at Maple Grove Elementary
Happy campers indeed!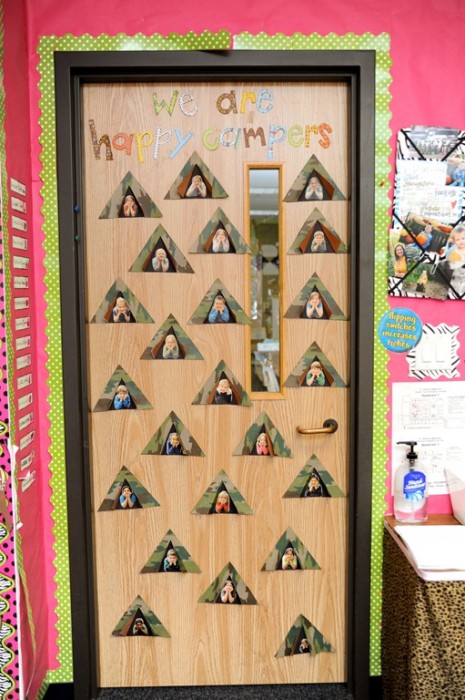 Possibly the coolest door you've seen.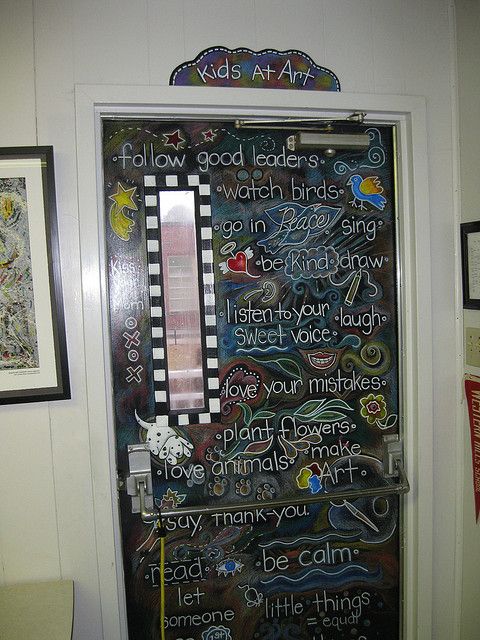 Found on flickr
Don't forget the red carpet.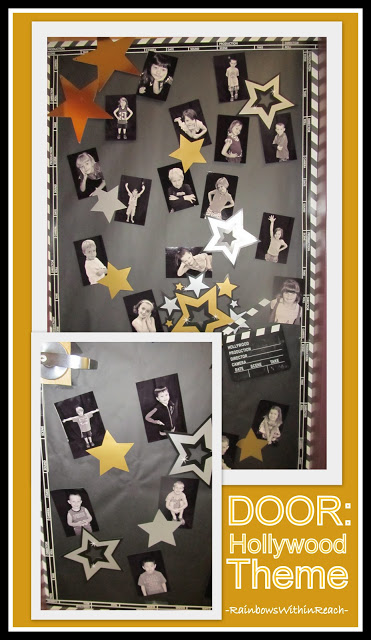 Everyone gets their 15 minutes. Class celebrity for door decoration.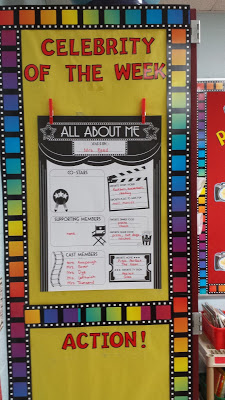 From Flying into First
Super heroes, or super learners? Heroes on classroom doors.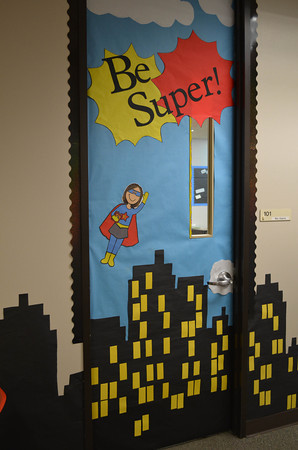 Great way to display the school year reading list on your classroom door.
Reading is the key.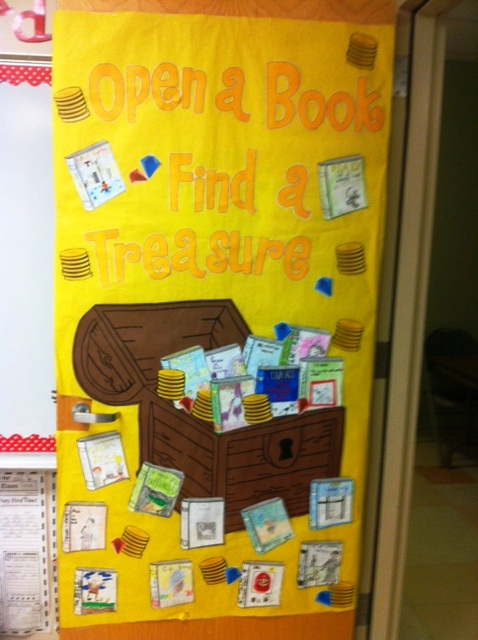 From Barnard Island
Sounds like a delicious year ahead.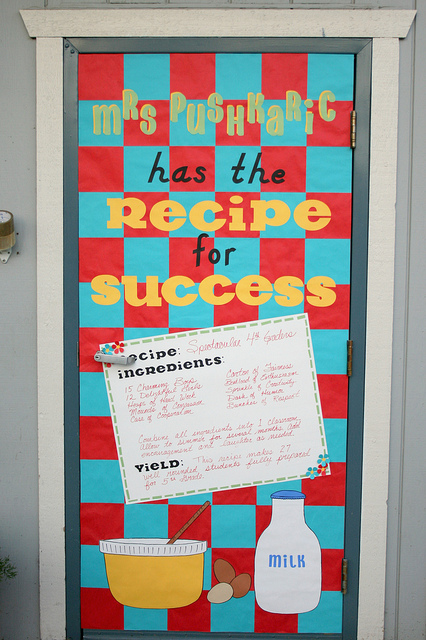 Found at Demenglog.com
Animal-Themed Classroom Door Decroations
Whimsical birds ready to take flight.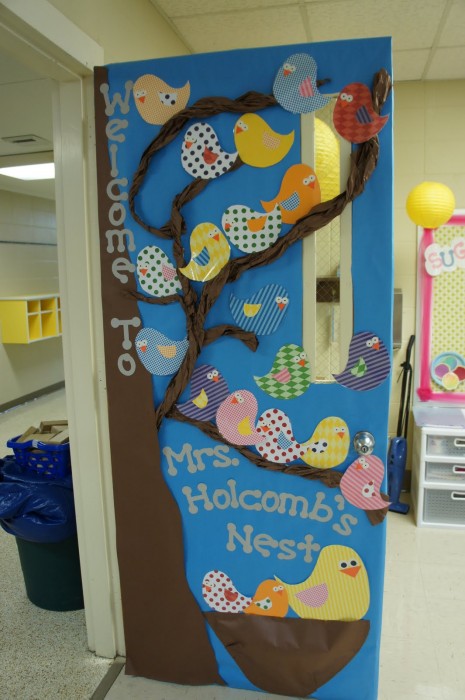 Whooooo is it? Owls on Classroom doors.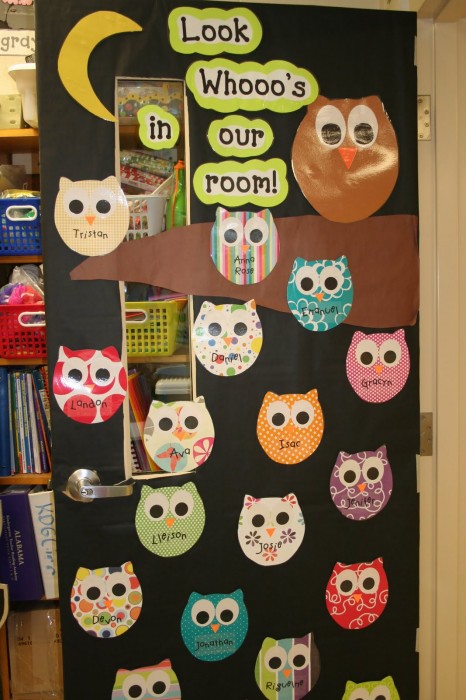 This is o-fish-al pun of this post. Fish decorated on the class door.
From The Cole Train
It may not be in the best interest of the fish, though.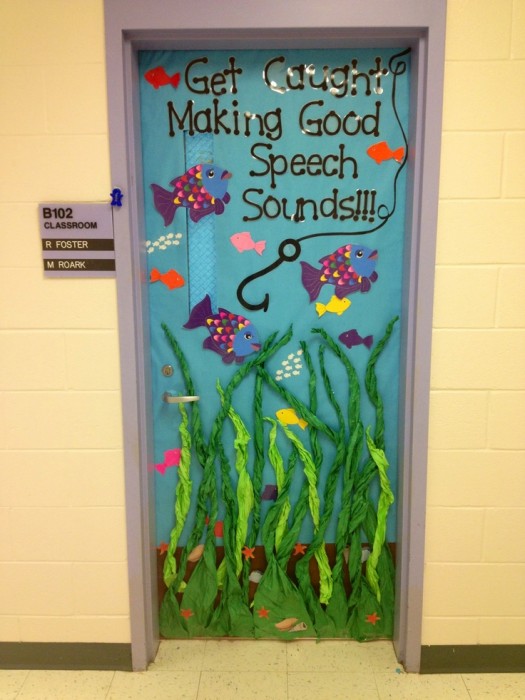 Found on Pinterest
So they can say yes, they were raised in a barn.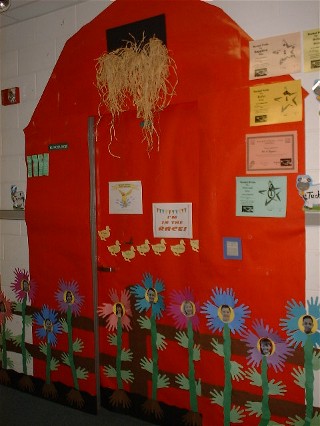 From Learning English-ESL
Behave in the bee hive – classroom door decorations.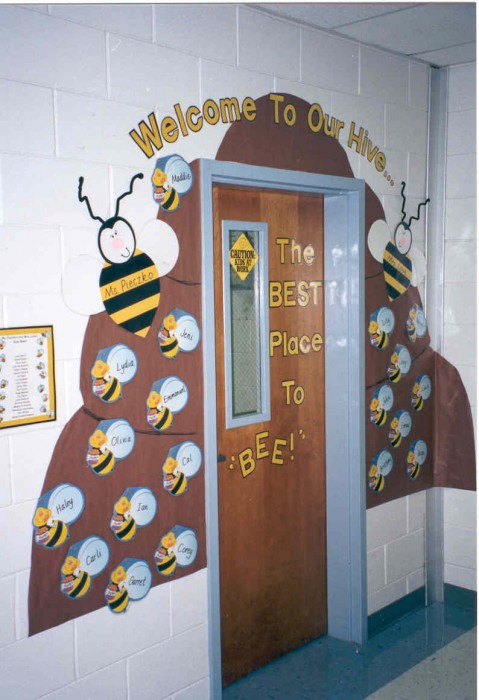 From Room Mom 101
What will you find this year? Monkey idea for classroom decorations.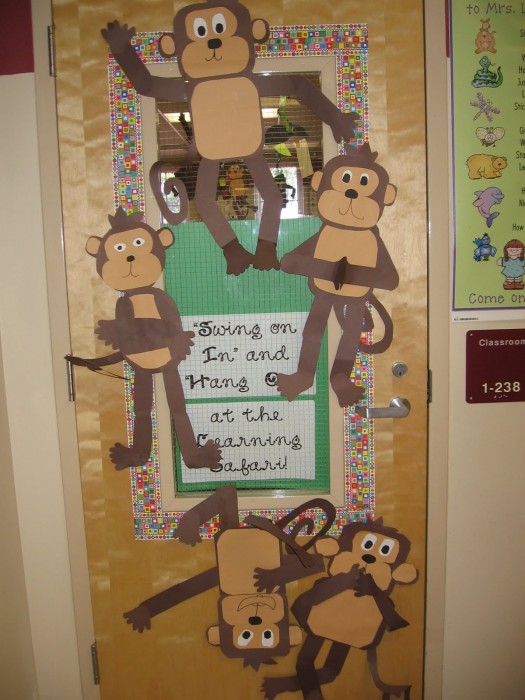 From Buzzing About Second Grade
Dr. Suess-Themed Classroom Doors
Oh, the Places You'll Go!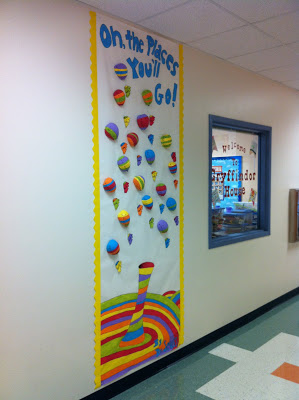 From Buggie and JellyBean
There's a Wocket in my Pocket! Dr. Suess Classroom door decoration idea.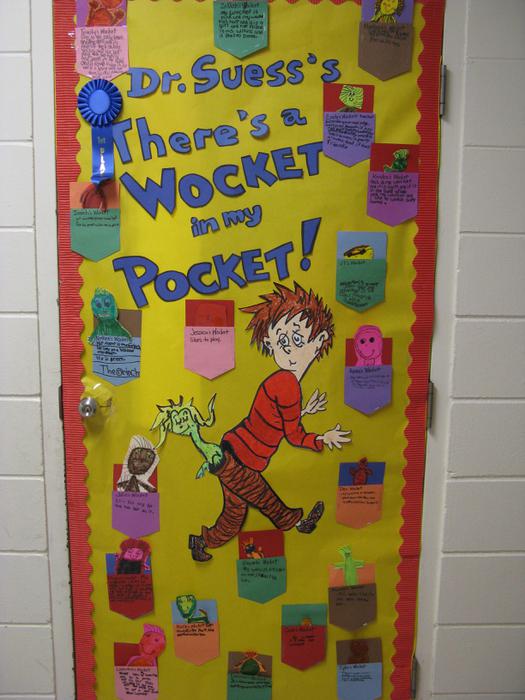 From MPM School Supplies
The Lorax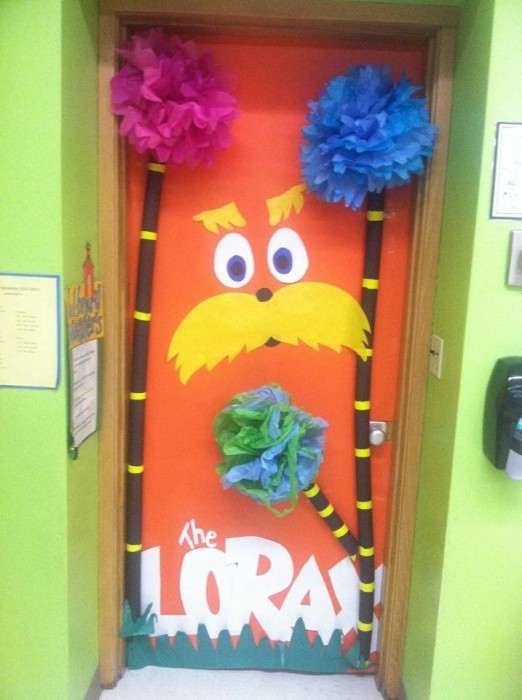 Found on Pinterest
Fall Classroom Doors
Happy haunting!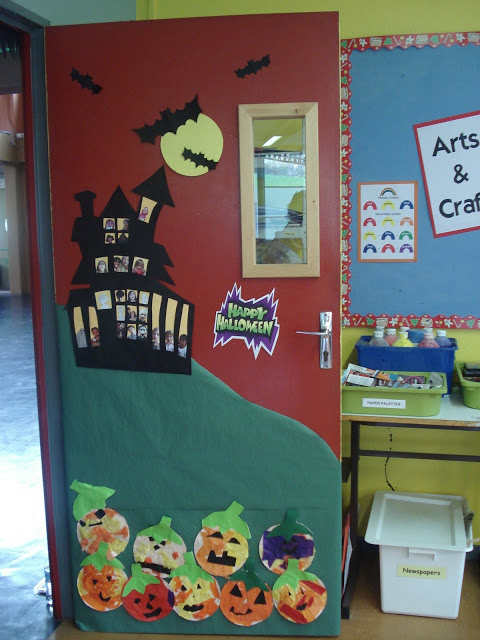 From A Faithful Attempt
The classroom mummy. Mummy decoration on the door.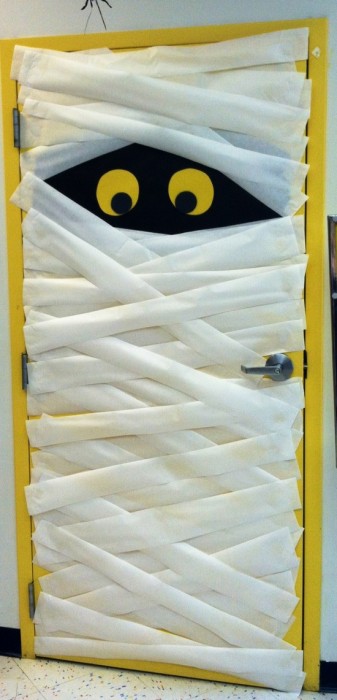 From My Classroom Ideas
Mad scientists are the best kind.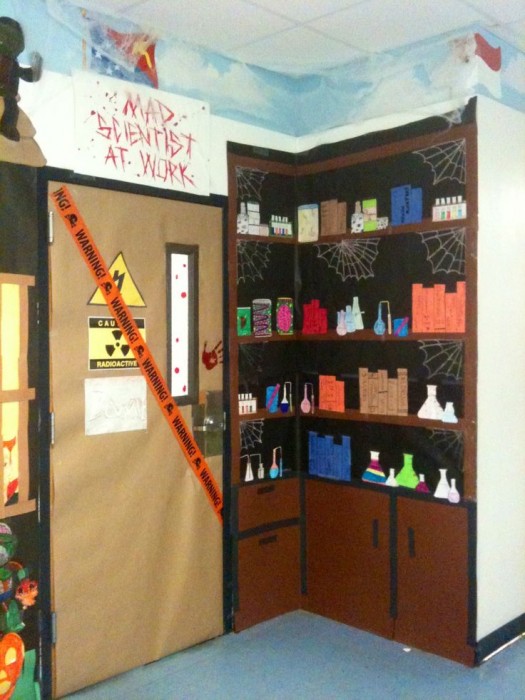 Found on Pinterest
Apples, not just for the teacher's desk.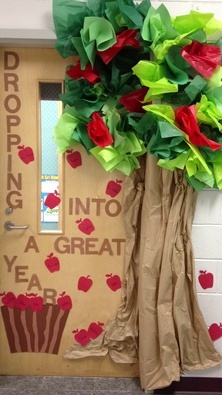 May your students be all ears this year.
From Teach, Blog, Repeat
It's important to greet your students with a smile!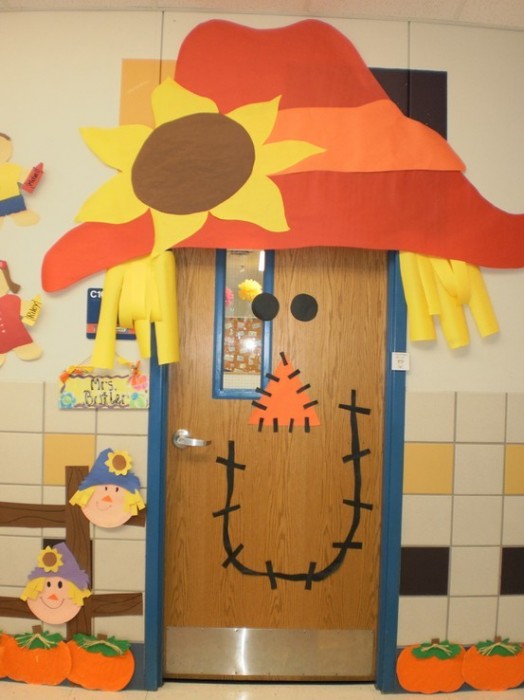 From Piccry
The Thanksgiving Tree Classroom Door.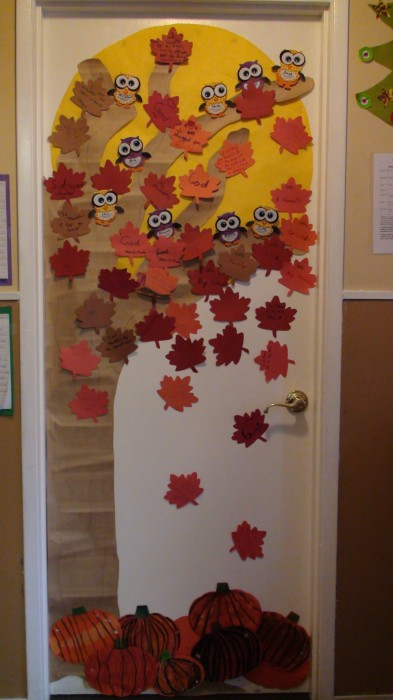 From Le Compas
Winter Classroom Doors
No witches in this candy house. Gingerbread Classroom Door Decoration Idea.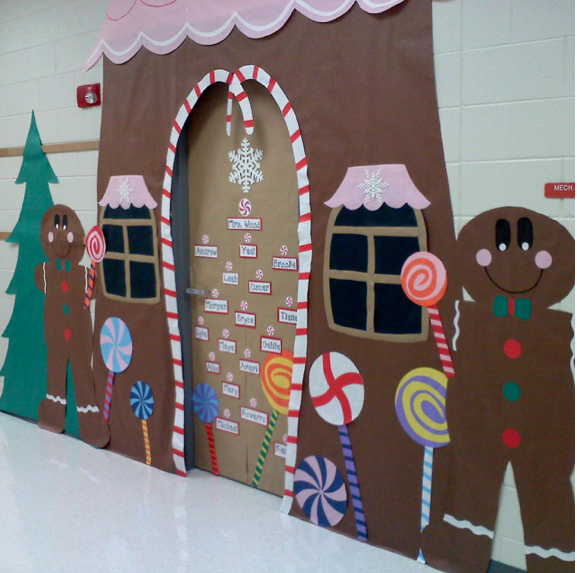 From Beg, Borrow, Steal
All aboard!
From The Very Busy Kindergarten
Just hanging around. Christmas Ornaments on a class door.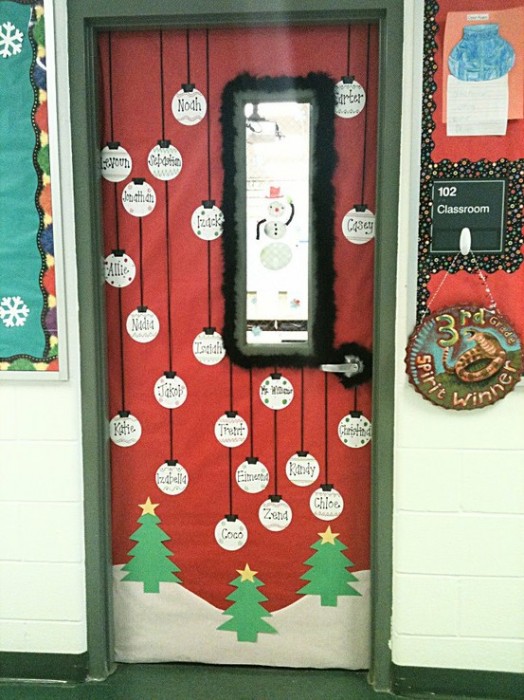 From My Classroom Ideas again
Hung with care. Stockings on a class door.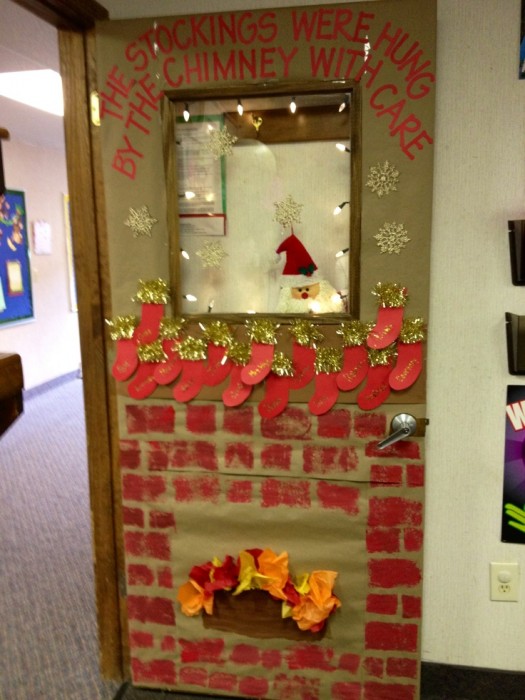 Found on Pinterest
Walk, run, or waddle into winter. Penguin door.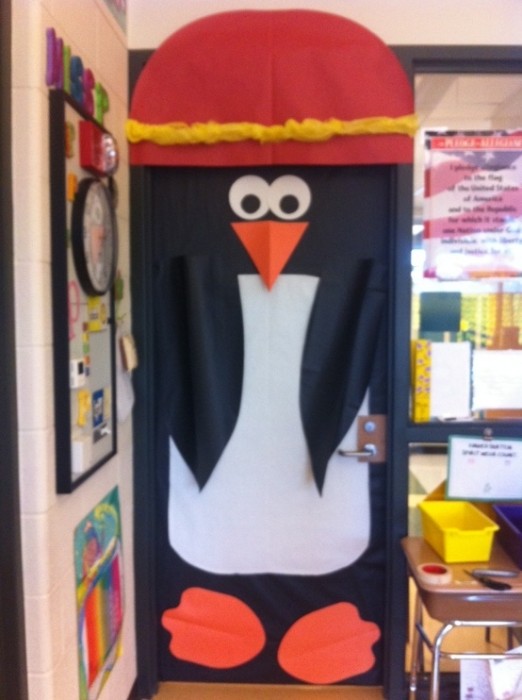 From Indulgy
Styrofoam cup snowman says to recycle. Snowman for winter classroom door decoration.
Found on Pinterest
You better watch out. Santa Door Decoration.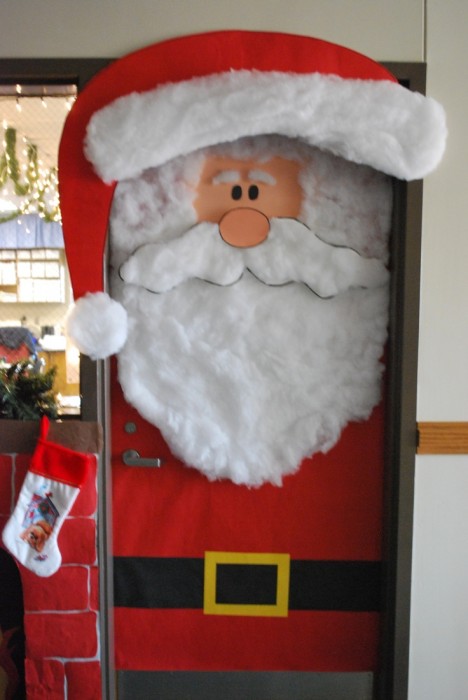 Found on Pinterest
Valentine's Day Classroom Door Decoration Ideas
Fall in Love with Book Character Classroom Door
I would choose Bilbo or Frodo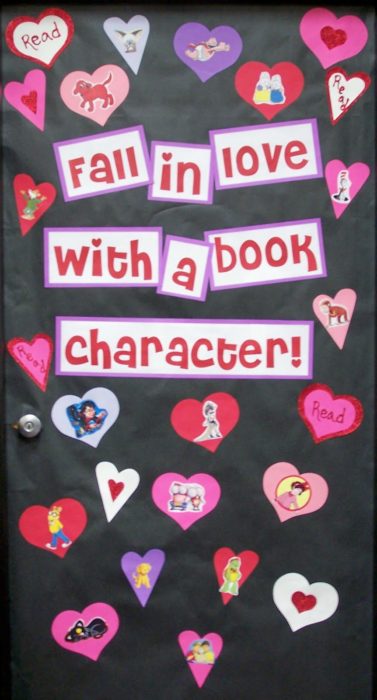 A Tree full of Hearts makes a great Valentine's Day door idea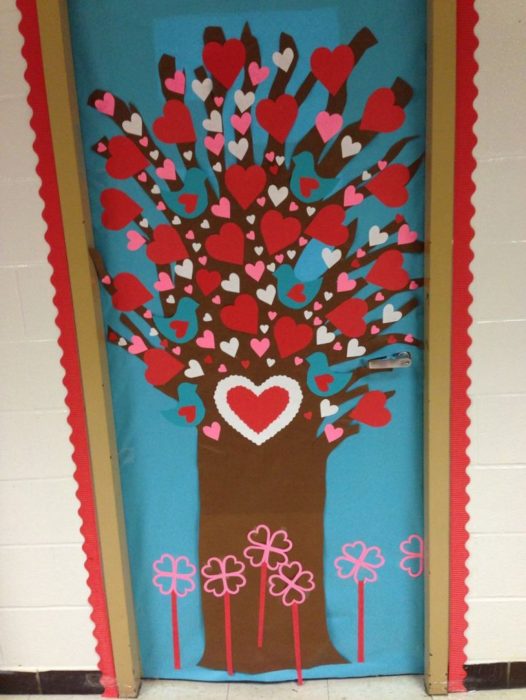 This Door has a Big Heart
Class door covered with rolled paper in the shape of a heart, with a Happy Valentine's Day ribbon for added flair.
I Mustached You a Question…Will You Be My Valentine?
Kids' pictures with a mustache added; nice play on a pun for a classroom door idea.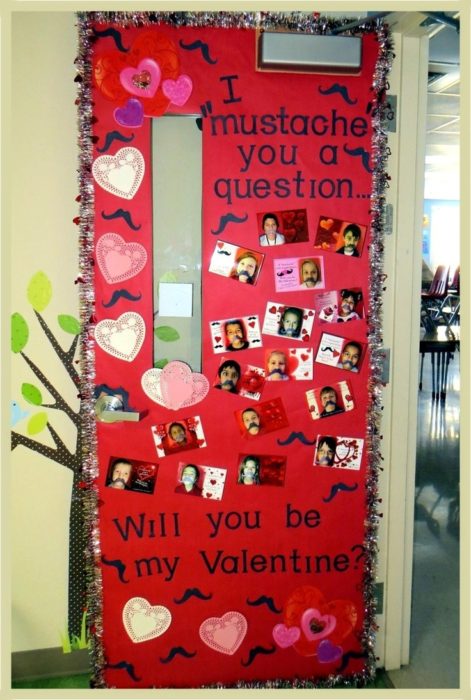 Hugs and (Hershey) Kisses Class Door
Fun and yummy idea with each student's name on a Hershey Kiss tag.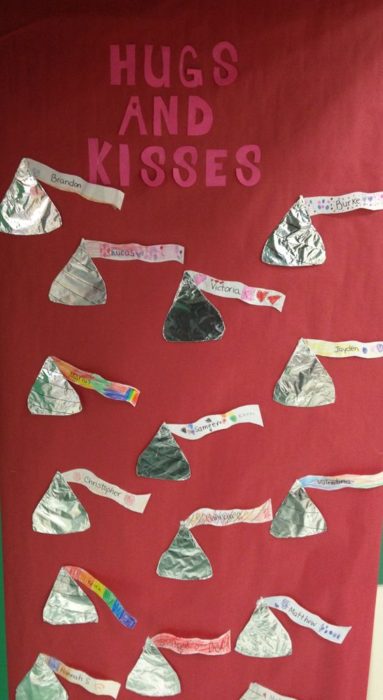 Spring Classroom Doors
Spring is in bloom.
From Tip Junkie
Flying through the year.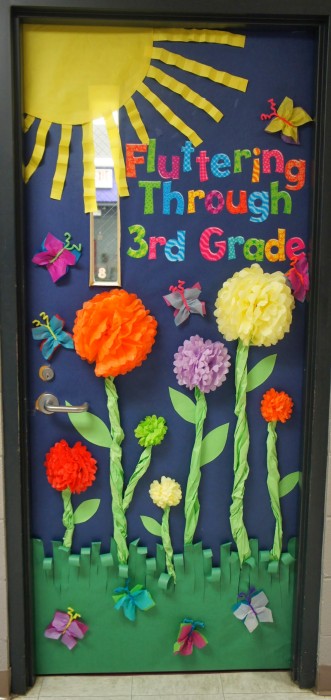 From Ashleigh's Education Journey
Your classroom family tree.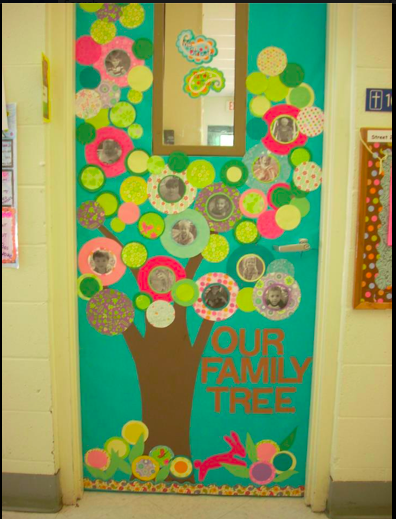 From Mrs. Lirette's Learning Detectives
Ladybug fly away home.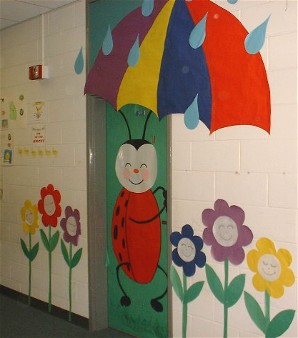 Another from Learning English-ESL
Feeling lucky? St. Patrick's Day Classroom Door Decoration Idea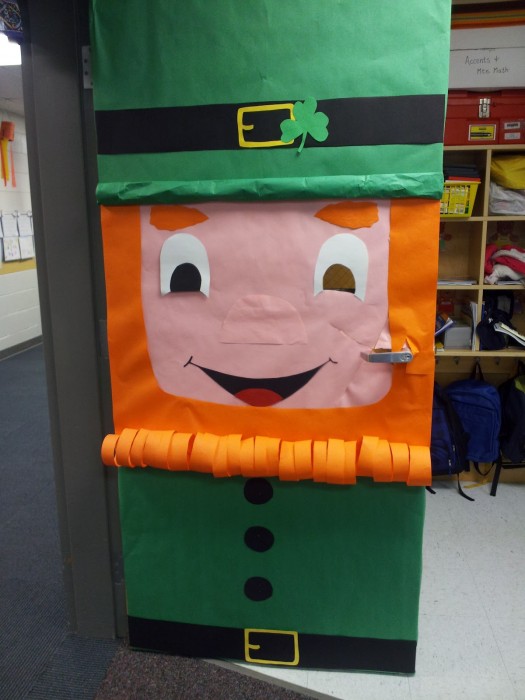 From Klassy Kinders
Every student is a treasure.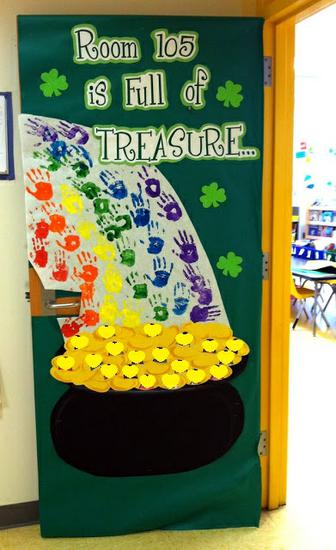 A second one from MPM School Supplies
Cupid's helpers.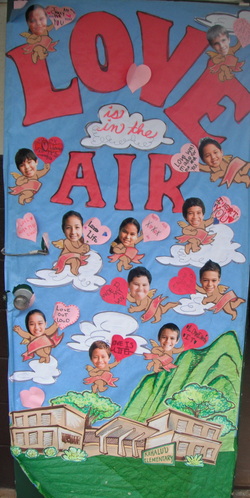 From Mrs. Price at Kahalu'u Elementary
Wear your heart on your door instead of your sleeve.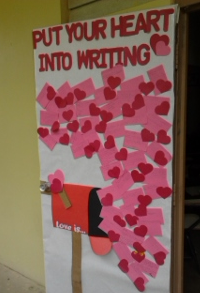 From Ms. Rosario's electronic portfolio
There's more than one way to say you love learning.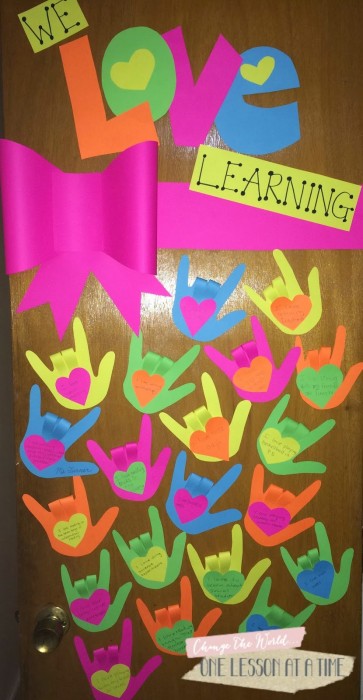 From One Lesson at a Time
Little Bunny Foo-Foo – Easter Door Decoration Idea for a School door.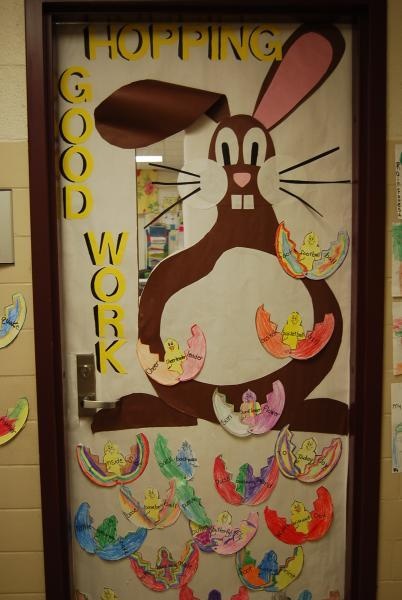 From Imgarcade
Everyone's Favorite
It's the final countdown!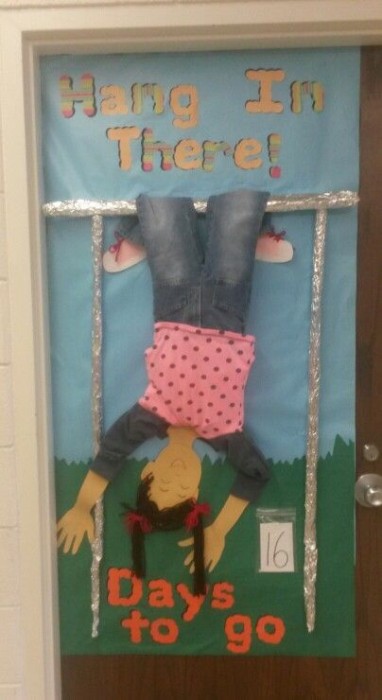 Found on Pinterest
Possibly photo op if you leave the face hole open over the window?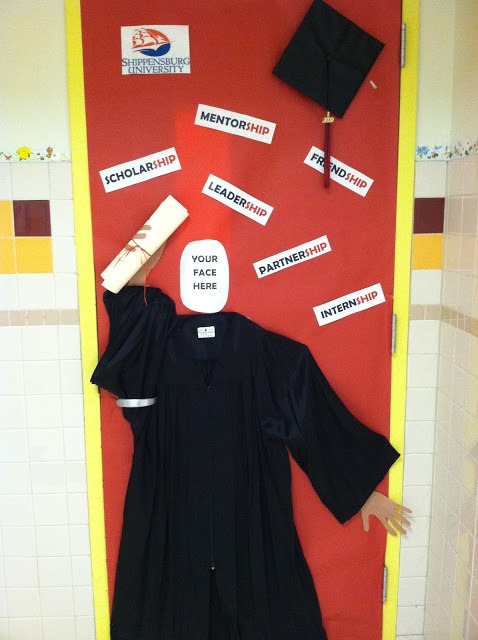 Con"grad"ulations are in order at any age.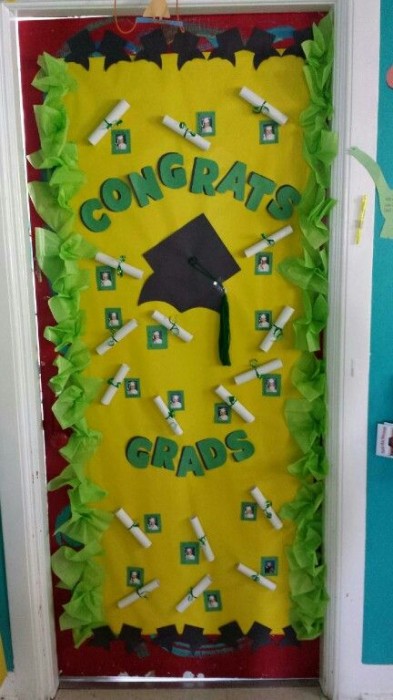 Found on Pinterest