Hello, DIYers!
Today we are talking about our favorite phase that wasn't a phase- goth! Beautiful, eloquent, dark… we're not talking about parachute pants and every bit of Nightmare Before Christmas merchandise anymore! If you'd like to embrace the darker side of things in your home, here are some fabulous DIY ideas to create a cohesive and grown-up design while staying true to the inner goth!
Happy crafting!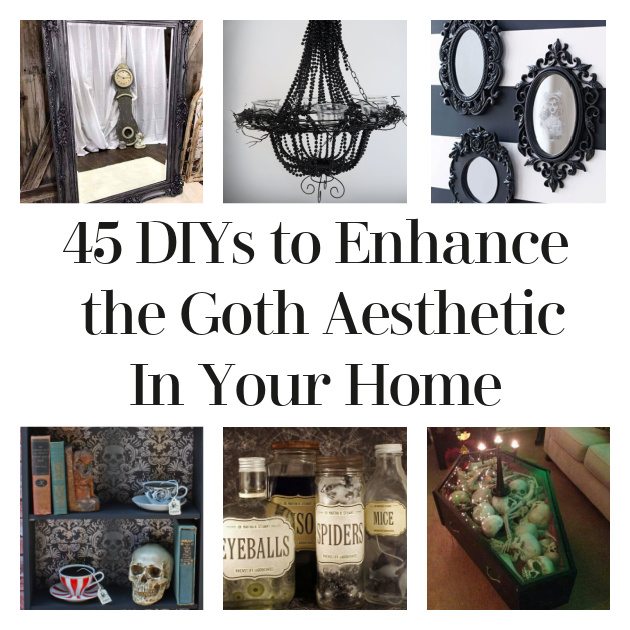 ...
Dark Romance DIY Chalkboard Art
You can go all black or spice things up with some pops of red!
Found Me and Annabellee
Ghostly Antiqued Mirror
You can make your own antique mirror using a piece of glass!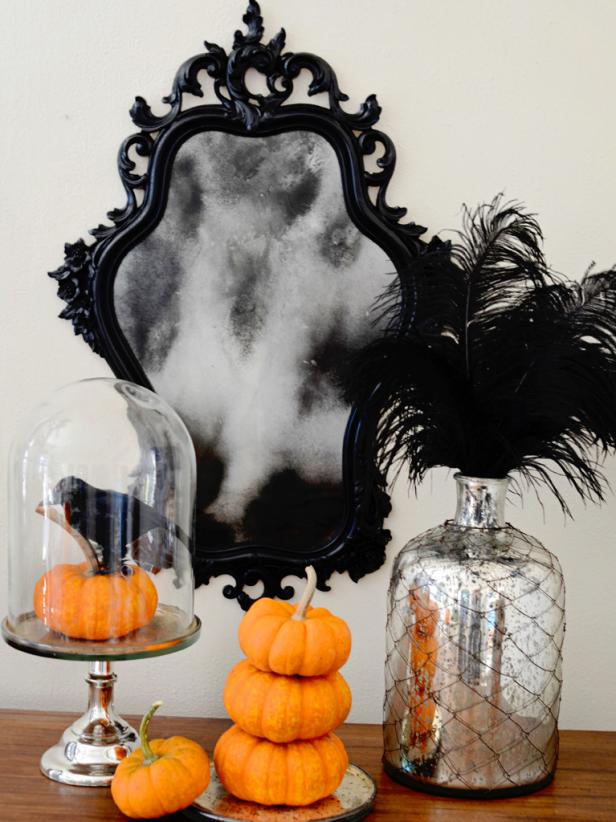 Found HGTV
DIY Dark Baker's Rack
This DIY uses a bright colored bakers rack that was updated to have sturdier shelves, painted black, and then filled with goth decor!
Found Me and Annabelle
Halloween DIY Printed Candles
Found Sew for Soul
Floor Candelabra
This large candelabra looks lovely in any room of your gothic dream house!
Found Home Dzine
Gothic Bookcase
Upgrade a black bookcase with dark, gothic wallpaper in the back!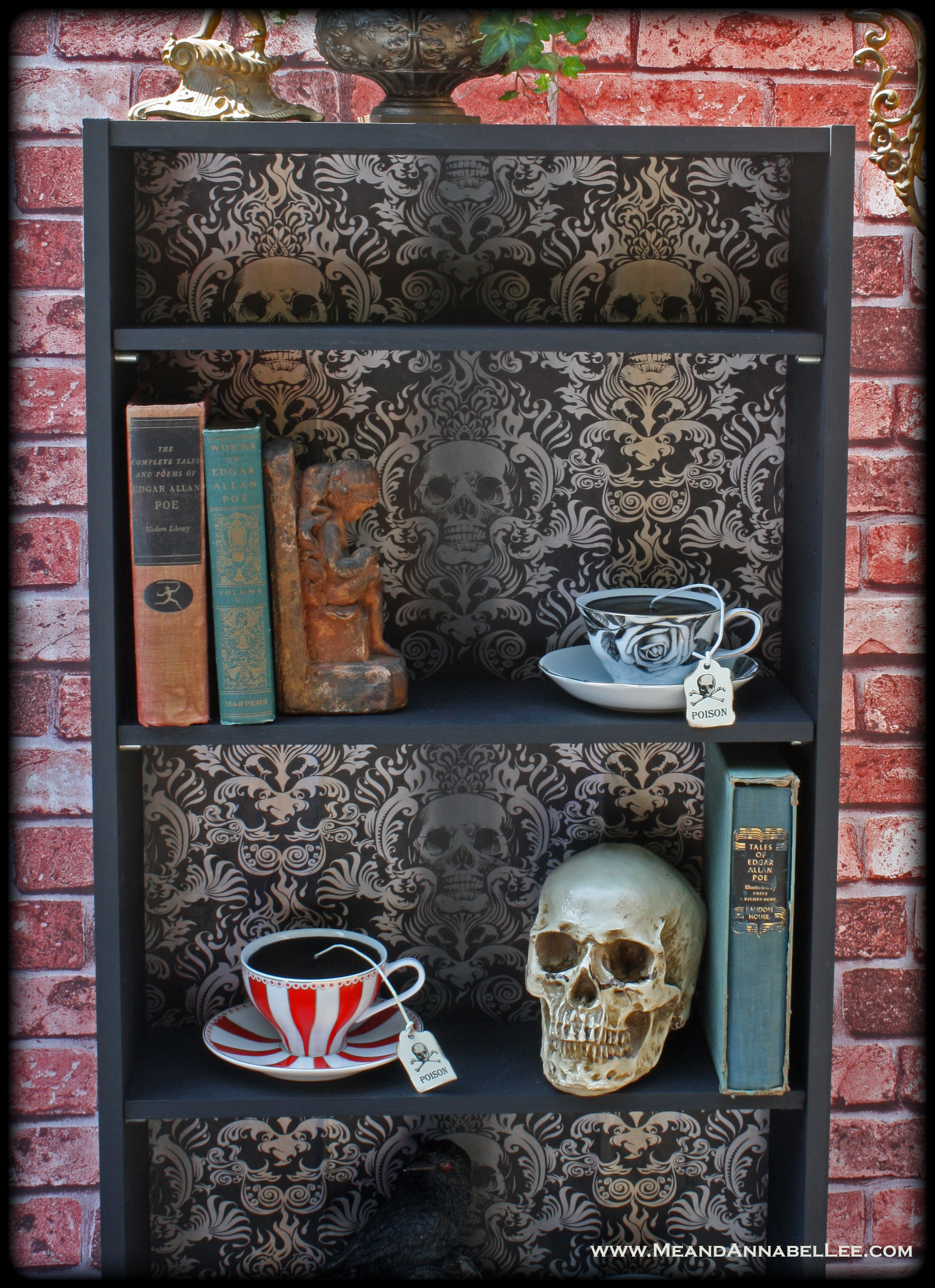 Found Teahub
Curbside Find Gothic Upgrade
Some of the best gothic furniture can be an upgrade from cheap or free furniture finds! You just need to spruce them up, paint them black, and change the hardware!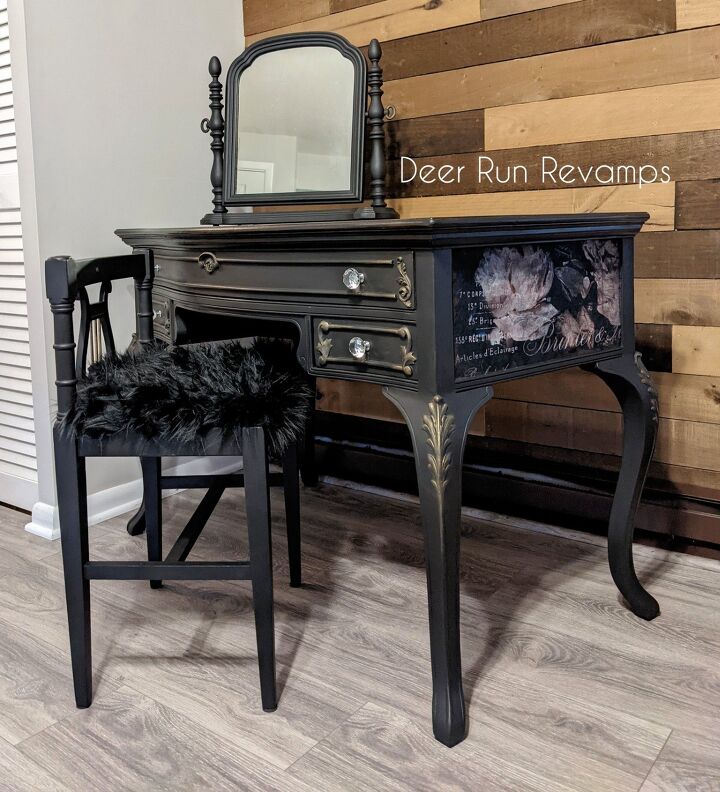 Found Home Talk
Concrete Skull Candle Holders
This are so neat! Check out this simple and affordable DIY projects!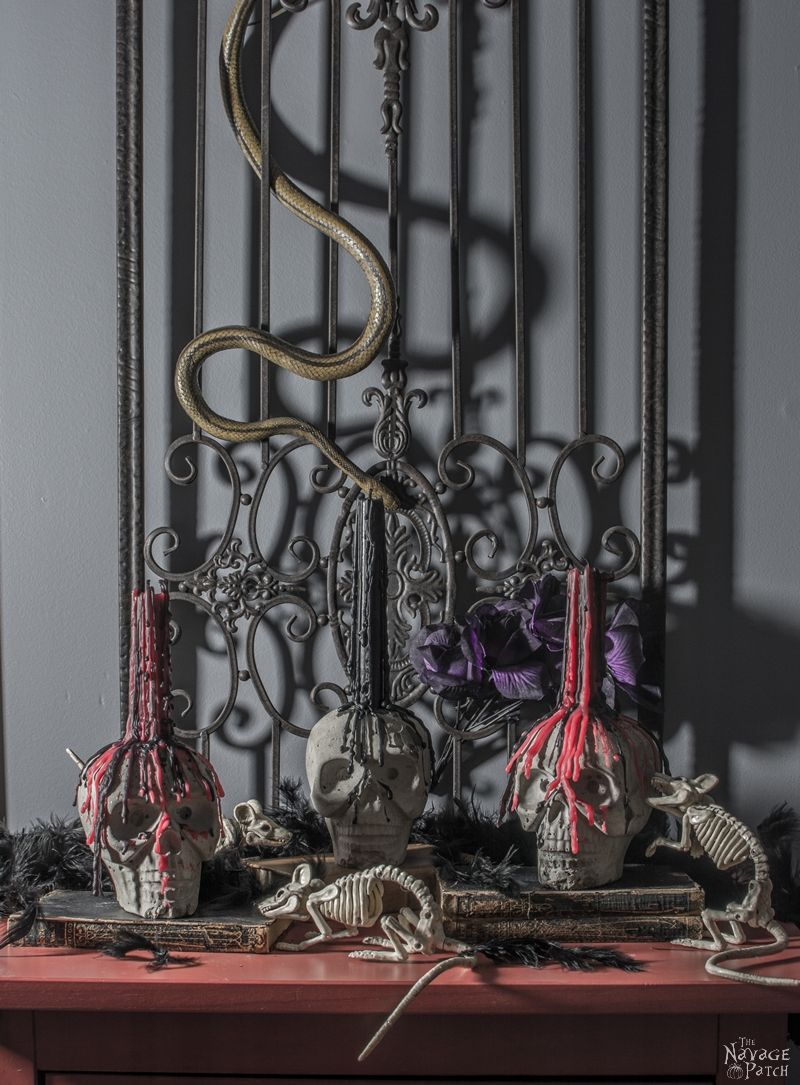 Found The Navage Patch
Gothic DIY Upholstered Memo Board
How gorgeous is this?!
Found Me and Annabellee
DIY Bleeding Candles
With the goth look, it's all about the details!
Found Frugal Finds and Thrifty Designs
DIY Cloche From a Soda Bottle
Cloche are lovely to decorate with, especially for specimens (or faux specimens), but they can get pricy! Instead, you can make them from soda bottles!
Found DIY Home Sweet Home
Gothic Cabinet
One thing I love about the goth look in your home is that the pieces that you create can be SO unique! This tutorial features a cabinet that was spruced up with unique colors for a look that is truly one of a kind!
Found Annie Sloan
Mirror Grouping
Lovely!
Found Goth DIY
DIY Victorian Gothic Black Tea Cup Candles
Found Me and Annabellee
Vintage Apothecary Spice Bottles
Add something a little extra to your kitchen!
Found Homemaker Chic
Dining Chair Revamp
From blah to beautiful!
Found Goth It Yourself
Faux Mercury Glass Apothecary Jar
These are so cute!
Found Horror Made
Coffin Shelf
Curios look great on this DIY shelf that is shaped like a coffin!
Found Bat Bones
Air Dry Clay Art
Make models with air dry clay!
Found Goth DIY
DIY Gothic Bed
Gothic fence posts can be used to make the frame for this beautiful, gothic bed!
Found Old House Online
Gothic Bedside Lamp
How cool are these?!
Found YouTube
Homemade Apothecary Beauty Bottles
So we know that you CAN buy beauty products in apothecary bottles… but who's to say they are the best products for you or even affordable?! Use the products you love and you can place them inside your own beauty bottles to add a bit of extra, Victorian gothic beauty to your bathroom!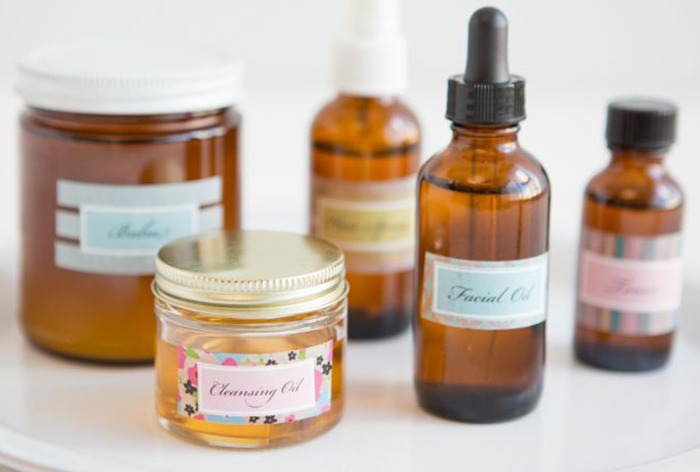 Found SCLD
Black Lamp Shade
Spruce up a very plain lamp shade with this tutorial!
Found Me and Annabellee
Ouija Board Serving Tray
How cool is this?!
Found Melodrama
Corset Throw Pillows
Accessorize your couch, chairs, or bed with this throw pillow!
Found Gothic Decor and Crafts
Black Tea Set
This gorgeous revamp is perfect for serving up tea in your gothic home!
Found Me and Annabellee
Baroque Curtain Designs
Use curtains in decorating your interiors, even off of windows!
Found Pinterest
Elegant Ornate Mirror Makeover from Gold to Pewter
Give a golden ornate mirror a gothic feel by painting it to look pewter!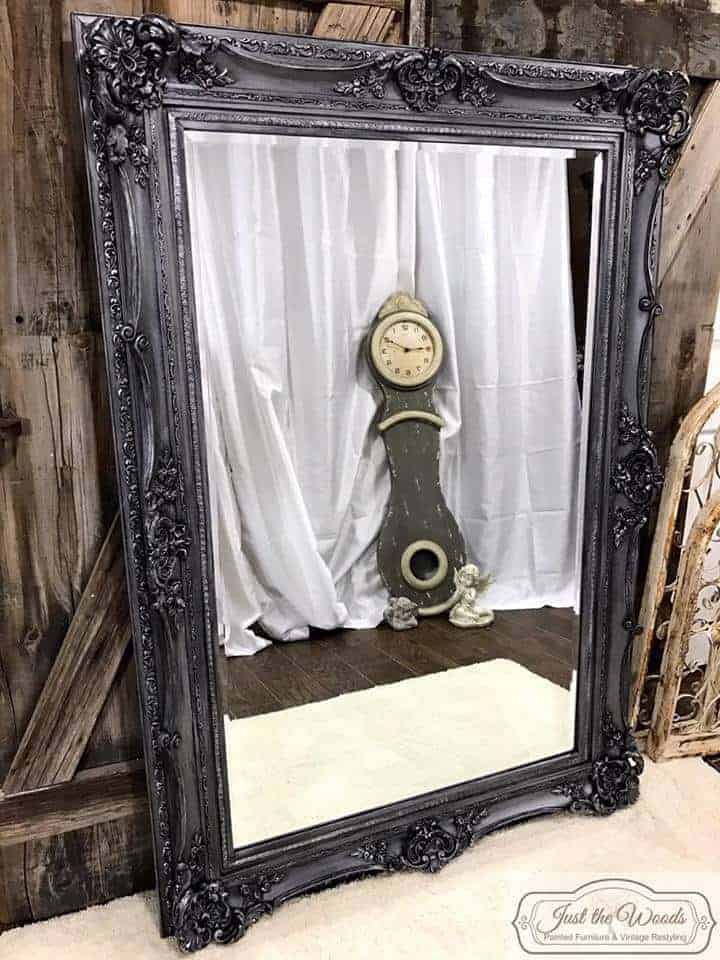 Found Just the Woods
Skeleton Planter
Using skeletons you can create beautiful and interesting planters!
Found Diply
Black Lamp with Black Lace Lamp Shade
Paint a lamp black and spruce it up with a black lace shade!
Found Valerie Giani
DIY Apothecary Cabinet
Make your own apothecary cabinet by flipping a basic dining room cabinet!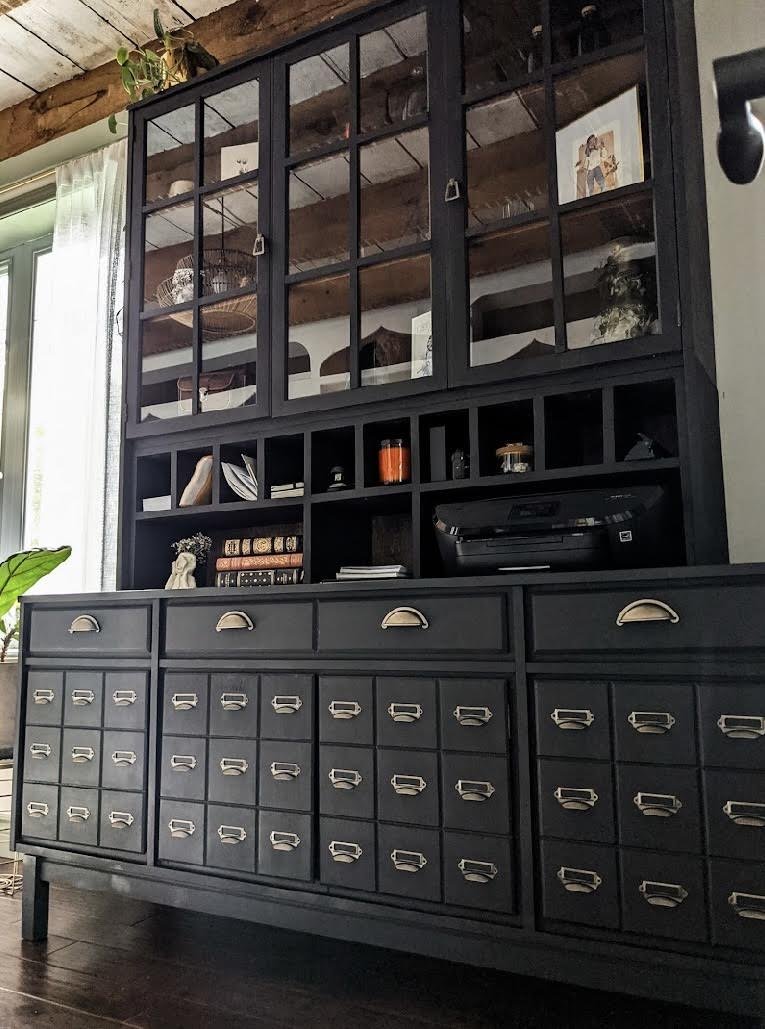 Found DIY In Progress
Black Lace Votive Candles
Black lace candle decor!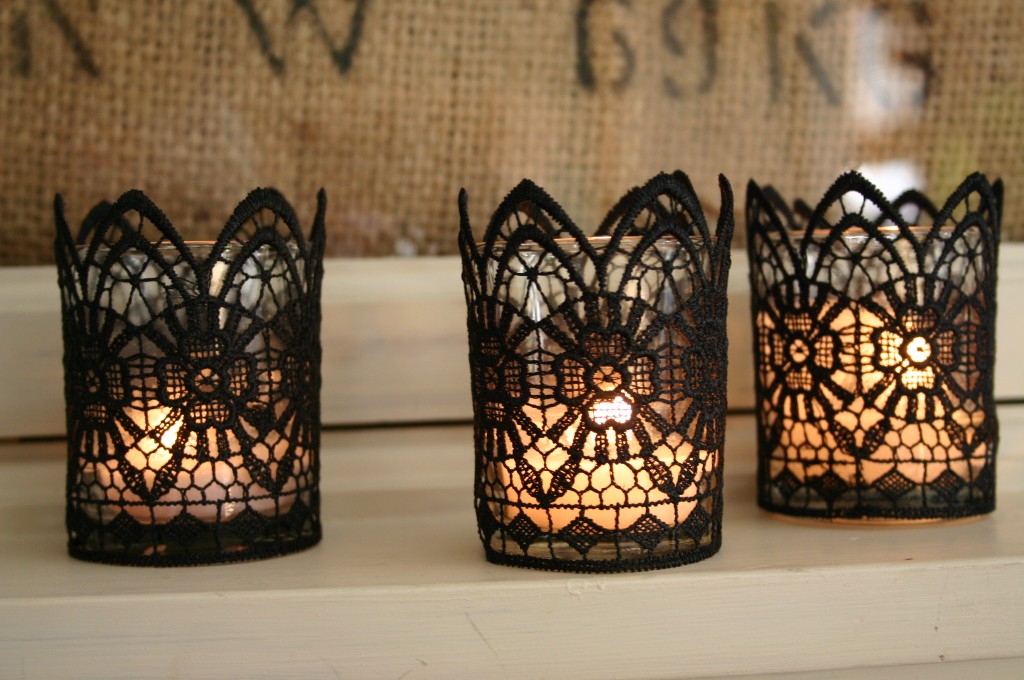 Found Family Chic
Coffin Coffee Table
This is such a cool idea! It took the frame of the coffin bookshelf tutorial and turned it into a table instead! They simply filled it with faux skeletons and had glass fit to the shape!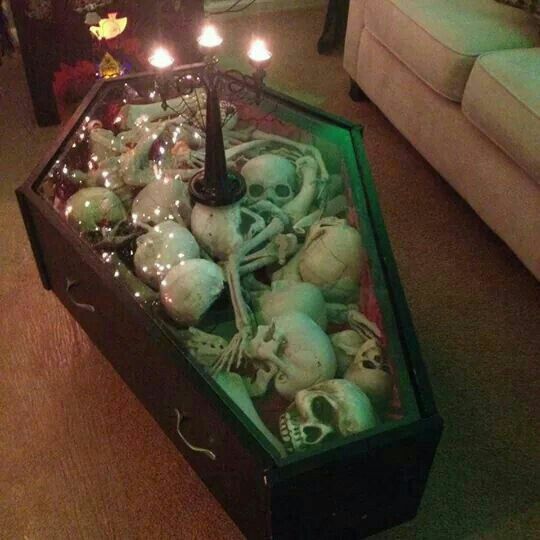 Found Amino Apps
Black and Gold Serving Tray
This is lovely!
Found Me and Annabellee
Medieval Gothic Chair DIY
Looking for a chair that matches a medieval style? You can make your own to save money!
Found YouTube
DIY Gothic Chandalier
This dollar tree DIY project is simple to do, cheap to make, and it looks great!
Found YouTube
Black Butterfly Picture Frame
This is lovely! You can spray paint faux butterflies and attach them to a painted black frame!
Found Pinterest
Goth Hurricanes
Dress up plain hurricane glasses with these fabulous gothic stencils!
Found My So Called Crafty Life
Black TV Stand
I love the inventive use of metal magazine holder!
Found Goth It Yourself
DIY Coffin Couch
Use the style of a coffin to make an interesting couch for your home!
Found Reddit
Skeleton Magnet Board
Lovely!
Found Me and Annabellee
Anatomical Heart Plates
These plates are featured as a Valentine's Day special, but they can be used anytime!
Found Me and Annabelle
DIY Apothecary Jars
This is a neat idea! Great for Halloween or anytime decor for your goth home!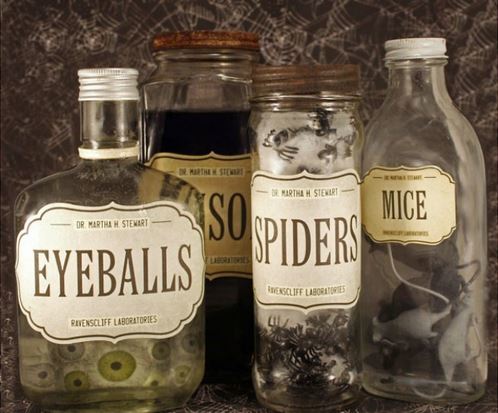 Found All Free Holiday Crafts
DIY Stripey Bustle-Style Valance
If you like your goth with a lolita twist, try these curtains!
Found Goth It Yourself
Goth Tea Bags
How cute are these?!
Found Me and Annabellee
Small Apothecary Drawer
This is genius! The light stain can add some great diversity for your home, or you can stain it black instead!
Found Dimestore Gypsy
You May Also Enjoy…
40 Gothic Halloween DIYs for a Dark Aesthetic
33 Seriously Spooky Witchy Halloween Projects
31 Fantastic Wine Racks You Can Make Yourself
37 Beauty Supplies You Can Make Yourself
33 Painted Planters You Can Recreate at Home