Hello, DIYers!
Are you expecting a little one?! Congratulations! One of the most exciting parts about anticipating your new love is taking time and care to create the perfect nursery. A great benefit to making your own nursery items is that you will be able to fit any theme that you'd like and get exactly what you want on a budget. Give these ideas a try!
Happy crafting!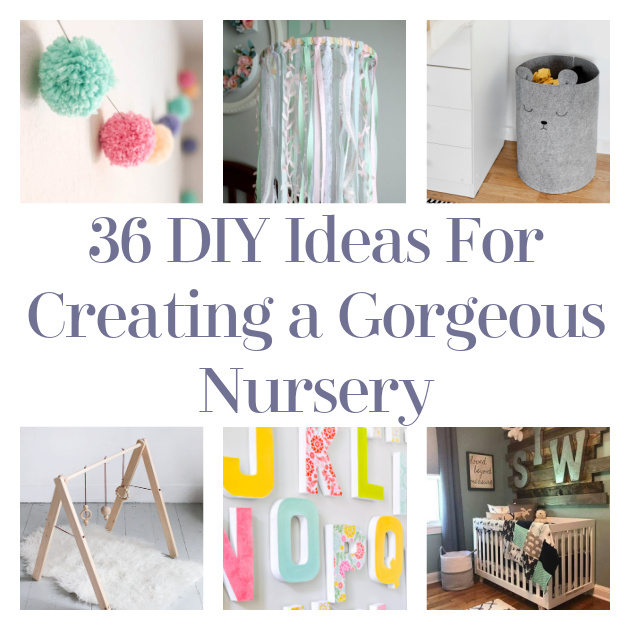 How to Build a Crib for Under $200
Isn't this sweet? Its under $200 too.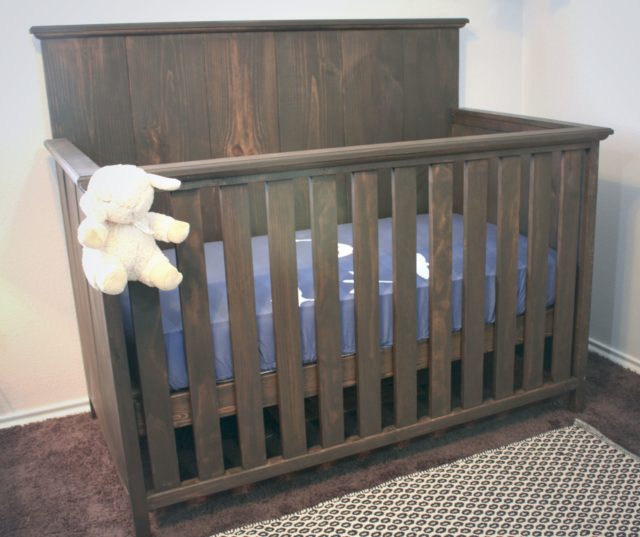 From OnHouseAndHome
Dollhouse Bookcase
This is so adorable! Give this a try for some extra storage!
Found Henesy House
DIY Wall Letters
So bright and colorful. Help your baby learn their ABCs!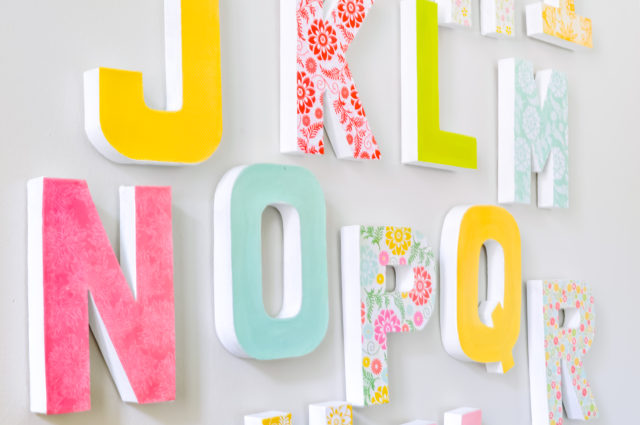 From TheLoveNerds
Bird Nursery Mobile DIY
Isn't this sweet? A nursery mobile with birds.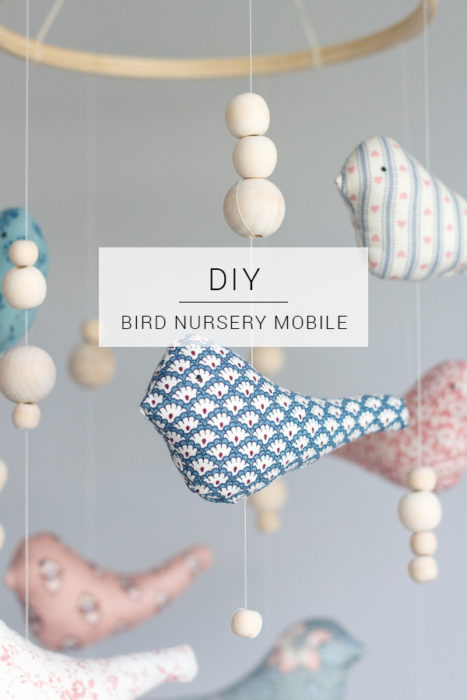 From PureSweetJoy
Leela's Cheery Woodland Nursery
DIY a cabinet to hold toys. Isn't this great?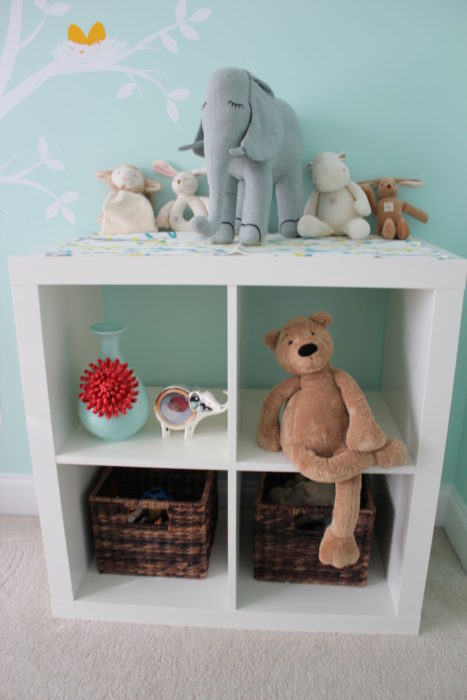 From ProjectNursery
DIY Farmhouse Crib
Love the Farmhouse style? DIY this crib.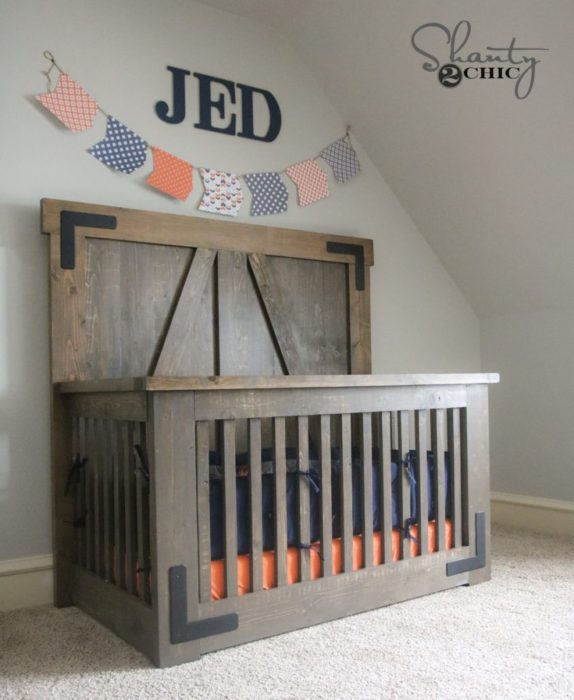 From Shanty 2 Chic
Natural and Neutral Baby Mobile
Love the stars and the soft felt on this mobile. Perfect if you don't know if you're having a boy or a girl.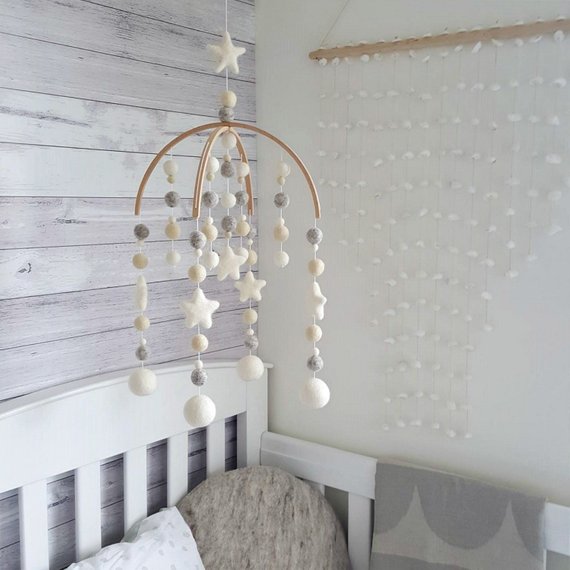 From Etsy.com by TikTakDesignCo
Pom Pom Banner
This is so cute!!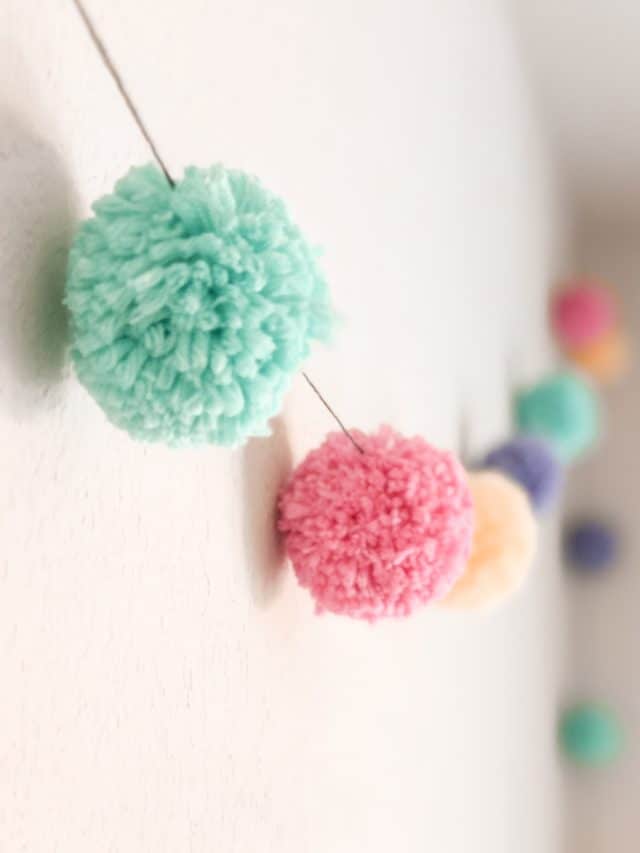 Found Her Happy Home
Repurposed Cabinet for Toy Storage
Upcycle an old cabinet into storage for your nursery!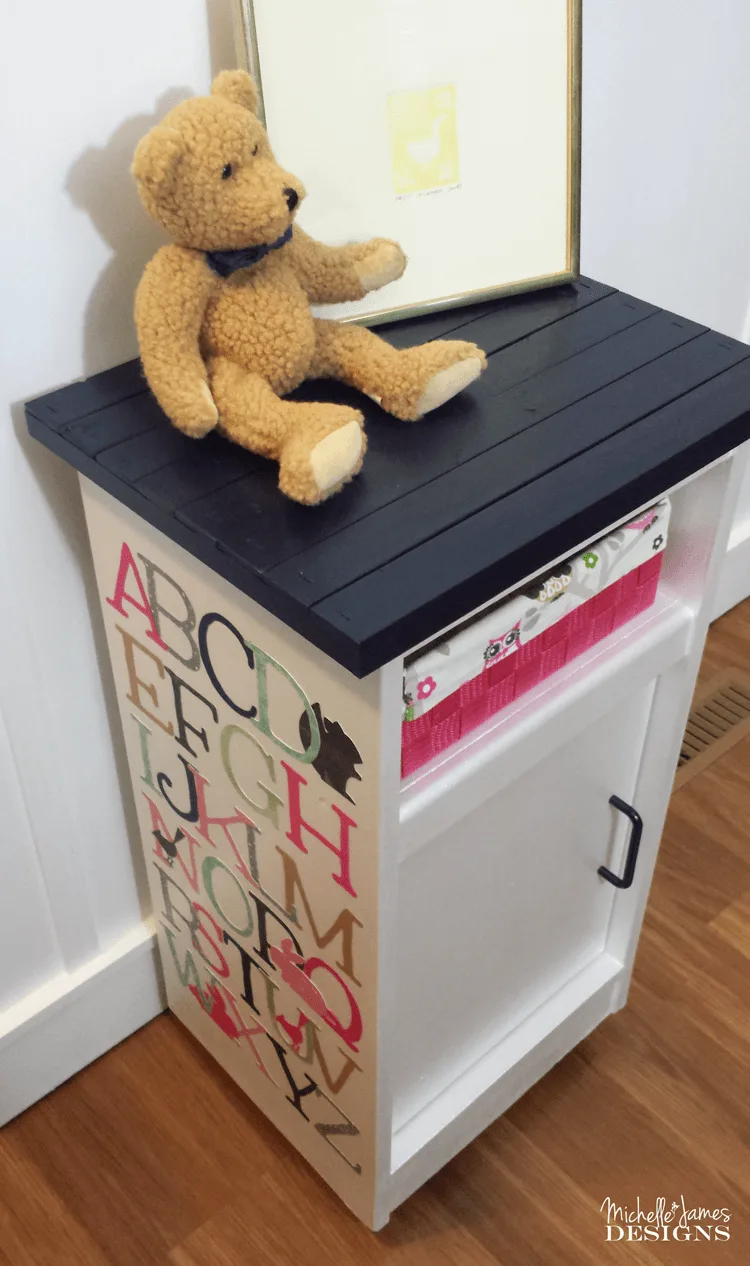 Found Michelle James Designs
DIY Wooden Baby Gym
Check this out!
Found The Merry Thought
How to Make Easy Fabric Covered Letters for Your Nursery
Aren't these sweet? DIY fabric letters.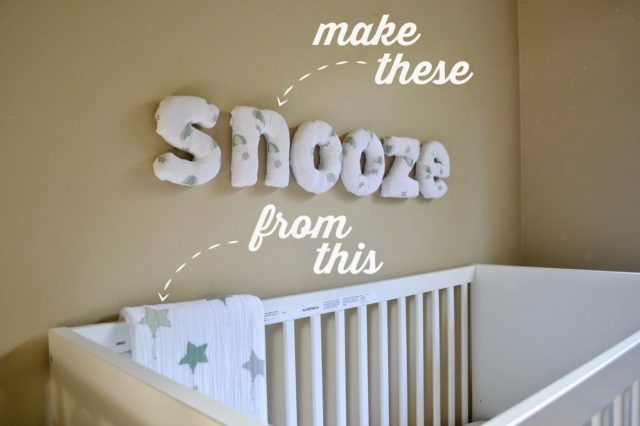 From HelloSplendid
Rainbow Wall Hanging
Try this!!
Found At Home with Ashley
Tutorial How to Make a Dinosaur
Dino fan? DIY this cute stuffed animal.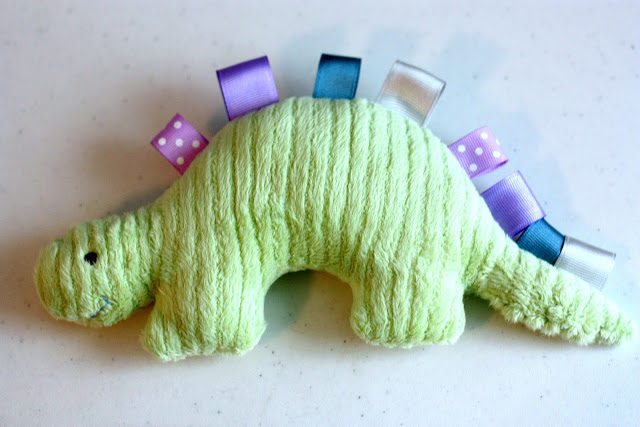 From BubblesAndBobbins
Updating a Glider Rocking Chair
How fabulous is this?!
Found The DIY Mommy
Baby Birth Canvas Blocks
Want to tell everyone about your baby? Look at these great custom blocks!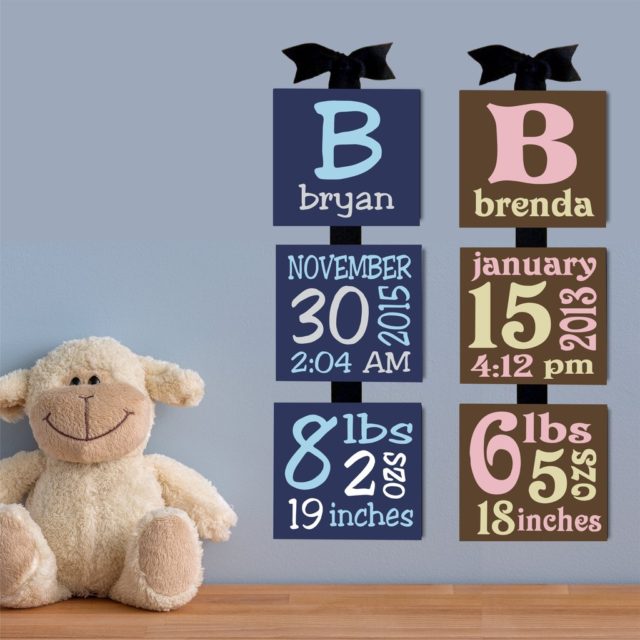 From WallsThatTalkShop
DIY Fuzzy Laundry Basket
Adorable!
Found The Lovely Drawer
Woodland nursery letters
Isn't this sweet? Write your baby's name for their nursery.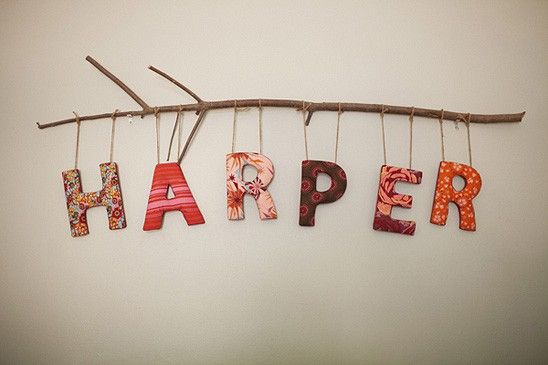 From Pinterest, saved by Nicole Carrel
DIY Crib Canopy
Lovely!
Found Finding Silver Linings
DIY Tent
This is a cute way to play!
Found What Dreams May Become
A Very Charming DIY Wooden Mobile
Have embroidery hoops? Then you can do this DIY.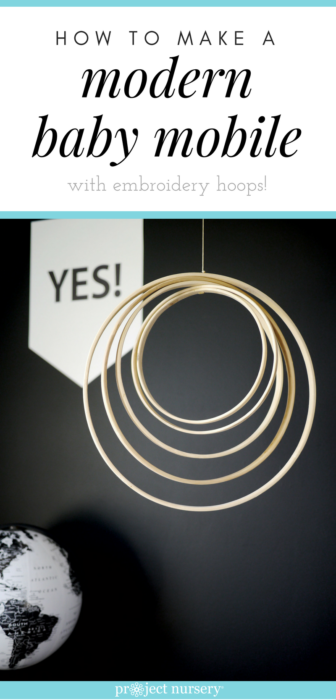 From ProjectNursery
Awesome Idea Baby Footprints As Nursery Decor
Isn't this adorable? Baby footprints.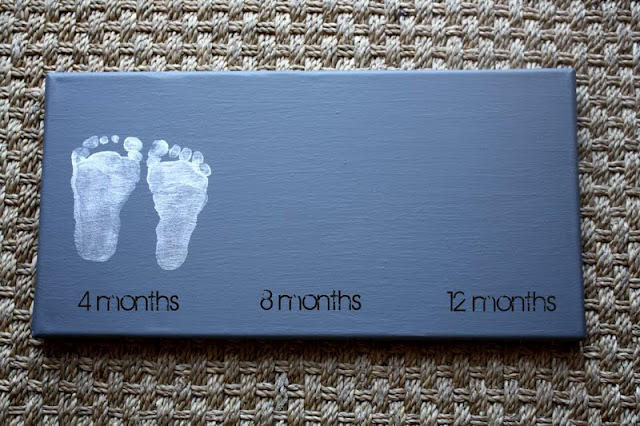 From BabyCenter
Emmalyns Nursery Reveal
Doesn't this look great? A DIY nursery for a baby girl.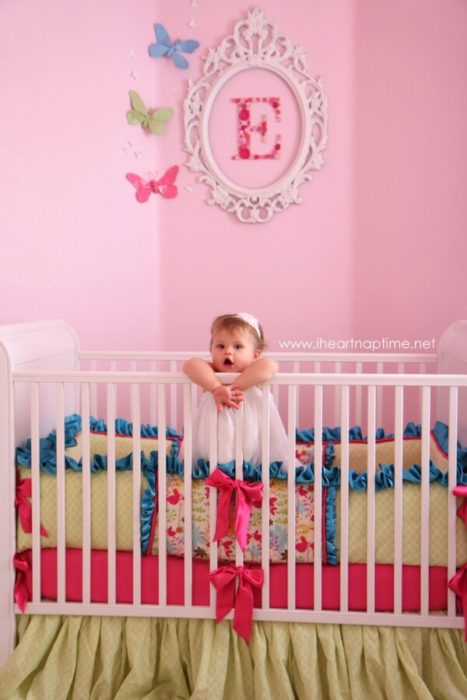 From IHeartNaptime
Crochet Hippo made from African flower
Isn't this sweet? Perfect for a baby.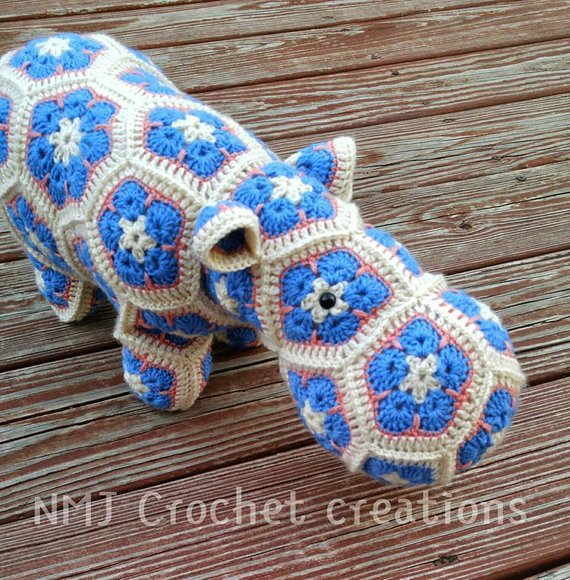 From Etsy.com by NMJCrochetCreations
How to Make a Modern Headband Holder
Want to keep track of those baby headbands? DIY this.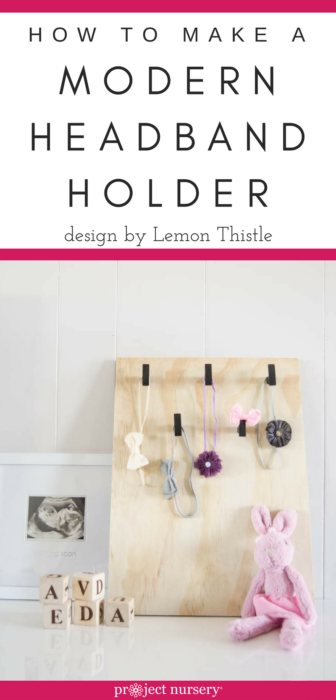 From ProjectNursery
DIY Floral Baby Mobile Chandelier
So pretty! Perfect for a baby girl's room.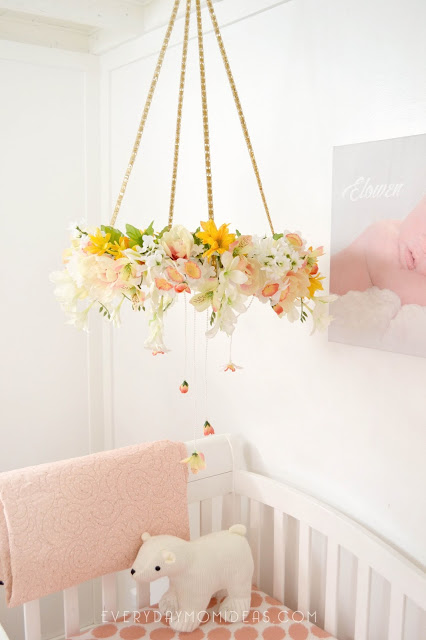 From EverydayMomIdeas
DIY Wall Art
Want great wall art for your nursery? Try this DIY.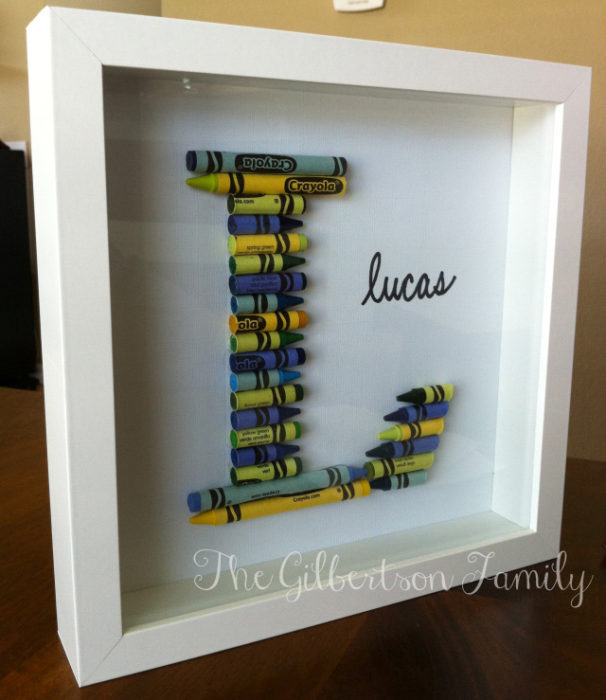 From TheGilbertsonFamily
Soft Woolen Bunny
Isn't this adorable? DIY this bunny for the nursery.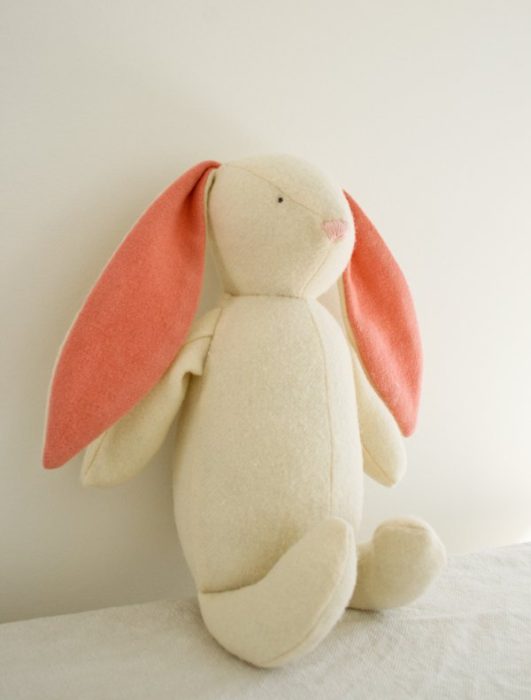 From PurlSoho
DIY Baby Mobile Anyone Can Make
So pretty! A DIY baby mobile.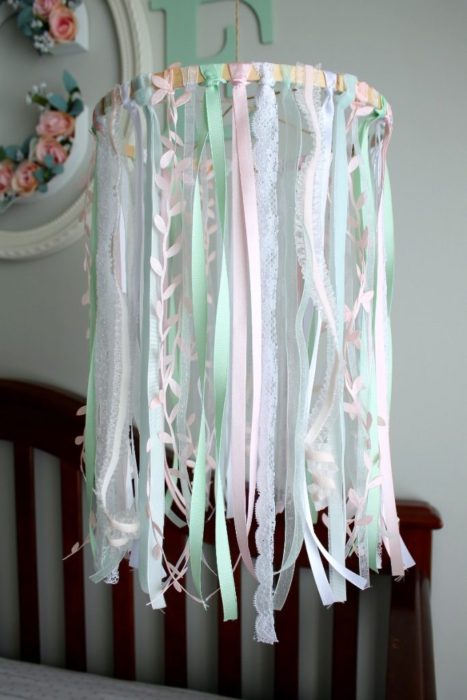 From PastelsAndMacarons
DIY Nursery Glider
Try this!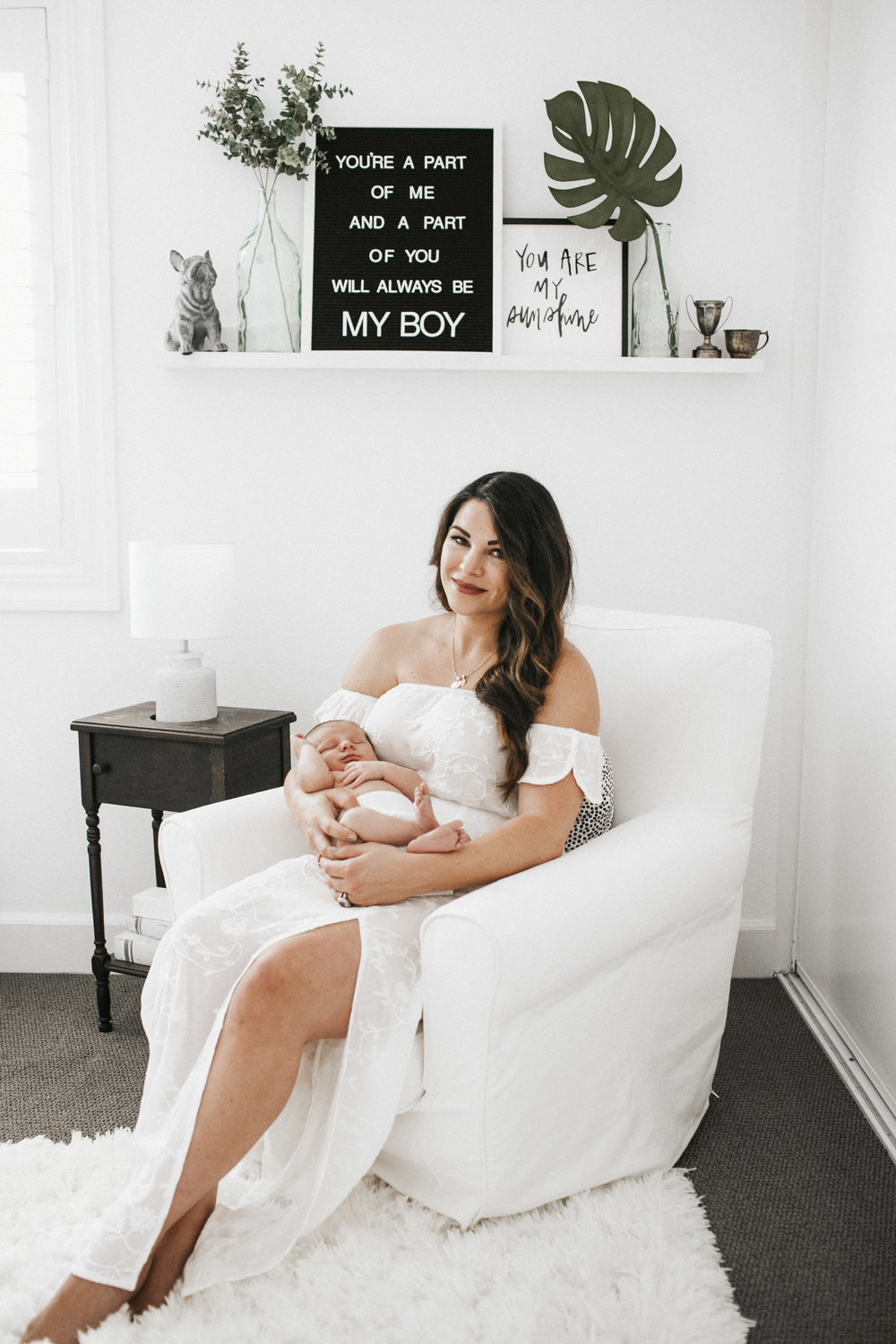 Found Me and Mr. Jones
How to Make Alphabet Letters from Scratch
So bright and colorful! Help your baby learn their ABCs.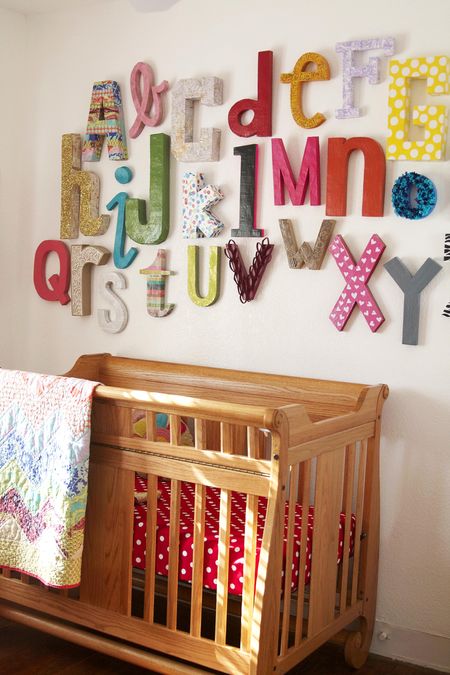 From RebeccaLeighann
Homemade Puppy Stuffed Animal
DIY a cute puppy dog stuffed animal. Isn't this sweet?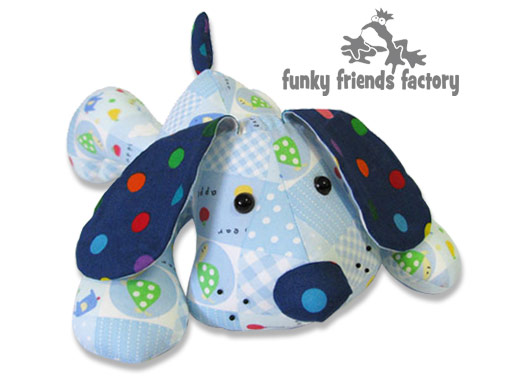 From FunkyFriendsFactory
Gold Glitter Letters pink and gold
Add some sparkle to the nursery! Aren't these adorable?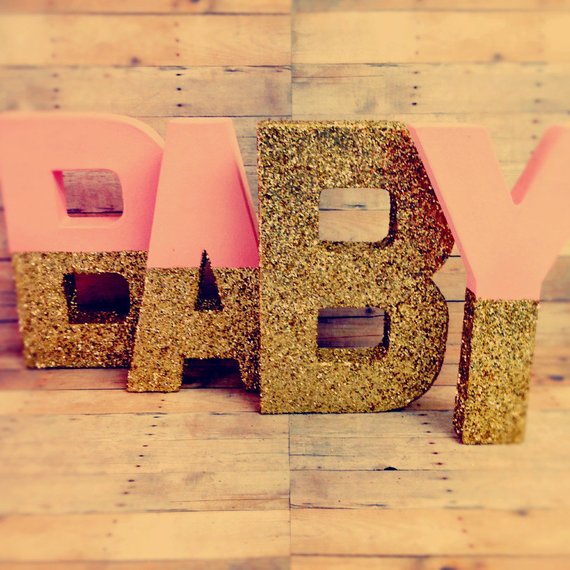 From Etsy.com by Ajobebe
DIY Cloud Garland
Are you over the moon about your baby? DIY this fun cloud garland.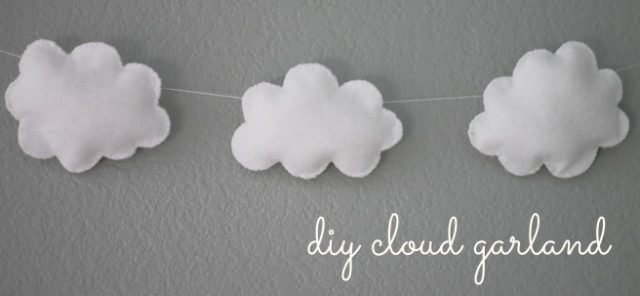 From LandonAndTamara
DIY Baseball Bat Crib Tutorial
Does your family love baseball and sports? Here is the DIY crib for you!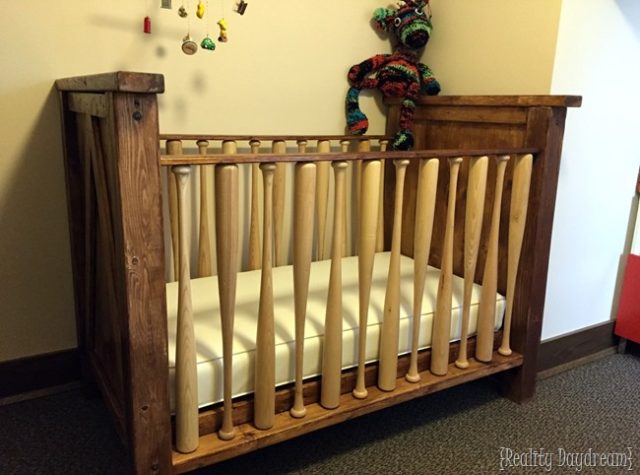 From RealityDaydream
DIY Nursery Name Letter
So fancy! Perfect for your baby's nursery!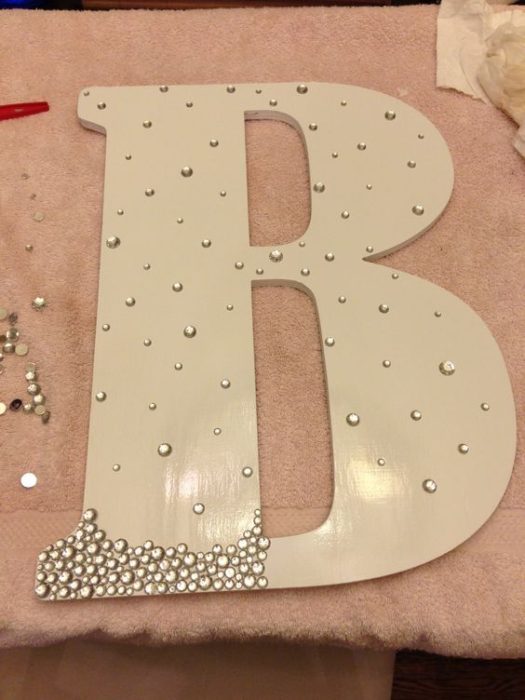 From Pinterest, saved by GaGa Gallery
Woodland Boy Crib Bedding
Isn't this adorable? Perfect for a woodland nursery.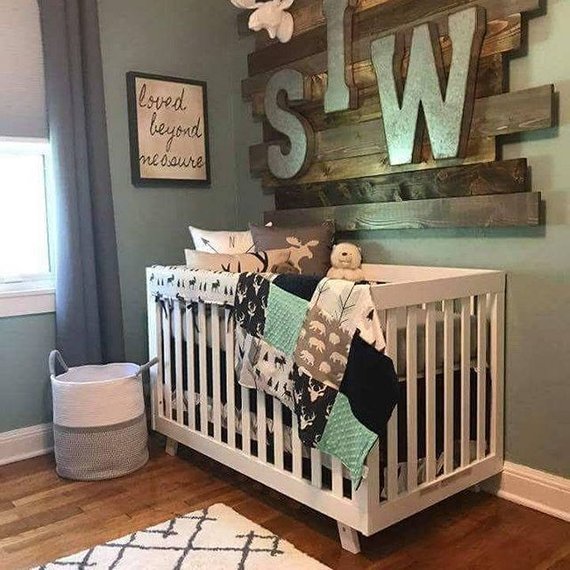 From Etsy.com by DesignsbyChristyS
You May Also Enjoy…
39 Nutritious Recipes Your Baby Will Love
31 Adorable Baby Clothes You Can Make Yourself
33 Sweet and Sensible DIY Baby Gifts
DIY Pom Poms for Your Baby's Nursery
32 Thoughtful DIY Baby Shower Party Favors