Planning on giving your bathroom a modern look? While DIY tutorials might encourage you to do the remodeling yourself, it is always advisable to hire a plumber or an expert to avoid long term issues that may increase the trouble manifold later at some point. Restructuring your washroom is way more complex than remodeling any other room in the house, since it involves a lot of technical aspects to it.
Here are a few tips to keep in mind when revamping your bathroom.
1. Get a More Environment-Friendly Toilet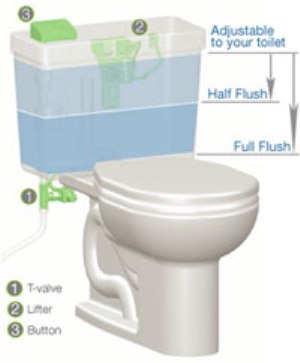 Goes without saying, the toilet is the essence of any washroom. Since you're remodeling your washroom, might as well replace it with a contemporary and environment friendly alternative. When you'll go looking for one, you'll be overwhelmed with the varieties and kinds of toilets that are now available. They range from single to dual flush, and motion sensor to composting toilets. You'll only be able to make a smart purchase if you know what feature serves what purpose exactly.
...
Single flush toilets are the most commonly used ones, chances are that your old toilet also functions on this mechanism. Dual flush and composting toilets are environment friendly options that consume the least amount of water. Dual flush is a feasible option since it has two stage lever functioning that allows you to flush different levels of water for solid and liquid waste, compared to composting toilets that are used in planes, national parks and locations with limited water resources. Motion sensor toilets are a good option if you plan on making your washroom a luxurious one and are willing to spend extravagantly.
2. Warm up your Floors/Towel Stand
If you reside in colder climates, floor heat and a towel warmer are a must. Nothing better than getting out of a cozy bed and stepping on a warm bathroom floor. While the floor heat keeps your washrooms warm, wall mounted towel warmers do so for your towels and other clothes that you're not able to hang outside because of the cold weather.
Apart from giving your washroom a contemporary look, they also keep your washroom free of bacteria and water borne germs, and are a treat for those of you who hate damp washrooms. Need a radiator repair, see more.
3. Update the Lighting
Most of us get ready in our washrooms every morning. No one wants to go to work only to find out that bad lighting messed up their look for the day. When you're revamping the washroom, you need to focus on the lighting as well. For this purpose, it is advisable that you add more windows. This increases the amount of daylight that enters the washroom.
Moreover, you can get ready made lights for your shower and vanity area. Adding a chandelier adds an element of luxury to the whole washroom. One thing to avoid, however, is to ensure that you never go for down lights over the vanity. Always add lights to the sides of the vanity to avoid shadows on the face while getting ready.
4. Plan Shower Storage Corners
Once you remove the previous shower, you can make a shower storage corner by adding framing in the wall. You can also purchase readymade shelves from home stores, if you're not up for a lot of construction and fixing. These shelves offer utility and beautify your washroom. 
No need to step out of the shower to grab your body wash, since it'll be there, right in front of you. Beware of the cheap plastic replacements that are widely available. What accessories you choose for the bathroom, says a lot about your aesthetic sense. So take your pick wisely.
5. Replace Existing Tiles with Porcelain Tiles
If you are going for floor heating and towel warmers, another replacement that you would want to make is your floor tiles. We recommend that you get porcelain tiles. Why? Firstly, porcelain tiles are stain and water resistant, that means no more damp washrooms.
Secondly, they are available in wide variety of colors to go with any washroom theme. The tiles are also glazed that gives them a protective layer and keeps them stain-free.
Thirdly, the porcelain tiles are easy to clean, which makes maintaining hygiene in your washrooms easier. However, one factor you may need to look out for is that these tiles would feel too cold if you don't have floor heating installed.