Hey DIY-ers & crafters! Do you have a craft room…or have you always wanted one? If the thought of a craft room makes you smile – then you're going to be thrilled to see today's project ideas.
We've found you 40 terrific craft room ideas, from inspiration that shows you how fellow crafters have set up complete rooms, to craft room organization, storage of craft supplies and more, such as craft room decor. Yes! You really can create that perfect craft room you've always dreamed of.
One thing we recommend you think of before you get started is exactly how much space you have to work with. Don't feel discouraged if you're working with a small space. We want you to be excited – because you'll soon see that other crafts just like you have done a whole heck of a lot with very little space at all! You can build tables that fold down, storage that tucks under other furniture and other creative notions, so you've got the room to be creative.
We've tried to show you a variety of crafts too – from needlework, sewing, paper crafts, scrapbooking, knitting, crochet, sewing and more – so you see that different crafts need to be organized and stored in slightly different ways. Keep in mind that if you like to do several crafts (and lots of people do), then you'll want to DIY your craft room to accommodate this.
So, let's get started! Happy DIY-ing!
Acrylic Paint Storage Using Spice Racks
Love to use acrylic paint? Try this great DIY project to organize it.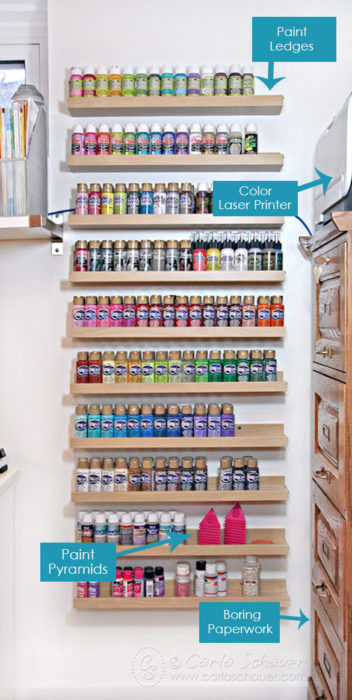 From CarlaSchauer
Fabric Storage Found
Do you sew? Here's a great way to store fabric.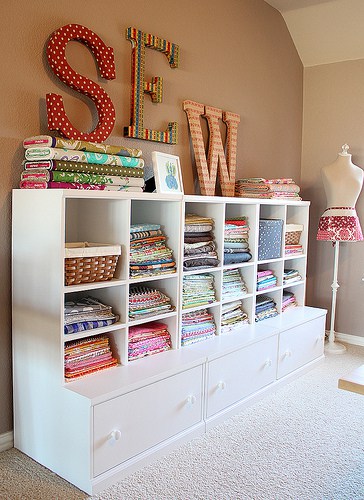 From CraftApple
My Craft Room
Love crafts? Take a look at this great room.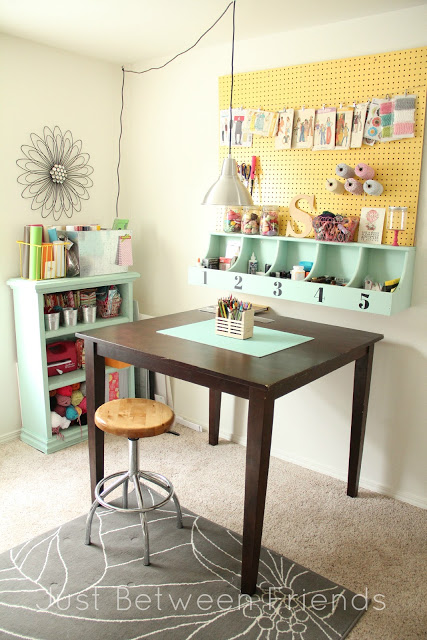 From Just Between Friends
Office Makeover with Target the Reveal
Like a girly girl look to your craft room? Try this for inspiration.
From StudioPebbles
Yarn Shelves for Craft Storage
Do you knit or crochet? Look at these great DIY shelves.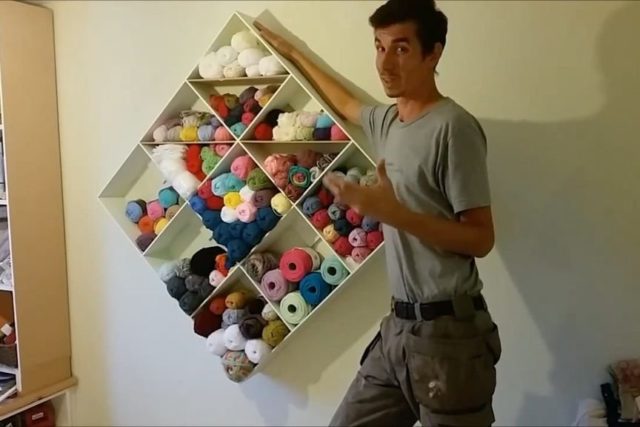 From Instructables
The Office
Want to organize all of your crafty-ness? Try this office!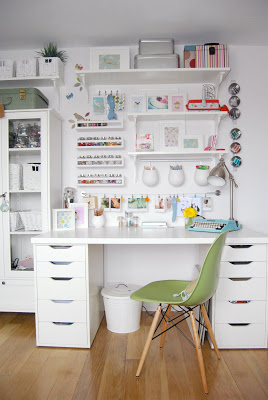 Take Advantage of a Closet
Did you know you can turn your small closet into your scrapbooking dream place? Take a look at this!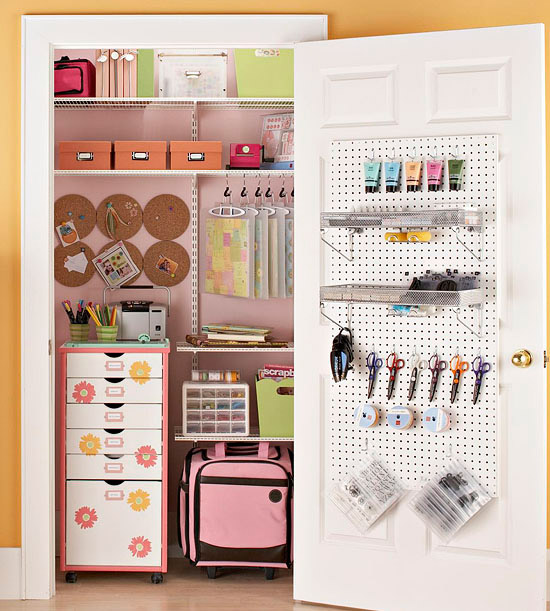 From BHG
My Scrap Area
Are you a scrapbooker? Then take a look at this great storage system.
Craft Room Reveal
Have a large space for crafts? Then you could DIY something like this too!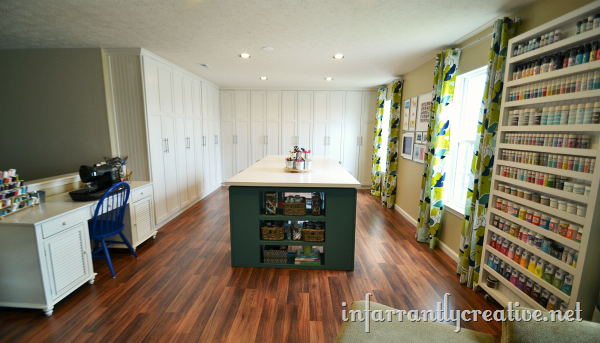 From InfarrantlyCreative
Old File Cabinet to Beautiful Fabric Storage
Have a lot of crafting fabric? Keep it all in one place – here!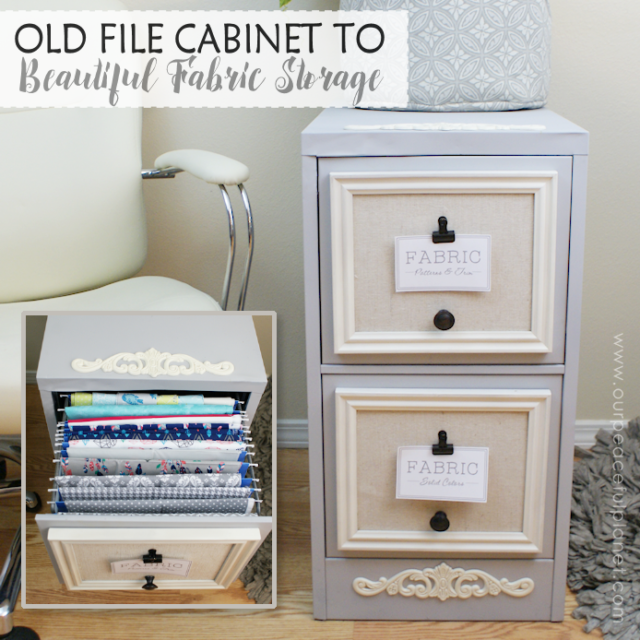 From CraftYourHappiness
Black and White Scrapbooking Room
Love to scrapbook? Try this for inspiration.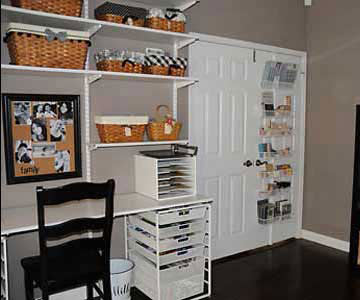 From BHG
Drop Down Work Table
Don't have the space for a full crafting room? Try this great DIY drop down table!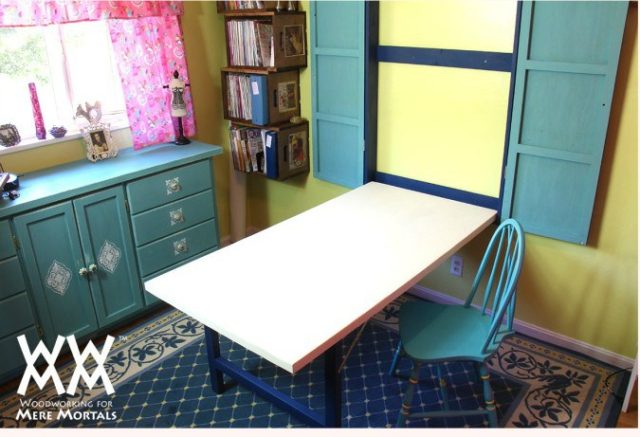 How to Stencil a Herringbone Bookcase
No, this is not Deal or No Deal – you can keep your craft supplies here. Its so vintage!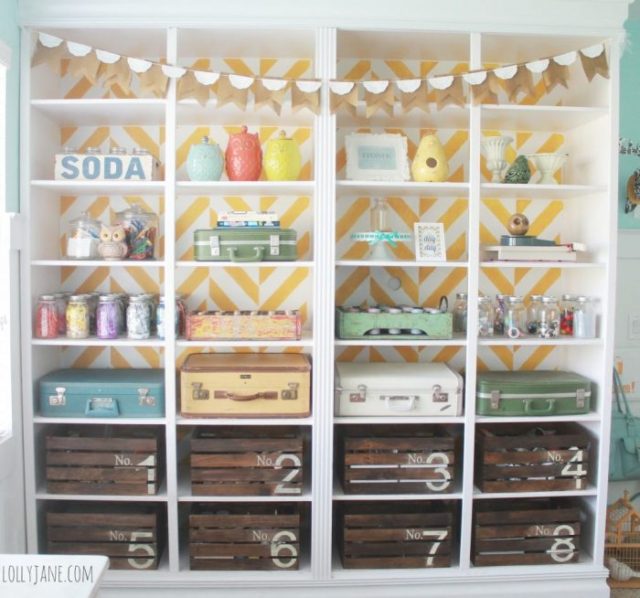 From LollyJane
DIY Inspiration Board
Want to get inspired to be crafty? DIY an inspiration board.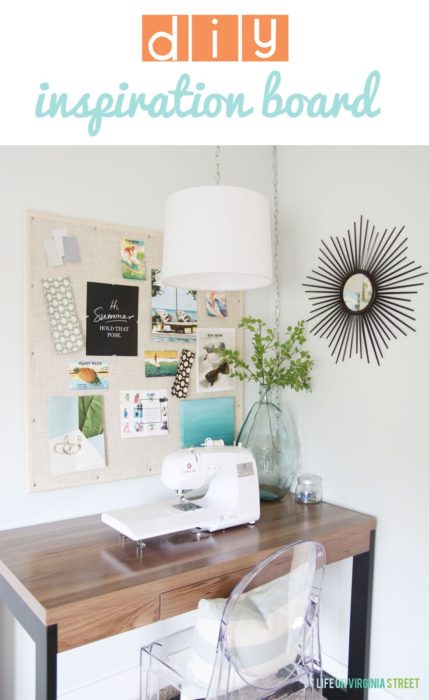 From LifeOnVirginiaStreet
Scraproom
Love scrapbooking? Then you need a room like this.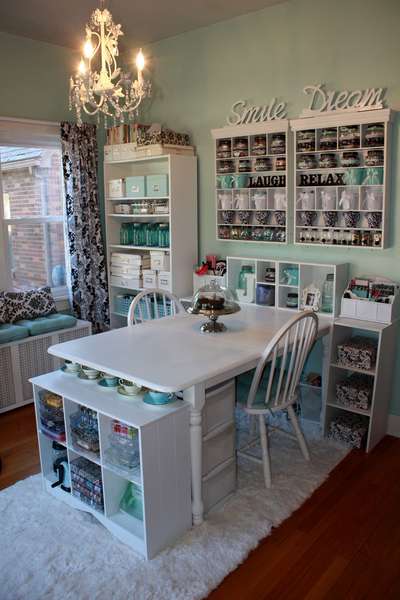 From Scrapbook
Organize Sewing Supplies
Want to keep all of your sewing supplies in one place? Try this DIY.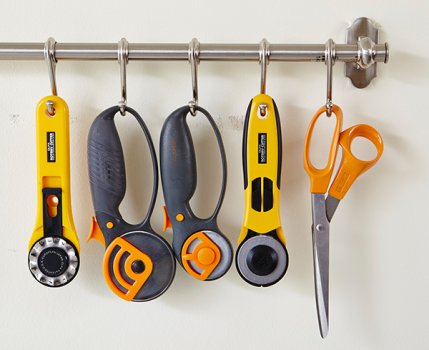 From AllPeopleQuilt
Ribbon Spool Organizer
Love to use ribbon? Organize it in your craft room with this DIY.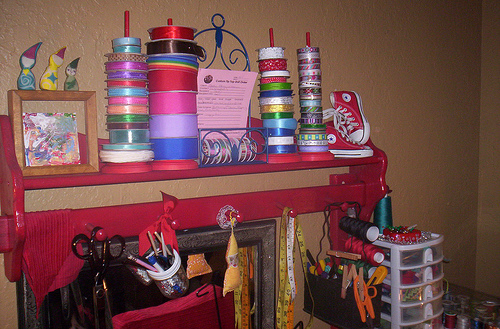 From Craftster
Old Headboard to Craft Nook
Want a cozy craft nook? Try this great DIY project.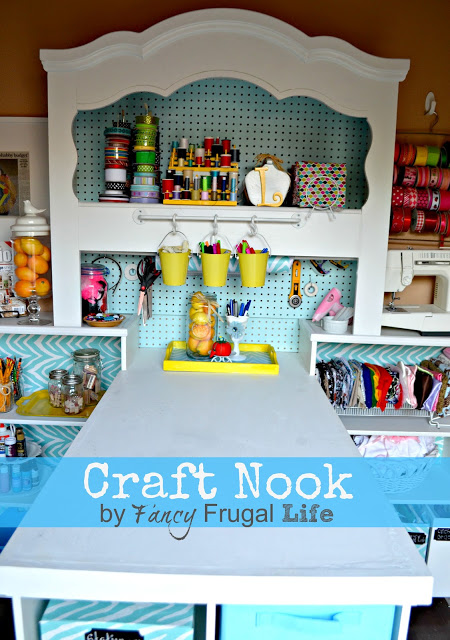 From FancyFrugalLife
UPDATING AND ORGANIZING THE CRAFT ROOM
Have a small space for crafts? Try this for inspiration.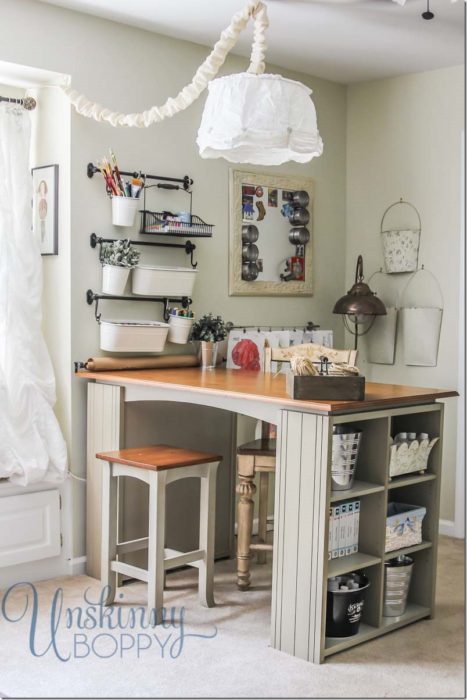 From UnskinnyBoppy
UHeart Organizing: Wrap It Up!
Are you a big gift wrapper? Try this organizing system.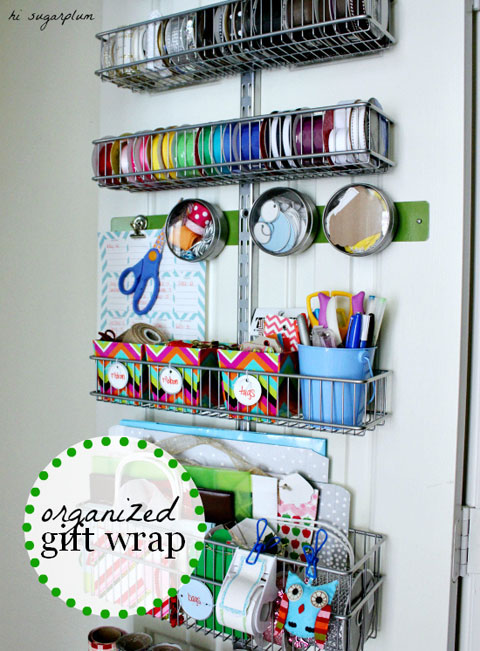 From IHeartOrganizing
Craft Room Tour
Want a dreamy craft room? Take a look at this one.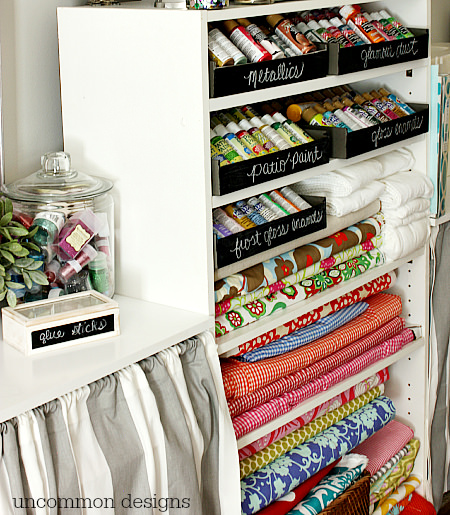 My Home Tour Office & Studio
Do you have a crafting or DIY business? Make your space perfect – like this!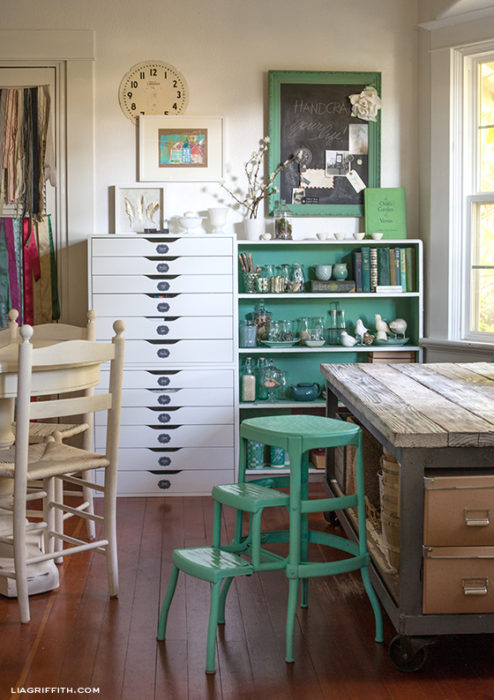 From LiaGriffith
Ribbon Organization Cart
Like to use ribbon in your crafts? Try this great DIY.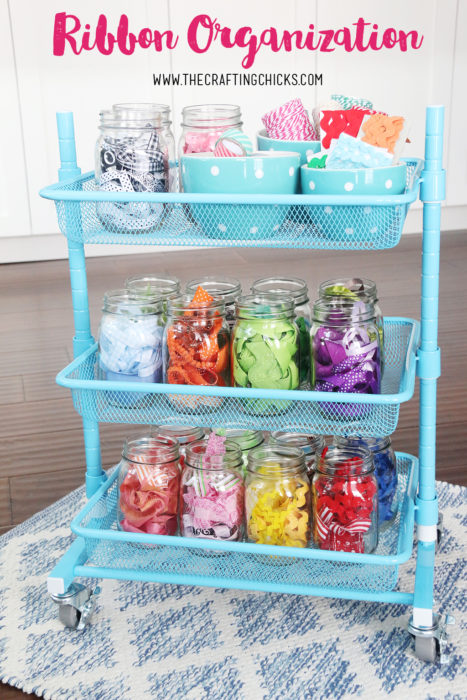 From TheCraftingChicks
Filing Fabric
Do you like fabric crafts? Keep fabric neat – by filing it!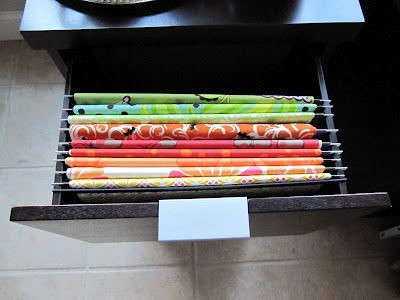 From ThinkingCloset
Making Over an Old Dresser for Craft Room Storage
Have an old dresser? You've got everything you need to store lots of crafts materials.
From TheHappyHousie
Amanda's ideas
Stickers have become more popular for crafting. Store them in a simple 3 ring binder.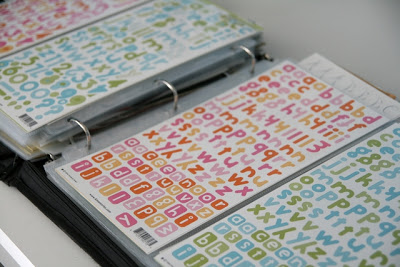 From CraftyStorage
Adding Measuring Tape to Your Craft Desk
Love to do crafts? You'll want to put a measuring tape right on your desk.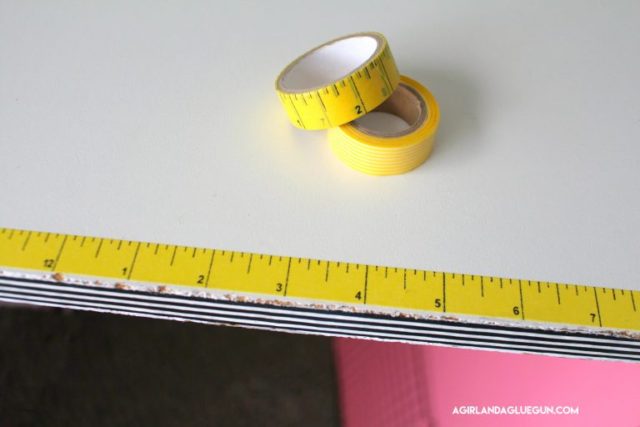 From AGirlAndAGlueGun
Craft Room Makeover
Love to do lots of different types of crafts? Get inspiration from this craft room makeover.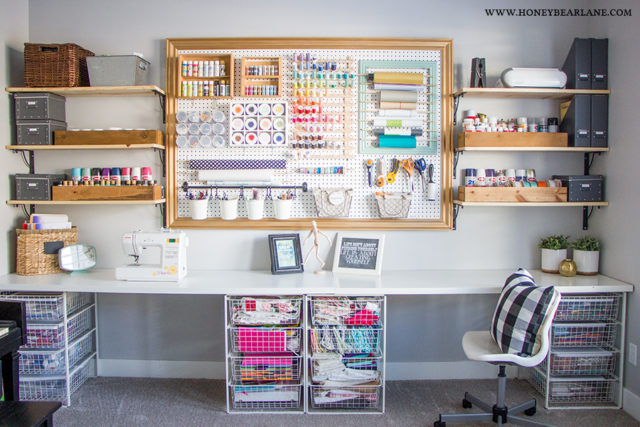 From HoneyBearLane
Craft Room Organization
Want to keep your craft room tidy? Try organizing it like this!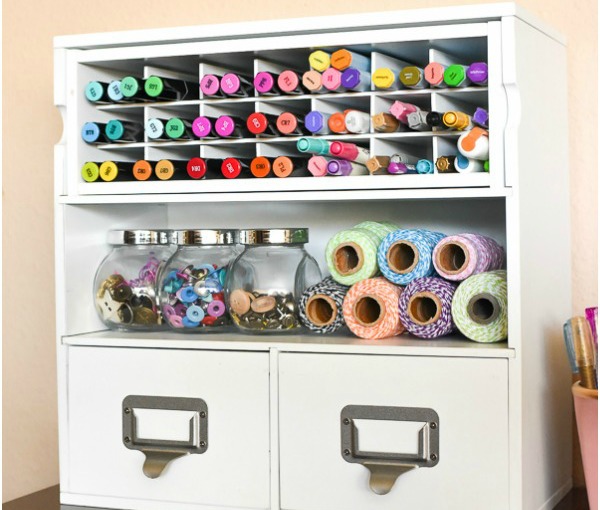 From APumpkinAndAPrincess
Turn Clear Plastic Shoe Bins into Cute Cheap Storage Solutions
Have a lot of craft supplies? Try a simple storage technique like this.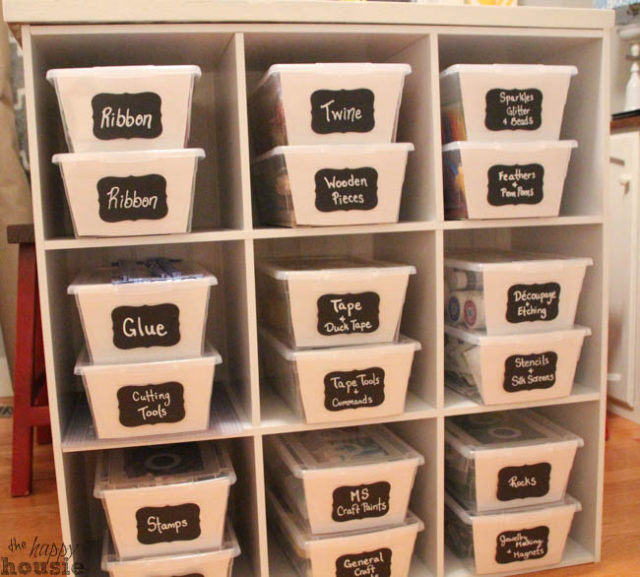 From TheHappyHousie
Home Office Organization
Isn't this bright and colorful? The perfect place to do DIYs.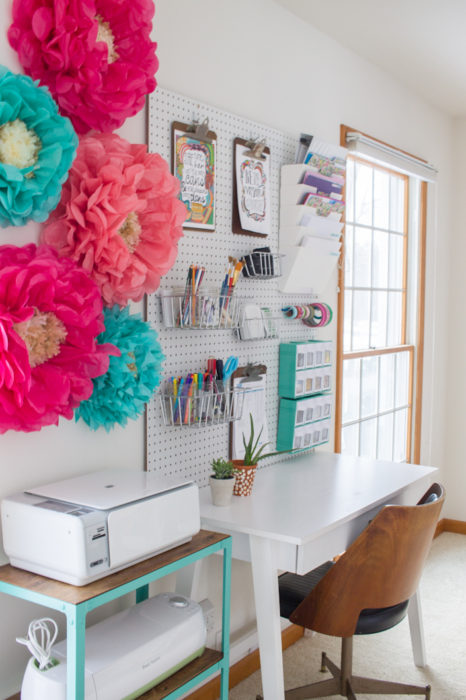 My Craft Room plus MORE Craft Room Tours
Like crafts? Try a great room for your DIY projects.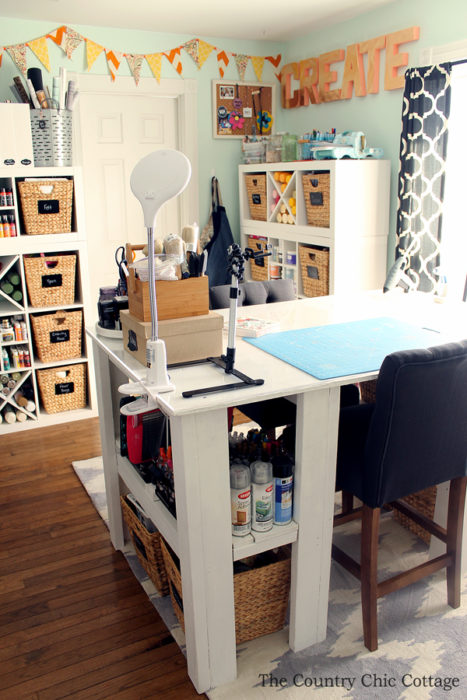 How to Build a Custom Craft Desk
Love crafts? Make this DIY desk.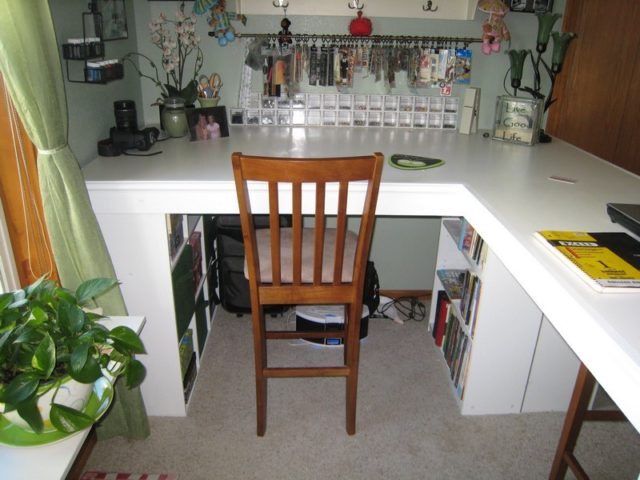 Full Craft Room Reveal
Want to re-do your craft room? Look at this makeover!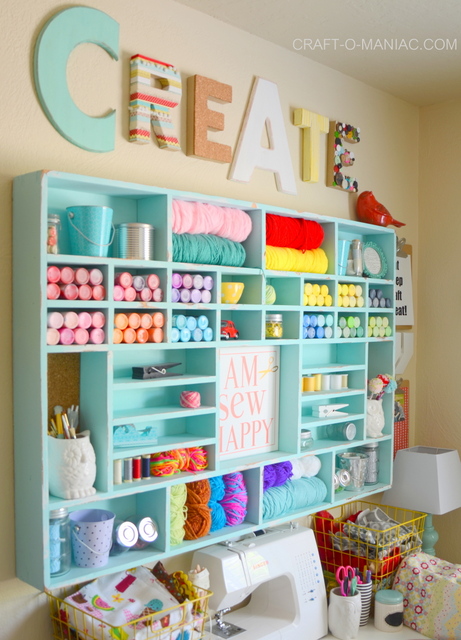 From Craft-o-Maniac
DIY Mini Ironing Board
Love sewing projects? Make this mini ironing board.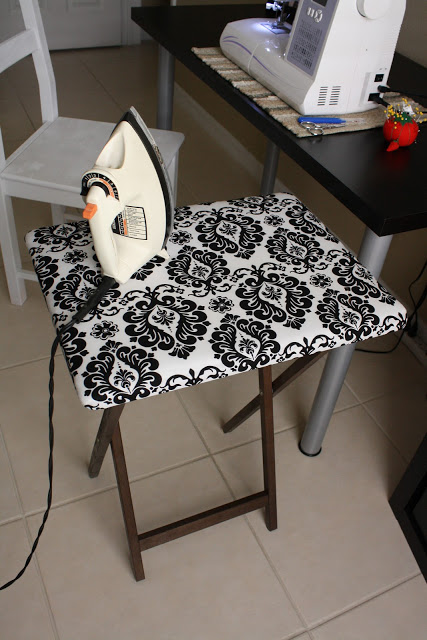 From CrookedTiara
Craft Room Closet Makeover
Have a big closet you don't use? Make your own craft room!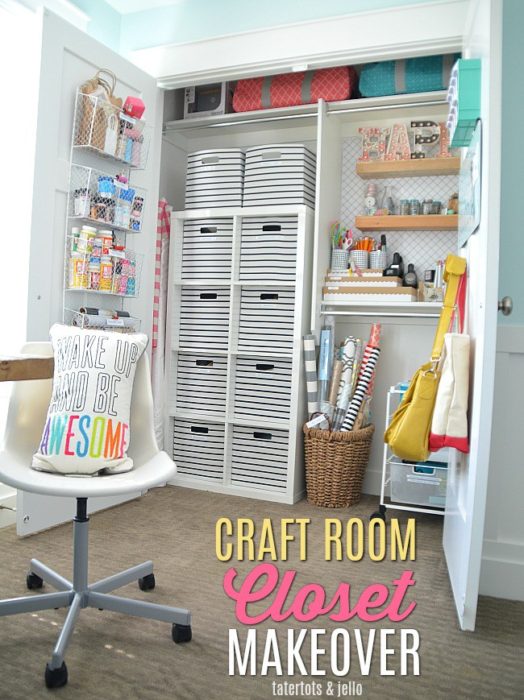 From TaterTotsAndJello
Reader Space: A Working Wow Factor!
Turn a closet into a crafting space. You've got room for everything that you need.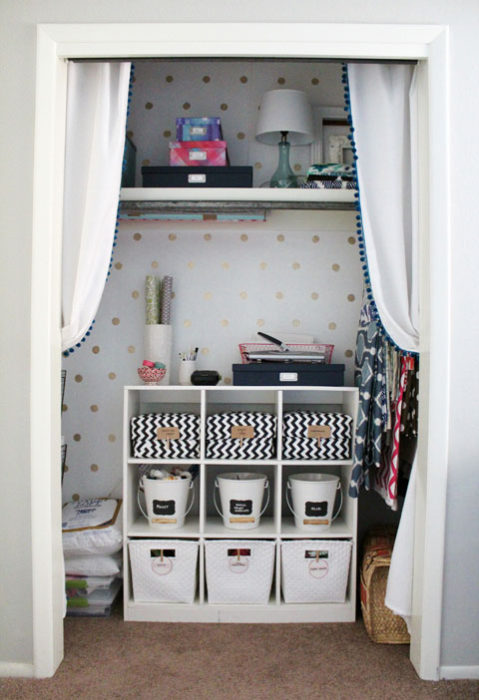 From IHeartOrganizing
Craft Room Makeover
Need space for adults and kids to do crafts? Yes! You can find space for this!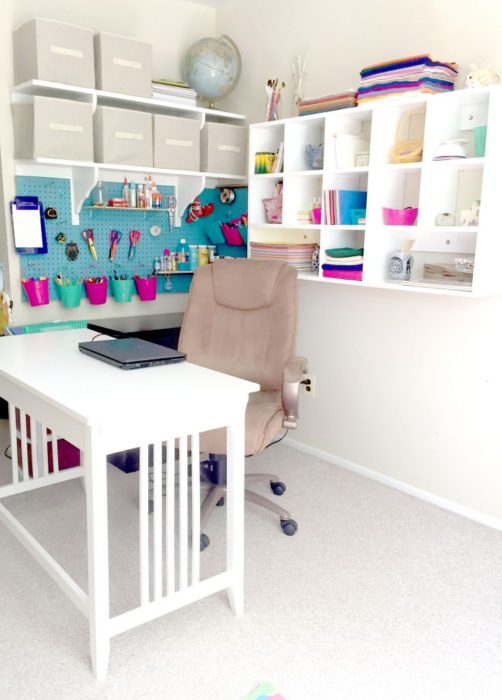 From JustMeasuringUp
Paper Craft Storage in IKEA Shelving
Love paper crafts like scrapbooking or rubber stamping? Try this paper craft storage system.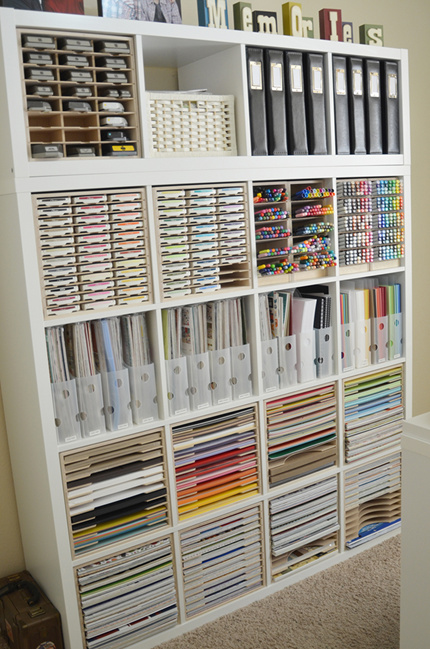 From StampNStorage