Hello, DIYers!
After years of living under the popular farmhouse chic aesthetic, many people are taking a slight shift away and going into full cottage core! This has a lot of the same rustic appeal, but uses imagery that is often a bit more cluttered with whimsy and has a bit of a magical element to it. Plants are a must have feature and if it is possible to carry out the look to the gardens, all the better! The best part about this look, is that many of the elements can be made with DIY projects. We've put together a list that will have your home looking like a magical cottage in no time!
Happy crafting!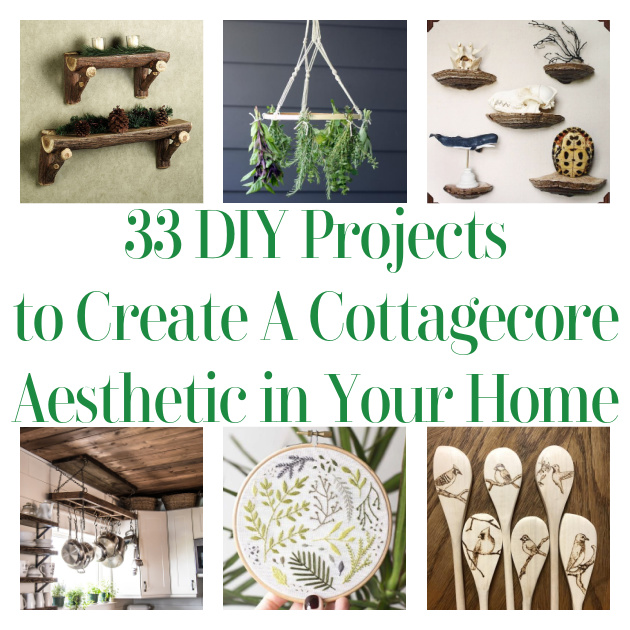 Hanging Pot Rack
A big part of cottagecore aesthetic is all about the fabulous kitchen! Show off your wonderful kitchenware products by building a hanging pot rack!
Found Little Yellow Wheelbarrow
Burned Wooden Carving Spoons
Use a wood burning tool to etch a beautiful pattern into a set of wooden utensils. You might choose birds, mushrooms, plants, or any other cottagecore elements that you like!
Found Pinterest
Antique Spoon Napkin Rings
You can bend antique spoons into lovely napkin rings for your dining room table!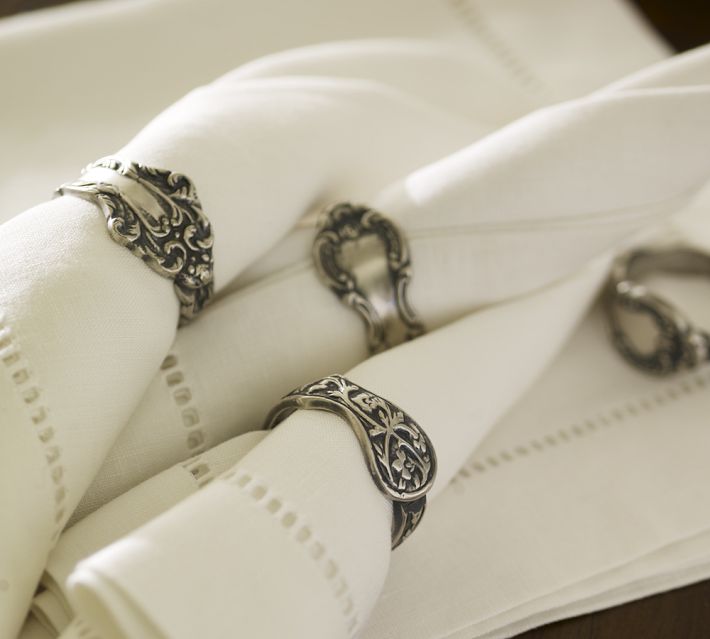 Found Pinterest
Mushroom Shelf
Bring the forest into your home with these lovely mushroom shelves!
Found Boing Boing
Herb Drying Rack
Cottagecore aesthetics are generally highlighted with drying flowers and herbs! One way to display them is on this DIY herb drying rack along the wall.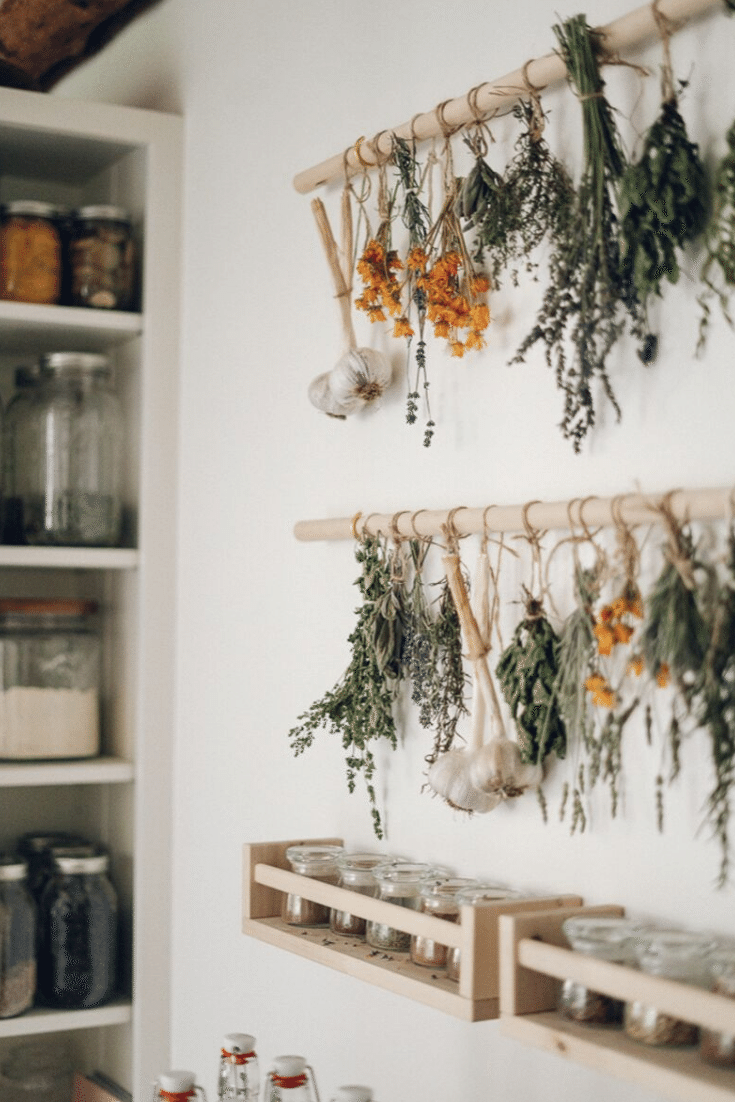 Found The Well Essentials
Stone Circle
Add a stone circle as a peephole into the garden! It gives a beautiful, magical element. Learn how to lay a stone wall with this great DIY.
Found Bob Vila
Mushroom Décor
Mushrooms are a big part of the cottage core aesthetic! Here is a great way to make some!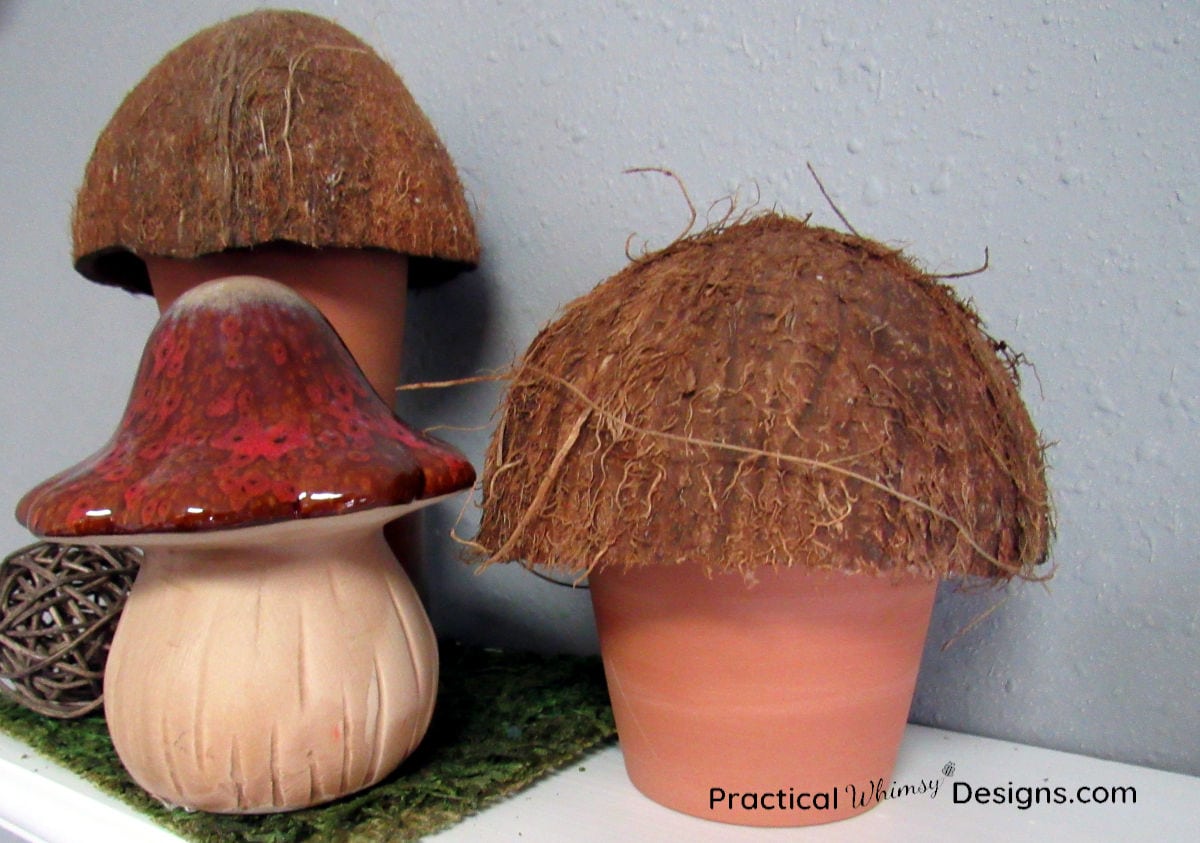 Found Practical Whimsy Designs
Cottage Window Boxes
Window Boxes are a great way to decorate the outside of your home!
Found Window Box
Cottage Bench
You can upcycle a bedframe by turning it into a lovely cottage bench! This looks great indoors or out!
Found My Creative Days
Log Shelf
Make a cute and useful shelf using small logs!
Found Pinterest
Macramé Flower Drying Rack
Dried flowers for decorating projects with this beautiful, flower drying rack!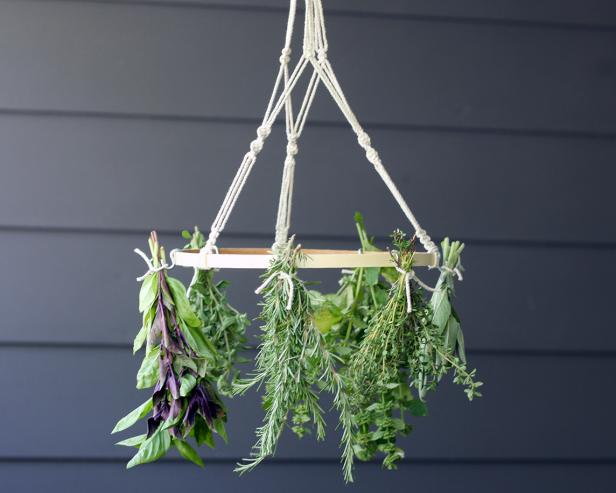 Found DIY Network
Book Page Garland
Decorate your home with some lovely garland! You can make it with old, beat up books. Try to find some with various levels of oxidation to add some natural color differences!
Found Sweet Cottage Dreams
Cottagecore Dining Room Table
Do you need a new dining room table to accomplish your cottagecore look? The good news is that this look is an easy thrift and DIY! Use a similar element to painting and weathering a farmhouse chic table set if needed, and feel free to mix and match chairs!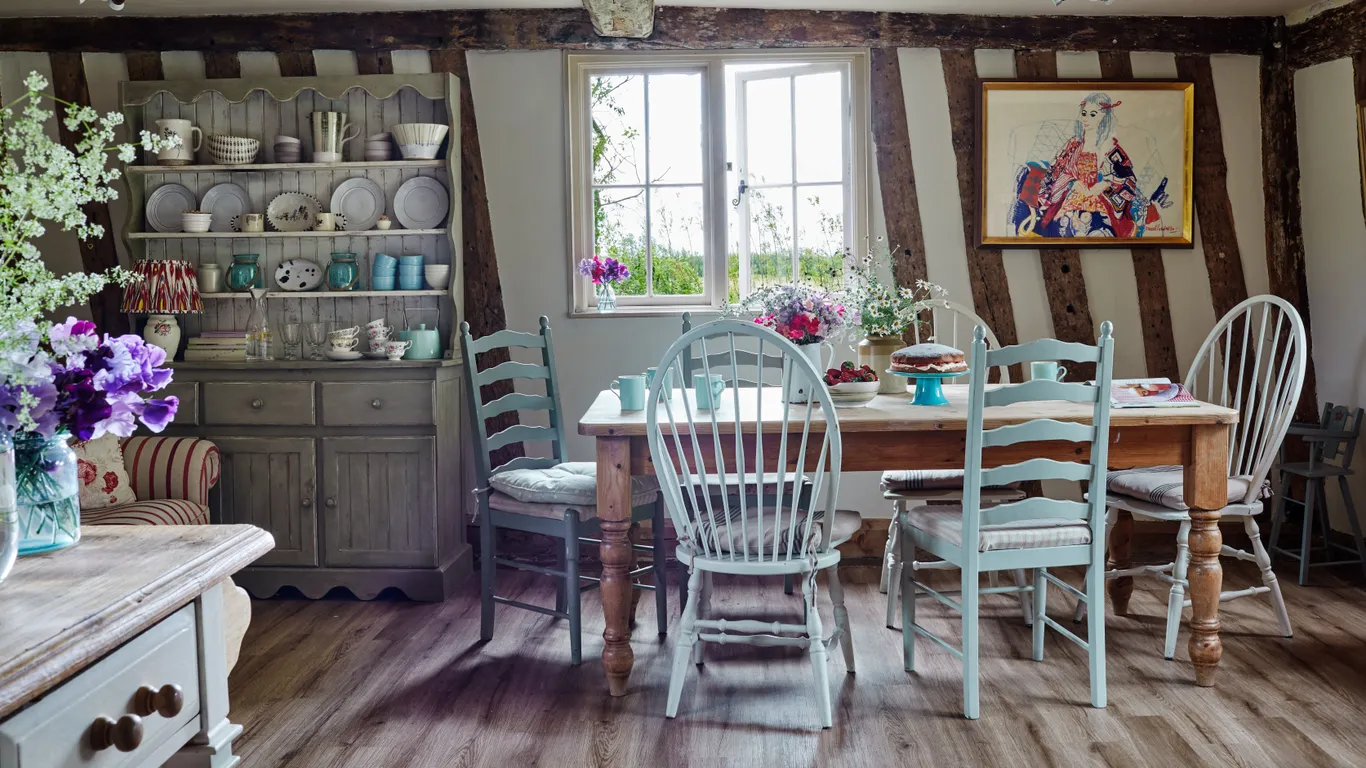 Found Real Homes
Bread Box
Many cottagecore enthusiasts are also enthusiasts about making their own bread! Whether you are or aren't, a bread box can always come in handy!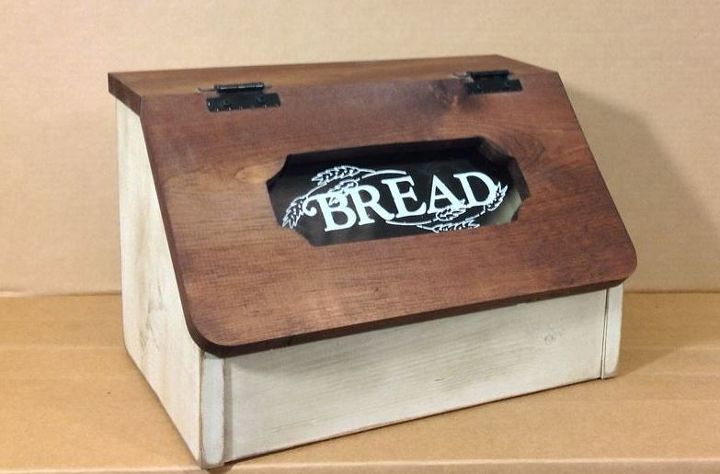 Found Home Talk
Dried Flower Bouquet
These are perfect to place on an end table or a centerpiece!
Found A Floral
Spice Rack
A great way to decorate your kitchen is with a custom, beautiful spice rack!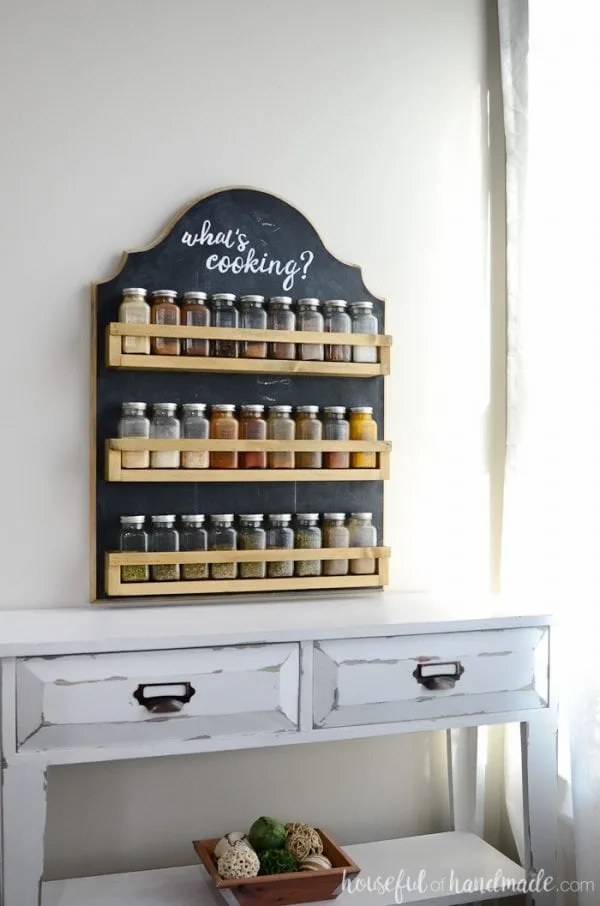 Found Houseful of Homemade
Tree Branch Jewelry Holder
Bring nature elements inside by turning a tree branch into a fantastic jewelry holder!
Found Homed It
Butterfly Shadow Box
This butterfly shadow box can be made easily from items found at the dollar store!
Found The Minimalish Mama
Bicycle Wheel Planter
Turn a vintage bicycle wheel into a lovely planter by strapping some pails!
Found Pinterest
Chunky Feather and Fan Crochet Blanket
This is a lovely, cozy crochet blanket that you can make with this free pattern!
Found Persia Lou
Old Book Picture Frames
Decorating with books is VERY cottagecore! But that doesn't mean that you can't make the books work harder for you! Turn them into picture frames!
Found Leah Koenig
Spoon Herb Garden Markers
How cute are these amazing herb garden markers!? You can make them yourself at home!
Found Artsy Vava
Cottagecore Wreath
A DIY wreath is easy to make with a cottagecore aethetic! You might choose wildflowers or greenery to accent yours!
Found Run to Radiance
Old Books
Decorate with old, tattered books and wired glasses!
Found Sweet Cottage Dreams
Pressed Flower Wall Décor
Make this lovely glass wall-hanging with pressed flowers! Preferably from your own garden!
Found YouTube
Vintage Weathered Hutch
You can find a vintage hutch for cheap at many flea markets across the US! Even if you find one in an improper color, don't fret! You can upcycle and weather it yourself. Just find a size and shape that works for your room! Add a stencil design to add a special touch!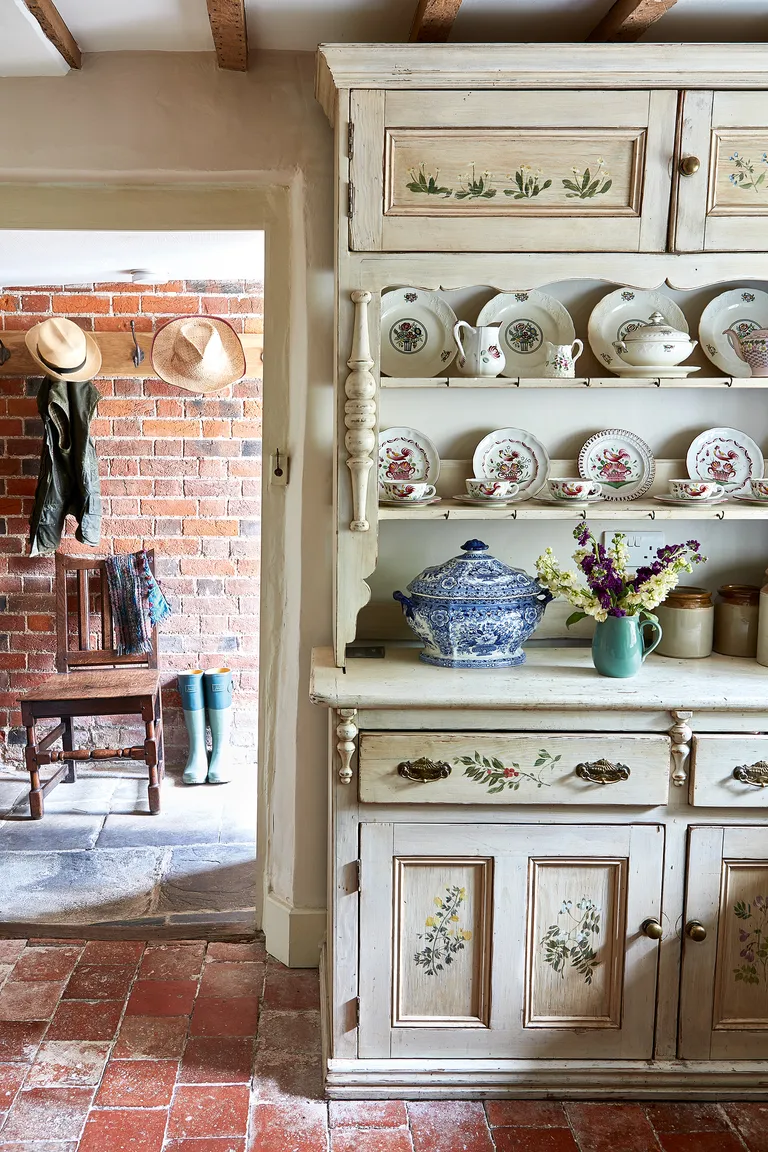 Found Real Homes
Indoor Herb Garden
You can make a cottage-style herb garden by dressing up small pails! Pick your favorite herbs and go to town!
Found Parsimonious Décor Darling
Antler Ring Holder
Similar to using a tree branch for jewelry, you can make this fabulous ring holder out of an antler!
Found We Must Be Dreamers
Decorate with Dried Flowers
Dried flower bouquets can be used all around the house to decorate!
Found French Country Cottage
Embroidery
Embroidery is a great way to decorate your cottagecore home!
Found Her Campus
Custom Cutting Board
Custom cutting boards are popular across the board! You can make your own to match your kitchen with this great DIY!
Found Home Beautifully
Macramé Plant Hangers
Hang your lovely plant collection with these wonderful macramé plant hangers that you can make yourself!
Found Jenny Lemons
Converted Door Garden Bench
This is an adorable upcycle project that brings whimsy and character to your garden. Why not give it a try!?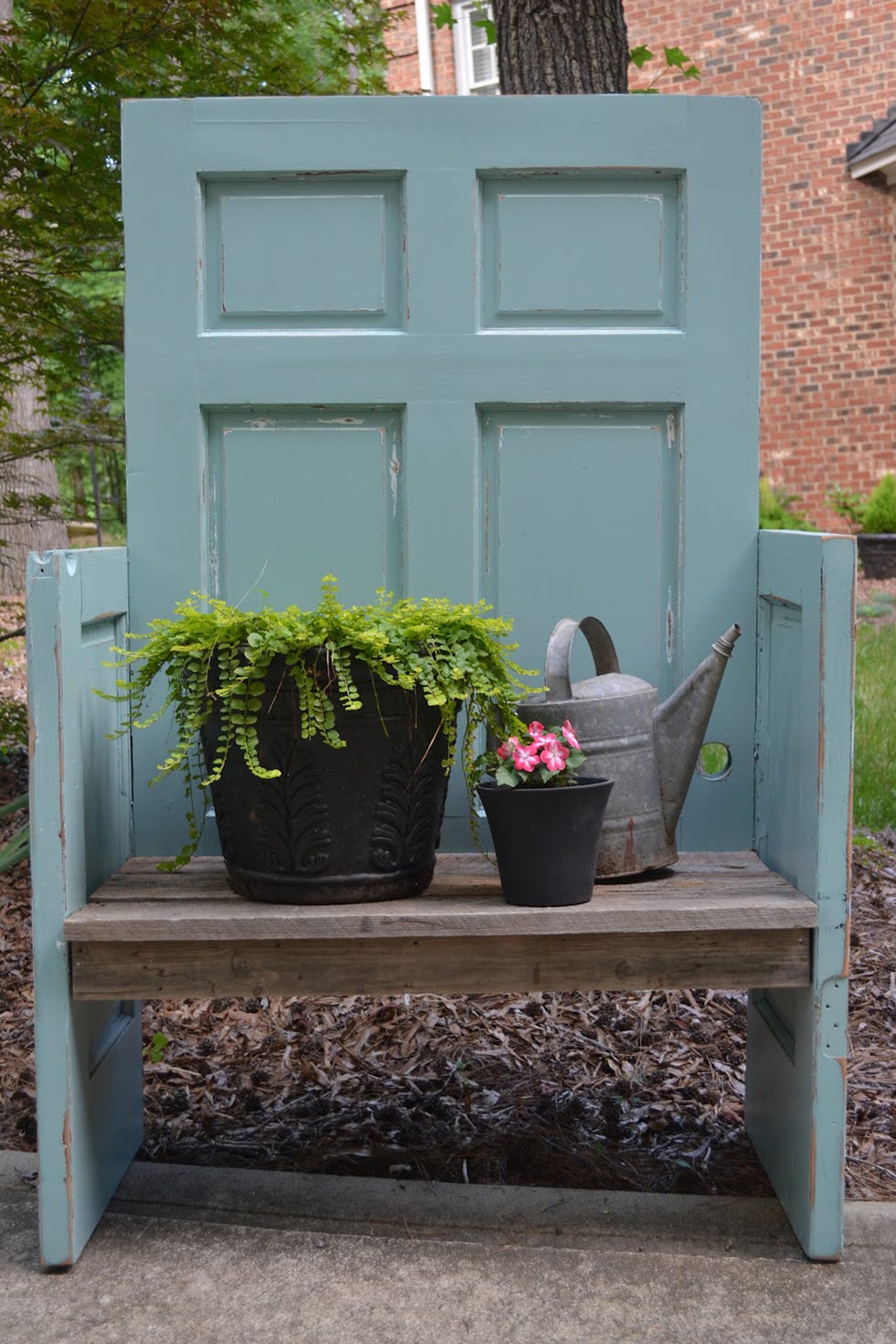 Found Dumped and Discovered