Hello, DIYers!
We are back with another list all about upcycling! This time, we will talk about all of the things that you can do with adorable, patterned vintage teacups that you may have inherited, thrifted, or collected throughout the years. Why keep something so lovely locked up in the cupboards? You can use them to decorate or put them to work throughout your home. Even a broken teacup doesn't have to go in the trash! You can always turn it into something charming and new.
Happy crafting!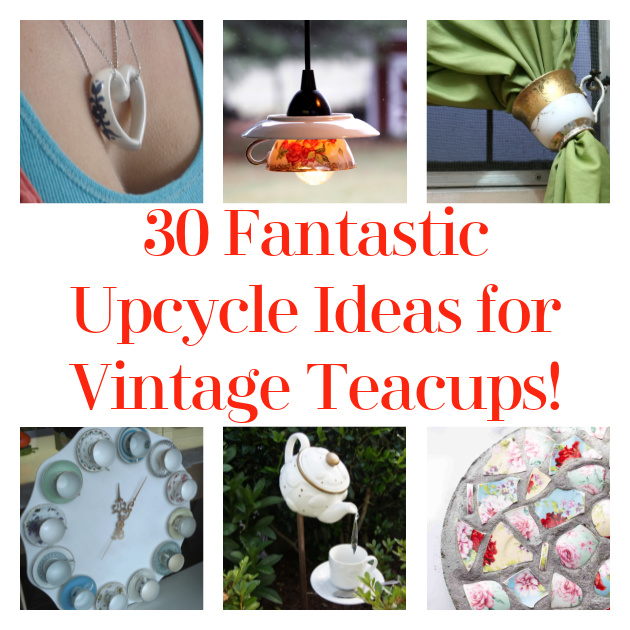 Pin Cushion
You can upcycle an old tea cup into an adorable pin cushion for your sewing room!
Found Sincerely Kinsey
Teacup Fairy Garden
Looking for a fun craft to do with your kiddos?! Why not make a teacup fairy garden?!
Found The DIY Mommy
Teacup Centerpiece
If you're having a tea party, there is no better centerpiece than this!
Found The Cottage Market
Hanging Teacup Candles
Create a charming ambiance with candles in teacups!
Found The Perfect Pear
Teacup Planters
I love a good DIY planter! Add a drainage hole and add your favorite plant! I'm partial to a string of pearls, myself!
Found Intelligent Domestications
Teacup Clock
How cute is this?! Give it a try!
Found Makezine
Teacup Heart Necklace
Use the handles from two teacups to create this quirky and cute necklace!
Found Lindsey Pemberton
Teacup Pendant Lights
How lovely are these?! It would be an adorable addition to your kitchen!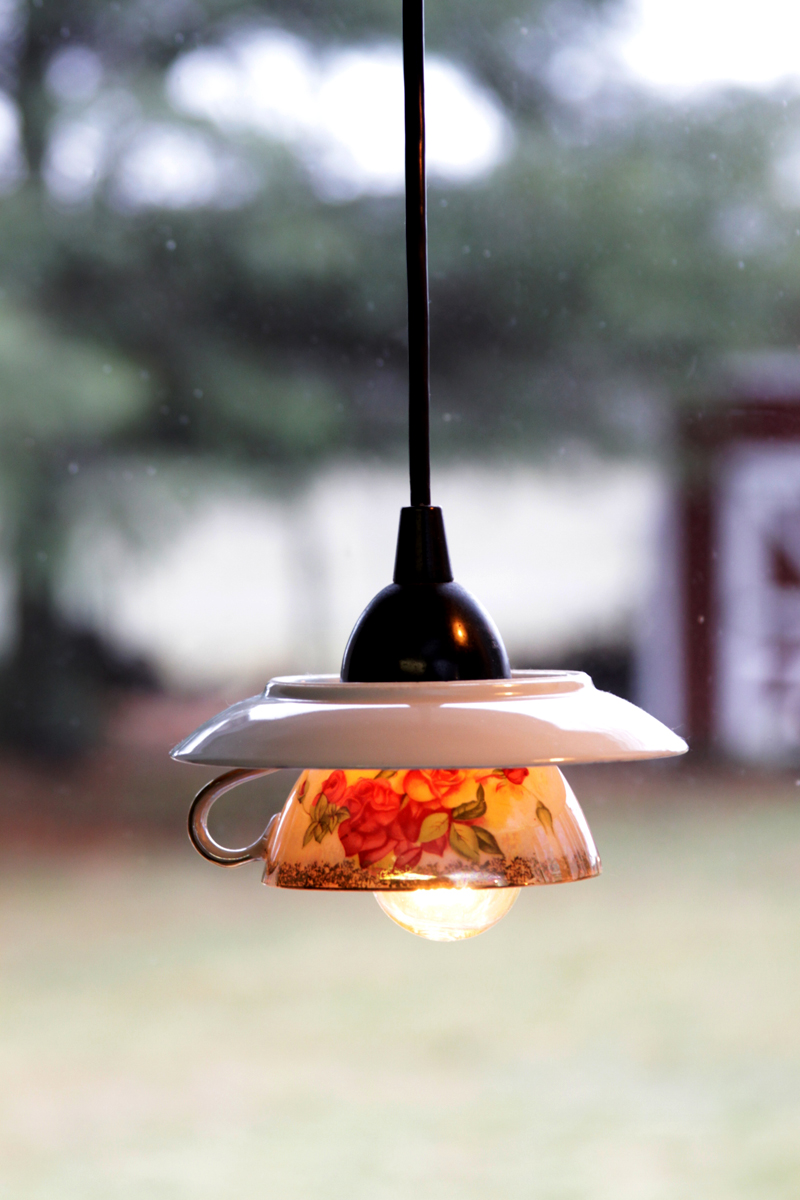 Found Flamingo Toes
Table Top Water Garden
Create your own little eco-system inside of this mini water garden!
Found Rad Megan
Curtain Tie-Backs
How adorable are these curtain rings?! It's such a wonderful detail to add to any room!
Found Wiki-How
Broken China Mosaic Pots
Give your gardening pots a happy home with this DIY project made with broken tea cups and other china!
Found KenArry
Teacup Bird Feeder
You can make your own bird feeder and lovely yard décor with teacups!
Found Bushel and a Peck
Teacup Chandelier
Dress up a basic chandelier with teacups!
Found Forever Decorating
Tea Party Garden Feature
You can decorate your garden with this lovely DIY project!
Found Confessions of a Serial DIYer
Teacup Lamp Stand
If you want to make your own lamp, why not give this one a try?!
Found RetropolitanHip
Framed Teacup Wall Art
How lovely is this?! Plus it's much easier than it looks!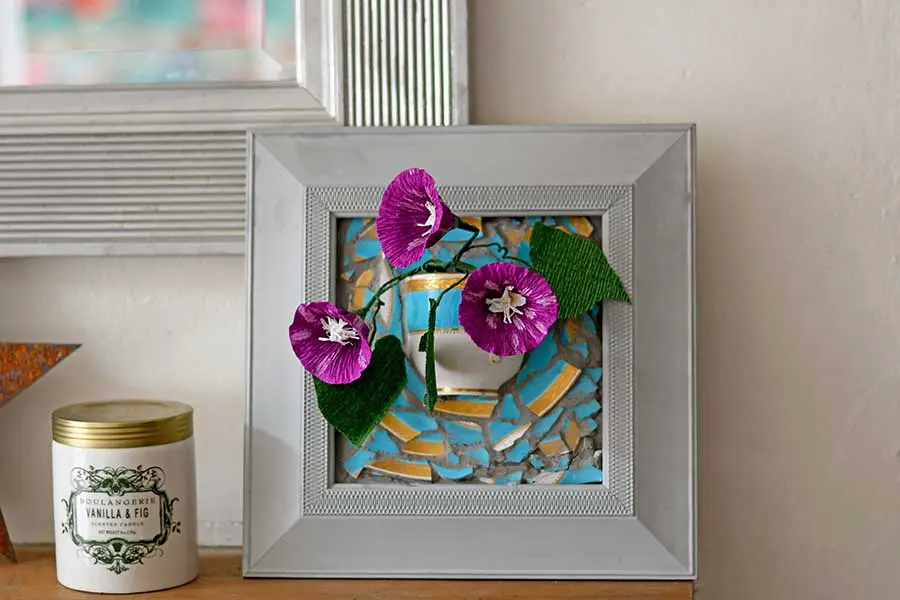 Found Pillarbox Blue
Jewelry Organization
You can use a teacup and saucer as a charming trinket tray for your vanity!
Found Saroti Designs
Hanging Teacup Wall Art
If you have any teacups that are special to your family, consider turning them into wall art!
Found Tattoo'd Martha
Teacup Candles
If you are a fan of making your own candles, why not make them in some lovely teacups?! This would especially be lovely with some loose herbs in the wax!
Found Elizabeth Anne Designs
Herb Gardens
Teacups make a great place to grow your herbs!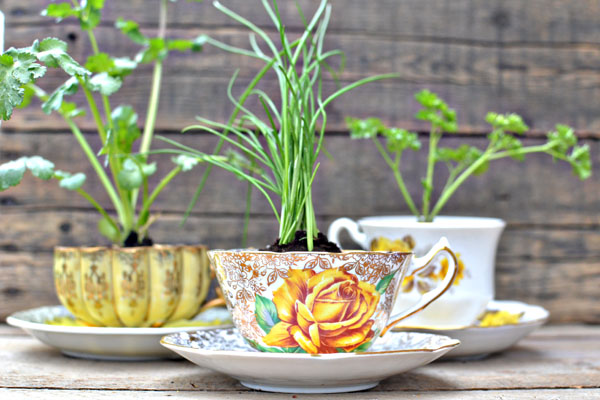 Found Intimate Weddings
Floating Teacup Flower Décor
How gorgeous is this?!
Found Grillo-Designs
Floral Arrangement Teacups
These teacups make a lovely centerpiece or décor!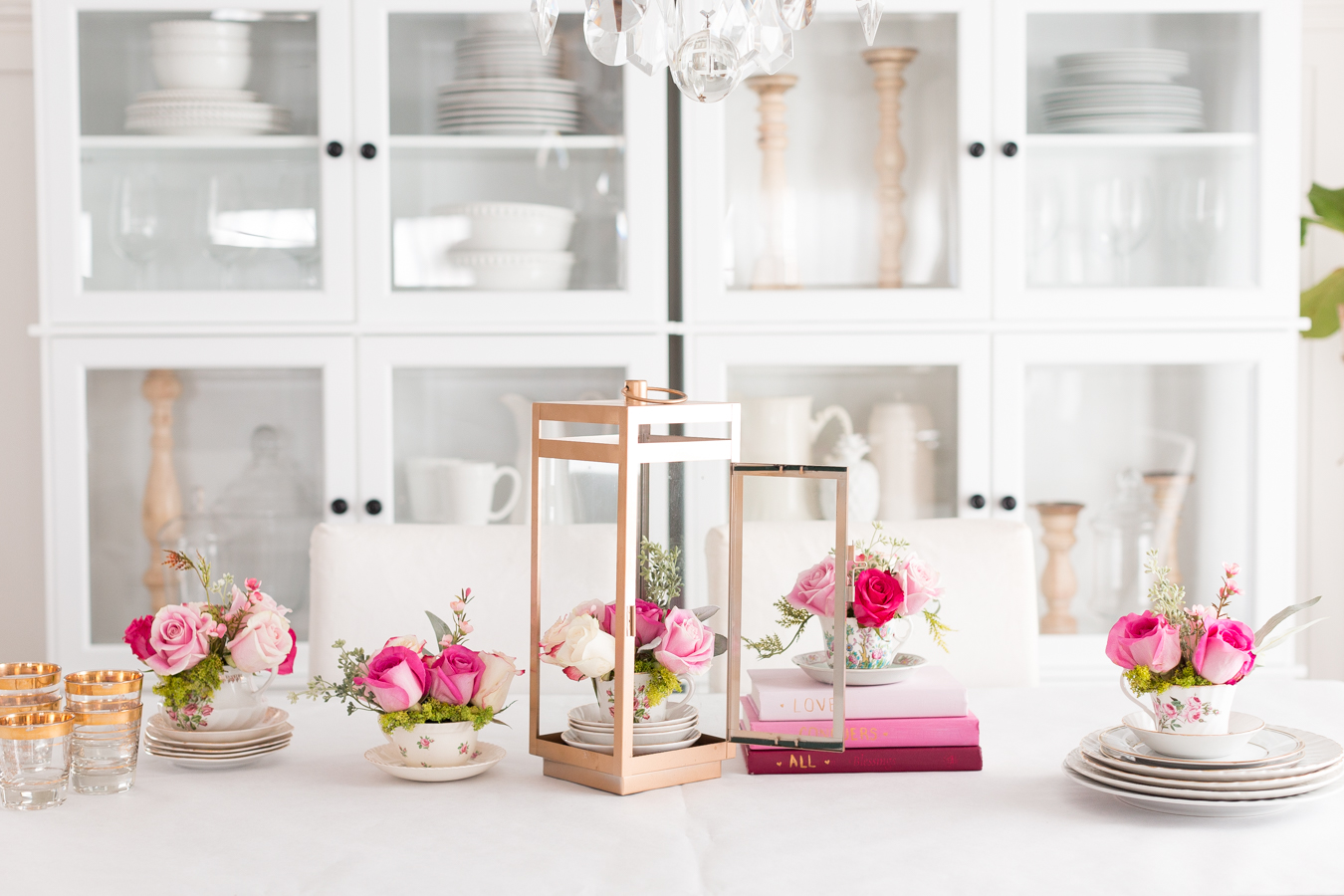 Found Craft Berry Bush
Jewelry and Make Up Holder
This is so cute! You can put it on your vanity or in your bathroom!
Found Designs By Studio C
Tea Time Fountain
This makes a lovely water feature! Give it a try!
Found Instructables
Teacup Wine Glasses
Tea? Wine? How about both!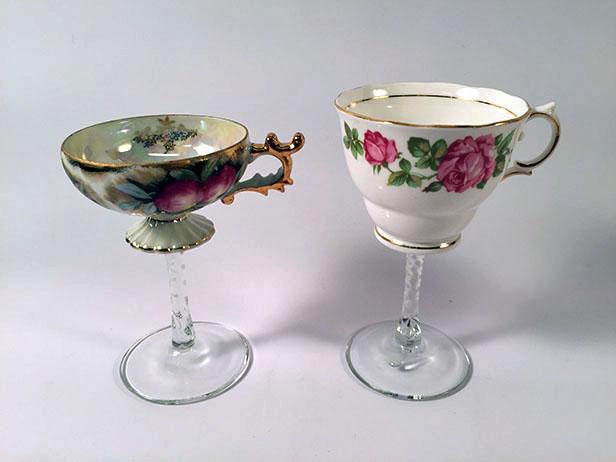 Found DIY Network
Garden Stones
Use broken, patterned teacups to create these beautiful garden stones for your garden!
Found Over the Big Moon
Teacup Wreath
How cute is this!? Give it a try!
Found Hallmark Channel
Christmas Ornaments
Make your own Christmas ornaments this year! Teacups can help you set a special Christmas theme!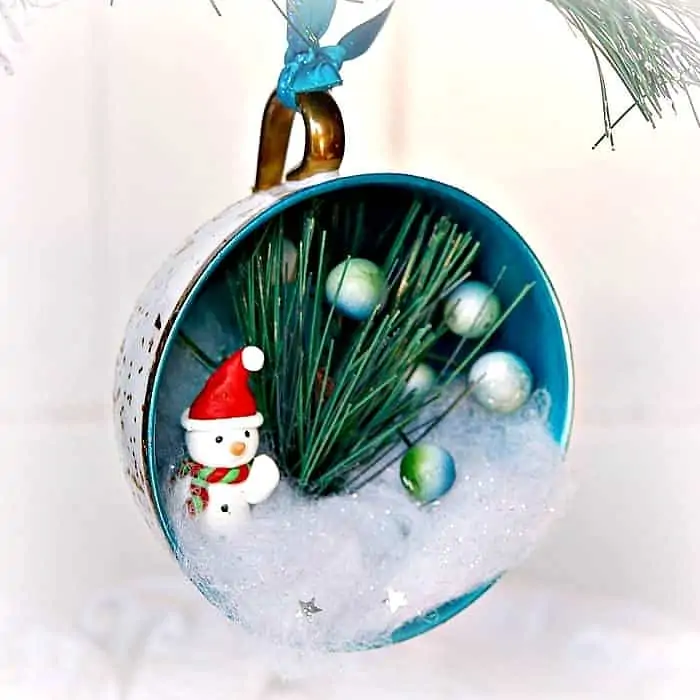 Found Petticoat Junktion
Beauty and the Beast Chip Cup
If you're a fan of Beauty and the Beast, why not make your very own Chip cup?!
Found YouTube