Deprecated
: The PSR-0 `Requests_...` class names in the Requests library are deprecated. Switch to the PSR-4 `WpOrg\Requests\...` class names at your earliest convenience. in
/var/www/wp-includes/class-requests.php
on line
24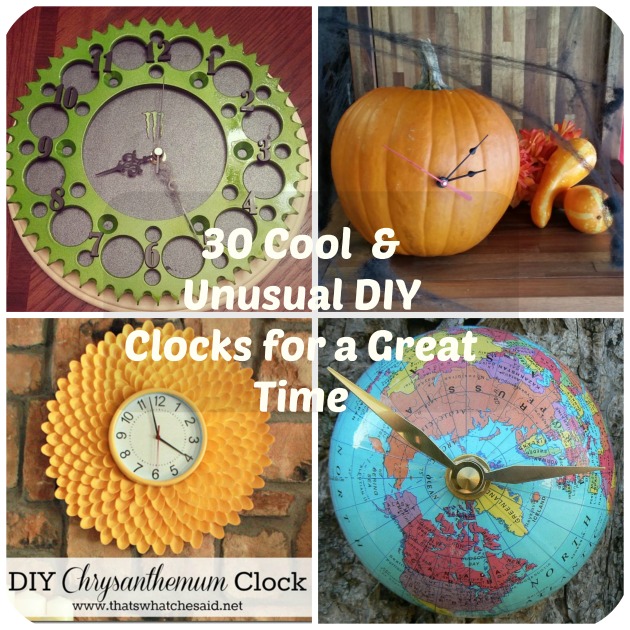 Tick tock! Tick tock goes the clock! But is your clock cool & unique? Most of us just have typical, everyday clocks that tell us the time and keep us from running late to work, school and other appointments. Oh, life is so much more fun when you have a cool clock!
Fortunately, we've found you 30 cool & unique DIY clock projects to check out. Whether you want to work with metal, paper, found objects or even needlecrafts, there is a cool clock out there just for you. There are clocks to show the world just how much you love your profession, passion or hobby too.
What's so great about these clocks is that they make fantastic housewarming gifts. If you have family or friends who have moved into a new home or apartment, DIY-ing them a new, shiny clock is such a thoughtful gift idea. Best of all, you can completely customize it with their favorite colors and preferences so it compliments their home perfectly.
...
Some of these DIY clocks are great to make with kids or teens too. There are a couple that are especially for children's rooms. With these clocks this is a great opportunity to show your kids how a clock or mechanical DIY projects work. Remember that young children should not do a project such as this unattended, but this is often a great and fun family project, or a tween or teen project with a bit of adult supervision.
Happy DIY-ing! Hey, what time is it? We thought you'd know!
Bicycle Wheel Clock
This is a very eco-friendly clock too. Perfect for the living room or family room!
DIY Clock for Children's Room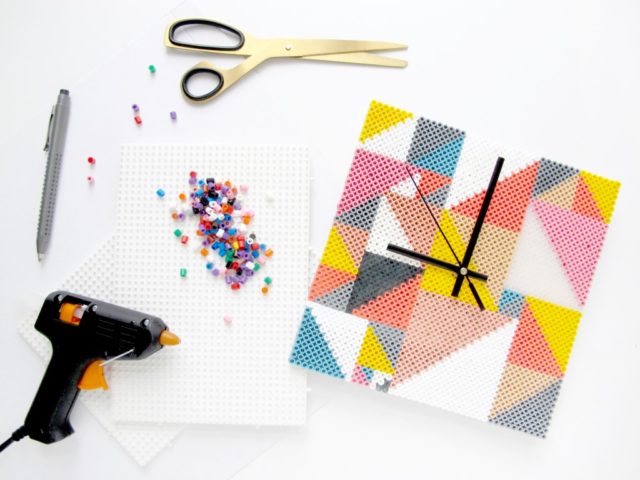 Using simple plastic beads you can make a modern art style clock. It is bright and colorful, everyone will admire it.
At FrkHansen.DK
DIY Pumpkin Clock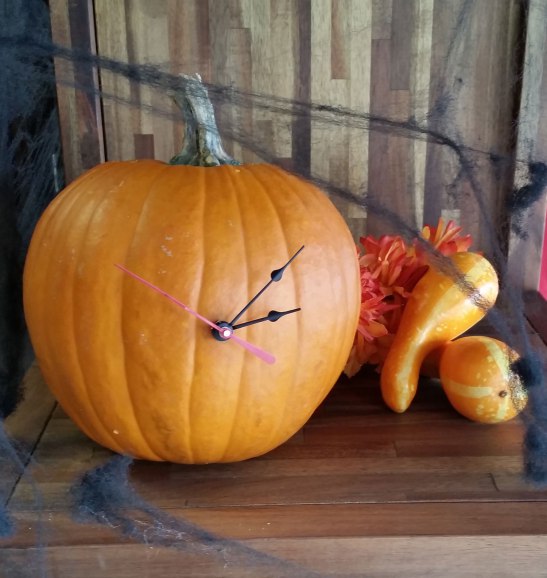 Enjoy Harvest and Fall time. Here's a pumpkin clock!
From Blog.Klockit.com
DIY Potato Clock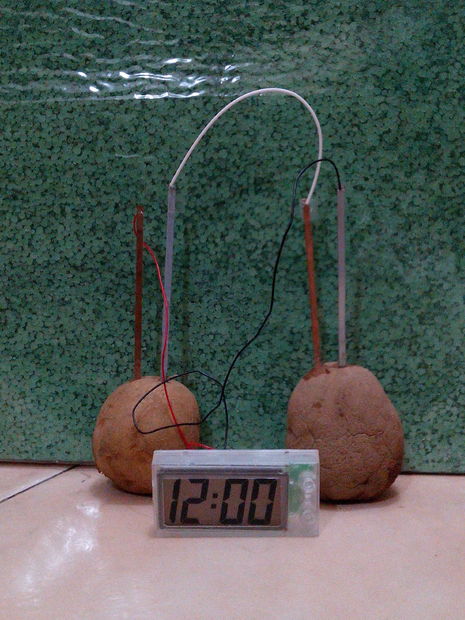 Here is a fun DIY clock to make with kids or as a family. Potatos actually work instead of batteries!
From Instructables.com
Clock with Gears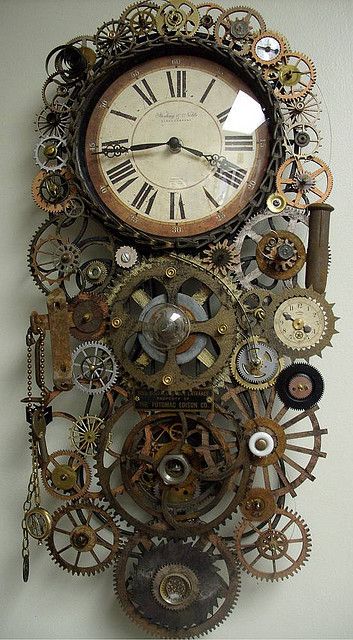 Very unique with lots of gears. This clock shows how you can create an eye-catching DIY look.
From Pinterest, pinned by Trisha Beaver
Word Clock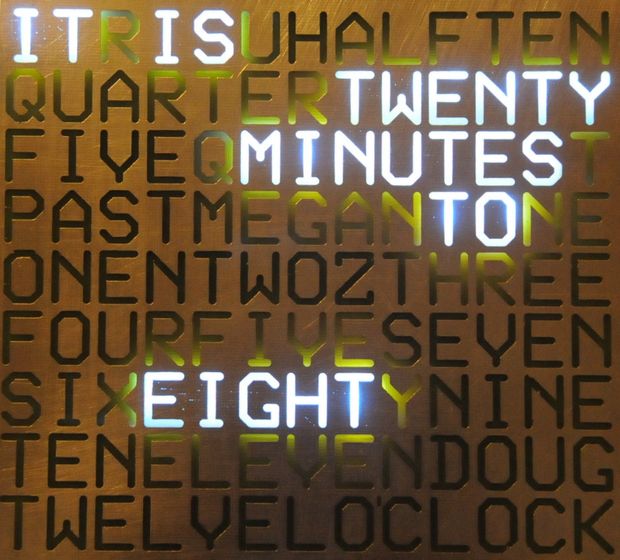 Here is a fun techy DIY clock. You'll always know the time with this clock!
Play Doh Lid Clock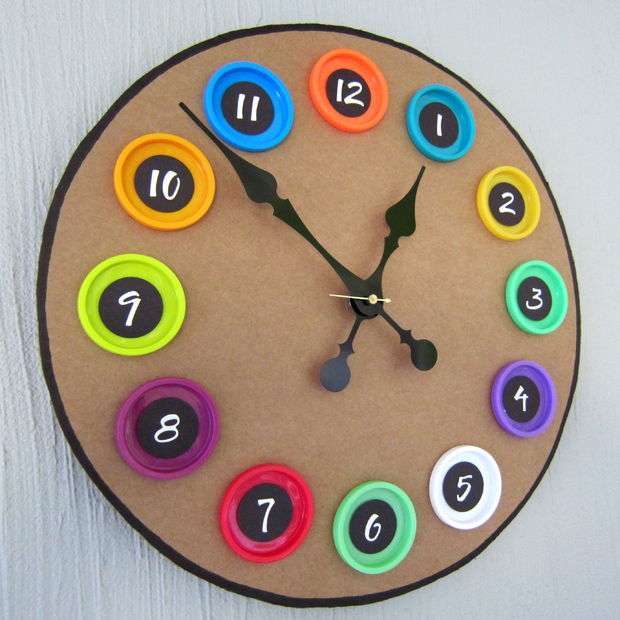 Here is a fun clock for a kid's room. Its perfect if your child like Play Doh!
From Instructables.com
Steampunk Clock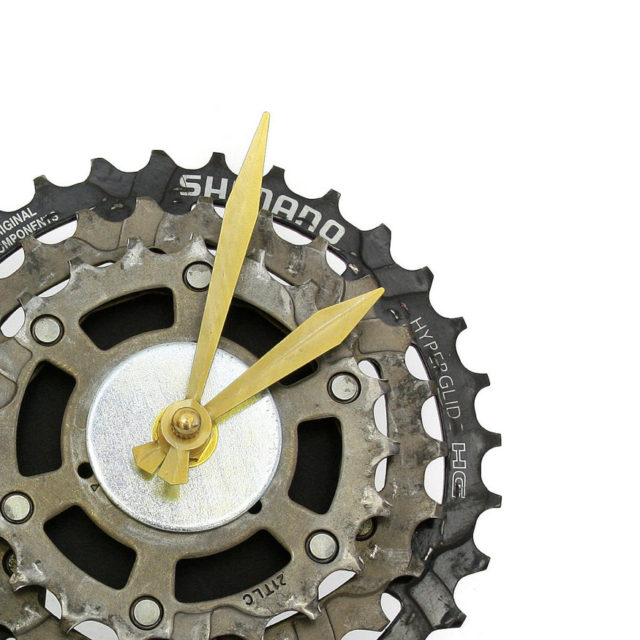 Like the Steampunk trend? Look for a clock in that style!
From Etsy.com by treadandpedals
Pin Clock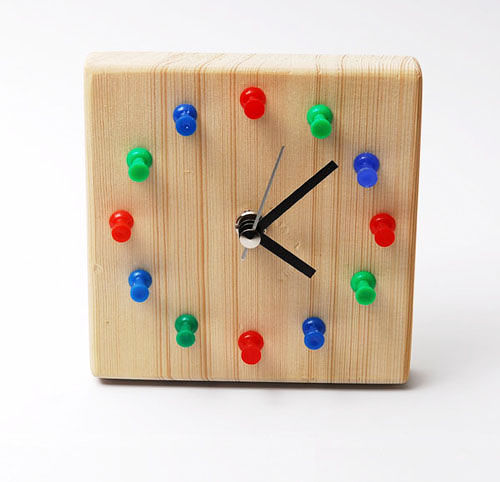 Try this fun DIY clock. It is made with simple materials.
Kids Activity Clock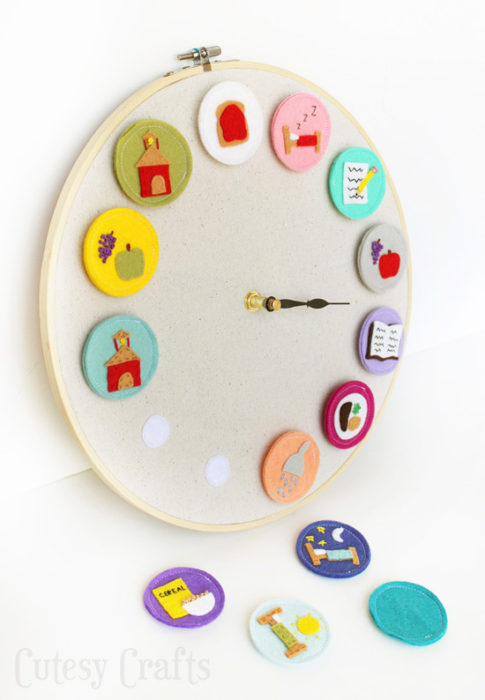 This handy DIY lets kids know what time it is for what activity. It is fun for families to make.
Gear Clock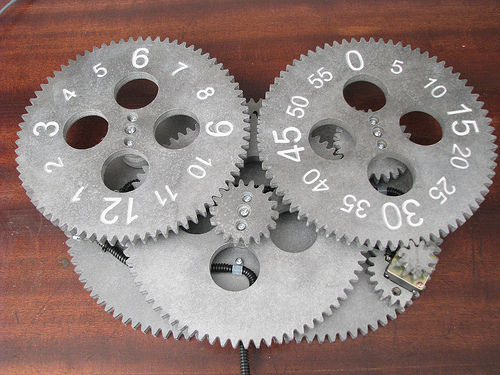 Here is a cool clock with gears. Try this DIY clock project.
From Instructables.com
Old Door Turned Into a Clock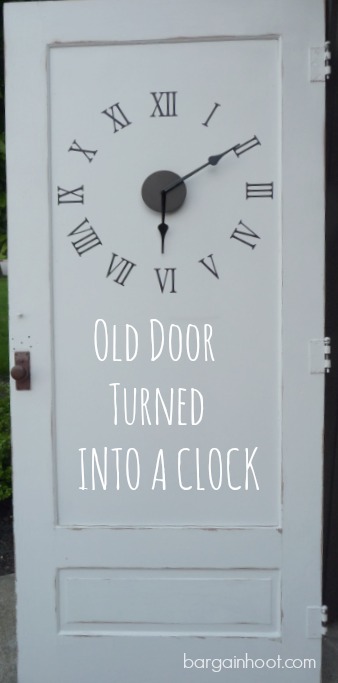 This is an attention getter for your living room or family room. DIY this clock and get lots of compliments!
Knitting Scarf Clock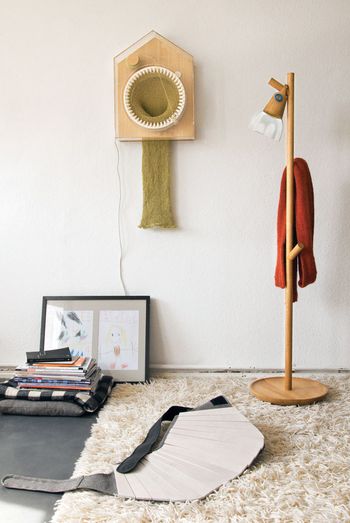 Want a clock that is more industrious than just telling time. This one also knits a scarf every year.
From LittleBigPants.Typepad.com
Rope Clock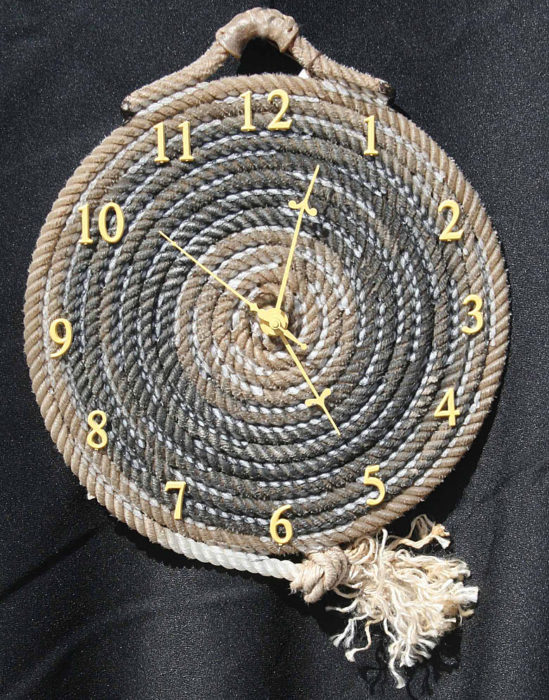 Perfect for someone who sails or does outdoor activities. Here is a clock you'd especially want for your summer or vacation house!
Rotary Phone Clock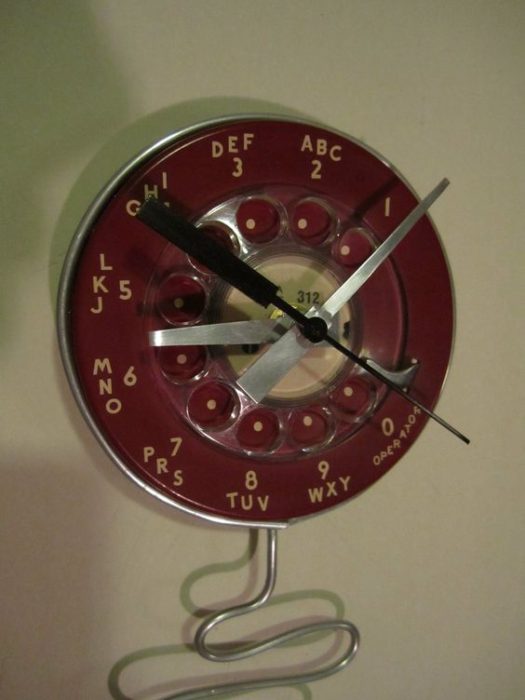 Remember the rotary phone? Enjoy one today with a DIY clock!
From Pinterest, pinned by Trisha Beaver
Half Globe Clock Northern Hemisphere
What an eye-catching clock! Perfect for a teacher or someone who likes travel or history.
Small Mustard Tea Desk Clock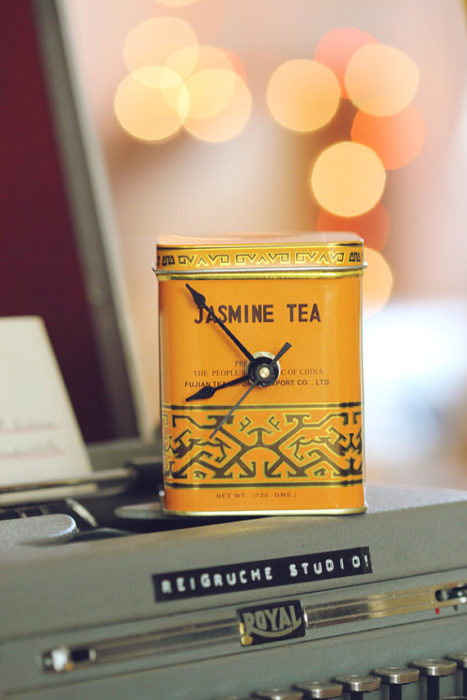 Don't you just love eco-friendly clocks? Why not make a clock out of a favorite object so you can keep enjoying it, like this small, pretty tea tin.
From Etsy.com by ReigurcheStudio
DIY Chrysanthemum Clock From Plastic Spoons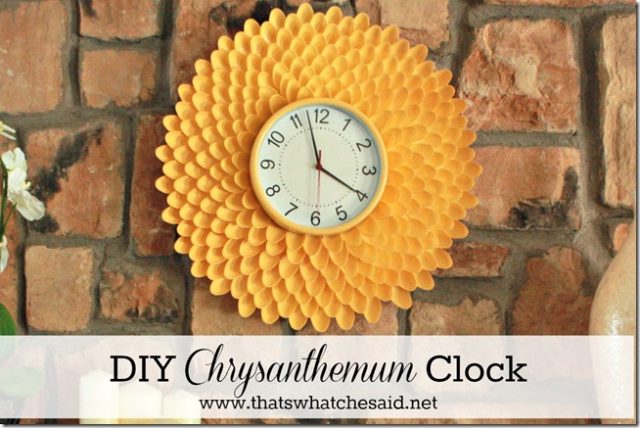 Ever wonder what to do with all those plastic spoons you get for take out? Here's a great DIY clock you can make!
From ThatsWhatCheSaid.com
Silverware Kitchen Clock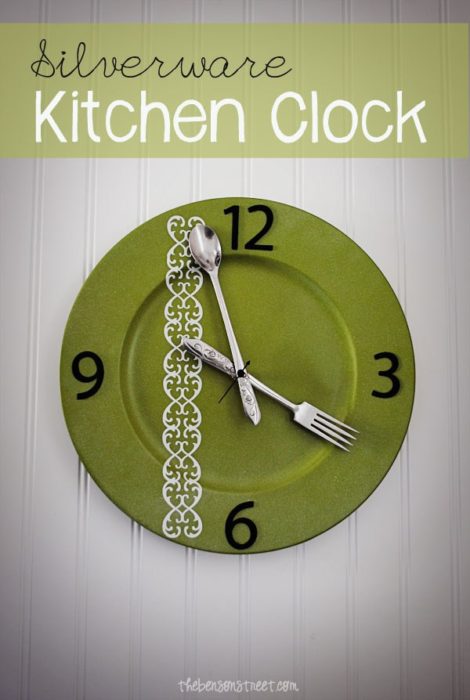 Here's a great clock to make for your kitchen or dining room. Why not use your favorite silverware so you can always admire it?
Amazing Bike Clock DIY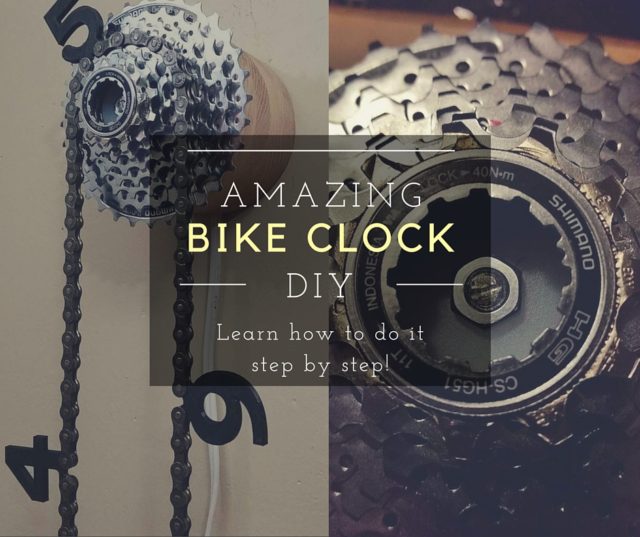 Here's a fun clock to make with bike parts. This is a great DIY family project!
Hard Drive Clock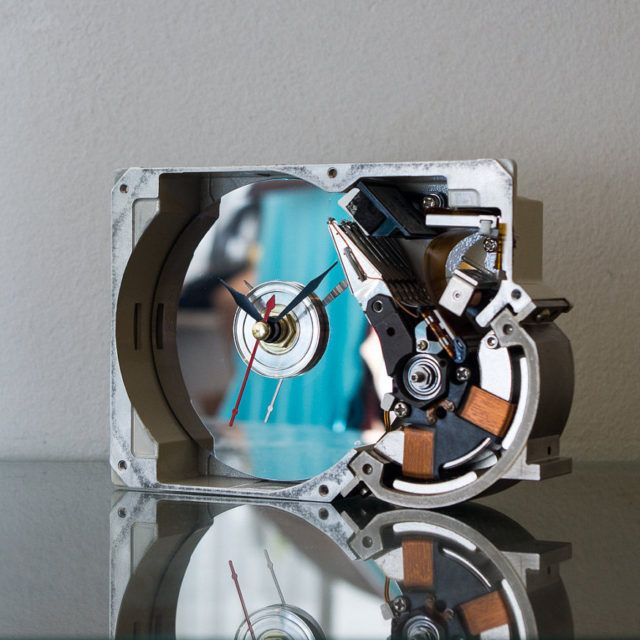 Love tech? What about a hard drive inspired clock?
Fat Quarter Hexagon DIY Clock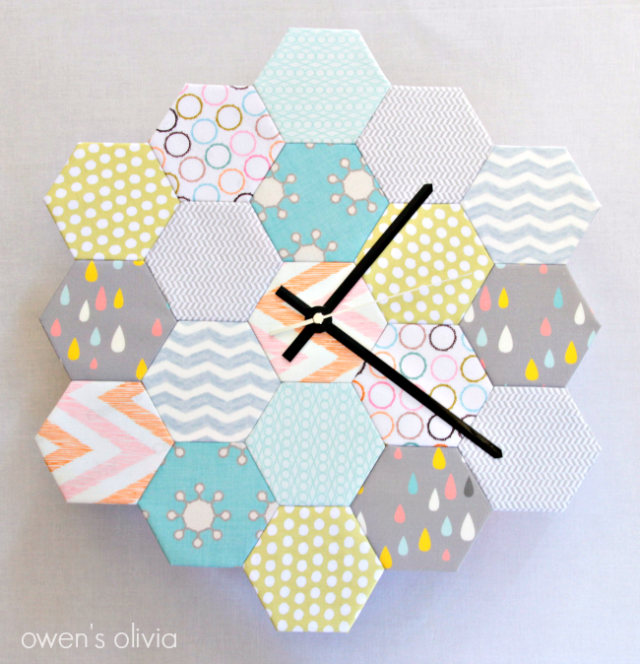 Bright and colorful, this is the clock that quilters will want to make. It uses a fat quarter, something that sewers and quilters buy when they want to try new fabric.
Wood "Cookie" Clock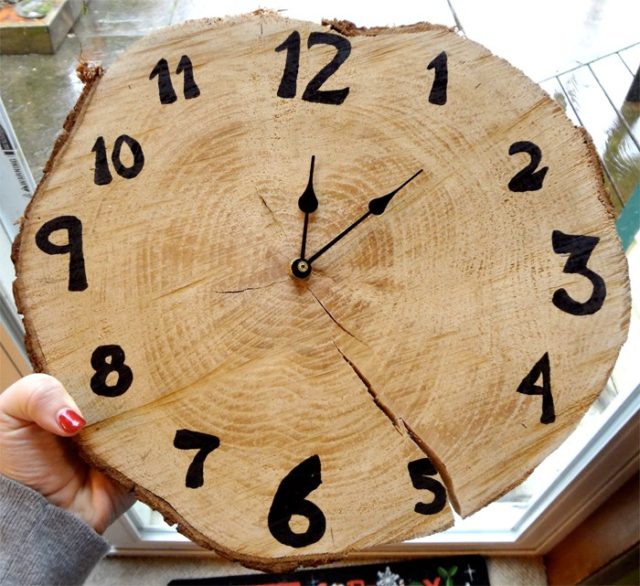 Here is a great DIY clock, especially if you love the outdoors. Make a clock from a slice of tree trunk.
From Sweet-Athena.com
Dirt Bike Sprocket Clock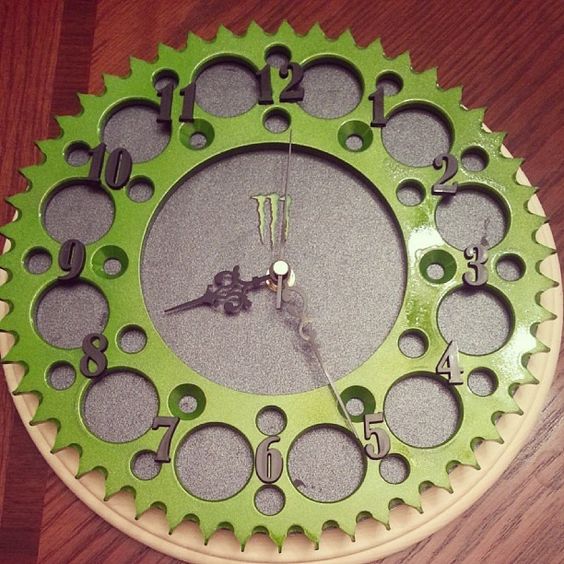 Here is a great, eco-friendly clock you can DIY. Have a dirt bike or other gadget? Make a clock from it!
At Pinterest posted by Ashlee Dawson
Sunburst Wall Clock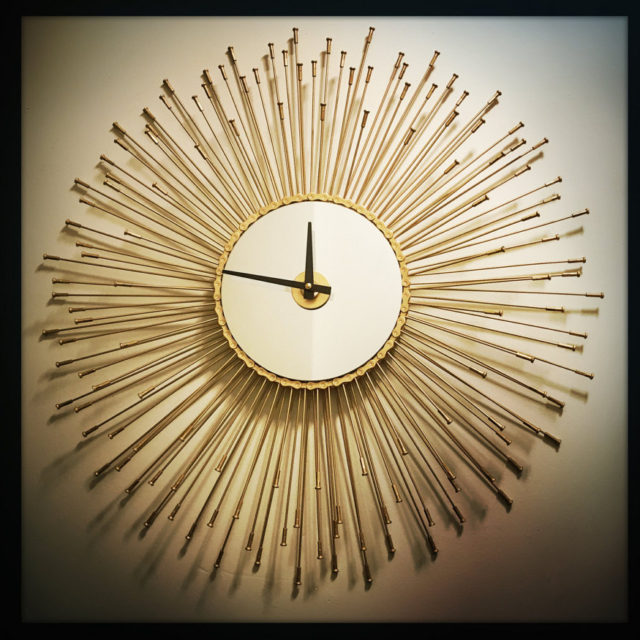 Made from bicycle spokes, this clock looks like modern art or art deco style. Perfect for a living room or family room.
Located at Etsy.com by DreamGreatDreams
Rustic Looking Domino Clocks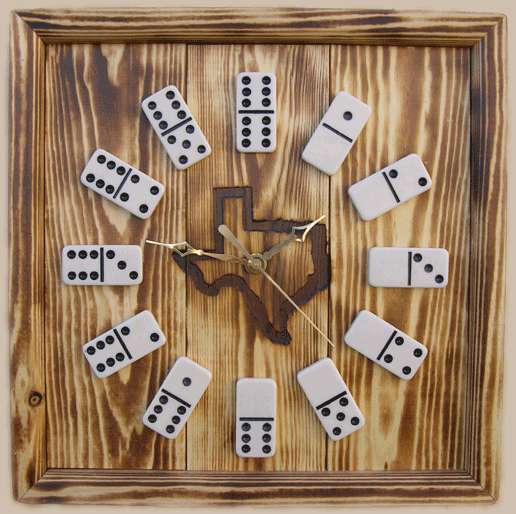 Want a clock for your game room? Try this domino themed one!
Located at TrendHunter.com
Book Clock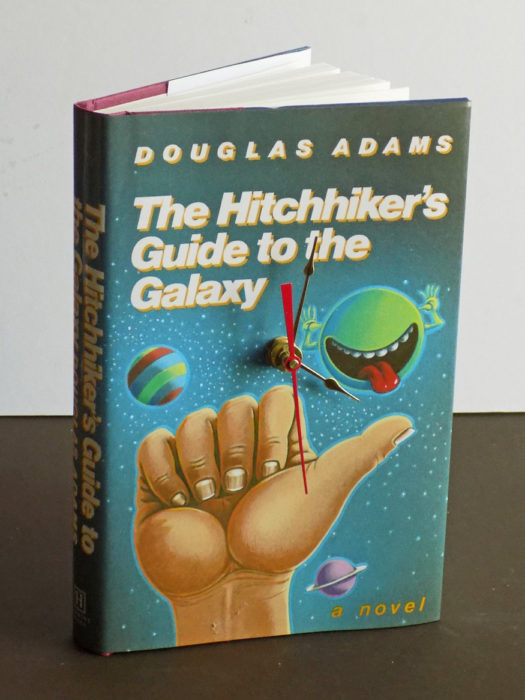 Psst! Did you know a book can be made into a clock? How cool is that?
DIY Record Clock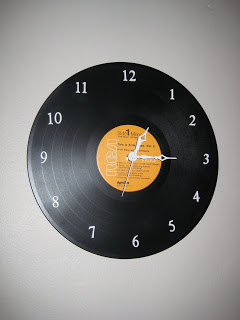 Now that vinyl is vintage, this is a great way to enjoy it. Make your own DIY clock!
DIY Clock with Framed Photos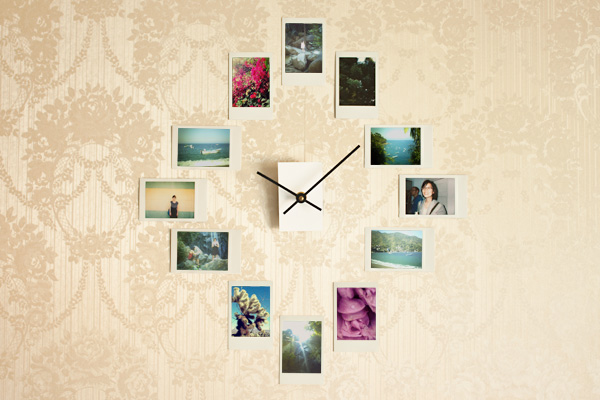 Here is a unique way to enjoy your photos as well as each hour of the day. Pick out 12 photos and make a clock.
Embroidery Hoop Clock Tutorial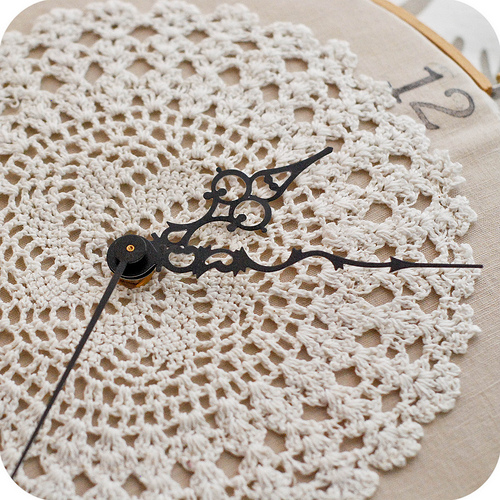 If you like needlecrafts then this is the clock for you! It is very unique and vintage looking.
Located at Asquaredw.com