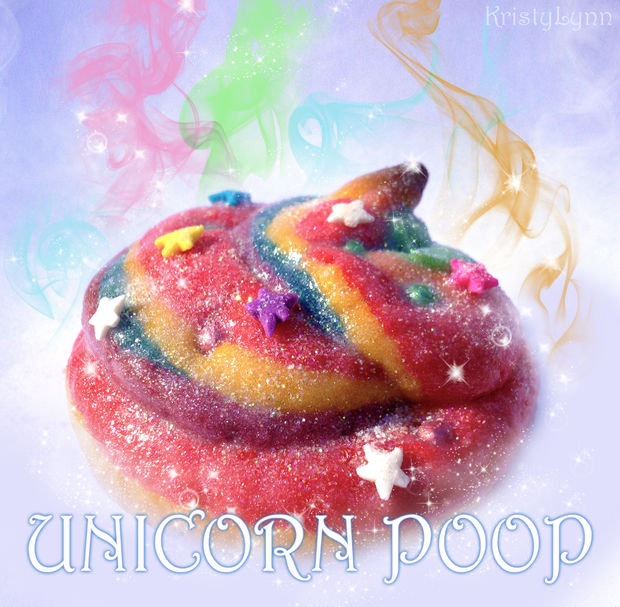 Never in my life did I think I would make poop
cookies
, let alone encourage my children to do so. That, however, was before I came across
THIS
awesome idea on Pinterest several months ago…
There is an AWESOME tutorial on how to make your own Unicorn Poop cookies by kristylynn84 at Instructables.com. I couldn't wait to make these, and thought they would be a great project to do with my kids… which it was! We had lots of fun baking together, and the results are quite impressive, even if they are just piles of poop! Do check out the tutorial in the link above, as Kristy does a great job sharing her how-to. I've got some personal notes to add on how we created our version below.
This unicorn poop cookie recipe is no longer live on the site we originally found it, sunscholars . com. We have resurrected it from the Internet graveyard. If you are the original poster and wish it removed, please email us.
Supplies Needed
Sugar Cookie Dough
Neon Food Coloring
Wilton Sparkle Gel
Candy Sprinkles
Paint Brush
Cookie Sheet, Oven, Pot Holder, Spatula… All that stuff you need to bake cookies!
Note: Original instructions included the primary food dyes as well as a rainbow disco dust and rainbow dragees. I did not use these. I loved the neon dyes on their own, and chose not to use any other colors. As for the rainbow disco dust and the dragees, I am sure they add an extra boost of sparkle and glitz, but these weren't available to me. I think the results were still pretty awesome without them.
Directions
1. Section out your dough for each color you wish to use. We divided into four and kneaded food coloring into each until we were happy with the colors. Roll out into even lengths, wrap in plastic wrap or
wax paper
, and toss in the fridge for about an hour.
2. After our dough hardened up a bit in the fridge, I cut each colored roll into 4 pieces (because I had four kids making poop cookies).
3. I took one strip of each color and laid them together to form a multi-colored roll, gently pressing them together. I gave each child their rainbow roll, and asked them to gently roll them out to about a 1/2″ thickness to make our cookies. Roll out onto a surface lightly dusted with flour.
We found it helpful to cut the roll in half after it started to get too long to manage. Also try to give the dough a little twist as you are working with it. Once the children had rolled the dough to a nice thickness, we cut off what was needed to form each cookie.
4. Time to create your poops! Here is one of our formed cookies… I love the
rainbow
colors on this one!
Note: I think we were a little conservative on how much we blended the colors together at first. Those that we rolled a little more had some beautiful blended colors like the one shown above. However, also know that the more you handle the cookie dough, the more your cookies will flatten once they are baked!
5. Place your cookies on a baking sheet and cook according to your recipe directions. If your cookies are larger, and/or thicker than a normal cookie would be, make sure to slightly lower the temperature and increase your baking time!
Be careful not to over-bake!! No one wants to eat brown poop cookies!
My kids are thinking this is quite hysterical at this point!
6. Once your cookies are cool, it is time to make them sparkle! Cover your cookies with Sparkle Gel, and use a paint brush to smooth it out into a nice coating over each cookie. See the images below…
I followed the instructions and dropped a swirl of gel on top of each cookie, then my kids took the brushes to them. This gel works so well! As the tutorial had said, it fills in the little cracks in your cookies and gives them a beautiful, smooth finish!
7. While the gel is still fresh, decorate your cookies with candy sprinkles. These look best if you place each one individually, rather than dumping a sprinkling over the cookies and letting them stick where they fall. I would have used stars like they did in the original if I had them… but flowers and hearts looked pretty good too.
And as another note, Kristy had mentioned that the gel doesn't dry completely… so your cookies will be a bit tacky. So just be careful not to stack them!
And there you have it, your very own Unicorn Poop Cookies!
The prettiest poop you'll ever eat! Happy Baking!
...