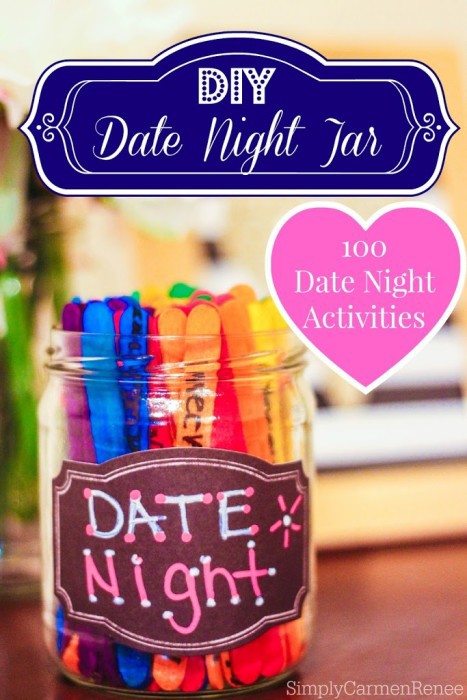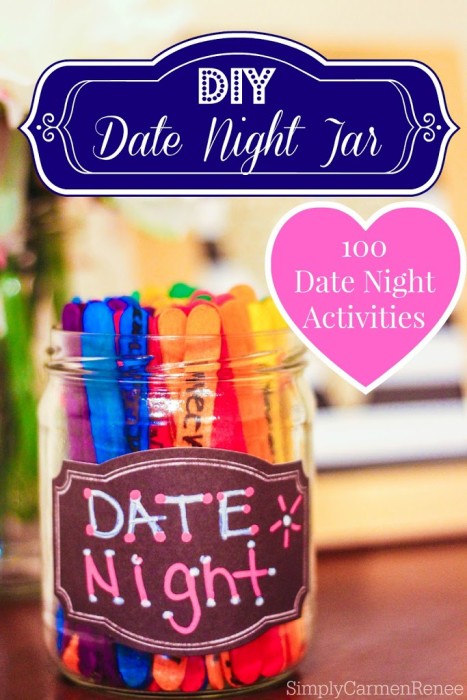 Those of you familiar with Pinterest you may have seen this pop up on your feed. If so, then you are aware of this DIY project. I recreated this DIY Date Night Jar for my husband and I. If you are anything like us, then finding activities that both you and your partner enjoy can become daunting, and sometimes the easiest thing to do is dinner and a movie (Classic). Nevertheless, the repetitive dinner and a movie can become somewhat boring. So if you are looking to get creative with your spouse or significant other then check out this cool project that I made. I have added 100 Date Night Activities that I think you both will enjoy. Remember to throw in some activities that you all like as well. Lets get started:
With this DIY Project you will need the following:
2) Popsicle Sticks ( I suggest the ones from the Dollar Tree)
3) Chalkboard Stickers (Michaels or JoAnn's Fabric) have them
4) Paint Pens (Michaels, JoAnns or Walmart) have them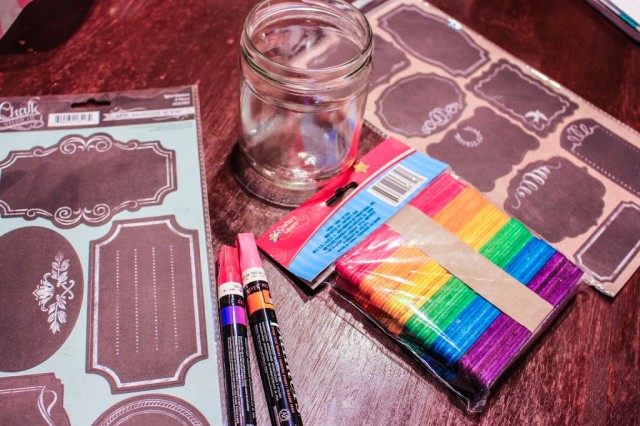 I went ahead and chose a label to use for my mason jar. Then I used my paint pens to create the title for my jar. I suggest testing your paint pens out on a piece of paper prior as they tend to leak. After creating the label use a permanent marker to write out all the activities you want to engage in with your partner on your Popsicle sticks. See all 100 below. Remember to color code them so you can identify which Popsicle sticks are in which categories.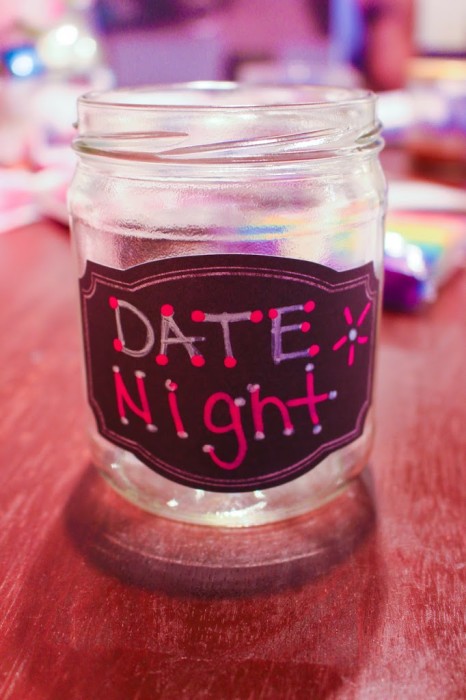 $$-$$$ (Out of the House Activities) These tend to cost extra cash so make sure you have some stashed away.
1) Hotel Stay for the Night
2) Gun Range
3) Couples Massage
4) Dinner & Movie ( Her Choice)
5) Dinner & Movie ( His Choice)
6) Jazz Club
7) Bowling
8) Minature Gold
9) Cabin Rental & Camping
10) Painting Class
11) Comedy Club
12) Dinner Cruise
13) Wine Tasting
14) SkyZone (Indoor Trampoline Place)
15) Indoor Rockclimbing
16) Video Arcade
17) Skating Rink
18) Batting Cages
19) Canoeing
20) Happy Hour
21) Weekend Stay at Bed & Breakfast
22) Golfing (Driving Range)
23) Go to see a play
24) Go to a Baseball Game
25) Visit the Keys (if in Florida)
25) Helicopter Ride
26) Go Fishing
27) Laser Tag
28) Steak House Dinner
29) Dessert Tasting
30) Weekend Getaway
31) Trip to Museum
32) Horseback Riding
33) Bike Riding
Free-$ (Indoor Activities)
These may be free or cost money depends on what you do
34) At Home Movie Night (His Choice)
35) At Home Movie Night (Her Choice)
36) Play Kinect Game
37) Watch Wedding Video
38) Do a Puzzle Together
39) Go camping indoors (build a fort out of pillows, roast marshmallows, tell ghost stories)
40) Have a romantic Candlelight Dinner
41) Cook Dinner Together ( His Choice Meal)
42) Cook Dinner Together (Her Choice Meal)
43) Play a Board Game
44) Read Bible & Pray Together
45) Coffee Mugs "Color Me Mine" Get white coffee mugs and some paint markers and have fun
46) Fish Fry together, set up the inside of your house like a cookout, red/white checkered table cloth and, red and white checkered apron.
47) Trilogy Movie Marathon (i.e. Twilight, Lord of the Rings, etc. )
48) Play Video Games Together
49) A Night in Italy; Make a pizza together, A bottle of Chianti, Gelato, and a Italian movie, i.e. the Italian Job.
51) Video record each other on how you fell in love and watch!
52) Rent a Red Box Movie
53) Play a Card Game
54) Margarita & Chips/ Salsa Night
55) Build Your Own Ice Cream Sundae
56) Make Dessert Together
57) Buy Take Out Chinese & Have a Candlelight Dinner
58) Have a wine and cheese night indoors ( Get some wine & cheese pairings and have fun)
59) Pamper Each Other Night (Massages, Foot Massages, Baths, Champagne etc.)
60) Fondue Night ( Get Cheese & Chocolate and create your own Melting Pot)
61) Picnic Indoors (Blanket & Basket with Wine)
62) Painting at Home (Grab some canvases and paint from the craft store and have fun)
63) Bubbly Night (Pop Champagne, take a bubble bath, and relax)
64) DIY Facials (Each pick out a facial to make and try it on each other)
65) Have a Photo shoot Together
66) Watch a Classic Movie
67) Write out a bucket list
Indoor & Outdoor Activities
68) Chocolate Covered Strawberries and Bubble Bath Night
69) Stargazing
70) Workout Together
71) Go for a walk
72) Give each other back rubs ( 15 min)
74) Play Tennis
75) Play Basketball
76) Have a Late Night Breakfast
77) Paris Night ( French Bread, French Wine, French Movie)
78) Fruit Picking ( At a Farm)
79) Check out a movie from the Library
80) S'mores Night
81) Go Swimming or to a Beach
83) Have an Origami Party
84) Reenact your First Date
85) Thriftstore Gift Exchange ( $5.00 at Gift Store, wrap up the gifts and give them to each other)
86) Dollar Store Gift Exchange (Limit $5.00 at Dollar Store, wrap up the gifts and give them to each other)
87) Bake Cookies Together
88) Play Just Dance
89) Visit a Free Museum
90) Volunteer Together
91) Visit a Farmers Market
92) Have a Technology Free Date
93) Wash Cars Together
94) Watch the Sunset Together
95) Walk along the beach at night
96) Have cocktails at a nice restaurant
97) Go get pedicures
98) Try a new restaurant
99) Drive to a New City
100) Attend the Opera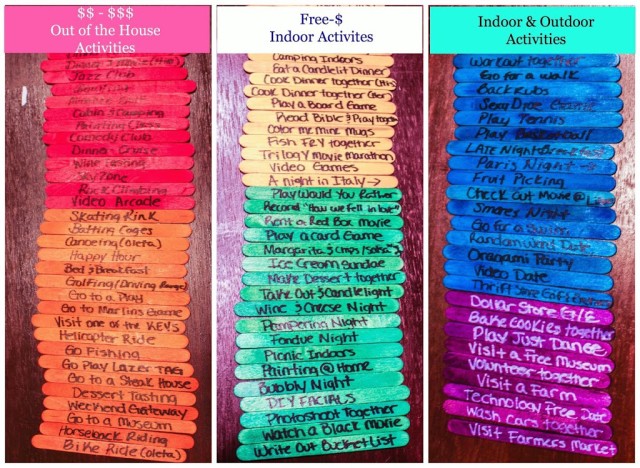 Hope you all enjoyed the project! And you find some creative activities to do with your significant other.
This DIY Date Night Jar post was originally found on Carmen Renee's website. This page is from http://www.simplycarmenrenee.com/ – For some reason she removed this DIY page from her site; and we were linking to this article on our site. Rather than remove the link or leave a broken link, I have found a old cached version in Google of her original page. I will be happy to remove this tutorial if it violates any copyright, but in the meantime it is provided for those who have in interest in creating her DIY project on their own.
...