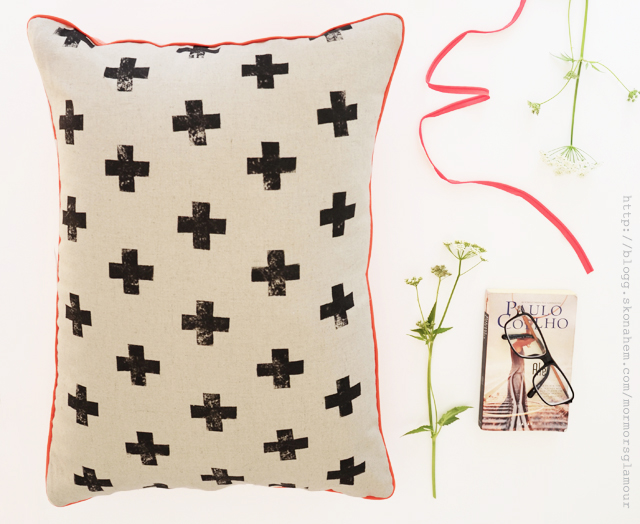 This is the an English translation of this page. I wanted to give some instructions for us English-speaking crafters. I will be happy to remove the page it is requested. Just trying to help here and forgive the poor translation. 😉 This is linked from the DIY Girl's Bedroom Page.

In this case, a mix of printing and sewing , but the sencillita, for making a fashion cushion .
Moreover, as we are in times of crisis, you need not even have the seal to stamp because the reason we can do with a potato, as we did when I was little. And for fabric, since the same, you can use a scrap of fabric that you have at home, and we only need two quadrants, and need not be equal.
...
What do we need?
Two quadrants of fabric (the same or different, you decide).
Or bias edging to finish the cushion.
Seal or potato (in the case of savers).
Ink for printing on fabric.
Griddle.
How do we do it?
First we draw the reason we want to stamp in the middle of a potato, and we cut a knife or cutter, until the perfect silhouette. If you already have a label that you like, this way we saved …
With printing ink, we put the seal on one of the quadrants, as we like. And we let the other side smooth, so it is a combined pad.
Here comes the complicated part, because you have to sew the two fabrics inside out with the bias in their midst, around its perimeter. Baste (Attach a long basting stitches or sewing little tight and two cloths to be sewn.) first and then with the sewing machine. And leave an area without sewing to put the filling.
What do you think of the result?