For many families, renovations are considered a luxury; especially when it comes to the bathroom. However, for those living with disabilities, renovations become a necessity in order for them to lead a safer, more independent lifestyle.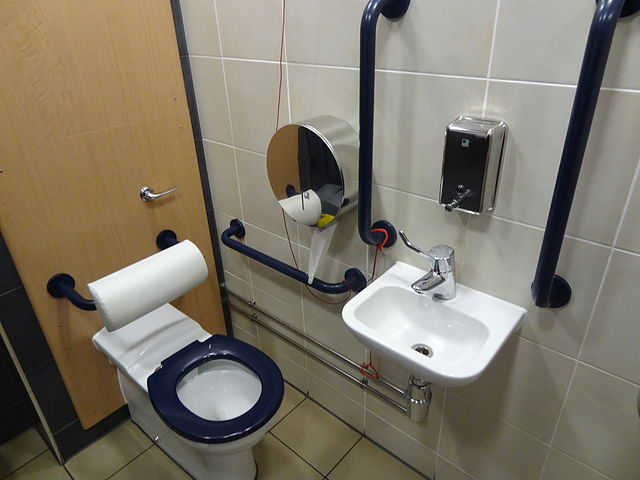 If you're trying to make the home safer for somebody with a disability, or for an elderly relative, here you'll discover some great tips which can help. You have probably already renovated your home with other disability mandatory fittings, such as a home lift (of which there are various products available), lowered kitchen worktops and Lifting bars within the bedroom. The next logical step is to convert the bathroom. You'll discover why bathroom renovations in particular, are essential.
Why focus on bathroom renovations?
...
It's estimated that over 70% of accidents which occur in the home, actually take place in the bathroom. It's no surprise considering the majority of bathrooms are small, yet packed full of hard surfaces. Due to moisture, the floor can also become extremely slippery. This is dangerous enough for anyone, but for those with disabilities it can prove even more hazardous.
For those with disabilities, even the facilities which are typically deemed safe can prove to be a safety hazard. The bathtub, shower and even going to the toilet can be dangerous without the right aids and equipment.
So, renovating the bathroom might be expensive, but it's definitely the first place you'll want to focus your attention.
What kind of things do you need to focus on?
So, exactly what kinds of renovations do you need to make in the bathroom to ensure it's safe for disabled users? Well, the main ones to consider include:
Walk-in shower

Grab rails

Slip-proof mats

Bath lift

Non-slip flooring

Lowered toilet
These are the main adjustments you can make which can help those with disabilities use the bathroom comfortably and safely. A walk-in shower, rather than a shower over a bathtub, can be a particularly great option. For those who struggle to stand for long periods of time, you could even fit a shower seat inside. Be sure to place a grab rail inside the shower too to help prevent slips and falls.
Grab rails should also be added at key points in the bathroom, wherever there's a potential risk of falling. Slip proof mats should be used in the shower or bathtub, as well as just outside them. In fact, the entire floor should be made to be slip-proof so if you have tiles for example, you'll want to get rid of them and install something less slippery such as vinyl.
If you have a bathtub, you may find a bath lift is ideal to help your loved one lower themselves down into the tub. However, if they cannot get themselves into the tub in the first place because it's too high, you have two options. You can either opt for a walk-in bathtub, or a cutaway tub. The latter does tend to be cheaper, as well as safer, compared to a walk-in bathtub. This is because the walk-in models are prone to leak. A cutaway bathtub basically lowers the edge to ensure the disabled person can easily get into the tub.
Finally, a lowered toilet is something else you may need to consider. A standard toilet can often be too high for some disabled users, particularly if they're in a wheelchair. Whichever improvements you're looking to make, it's definitely worth considering trusted, high-quality aids from respected companies such as Mobility Solutions.
Space requirements
One thing you're going to need to take into account when renovating the bathroom, or any room in the house, is space. While not all disabled people require a lot of additional space, those who use a wheelchair will need a lot of space to manoeuvre around in. If a person struggling with a certain disability needs particular requirements, there might need to be a number of important things to consider installing into a bathroom. Grab rails that are specially designed hold people up when using the toilet and additionally, the smaller intricate details like alarm wires rigged to the emergency services are a great, but costly addition.
Focusing more on the space of bathrooms, its crucial the actual development of the space is considered. So, you'll want to look at potentially widening door frames and spacing out the gaps between furniture and doorways. Ideally, you'll want to create more of an open plan design.
Bathroom designers have shown on Pinterest that there are many ways a bathroom can be made to look very modern and not unsophisticated and it's a great way to visualise how you might like your bathroom to look. As well as have a suitable design in place, if you have blood related health problems, for example, Hypothyroidism where you are cold most of the time, heated bathroom floors are a good way to maintain warmth when coming in and out of the bathroom.
Bathroom flooring is a crucial aspect of safety to consider as in the event of someone suffering from a fit, or general collapse, at any age, the soft flooring is a way of going the extra mile to protect your body from a nasty fall. Home Building, a reputable online magazine, suggest suitable options through Claire Lloyd. If unable to afford the costs of soft flooring, and other general bathroom improvements, there is further assistance online through the NHS who offer some suitable homecare options. Should it be the case that you live alone, try to arrange for a family or friend to visit you on certain times of the day to assist you in daily tasks, which are hard to complete alone.
Overall, bathroom renovations are extremely important for those living with a disability. Making the right adjustments can help to improve safety, give your loved one more independence and improve their overall quality of life.
The planning doesnt stop with the bathroom but also the persons jurney to the bathroom, with many