Deprecated
: The PSR-0 `Requests_...` class names in the Requests library are deprecated. Switch to the PSR-4 `WpOrg\Requests\...` class names at your earliest convenience. in
/var/www/wp-includes/class-requests.php
on line
24
Infinity Scarves You can Make Yourself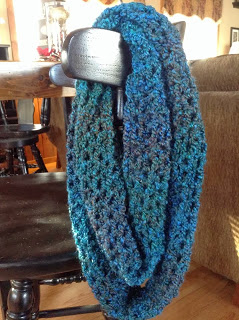 Infinity scarfs have become very popular where I live, especially with the -20 weather conditions we get here in Northern Maine. This is a simple v stitch that makes a great scarf. It works up pretty quick and can be any length you want.
The one above is made with "Homespun" yarn by Lion Brand. It is a super soft yarn with some texture to it. It is a "Bulky" weighted yarn.
PATTERN
...
Using a K- hook
Chain 21
Row 1 – Dc in 5th chain from the hook, chain 2, dc in same stitch. Skip next 2 stitches, *dc-ch 2-dc all in next stitch (v stitch made).* Repeat 3 more times. DC in last stitch. Chain 3, turn.
Row 2 – In each chain 2 space work a v-stitch. Dc in top of chain 3. Chain 3, turn.
REPEAT THE ROWS UNTIL YOU GET THE DESIRED LENTH.
Join together at each end by either whip stitching together or slip stitching across the two rows to join them.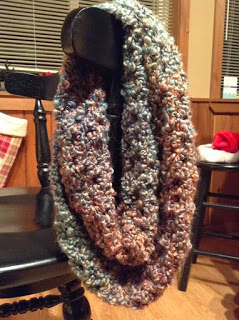 This beautiful infinity scarf was made with the "Super Bulky" Lion Brand yarn. See the difference in the width of the scarf compared to the one above. I love this one as it is soft and chunky.
Have fun making several creation. Add more chains to get a wider scarf.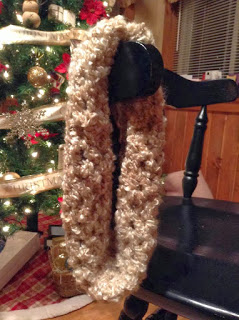 This one was done with less rows for an infinity scarf that fits the neck perfectly without any extra for looping like the two above
This post was originally found on this blog: http://northerngirlstamper-shannon.blogspot.com which is no longer active. If the owner wishes this to be removed, please contact me.