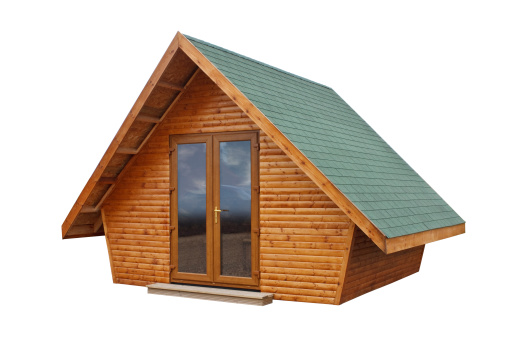 The humble shed has come a long way since Grandad stored his push-along lawn mower and long-handled shears there. As the weather gets warmer and people start to take more interest in the way their garden looks, it becomes an extension of the house. It's not just the garden that becomes primary focus, the shed becomes important too – much more important than usual. Your garden shed is a whole other room that you haven't even thought about what to do yet. In fact, you probably haven't even considered its potential. With plumbing, heating and electricity it really could be anything, so what will it be?
Workspace
How many of us have dreamed of our own office, with no rush hour traffic to deal with, no commercial rent to pay, no household noise and no struggling with the boundaries between home and work (I'll just wash these pots/dust the picture rails/mop the floors before I start work). The answer is just at the end of your garden – your own space, where you can work undisturbed and shut the door on the job at the end of the day. There's no danger of work invading your home life and there's no chance the kids will get up to any mischief and ruin your filing system. Imagine a fresh, clean colour on the walls, smart and contemporary office furniture, sleek blinds at the windows and a couple of bright prints on the walls, you would forget where you were.
Keeping your work undisturbed is particularly important for artists and crafters who are traditionally kitchen-table-workers. If your garden shed is transformed to become your very own studio then everything is on hand, and the mess doesn't matter. It doesn't need to be cleared up before tea, oil paintings can dry undisturbed, blades are safely away and hand-made jewellery is NOT borrowed for dress-up games. Freshen up the walls with a light colour and add pieces of your own work, bunting or paintings, or the work of others you use as inspiration. This is a simple and easy thing to achieve in your shed, but for many artists, their own studio is a dream come true.
Gym
Be honest, how often have you tripped over the exercise bike in the bedroom, or used it to hang wet clothes, or clothes that need ironing? Precisely. If you enjoy exercising and love the idea of not having to pay a premium every month for the privilege of sweating in a group, then creating a home gym in your garden shed is a no brainer.
No more stubbing your toe on the kettlebell that's been lying on the floor of the spare room, and you'll actually have room for that rowing machine you've always wanted instead of the guest bed. The garden shed is the perfect place for a home gym. It provides the space you need for all your favorite gym equipment, the privacy you need to get sweaty without the neighbors peeking in, and it keeps your family happy because the spare room is finally a bedroom again.
Tailor your equipment to the space available, taking advice from experts as to what would be essential – even utilize the roof for pull-up bars or rings – add a stereo system (or just MP3 and speakers), maybe a fridge for high-protein snacks and water, or a separate shower. You'll never be able to say you've no time for the gym again.
Playroom
A dedicated playroom is something that most families dream of, but with large, colored toy boxes all over the house and plastic toys ruling their lives, it is just a dream. However, that doesn't have to be the case. Pretty much every family that has children, will have a garden shed. More than likely, at the moment, it'll be storing their bikes, the paddling pool, the lawn-mower and maybe the garden table. Like we've said before though, this isn't all a shed is good for, think out of the box and it's worth so much more.
A garden shed will make a perfect playroom for your kids, and their friends, to play all day and make as much mess as they like, without taking over your house. Even the smallest of sheds can be transformed into a cozy den; all you need is a piece of carpet and some fresh paint and you're away.
Man cave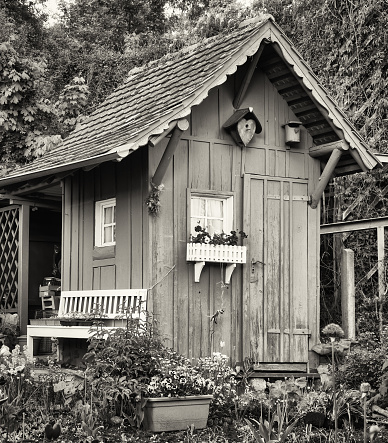 Just like the kids love a place of their own to play and be as noisy as they like, the guys love it too. A decently sized shed can easily be converted into a brilliant man cave that all guys – and some girls – are guaranteed to love. A fridge full of beer, fizzy drinks and their favorite snacks, a TV for those all-important footie games, a pool table, huge comfy chairs, the possibilities are endless, but a combination of any of these will keep them happy for hours.
If you're serious about the transformation then an electricity supply and some form of heating is essential. After that, it's all aesthetic, paint, prints, flooring and the interior – all of this is completely down to you.
Your local
Everyone has a local, and pretty much everyone loves theirs. It's just natural. However, have you ever wished your local ale house was literally a stone's throw from your front door? A lot have wished it, but the majority just aren't that lucky. Transforming your shed could be the best thing you ever did, for you and your mates.
Your local could be a mere few steps from your back door, you can ensure your favorite beer and snacks are always in stock and you can entertain your friends on a regular basis – it's also much cheaper than heading out to your real local.
One final thing, you may even be able to make a little bit of extra cash in the process – remember though, to do this you'll have to be licensed.
Games room
It's not just the beer at the pub that's expensive. If you get a bit bored and fancy a game of darts or pool, you usually have to pay for the privilege. Again, transforming your shed will not only make you happy, it'll make your mates happy too. Fill it with all the cool stuff that you wish the pub had: darts board, pool table, table football, old but great arcade games, air hockey, mini basketball – you get the picture.
Holiday home
If your shed is of a particularly luxurious size and the outside space available to you is also on the large side, why not turn it into a holiday home? Add a water supply, lighting and a heating source and you're away. You can design it however you like and you might not even need planning permission – although this is something that should be checked. If you live in a desirable location and you build it up to a high standard, there's no reason you shouldn't expect a good rental return from such an investment, which means a little extra income for you and your family.
Home cinema
Everyone loves a trip to the cinema but it's a past time that's starting to break the bank. Back in the day, couples, friends and families would head to the cinema to see the newest release every month; nowadays though, this is too expensive to sustain.
If the cinema was more of an investment then it'd be something that people would be more inclined to spend money on, so why not bring the cinema to you?
Black out your shed and make sure no light can get in, install a large TV screen, a DVD and Blu-Ray player and start building up your film collection. Next get a few big arm chairs or a couple of large, comfortable sofas, a fridge for your favorite fizzy drinks and a popcorn maker, for the ultimate cinema experience.
When each new release makes its way onto DVD or Blu-Ray, gather up your friends and family and get ready for the greatest, cheapest cinema experience. You could even step it up a notch with a 3D TV and films.
Outdoor toilet
Now, this might sound odd but it's something that, if you have, you'll know just how valuable they are. Imagine the scene, all of your friends and family descend on your garden for a barbecue on the hottest day of the year. There are adults and kids alike playing rounders and doing handstands all around the garden. There's smoke from the barbecue, grass stains aplenty and muddy trainers in abundance; do you really want people traipsing people through your house to get to the bathroom?
Turning your shed into an outside toilet is possibly one of the more practical suggestions, although for the number of sunny barbecue days we get each year, it's definitely not the most fun.
Even the very smallest of sheds could add something to your home and garden and the very largest are just being wasted as garden storage – what could you use yours for?