Do you have some logs lying around your property? If you do, you can turn them from stagnant chunks of wood into parts of your garden serving functional and aesthetic purposes. Logs can always have a new purpose. The question is: What can you exactly do with them?
To help you make the best of them, we've gathered 10 inspiring DIY ideas to reuse logs. These options will greatly vary in both difficulty and function.
To operate these project, we recommend using this basic tools for reasons of safety and efficiency.
Gloves
Touch-up Tools
Dust Mask
Sanding Blocks
Rags & Cloths
Chainsaw
Why a professional chainsaw is needed? A professional chainsaw will help you cut logs to smaller pieces significantly easier. If you want to buy the most suitable chainsaws for your own purpose, you click here to find the best reviews.
...
Prepare yourself with necessary safety tools, and you are ready to make extraordinary creative uses of wood logs that were previously no longer of any use. Want to try using a hatchet? Additional reading…
1) Natural Log Pathway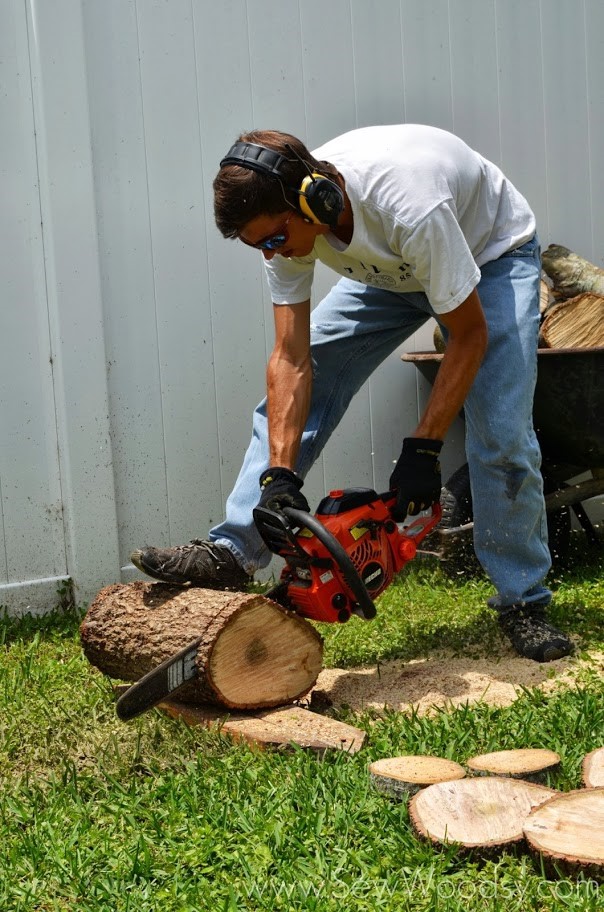 Via http://sewwoodsy.com/2013/06/how-to-create-a-natural-log-pathway-video.html
One of the most intriguing things you can do with logs is to turn them into a natural pathway in your garden. Depending on the size of your garden, this walkway could require just one log or several of them.
The main gist of this is to cut the log into shorter pieces and thinner. In fact, we recommend you use a professional chainsaw to get the first step done quickly. The wood will still maintain the roundness, but their resulting thinness would just be enough for you to comfortably hold them with both hands.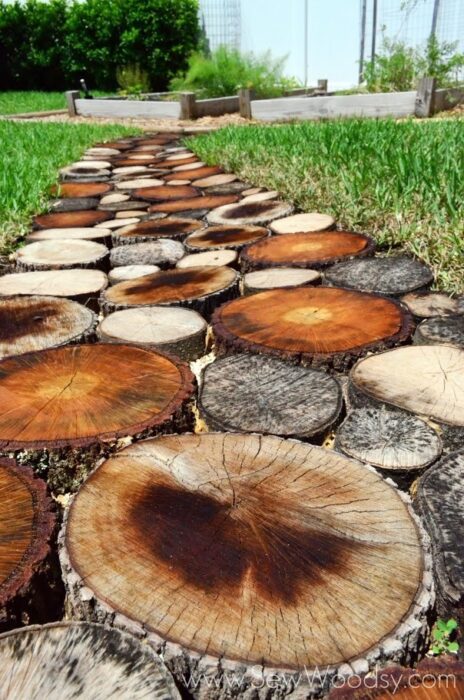 After collecting enough round pieces, you must begin to clear your intended path of any debris or grass. Once this has been accomplished, you should apply sand paver base so the wooden pieces can be sealed together on the ground. Once everything is laid out, you should have an amazing natural log pathway.
Here's a video that will guide you in doing this project:
https://www.youtube.com/watch?v=DNw4JD81ngc
2) Planter with a Stand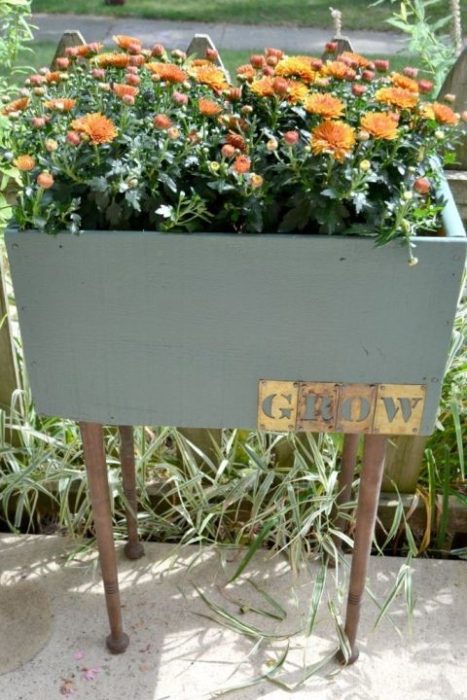 Via http://www.countryliving.com/diy-crafts/how-to/g2126/repurposed-wood-hometalk/?slide=22
If you need an above-ground location for your plants, you can create a planter with a stand. Just get a chunk of the log and adequately saw it to create a wooden box. Also, make it hollow so you can put containers inside.
If you have no metal handles, you can also cut long and slender pieces of wood to serve as the four pillars for the stand. Lastly, you have the option of painting the planter if the natural appearance doesn't suit your preference.
3) Wooden Border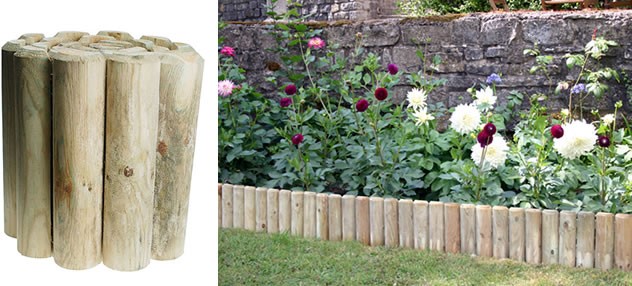 Via http://techbano.info/garden-borders-wooden/
Otherwise known as a wooden wall, this does wonders both aesthetically and functionally. This can have a daunting appearance with dark and broad pieces of wood standing together. Likewise, a wooden border serves as a natural wall to cover and separate sections of your garden.
4) Outdoor Farmhouse Table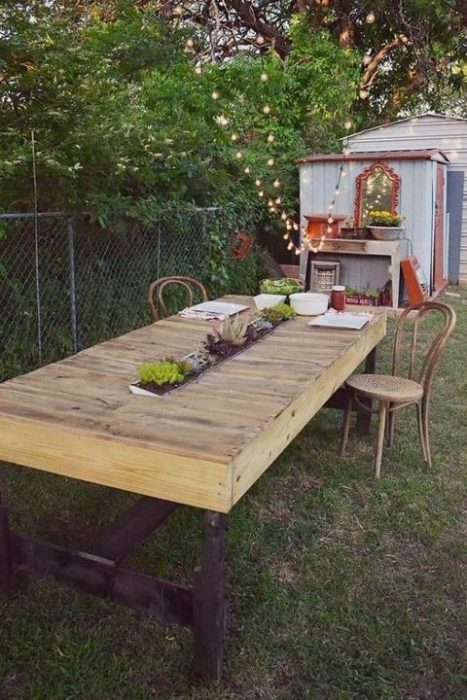 Via http://www.countryliving.com/diy-crafts/how-to/g2126/repurposed-wood-hometalk/?slide=9
If you want to have a sturdy place to eat your food outside your house, you can create a farmhouse table. In order to accomplish this, you need to get lengthy pieces of the log and cut them into flat pieces.
You can choose to either have a typical rectangular table or an irregularly shaped variant. What you should do in any case, however, is to create a narrow and relatively hollow area at the center where you can naturally plant some herbs and flowering plants. Thus, you can both dine and grow food on the same table.
5) Porch Set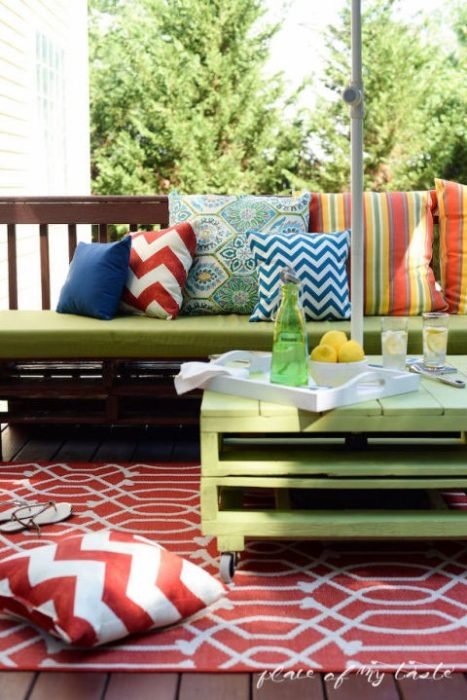 Via http://www.countryliving.com/diy-crafts/how-to/g2126/repurposed-wood-hometalk/?slide=4
This is an obvious choice, but it's still a fantastic idea both for your garden and your logs. Similar to a farmhouse table, you can create a smaller one for your porch. Likewise, you can use the smallest pieces of the wood to create wooden chairs. Not only will these complement the natural look of the property, but they will also definitely be reliable even in the long run.
6) Garden Art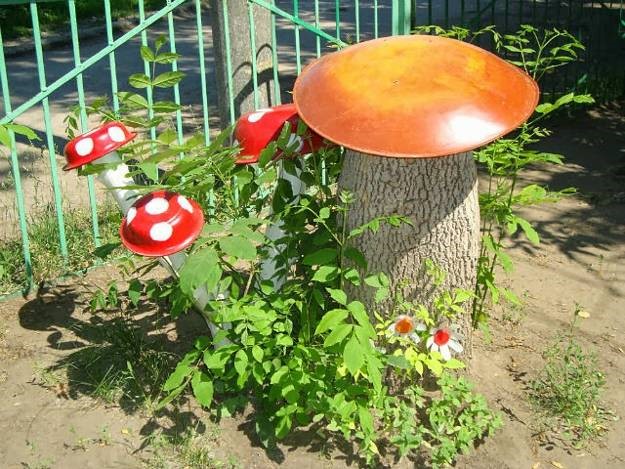 While these are more decorative than functional, garden art using wooden logs is nothing new. If you need to create a centerpiece of attraction in your garden, we highly recommending making an art installation.
Just take a bulky section of the wood and adding more vibrancy to it. This can be done by painting it with bright colors. A natural way to make this huge log aesthetically pleasing is to decorate it with flowering plants and grass.
7) Porch Swing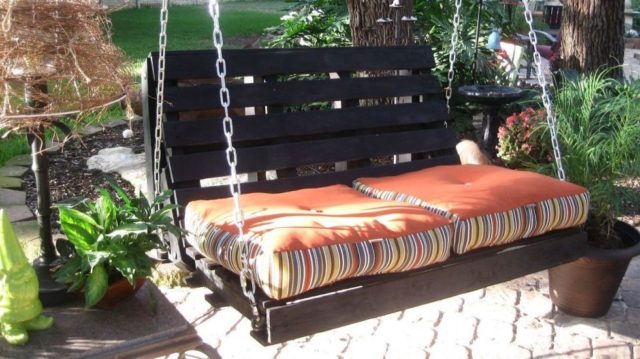 Via http://www.countryliving.com/diy-crafts/how-to/g2126/repurposed-wood-hometalk/?slide=8
Aside from a table and several wooden chairs in your porch, you can also opt to create a porch swing for your family. In particular, this would be a great addition if you have kids. For this project, you take small, flat section of the log and use them as the seats for your wooden swing.
In addition, you can take tall pieces of wood to serve as the foundation of your swing. What is important here is for you to tie the pieces together properly. Moreover, you must make sure that the rope you use will be tough enough to handle the weight of people.
8) Bee Habitat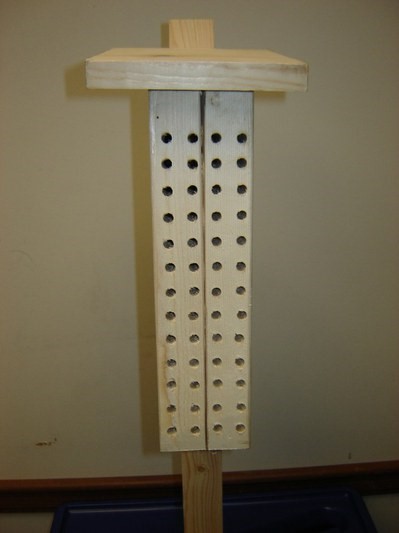 Via http://extension.psu.edu/lawrence/news/2011/how-to-construct-a-sturdy-all-wood-mason-bee-house
For those who want to invite more insects to their garden, you can always create a bee habitat with your wooden log. Using a power tool and some drill bits, you can transform sections of the log into bee houses. Of course, it's up to you to determine the total size of the wooden bee hotel, but it should be at least eight inches deep.
What's great about this is that native bees also need to be conserved and that they are fantastic pollinators for your flowering plants. Thanks to your bee habitat, the bee colony can slowly but surely improve its population and recover from its low overall count.
9) Mulch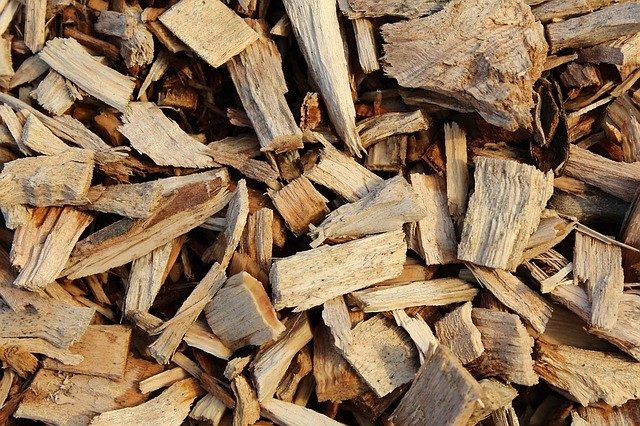 Via https://pixabay.com/en/wood-mulch-bark-chips-1197694/
While these do not exactly look beautiful like the other entries, they serve a great purpose in your garden. As a mulching material, the wood can significantly improve soil moisture retention and fertility. To do this, you just have to get a wood shredder to quickly turn sections of your log into wood chips.
10) Bird Feeder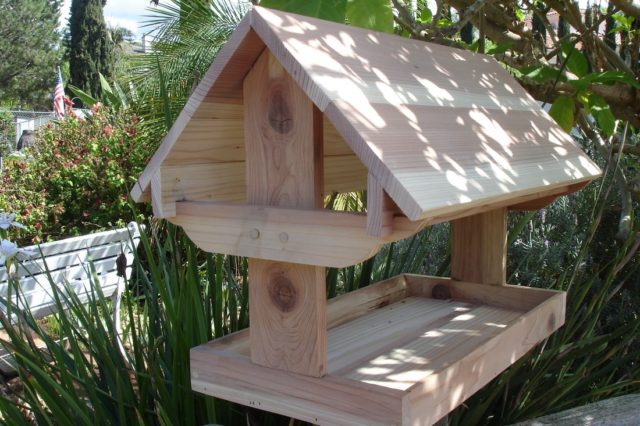 Via http://josephharris.me/8987/bird-feeder-patterns-free/stupendous-bird-feeder-patterns-free-141-bird-feeder-plans-free-bird-feeder-plans-free/
Lastly, you can always use a chunk of the log to create your own bird feeder. After all, who doesn't like to hear the sweet chirping sounds of birds in their garden? Not only will you provide them with food and a place to relax, but some birds such as hummingbirds and spiderhunters can help pollinate the plants in your garden.
To do this, you must prepare the following: electric drill, wood chisel, a piece of log, candle holders, chains, key rings or snap hooks, and peanuts for feeding them. With these materials, you can fuel your creativity to create a unique and lightweight hanging bird feeder.
As you can see, there are a lot of ways you can reuse wooden logs to improve your garden. From inviting bird and bee pollinators with bee hotels and bird feeders to creating natural pathways, logs should not be merely thrown away. As long as you are determined and creative enough, you can breathe new life into them.
We hope you enjoyed our article. If you have any questions, feel free to give us a comment.
References: